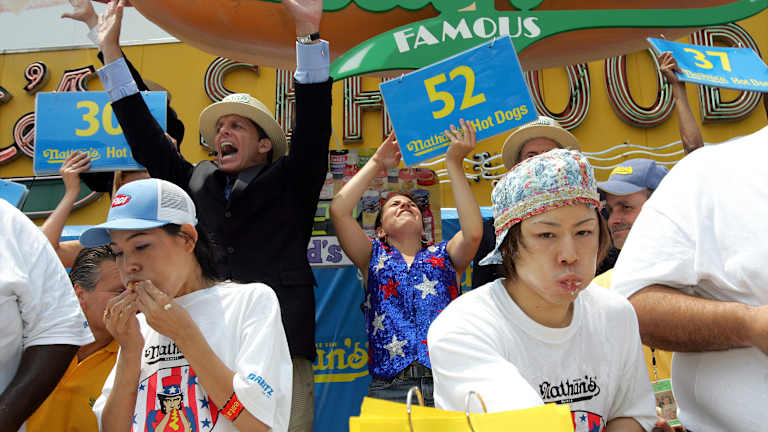 Wieners and Losers
A nation of carb avoiders and calorie counters seems fascinated by the concept of competitive eating. Gentleman, start your stomachs
Kids love trophies, but not every kid is athletic enough to win
one. That's why God created bowling. For a long while, bowling
could get you a trophy no matter how you were built. But then the
cool kids moved in, as they always do, and before you knew it you
had to bowl, like, a 150 to get any kind of small trophy, and
there was this scary bowling man on TV wearing tinted glasses and
doing a crotch chop. So that was over, and unathletic boys and
girls had nowhere to turn. Then God came up with competitive
eating.
"Perfect, God," you wanted to say. "You've done it again. I could
win a trophy in this!" But you know what? The boom has barely
started, and the cool kids have already moved in. Being fat and
famished is no longer enough. Competitive eating today is a
highly organized sport for trained pros, people who practice
relaxing their esophagi so they can stuff down, say, 5 3/4
pounds of tempura deep-fried asparagus spears--which is the
56-game hitting streak of tempura deep-fried asparagus eating.
"This is the fastest growing sport in America," says Crazy Legs
Conti, 33, who is recovering from a back injury suffered at a
chicken-wing event in Cleveland, one of 70 stops on the pro tour.
He is lying, of course, but at the Nathan's hot dog contest on
Coney Island on July 4, 5,000 people did watch 132-pound Takeru
Kobayashi of Japan eat a record 53 1/2 franks in 12 minutes. And
many newspapers around the world did refer to Kobayashi as "The
Top Dog." When a sport has both lies and cliches going for it, it
is definitely big time. Heck, George Shea, chairman of the
International Federation of Competitive Eating, even describes it
as "an entertainment product."
Shea is the Vince McMahon of eating. Although he doesn't
commission scripts for his contests, which usually award around
$1,500 to the winner, he did pioneer the idea of signing eaters
to exclusive contracts, developing them as "characters" for media
consumption--and enforcing the one-upchuck-and-you're-out rule,
which has made watching folks try to eat six pounds of baked
beans in under one minute and 48 seconds (the world record) so
much more pleasant.
For Shea, though, the arrival of Kobayashi, 26, and his female
counterpart, America's Sonya (the Black Widow) Thomas, 36, has
been pure good fortune. Both personify the new wave of eaters,
being small (Thomas, who ate 32 dogs at Coney Island this year,
weighs around 100 pounds before a contest, up to 108 after) and
scientific (Kobayashi perfected the "Solomon" technique of
breaking hot dogs in half before dipping them in water for
lubrication). Both are photogenic and quotable. "I could have
eaten many more hot dogs," on the Fourth, says Thomas, who earns
about $30,000 a year on the tour. "Afterwards I was still hungry,
so I went back to my hotel and had a club sandwich."
Shea could have sold tickets to watch her snack. Eating may be
something more powerful than the fastest growing sport: It may be
food porn. Forget the hot dogs and consider: Where
else--certainly where else in New York in this Atkinsonian
era--can you see a woman eat 32 rolls? Carbs offend our
conscience. But we like to watch.
Of course Thomas may be faking us out too, about that sandwich.
Competitive eating, she admits, "is all mind games" and psyching
out rivals like Conti, who says he's heard rumors that Kobayashi,
who makes $150,000 as an eater, "has been surgically altered by
the Japanese government" to hold more frankfurters. Somebody
ought to make sure that isn't true before the IFOCE begins a big
push to make eating an Olympic sport. Otherwise, no Miracle on
Rice.