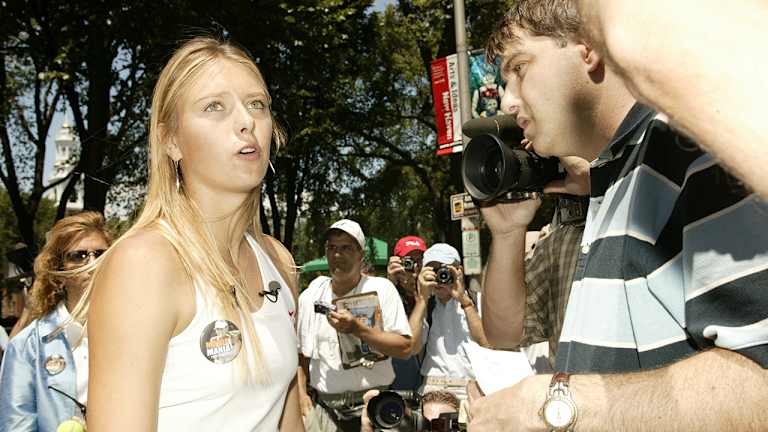 A Star (Who Happens To Be A Gorgeous 6-Foot Blonde With Blistering Strokes) Is Born
As soon as Maria Sharapova claimed her Wimbledon title, agents, tour reps, p.r. people and TV bookers swung into action
It's not often that the international paparazzi converge on
sleepy coastal Connecticut. But on the stiflingly hot morning of
July 6 a black SUV streaking up the Merritt Parkway toward New
Haven was trailed by a convoy of stealth photographers. Having
somehow folded her impossibly long legs into the middle row of
the vehicle, 17-year-old Maria Sharapova, the object of the
pursuit, looked back in awe as cars followed her at speeds
exceeding 85 mph. A few months earlier Sharapova had agreed to
make an appearance in New Haven to publicize the WTA's Pilot Pen
tournament. She would bat some balls around with local
"celebrities" (a hit-and-giggle session, to use the tennis
locution), pose with the sponsors and make a few remarks to
assembled kids. In exchange she would get a small stipend and
gratis hotel accommodations when she plays in the tournament,
which will be held Aug. 20-28. It's a typical arrangement
between players and tournament promoters to skirt the WTA's ban
on appearance fees. Problem was, Sharapova had been merely an
enticing tennis prospect when she committed to the appearance.
Her ranking was steadily gaining altitude, but she was still on
the fringes of the top 20. Beyond the standard racket and shoe
deals, her lone endorsement contract was with a game called
Speedminton, a souped-up version of badminton. Now here she was,
72 hours removed from her stunning victory at Wimbledon, one of
the youngest Grand Slam champions in tennis history.
Ebullient, bilingual and hyperconfident—not to mention tall,
blonde and beautiful—Sharapova had suddenly become, as Martina
Navratilova put it, "the best thing that could have happened" to
women's tennis. And on this day she had the entourage to prove
it, flanked as she was by her mother, her agent, the fawning New
Haven tournament director, the event's media handler, two WTA
officials, a wardrobe consultant and a magazine writer. Plus the
paparazzi.
As the SUV whipped up the parkway, past plush golf courses and
million-dollar suburban McMansions, Sharapova monitored the
progress of her pursuers. "They're gaining on us!" she shrieked
somewhere near Greenwich. With that, the tournament promoter
pulled out a cellphone and called to arrange for a police escort
once they arrived in New Haven. "I'm with Maria," the promoter
explained. "Yes, that Maria."
Sharapova's charm offensive at Wimbledon had included her
revelation that she spent the rain delays taking tests and
writing sociology essays for her online high school. But her real
summer education came after she won the singles title. Once she
had finished off Serena Williams with a performance that was
equal parts precocity and ferocity, Sharapova began a crash
course on the inner workings of the star-making machine. "It's
been," she said, "totally crazy."
The Sharapova backstory is familiar by now. Born in Siberia, she
was seven when she and her father, Yuri, relocated to Florida
after it became clear that Maria had a preternatural talent for
hitting a tennis ball over the net. Two years later she was given
a full scholarship to the IMG-Bollettieri Tennis Academy. It was
largely on IMG's dime that she harvested her talent and traveled
to junior events the world over. Now it's time for Sharapova's
benefactors to recoup their investment.
So on the morning of July 6 Sharapova had been in New York City
to appear on two TV shows. She arrived at the Today studio in
Rockefeller Center at 7 o'clock resplendent in a pink satin
jacket. ("It's Marc Jacobs, my favorite designer," she
volunteered.) In the green room she nodded vacantly as the New
Haven promoter importuned her to mention the tournament's
sponsor, Pilot Pen, on the air. About to be interviewed live on
national television, Sharapova was completely relaxed. "We've
been preparing for this for years," said her IMG agent, Max
Eisenbud, 32. "We did Craig Kilborn's show last year, and the
thinking was that if you mess up on that, who knows about it?"
When it was time to take center stage, Sharapova was brilliant.
Radiating poise, striking a perfect balance between adult polish
and teenage winsomeness, she batted back questions as if they
were opponents' weak second serves. When host Matt Lauer
obligatorily mentioned Anna Kournikova—that other blonde Russian
tennis vamp—Sharapova resisted rolling her eyes and said, "I
respect Anna a lot, and she's done a lot for the game." Near the
end of the interview, Sharapova cut Lauer off and blurted, "I'm
doing a street clinic for Pilot Pen today. And I'm going to be
doing that this afternoon, so I'm very excited." In the green
room the promoter erupted with glee and gave Sharapova's mother,
Yelena, a high five.
Maria hadn't left the stage, and already Eisenbud's cellphone was
chirping. Producers from other shows, having seen how Sharapova
handled herself on Today, wanted in. ("They probably saw her name
and figured she didn't speak English," Eisenbud surmised.) Conan
O'Brien, Total Request Live, CBS's Early Show, Access Hollywood,
Entertainment Tonight, Fox, CNN, ESPN's Cold Pizza—all came in
search of Maria. To maximize his client's exposure, Eisenbud was
armed with the shows' ratings and demographics, and he deftly
played the callers against one another, stringing along a rep
from The Early Show, for instance, in hopes of booking his client
on ABC's higher-rated Good Morning America. A representative
called from John McEnroe's talk show on CNBC, set to debut the
next day. Told of the invitation, Sharapova crinkled her nose.
"He's disrespected my game," she said, referring to McEnroe's
on-air tennis commentary.
"Yeah, but if you help him out and do his show, he'll be good to
you at the [U.S.] Open," said Eisenbud, no doubt aware that
McEnroe too is a client of the IMG tennis division. The
discussion ended abruptly as Eisenbud fielded another call, this
time from a People magazine editor requesting an interview. "If
you can guarantee me in writing that you'll put Maria on the
cover," said Eisenbud, "we'll do it." (No guarantee was
forthcoming.)
Next stop on the media blitz: the studio of Regis and Kelly on
the Upper West Side. When Sharapova, ringed by an ever-growing
posse, arrived backstage, she was greeted by Nancy Jennings, a
booker and wardrobe consultant from IMG's modeling division.
Sharapova switched out of her pink jacket and into a Donna Karan
sundress. "Love it!" enthused Jennings. "Absolutely love it!"
The Regis green room was a symphony of ring tones. Eisenbud was
working his phone: managing the fusillade of interview requests,
arranging Sharapova's flight home to Florida and conferring with
his colleagues at IMG headquarters, who were busy trying to land
global endorsement deals for her—striking while the Iron Maiden
was hot, so to speak. The WTA operatives were busy strategizing
about ways Sharapova could benefit the tour. The New Haven
promoter was frothing over another opportunity for Sharapova to
mention Pilot Pen on the air.
The subject of this chatter had little interest in all the
ambient commerce, all the competing agendas. Nor was she
impressed when the actor Jeff Bridges, another Regis guest,
walked by. On the other hand, she shrieked with delight when an
animal trainer brought in a monkey clad in a diaper. "Have you
ever seen anything so cute?" she asked, stroking the monkey's
back. It was one of the few times all day she would act her age.
When the lights went on, Sharapova killed again, teasing Regis
Philbin ("I hear you always lose, so I'm giving you my racket to
bring you luck!") and, despite towering over Kelly Ripa by a good
foot, chatting easily with her. "You should get your own show!"
Ripa gushed during the commercial break.
After another quick change, this time into Nike tennis whites,
Sharapova boarded the SUV bound for New Haven. On the 90-minute
drive she betrayed an uncanny ability to speak on her cellphone
while listening to No Doubt and Coldplay on her pink iPod. She
took a congratulatory call from Tracy Austin, who won two Grand
Slam tournaments as a teenager and was mentored by Sharapova's
coach, Robert Lansdorp. She smiled as the New Haven promoter
promised her free dining and daily gifts of jewelry and leather
goods during the event.
Sharapova's handlers, who run screaming from comparisons between
their client and the hapless Kournikova, go to great lengths to
portray her as a "Renaissance woman," a phrase Sharapova often
uses to describe herself. It's generally been a sound strategy,
impressing upon fans and potential sponsors that her interests
transcend hitting a fuzzy chartreuse ball. But occasionally it
backfires. Sharapova's IMG bio states that she enjoys Russian
literature. Any works in particular? she was asked in the SUV.
"Pippi Longstocking," she responded.
By the time she arrived at City Hall in New Haven, an assortment
of sponsors and local politicians had assembled to greet her, all
wearing T-shirts and pins saying MARIA MANIA, which had been
hastily printed after the Wimbledon final. On an improvised
tennis court on a neighboring street she rallied with deejays and
newscasters and schoolkids, smiling gamely and ignoring a leering
creep who remarked, "Shame you're only 17."
Perhaps there's something distasteful about this packaging and
commodifying of a 17-year-old, about adults two and three times
Sharapova's age wearing her likeness on T-shirts, but it's the
realpolitik of tennis. There's a reason that Sharapova stands to
make $10 million in endorsements this year while Anastasia
Myskina—also Russian, also a recent Grand Slam champion, but
nowhere near as marketable—would go unrecognized walking down
the main drag of your town. Not for nothing was Sharapova the
most popular Yahoo! search term after J-Lo and Britney Spears
last week. "It's simple," she puts it smartly. "If you don't like
the attention, don't win."
But even she has her breaking point. She committed to appear on
Cold Pizza, Fox and Friends, The Early Show and Total Request
Live on July 7, but after that she was incommunicado for more
than a week, save for faxing a press release announcing that she
was withdrawing from a California tournament in favor of "rest
and recovery."
After discharging her duties in New Haven, as she prepared to
head back to New York, Sharapova announced that she would be
napping in the backseat of the SUV. She turned off her cellphone
and her iPod and closed her eyes. The star-making machine,
though, was still humming.