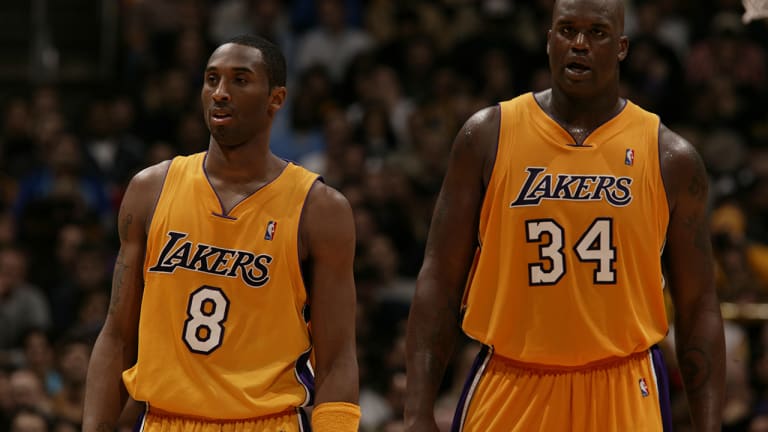 The End
By trading Shaquille O'Neal and keeping Kobe Bryant, the Lakers dropped the curtain on the NBA's most riveting soap opera. (Can you hear the applause all over the West?)
They are at last emancipated from each other after being bound (however tenuously) for eight years, with a continent between them, free to snipe away with impunity. The trading of Shaquille O'Neal to the Heat of Miami (which becomes a new "media mecca," according to Shaq) and the re-signing of free agent Kobe Bryant by the Lakers of Los Angeles (soon to be a lesser media mecca, at least by NBA standards) dominated a momentous off-season in a league that not so long ago didn't even own a hot stove.
But when all the stories about Shaq were written (for local scene, SHAQ IS BIGGEST BIG NAME YET proclaimed the front page of The Miami Herald on July 14, followed by a $HAQING UP headline in the business section) and all the denials from Bryant were in ("If [Phil Jackson's] departure had something to do with me, I had no idea" and "People assume I didn't want [Shaq] around. That's not true"), the clear winners after the breakup of this As the World Turns team were ... the champion Detroit Pistons and the Western Conference (except, of course, the Lakers).
There's no denying the impact O'Neal will have in Miami. Some 400 number 32 jerseys were ordered from the Heat's website in the first two hours they were available. Team president Pat Riley likened the ticket-selling scene at AmericanAirlines Arena last week to the floor of the New York Stock Exchange. Revelers at South Beach were already salivating over the prospect of the Big Buzz making the scene. But having dealt its starting frontcourt (Lamar Odom, Brian Grant and Caron Butler) plus a No. 1 pick, Miami is far from the favorite in the East. The Heat still needs a frontline player or two, and two thirds of its payroll now belongs to a 32-year-old podiatric puzzle who will make $58.3 million over the next two years.
As for the Lakers, look for the triangle offense to be replaced by Bryant's "my angle" offense. (Hey, you need to take a lot of shots to earn the maximum, $136.4 million over seven years.) But even if Bryant averages 30 points, the Lakers are no better than the fifth-best team in the West. Take O'Neal out of the conference and every other team gets better--it's that simple. And though Shaq's going and Kobe's staying grabbed the headlines, several other transactions may have a significant bearing on the 2004-05 season.
• The expected re-signing of Rasheed Wallace and the unexpected signing of Antonio McDyess make Detroit the preseason favorite. Though this hardly qualifies him for a humanitarian award, Wallace did take less money ($12 million per year as opposed to the $17 million he made on his last deal) to re-up. McDyess got $23 million for four years, a large sum for an oft-injured forward who has played only 52 games in the last three seasons. But considering that he averaged 20.8 points in 2000-01, at the very least he can replace eighth man Mehmet Okur, who signed with Utah.
• The re-signing of Troy Hudson (six years, $37 million) assures that the Timberwolves will be as strong as they were last season, when they reached the conference finals. If Sam Cassell hasn't fully recovered from hip surgery, Hudson can ably step into his role as a scorer and playmaker.
• The trading of Tracy McGrady from Orlando to Houston pairs the league's most prolific scorer with the Western Conference's best center. True, the Rockets don't have a proven point guard, but they didn't have one last year, as dazed and confused Steve Francis couldn't figure out whether to pass or shoot, and did both poorly.
• The acquisition of Kenyon Martin from the Nets for three No. 1 picks and the re-signing of Marcus Camby could lift the Nuggets a mile high above the Lakers. Who would have imagined that two seasons ago when Shaq and Kobe cast a shadow over the West and Denver won 17 games? At the very least, fast-breaking Denver gets even faster with Martin filling the lane opposite Carmelo Anthony.
• The signing of free agent Brent Barry (four years, $21 million) and the re-signing of Manu Ginobili (six years, $52 million) makes San Antonio more formidable than last season, if only because the underrated Barry can stick an open jumper better than Hedo Turkoglu, who signed with the Magic. At week's end the Spurs were still pursuing Karl Malone, but they don't have much cap room left, and he could get the mid-level exception of $4.9 million from teams that are over the cap.
If the Mailman returns to L.A., it won't be to the soap opera in which he played a supporting role this past season; then again, it might not be much of anything. Even in this realm of oversized men brazenly pursuing their own agendas, it's hard to fathom the Lakers' implosion. "In the history of the game," said one G.M., "there's never been that much turmoil after that much success." Anyone with any sense knows that a team with Shaq and Kobe on the same page (or at least in the same book) and Jackson ruling sagaciously from the sideline should have been practically unbeatable. On some level O'Neal and Bryant knew that as well.
Yet they all went their separate ways: Shaq demanded a trade and Jackson reached a mutual decision with owner Jerry Buss that he would not be offered another contract. Jackson had conceded, publicly at times and much more strongly in private, that his relationship with Bryant was troubled. "They wanted to make some moves to accommodate signing Kobe," he said last week. "We knew they probably wouldn't work if I was coaching the team." Shaq, who has always slyly gotten his point across about Bryant without blasting him directly, said last week, "If you look at all the pieces of the puzzle that are thrown out there and you understand the game and understand the politics, you can put it all together and draw your own conclusions."
Disingenuous doesn't even begin to describe Bryant's reaction to the destruction of what could have been a dynasty. He denied urging Buss to get rid of Shaq and Jackson, denied lobbying for the hiring of Duke coach Mike Krzyzewski, and said he was hurt by the accusations that his Machiavellian dealings had broken up the team. Then he admitted that he had called Krzyzewski--Coach K spurned L.A.'s five-year, $40 million offer--and that he did not recommend retaining Jackson to Buss.
But it's not all Bryant's fault. O'Neal's aversion to conditioning (he has missed 15 games in each of the last three seasons) contributed to Bryant's not wanting to play with him, a fact confirmed by multiple Lakers sources. Shaq was also demanding a huge extension that Buss had no desire to grant. And perhaps Jackson realized the time had come to recharge his batteries at his home in Montana, probably to return as a coach (in New York?) or a team president.
The only thing clear about the NBA earthquake that hit L.A. last week is that the fortunes of the purple and gold have declined--even with the return of center Vlade Divac, 36, who on Monday reportedly agreed to a free-agent deal with the Lakers. "It's going to be a struggle for us, an uphill battle," Bryant said last week. And provided he is still plying his chosen trade after the conclusion of his sexual assault trial which begins in Eagle, Colo., on Aug. 27, it will be his struggle, his uphill battle.
The mood in Miami is immeasurably lighter, festive even, befitting the arrival of a supersized celeb in a party-hearty town. As Shaq got prodded and probed and MRI'd in Coral Gables last Thursday, passersby stared into the windows at Doctors Hospital, photographers hid in bushes and a news helicopter hovered overhead. Before heading to L.A. for the weekend, O'Neal did give South Florida a dose of Shaq-yak. He said that he wants to finish his career in Miami; that he had been thinking about buying a house near there anyway because he likes to take his kids on boat rides in the Atlantic; that facing the Eastern Conference centers, "outside of [Indiana's] Jermaine O'Neal, is not going to be that difficult for me"; and that he sees himself being competitive for five or six more years. "Buy tickets," he told a group of fans, "and be ready to roll."
Yes, it's the summer of Shaq, and the living is easy. But not for Bryant. Between these two superstars, who perhaps flew too high too fast to enjoy the ride, right now it is assuredly less trying to be O'Neal. But judgment day between the lines will come for the Diesel, too, because the Heat didn't acquire him just to sell jerseys or jazz up the scene at Liquid. Together, O'Neal and Bryant prospered, but their partnership could not endure. Will they ever prosper apart?