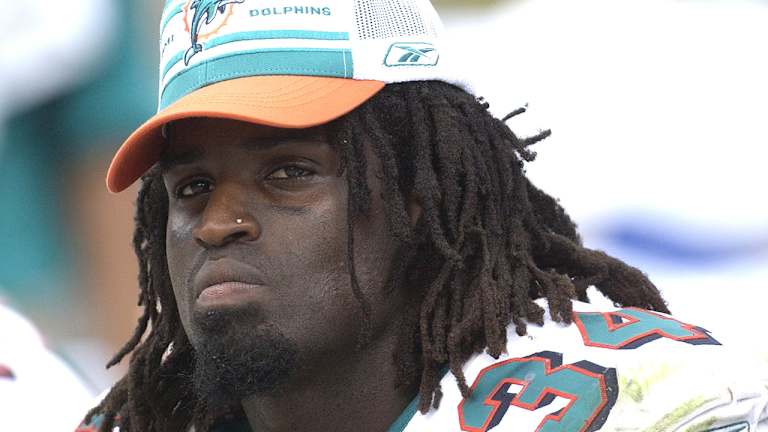 He's Going To Rickyland
After a five-year NFL career in which he always did things his own way, Ricky Williams is trading his cleats for his traveling shoes
The stench of spoiled meat wafted through the open kitchen and into the living room of Ricky Williams's apartment as another warm October night raged below in South Beach. The friends and business associates present seemed reluctant to consider why one of the NFL's best running backs felt no need to deal with the stink until, finally, one asked the host, "What's up with the mad cow disease?"
Williams, prone on an ivory-colored couch with a book of Impressionist paintings, glanced up and replied, "Oh ... yeah, someone left some veal in my refrigerator. About three weeks ago, I think." With that, Williams went back to his book and the curious place his friends call Rickyland.
If Williams always seemed more bohemian artiste than football star, that perception was bolstered by the former Heisman Trophy winner's stunning decision last Friday to retire from the Dolphins after five productive but largely unsatisfying NFL seasons. With his combination of size, speed and toughness Williams had the talent to become a Hall of Famer, but he walked away before establishing credentials worthy of Canton. He felt stifled by his sport's conformist culture (Williams recently tested positive for marijuana and were he to play in 2004, he'd face a $650,000 fine), and he struggled with the notion that the game was his calling. This is no trifling concern for a man in his position. Because running backs are uniquely brutalized, all of them--even the immortals--grapple with the question, Is this worth it?
"There's not a running back alive that wants to go to training camp this week," says Marshall Faulk, the Rams' 31-year-old future Hall of Famer. "We talked recently, and what it comes down to is, Ricky's not feeling the love for the game. Sometimes the love gets challenged, and right now things outside the game are obviously drawing more of his interest than the game itself."
While NFL fans ponder the odd concept that a 27-year-old man might voluntarily part with fame and fortune, and South Floridians turn their lonely eyes to Shaq, and fantasy footballers rearrange their draft boards, Williams will do what he chooses when he chooses. Such an escape fantasy is not uncommon to those with less glamorous jobs; seeing a star athlete act on one, as Celtics center turned cabbie Dave Cowens did for a spell in the '70s, is a jolt to the equilibrium.
Looking back, perhaps we should have seen this coming. Last November, as I dined with Williams in downtown Nashville the night before the Dolphins lost to the Titans, he spoke of the "brief window of opportunity" he enjoyed as an NFL halfback and offered some musings on his postfootball future. "I love what I do, and I don't do it for the money, so it will be that much easier for me to walk away," he said. "A lot of guys wonder what they're going to do when they stop playing football. I say, 'What am I gonna do?' and there's like two million choices." When I asked him for a few examples, his eyes lit up like the diamond stud he once had embedded into his tongue. He spoke of traveling: Italy, Turkey, Spain, France, Jamaica, England, the Netherlands and "all over South America. I'll probably live in Italy or Spain for a while. And get this--I've actually considered coaching. Not in the pros but in college. I'd like to start as a small-college head coach, if someone would give me that chance."
For now, according to The Miami Herald, Williams is in Asia, beginning his journey along the path to self-fulfillment. Given his youth and flighty nature, it's natural to wonder whether he'll be back for another round of Sunday poundings, perhaps as soon as next year. In the meantime, give him credit for his conviction--and for having the gall to follow his heart.
COLOR ILLUSTRATION: ILLUSTRATION BY STEVE BRODNER
"I'm the Red Adair of the NBA, always putting out fires." --COTTON FITZSIMMONS OBIT, PAGE 25