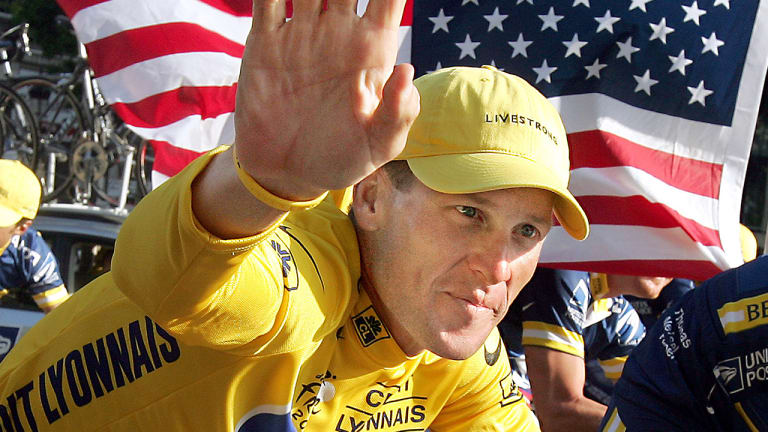 The Joy of Six
Loving every minute of it, Lance Armstrong rode the field into the ground to win an unprecedented sixth Tour de France
This was most definitely not what they had in mind when they made
dinner reservations at the Chateau de Germigney. Tucked away
behind picturesque hay fields in the French village of
Port-Lesney, the Chateau is a four-star hotel with a world-class
restaurant. But as the diners savored their soupe cremeuse aux
moules et saffron and their emince de ceur de filet de rumsteck
last Saturday night, they were periodically startled by raucous
laughter, robust booing and chants of "Six! Six! Six!" emanating
from an adjacent room.
As the members of the U.S. Postal Service cycling team lined up for a group picture, their
cacophony grew. There was George Hincapie in the second row, an
adult beverage or two in his belly and a grin frozen on his face.
Above him was team director Johan Bruyneel, who would later be
seen wandering the Chateau in an aerodynamic racing helmet
adorned with enormous steer's horns. To Bruyneel's left was Floyd
Landis, the former mountain biker from Pennsylvania whose
Mennonite relatives Lance Armstrong had pointed out to him two
days earlier, while they suffered together up a French Alp called
the Col de la Croix Fry. As Armstrong later allowed, "It's tough
to miss eight women in bonnets."
It made sense that in addition to leading what must be regarded
as the best team in the history of the Tour de France, Armstrong
would serve as its unofficial relative spotter and sommelier. (He
chose the wine that night at dinner.) By trouncing all comers in
a 55-kilometer time trial on Saturday afternoon, the Texan had
sewn up his record-breaking sixth victory in this most grueling
of grand tours. His rule over the event, like his 6:19 final
victory over Germany's Andreas Kloden, who came in second
overall, was absolute. While Armstrong had enjoyed fatter winning
margins in past Tours, he was never more dominant. He won the
prologue and six of this year's 20 stages and conceded a seventh
to a friend. When he wasn't carrying the day, he had quite a bit
to say about who would.
Ask poor Filippo Simeoni. Moments after the completion of the 18th
stage on Friday, Simeoni stood just beyond the finish line in
Lons-le-Saunier, straddling his bike and decanting his woes to a
circle of Italian journalists. "Today Armstrong showed the whole
world what kind of person he is," charged the Italian, who rides
for the Domina Vacanza team. "I've suffered another big injustice
from him with the whole world watching."
Early in that day's ride across the vineyards of the Jura
Mountains, Simeoni had bolted from the peloton to join a group of
breakaway riders. And Armstrong had jumped on his wheel. Together
they raced to the smaller group, whose riders looked at Armstrong
in disbelief. "What are you doing here?" asked Vicente Garcia
Acosta of Spain. Did Armstrong, winner of four of the last five
stages, intend to deprive one of them of even this morsel?
Motioning to Simeoni, Armstrong said, "I'll go if he goes."
"For the respect of the other riders," the Italian bitterly
recounted, "I decided to drop back."
A CliffsNotes version of their feud: In 2002 Simeoni testified
before an Italian judge that a doctor named Michele Ferrari had
discussed the use of banned doping agents with him. Armstrong,
for whom Ferrari is an occasional consultant, then described
Simeoni to a French newspaper as a liar. Simeoni sued Armstrong
for defamation. The case is pending.
Whatever you thought of Armstrong's flicking of the Italian in
the 18th stage (some riders thought it a trifle bullying), it
captured the essence of the 2004 Tour. All the huge talents
thought to pose threats to Armstrong's streak--Jan Ullrich of
Germany, Tyler Hamilton of the U.S., Iban Mayo and Roberto Heras
of Spain--faded faster than a Ben Affleck vehicle. Armstrong
imposed his will and bestrode the peloton like a crew-cut
colossus.
While his teammates hit the hay after Saturday night's rowdy
feast--the next day's ceremonial ride into Paris
awaited--Armstrong stayed up. With his right leg splayed over the
armrest of a chair in his room, he was cordial, chatty and
astonishingly chipper for a man who'd put 2,000-plus miles on his
legs over the previous 21 days. His resilience in this Tour was
such that after most stages, the team doctors and soigneurs would
ask him, half seriously, "Did you race today?"
Yes, but will he race next year? "For the last three or four
years," he said, "a small part of me thought that if I were to
win a sixth Tour, I was going to tell everybody, 'See ya later,
I'm outta here, I'm done.'"
Relax, people. No Jim Brown redux here. "I'm more excited to race
than I've ever been," he continued. "I love it, I'm physically
able, I've got a great new sponsor"--the Discovery Channel--"and
team in place that's better than ever." Besides, he added, "this
was as much fun as I've ever had in a bike race."
His performance was a remarkable turnaround by a man whose life
has been defined by a remarkable turnaround, his recovery from
cancer. Yes, Armstrong won this race a year ago, but just barely,
by 61 seconds. Although Ullrich crashed in the final time
trial--taking out a row of hay bales in the pouring rain--it was
the Texan who appeared to be on the slippery slope. His powers
seemed to be waning. "It was a very serious wake-up call," says
Bruyneel. "I think he took a few things for granted last year."
Despite rededicating himself in '04, Armstrong finished behind
Mayo and Hamilton in a tune-up race in early June. After that he
streamlined his life. "Turned off my computer, turned off my
BlackBerry, turned off my phone and went into full training
mode," says Armstrong. "Seven-, eight-hour days in the Pyrenees.
We hit it hard." Each day he felt his strength increase. He was
peaking at precisely the right time. The instant he started
pedaling in the Tour de France prologue, he thought to himself,
This is gonna be a good Tour.
It was good, but different. Unlike his previous wins, No. 6 was
not marked by solo breakaways in the mountains. Unable to lose
some of his rivals--principally Ivan Basso, the brilliant young
Italian with Team CSC who is his close friend and whom the
Posties avidly wooed in the off-season--Armstrong was caught up
in three heart-stopping sprint finishes. That he won all three is
a measure of how far he has traveled in this sport. From the
mouthy post-adolescent with a huge engine and no idea of what to
do with it, he has evolved into a cool old pro with a hitman's
knack for knowing when to slip the knife in.
On July 20 Armstrong found himself in a group of four in a mad
dash into the Alpine village of Villard-de-Lans. Pinned behind
Basso just 300 yards from the finish and harangued through his
earpiece by a screaming Bruyneel, who insisted that he win the
stage and take the 20-second bonus, Armstrong slingshot
NASCAR-style inside Basso and into a hard left turn. All but
grazing the barriers on his right, he powered ahead of the
Italian. Crossing the line, Armstrong punched the air, and you
could see the riders behind him deflate.
The next day's stage was a kind of vertical soccer riot, a
15.5-kilometer time trial up the Alpe d'Huez. So
deafeningly were Armstrong and his mates booed on their way up
the mountain that they took to booing one another, as a sort of
running joke, for the remainder of the race. Not all the
vulgarities painted on the road were anti-Armstrong. RIP THEIR
BALLS OFF, LANCE, exhorted one graffitem. He emasculated them
only in a figurative sense, winning the stage while gaining 61
seconds on Ullrich and 2:23 on Basso. Though the first-ever time
trial up the Alpe d'Huez may have been the most anticipated stage
of this Tour, Armstrong had said all along that it would not be
the most telling. He reserved that distinction for the next day's
ride, a 204.5-kilometer grind with more Alps than The Sound of
Music. This stage would present Armstrong's rivals with one final
chance to draw blood from him. This was the day he spotted those
relatives of Landis, who was sensational in pacing his boss up
the climbs. Hoping to reward his vassal with a stage win, the
Texan imparted this timeless advice as they crested the Col de la
Croix Fry: "Run like you stole something, Floyd."
Landis did, but he was chased down by Ullrich and his T-Mobile
teammate, Kloden, who attacked at the one-kilometer mark, quickly
opening a 100-yard gap. Finding this unacceptable, the Postal
patron reached once again for a gear unavailable to lesser men,
passing a stunned Kloden for his fifth stage win. ("It was like
he was in a bad dream," said Kloden's coach, Thomas Schedicrie.)
On the podium Armstrong shook hands with Bernard Hinault, who
smiled and said, "Perfect. No gifts."
Four riders other than Armstrong had won five Tours: Jacques
Anquetil, Eddy Merckx, Hinault and Miguel Indurain. That none
succeeded in winning a sixth led to a belief, in the velo world,
that it was simply too much to ask of a body in one lifetime.
The question now becomes, Will Armstrong go for seven? The answer
is, Probably, but not necessarily in 2005. Although he claimed on
Saturday to be uncertain of the terms of his contract with
Discovery, it may not require him to ride in the Tour next year.
He may instead ride in the three-week Giro d'Italia, a grand tour
he has long wanted to try. The Giro's new director, Angelo
Zomegnan, is a former cycling writer and longtime friend of
Armstrong's. Moreover, next year the Giro plans to commemorate
Armstrong's former Motorola teammate Fabio Casartelli, who was
killed when he crashed while descending a mountain in the '95
Tour.
While Armstrong repeatedly said that he "couldn't imagine"
passing up the Tour de France next year, he wouldn't slam the
door on that possibility. Let's face it, it's not as if he'd miss
the French, many of whom refuse to believe he is not
pharmaceutically enhanced. This much is certain: He will be
spending less time in Europe than in years past. Armstrong, who
is dating singer Sheryl Crow, has three children by his ex-wife,
Kristin. Early in the Tour, Armstrong turned down an invitation
to race in the Olympics, so desperate is he to be with his kids,
whom he has not seen in three months.
"By the time I get home," he says, "my girls"--twins Isabelle and
Grace, who will be three in the fall--"will be potty-trained.
They'll be riding bikes." Five-year-old Luke "is already swimming
across the pool. How the hell can I miss stuff like that?"
As Armstrong spoke, a man named Eddie entered the room with a
basket of clean laundry. Holding up a pair of inside-out cycling
shorts, Eddie asked, "These are yours?"
"No," Armstrong said.
"These socks?"
Armstrong claimed the socks, adding, "That's my rain jacket,
too."
"For sure this is yours," said Eddie, holding up a yellow jersey.
"Yeah," said Armstrong. "I'm the only guy who has one of those."
Now he is the only guy with six.