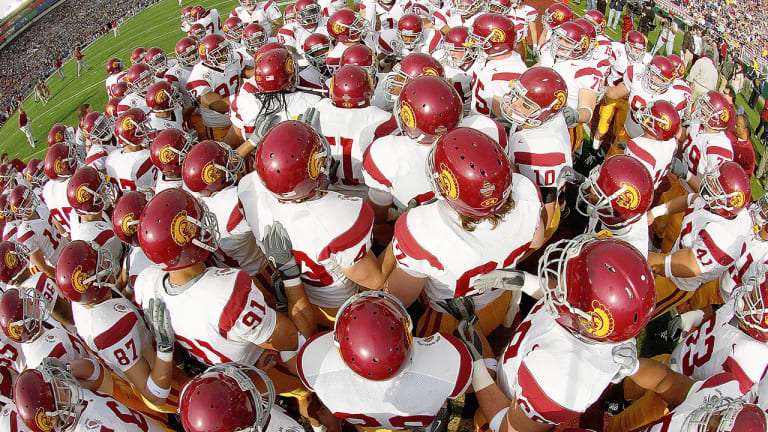 Fountain of Youth
USC football has been revitalized thanks to a wellspring of blue-chip recruits who contribute right away
Five weeks after they put the wood to Michigan in the Rose Bowl, the USC Trojans were summoned to Heritage Hall for a meeting. Pete Carroll stood before his team and expressed his gratitude. National letter of intent day, on which the sun had set some 72 hours earlier, had been very, very good to Southern Cal. The coach thanked his Trojans for their help in hosting prospective players and selling the program. Now, for their viewing pleasure, a highlight reel had been assembled. "These are the guys you helped us recruit," said Carroll, "and these are the guys who are going to help us win." The lights were dimmed, and across the screen was splashed the ultrabright future of an already formidable program. There was quarterback Rocky Hinds, the pride of St. Bernard High in Playa del Rey, Calif., dropping back, eluding a trio of defenders and delivering, while running to his left, a 40-yard strike to his receiver. There, on a pea-green rug against a hapless team in red, was Derrick Jones of Long Beach (Calif.) Poly, fielding a kickoff, then devouring yardage in impossibly long, fluid strides on his way to six points. Up next was Fred Davis of Rogers High in Toledo, taking a punt 90 yards to the house. Here was Davis again, muffing a second punt, watching the ball bounce as opponents closed in, snatching it at the last moment and--in a sick, impossible burst--accelerating past them. Touchdown.
Next came Paul Bunyan, turning the corner and laying waste to the secondary. Beg your pardon--that was Loveland (Colo.) High's Jeff Byers, pulling from his center position, rolling around the end and scattering bodies like tenpins. There, too, was linebacker Keith Rivers, from Lake Mary (Fla.) High, flying to the ball as if bound by the physics of some other universe. In the next clip pity the left tackle asked to contain Jeff Schweiger, a defensive end who had 18 sacks for San Jose's Valley Christian High last season. Here was Schweiger lowering his shoulder in an all-star game, exploding past the flummoxed tackle (who got a scholarship to South Carolina) for an easy sack.
Why make the players sit through this preview of coming attractions? Part of the reason was that Carroll wanted to get them thinking. "The message was: Here they come," says receivers coach Lane Kiffin. "You better be ready, 'cause these guys are coming to take your spot."
It's no idle threat. "We're hoping we get surprised by [an incoming freshman] who can knock someone out of their starting position," says Carroll. "Just take it." Since his arrival in Los Angeles in December 2000, Carroll has displayed a bracing open-mindedness, a quality that is not the hallmark of his chosen profession. It has long been gospel among football coaches--alongside such pebble-grained maxims as "turnovers will kill you" and "the game is won in the trenches"--that youth, in excess, will get you beat.
Maybe you need to find the right youths.
Last February, for the second time in two years, Carroll and company reaped the richest harvest of blue chips in the land. "Their recruiting under Carroll has been phenomenal," says Allen Wallace, the publisher of SuperPrep magazine, which ranked the Trojans first each of the last two years, and seventh the year before that--Carroll's first at the school. Before that the once-proud program had been out of SuperPrep's top 10 for five years.
In addition to claiming California's top-shelf talent as its birthright, Southern Cal has expanded its reach eastward. Davis was lured from Ohio, Byers from Colorado, Rivers from Florida--the list goes on. After becoming friends early in the recruiting process, Byers and Rivers joined forces, working the phones to get other studs to follow them. Then, at the Army All-American Bowl all-star game in San Antonio in early January, "Keith and I tag-teamed everybody down there," says Byers. "We said, 'We're gonna get these guys no matter what.' Jeff Schweiger, Fred Davis, Dwayne Jarrett. We hit 'em, and we hit 'em hard."
It helped that they had just watched the Trojans win a share of the national title, and that they won it relying to an unprecedented degree on true freshmen. In each of the last two years the Trojans have had 10 first-year players contribute significantly. Some have starred. Darnell Bing started at strong safety last year and picked off a pass on the third snap of his college career, at Auburn. In piling up 1,331 all-purpose yards, tailback Reggie Bush averaged nearly six yards per carry and led the Pac-10 in kickoff-return yards. LenDale White, another USC freshman tailback, scored 13 touchdowns and rushed for a team-high 754 yards.
On the day he reported last August, White says, "We were told, 'You're a freshman today. Tomorrow you're not a freshman, you're a USC Trojan.' That makes you feel good, like you're already part of the program." On the first day of practice White and Bush were taking snaps with the first-team offense. White needed to work on his blitz pickups. He got that work. "They overwhelm you in camp," he says, "so we don't get overwhelmed when the season starts."
No one is promised playing time, of course. "All I want is the chance to compete for a job," says Byers, "and the one thing you know you're gonna get at SC is an honest chance. They don't care if you're a fifth-year senior or right out of high school. The best man's gonna play."
It helps when those players believe in themselves. "If you come in here and ball, man, they got no choice but to play you." This from Eugene Germany, a linebacker who totaled 309 tackles in his junior and senior seasons at Pomona (Calif.) High. Eugene can ball and seems confident that the coaches will have little choice but to play him. In fact, these young Trojans thrive on competition. Thus did Southern Cal attract a trio of the country's finest tight ends (Californians Jimmy Miller, Michael Stuart and Dale Thompson) despite being loaded at the position. Thus did it haul in three of the nation's best wideouts (Davis, Jarrett and Jones) though Mike Williams was still a Trojan. Says Kiffin, "Those guys didn't care."
The proprietor of USC's fountain of youth appears to have drunk from it himself. "Fifty-two going on 25," is how one longtime Trojans staffer describes Carroll. Before a recent interview the coach led a reporter into his office, an opulent space strewn on this particular afternoon with unlaundered gym togs. "Sorry about this," says Carroll, motioning to the scattered sweat clothes. "My assistant's been out for a week." Make that 52 going on nine.
Punctuating his points with practice swings of a baseball bat, Carroll insists he doesn't play freshmen to gain a recruiting edge. "I'm looking for the very most that people can accomplish, the highest they can possibly go. No ceilings. If I tell a guy, 'We're gonna redshirt you this year,' there's no way he'll prepare the same as if he's coming to play. I'm sending a message about competition. Everything stems from competition."
At a press conference earlier in the day the Trojans passed out spring-practice depth charts remarkable for their inclusion of high school seniors, the parentheses around their names admitting that while this player may, at present, be renting a tux for his prom, USC has plans for him in the fall.
In another half hour Carroll would be zigzagging around the practice field, presiding over one of the final afternoons of spring football. If the session seemed to have an October intensity, there was good reason. Players knew they were running out of chances to make an impression. "For the older guys," Carroll says, "that's their shot to show us what they're all about. In August they know the younger guys get thrown ahead of them at times, in drills and scrimmages, so we can figure out where they are." Nothing personal, son, but we've got some Parade All-Americas coming in we want to get a good look at.
USC, of course, isn't the only school willing to take chances on youth. LSU coach Nick Saban has had seven juniors enter the NFL draft since he arrived in Baton Rouge after the '99 season. Knowing that his difference-makers may only be around three seasons, he's going to get what bang he can for his scholarship buck. Twelve freshmen lettered for the Tigers last season. Most contributed on special teams, but running back Justin Vincent ran for 1,001 yards and finished with four straight 100-yard games, and safety LaRon Landry led the Tigers with 80 tackles. "There was a time not long ago when people tried to redshirt everybody," says Saban. "We've changed our philosophy. The idea that freshmen are not going to be a part of the mix--that's not really correct anymore. If a guy can do it, is ready to do it, we give him an opportunity. We don't hold 'em back like we used to."
Carroll and Saban agree: Youth will not necessarily get you beat. What else do the two coaches have in common? They were both invited, along with their teams, as co-champions, to the White House in March.
There were the Trojans, a few weeks later, trickling off the field after one of their final spring practices. Later they filed through the doors of the dining hall. Outside the cafeteria stood high school seniors Chilo Rachal and Eugene Germany and Thomas Herring, laughing and smiling despite being prevented, by NCAA bylaws, from joining their teammates-to-be at the training table. The guys were cool with that, secure in the knowledge that on this campus, soon enough, youth will be served.