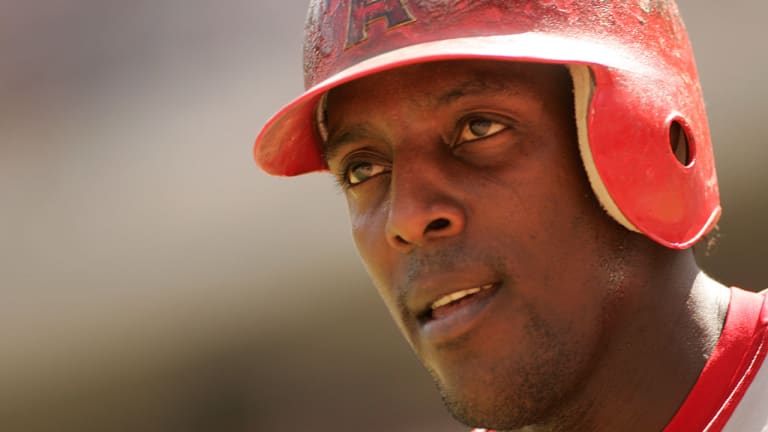 The Quiet Warrior
He's been called the most talented player in baseball, but Vladimir Guerrero doesn't want to talk about that. He'd much rather tell you about his large family and his mom's home cooking
Vladimir. It is a name that conjures up images of caviar, shots of vodka, bitterly cold winters and perhaps even a feisty Cossack horse. So when you see Vladimir attached to a Guerrero, one born and raised in the Dominican Republic, you begin to wonder about the creative impulse that pushed those two names together. "My children's names are all from the Bible, or of saints," Dona Altagracia Guerrero says. Vladimir, Eliezer, María Isabel, Julio César and Wilton. Wilton? Well, almost all of her children...
Vladimir the Great, prince of Kiev (956-1015), was a savage warrior with a sword, a barbarian who converted to Christianity, then gave away his fortune, spread the gospel to his countrymen and was later made a saint. Dona Altagracia's Vladimir, born and raised in Nizao Baní, a small town less than an hour southwest of Santo Domingo, is both a Guerrero and a guerrero, a warrior with a bat. "They were raised Christian," Dona Altagracia says of her children, "and while they sometimes stray, they still believe, and do the best they can."
The best that Vladimir Guerrero--now, officially, an Angel--could do against major league pitching through Sunday was a .323 batting average with 27 home runs, 94 RBIs (including nine in a game on June 2) and a slugging percentage of .564. Not that any of that should come as a surprise. "He's the best player in the league," says onetime Montreal Expos teammate Rondell White. "He's Superman, and there's not too much kryptonite in the league."
"I'm the same person I always was," Vladimir Guerrero insists when asked how his life has changed since he signed with the Anaheim Angels last winter after eight seasons with the Expos. A quiet, thoughtful man, he's not comfortable talking about who he is or what he does. That discomfort is partly due to his unsteady English, but even when speaking Spanish, he is modest and shy, and he subtly deflects questions he deems too personal by using the distancing Spanish pronoun for "one" instead of "I." When asked about his impressive statistics this year, he brushes away the compliment. "One wants to do a good job and do one's best for the team," he says. His agent, who has been monitoring the conversation, jumps in, eager to sell his client just a little harder. "Vladimir's come a long way," he says. "As a boy he played barefoot, with a stick for a bat."
Guerrero's smile fades, and his eyes grow wary. He knows the media loves a rags-to-riches story, and that the trajectory of his life could easily be trivialized into the cliché of poverty-racked Dominican boys being discovered by major league scouts and made into stars. "One is grateful for the opportunity to play baseball at the professional level," Guerrero says. There are many more who don't make it this far."
He takes nothing for granted, but he clearly doesn't want to focus on his story. Nor does he want to examine the mechanics of what he does. In fact, he would rather not talk about any of this, especially to reporters. He would like nothing more than to be allowed to play baseball and, afterward, spend as much time as possible with his family and friends. But it's precisely because he has done so spectacularly well and so rarely talks about it that he's asked again and again to do just that. His ability has awed people in both leagues. "He's just one of those special hitters," says Braves manager Bobby Cox. "I don't know that anyone ever worked with him. I'll bet he's had that same swing since he was six years old."
Guerrero views every day he plays as a gift. Last year he felt something snap in his back. He played in pain for a month before aggravating his back further on a slide. Doctors then found a herniated disk, and he was ordered to rest and undergo physical therapy. He missed 39 games.
Before the injury many teams were eagerly anticipating his impending free agency. Some of that interest was tempered by his bad back. Mets doctors examined his medical records in January, and he was offered a three-year contract with caveats that told Guerrero the Mets had no faith in him. "After I came back from the disabled list, I hit 14 more home runs," he says. "They didn't respect that."
Guerrero is a proud man and knows his value. When the Angels offered him a five-year contract, he signed. He has rewarded them for their confidence by helping to keep the Angels in the thick of the tightest divisional race in baseball.
As a boy Vladimir wanted to be a singer-dancer. His mother remembers her four boys putting on shows for the family in which they imitated the popular merengueros Los Kenton. Their sister, María Isabel, was the backup dancer. They concocted costumes that vaguely approximated the spiffy outfits the band wore, and they perfected the acrobatic moves Los Kenton performed in concerts and on television.
Dona Altagracia says Wilton, an infielder for the Kansas City Royals, is the only one of her sons who still sings in public. "His band plays in our church," she says.
Vladimir is still fond of merenguemusic, though, which he listens to at ear-splitting volume, but it was his ability to play baseball that distinguished him early from other boys. This was not baseball as it is played in Little Leagues across America. Vladimir and his friends sometimes had to play with sticks for bats and lemons wrapped in rags for balls. They played on cobblestoned streets, in cleared pastures and sandy lots. "Whenever the kids got together to play," his mother says, "they always chose him for their team because he could hit."
Vladimir tries to deflect even this compliment. "I didn't run fast, though," he says, "because I was fat."
"But you were strong," says his mother, "and you could hit."
He says his strength came from his work in the fields. "I had to bring in the cattle," he says. "The bulls were stubborn, and I had to pull them until they did what they were supposed to." He points to his arms: "That's what made me strong up here."
"My mother," Doña Altagracia adds, "once told me, 'All your boys play baseball well, but this one--Vladimir--someday will be a famous pelotero. I won't live to see it, but the ants will come and tell me in my grave.'"
The Guerreros' first home was a sod dwelling with a palm-frond roof built by Don Damiàn, Vladimir's father, and Dona Altagracia while she was pregnant with Eliezer, her first child. They built it, she says, because she was determined that her children would be born in their own home—not in a rental, not in a relative's house. "Little by little, we improved it," she says, "first with wood, then concrete walls with a tin roof. That roof blew away in a hurricane, but we fixed it."
She pulls out pictures of the new dwelling the family is building near their first home. Vladimir watches proudly as his mother describes what is depicted in the photographs. "Over here will be the gym," she says, "and the pool will go right there."
The sprawling house sits in a valley surrounded by mountains. "Everyone has already claimed a room," Vladimir says laughing. "The house is not finished yet, but the rooms are all spoken for."
"The whole family will be together," Dona Altagracia says, pleased.
During the season Guerrero's house, 15 minutes from Angel Stadium, is filled with relatives, whom he flies to California because he likes having them near. "My nieces and nephews are my children," he says. "I don't distinguish between my kids and those of my sisters or brothers. I love them all as if they were my own and treat them all as if I were their father."
He sits down on a roomy leather sofa in the den of his home, and within seconds there is a child on his lap, and then another is leaning on him as she watches a big-screen TV. "It makes me happy to have my family here," he says, smiling as he looks around the room to take it all in. He is clearly happy with what he has accomplished as a man, as a son, and as a father.
The family comes to every game Guerrero plays at home. It occupies a suite high above right field. Tonight the box holds Guerrero's mother and father; his fiveyear-old son, Vladimir Jr.; Eliezer's wife, Raquel; eight nieces and nephews visiting this week from New York City and the Dominican Republic; and a few friends.
A table is strewn with half-eaten pizzas, hot dogs, popcorn and empty soda cans. A television on one wall of the suite is tuned to telenovelas, the soaps that dominate Spanish television. But no matter what vicissitudes her favorite characters endure, Doña Altagracia's eyes are trained on her son when he's at the plate or playing defense, as he is now. She anxiously follows the arc of a deep fly ball off the bat of a Seattle Mariner, heading toward Vladimir in right field. Her hands clutched to her chest, she mutters under her breath, "Catch it, son. Catch it...." He leaps at the wall and comes down with the ball, and over 43,000 fans are on their feet chanting "Vlady!"
Everyone in the suite, and everyone in the stadium, is on alert when Guerrero comes to the plate. They know that anything can happen when he has a bat in his hands. He's an aggressive hitter who frequently lunges at first pitches as if he's not going to get another chance. Opponents and teammates marvel at Guerrero's indifference to the strike zone. "He's so aggressive," says Angels DH Tim Salmon. "He'll hit a pitch six inches off the ground for a homer."
"If it's coming forward, he's pretty much going to swing at it," says Angels pitcher John Lackey. "Back in June he hit a slider about 800 feet. He came back to the dugout and said, 'I like slider.' I said, 'Yeah, I can tell.'"
He's one of the most dangerous hitters in baseball and certainly the most entertaining. "I believe Vladimir Guerrero and [Colorado's] Todd Helton are more dangerous [than Barry Bonds]," says Toronto pitcher Miguel Batista, "because Barry will take a walk, but with those guys there's nothing too high or too low." Guerrero is also a terror on the bases--a threat to steal (he swiped 40 bases in 2002) or to stretch a base hit. His long gait eats up ground at a rate that sometimes startles fielders. And it sometimes gets him in trouble. He was caught stealing 20 times in 2002.
"My sons could not get the education they wanted," Dona Altagracia says, "because we had to work so hard just to survive." Her husband nods. He's a tall, quiet man with a regal bearing. When his children were growing up, Don Damiàn, now 54, drove a shuttle. The competition was fierce, and he had to navigate over potholed roads from before dawn until there were no more people on the street looking for a ride.
To supplement Don Damiàn's income, Dona Altagracia opened a small food stand, selling the Caribbean version of fast food: fried or roasted chunks of pork, fried plantain, fish, rice and beans. When business was slow, she sent her boys to the center of town with pots of freshly prepared food for sale. But even that did not produce enough income to raise five children, so when Vladimir was 12, Do√±a Altagracia went to Venezuela to work as a maid for a wealthy family. What she earned was sent back to Nizao. She called home once a month; because there were no phones in the town, Don Damiàn drove the children to a public phone in Santo Domingo so that they could speak to their mother. She came home every other year, during Christmas, and spent a month with them.
Wilton and Vladimir were signed by major league scouts while their mother was in Venezuela--Wilton with the Los Angeles Dodgers, at 16; Vladimir with the Expos when he was 17. "It was hard. We were scattered all over the place," she remembers. When Vladimir was called up by the Expos, Dona Altagracia left her job in Venezuela and moved to Canada during the baseball season. Vladimir rented three apartments in the same building so that his family could be together again.
Now 51, Dona Altagracia is a proud, straight-backed woman with the strong hands and facial lines of someone who has worked hard all her life, and she thanks God frequently for the blessings bestowed upon her and her children.
Vladimir Guerrero knows baseball English. The other kind, the kind you need to speak to sportswriters with confidence, does not come as easily. When a reporter speaks to him in Spanish, relief washes across his face, his whole body relaxes, and he flashes the charming smile that all the Guerreros have. "He's a great teammate," says Lackey. "He's a superstar who doesn't act like one."
He has made many friends on the Angels, but he spends most of his time with the ones who speak Spanish. They hang out at one another's homes playing billiards and video games, swimming in large, immaculate pools. He's also friends with many of the Dominican players on other teams—Pedro Martinez, Manny Ramirez, Alfonso Soriano. He grew up with San Francisco Giants shortstop Deivi Cruz, playing in the fields of Nizao; Baltimore Orioles shortstop Miguel Tejada, who grew up in nearby Baní, is also a close friend. When Guerrero's friends from other teams come to Anaheim, he brings them home-cooked food prepared by his mother.
"How many dinners do I send today?" Dona Altagracia asks as he gets ready to leave for the ballpark.
Guerrero closes his eyes and makes a quick tally. "Four," he says, and names the players. She packs four meals and puts them in individual shopping bags. If her son has a day game, she also cooks a big postgame meal, and he will bring some friends home.
"It pleases me that they like my food," she says. "And I know that when Vlady goes to their cities, their families will take care of my son, like I take care of theirs."
At Angel Stadium one July afternoon before a night game, Vlady and Angels infielder Alfredo Amezaga are playing catch with one of the little boys in the extended Guerrero family. The five-year-old wears a man's outfielder's glove, comically big for his hand, but he grips it fiercely and runs with great determination for grounders or jumps for balls lobbed his way.
Guerrero challenges him. He makes the boy run and jump to catch the ball.
"You're throwing too hard," Amezaga says as the boy runs for a ball that has flown over his head.
"He has to learn," Guerrero says. "He doesn't learn if it's too easy."
Amezaga laughs. "He's only five!"
Guerrero smiles but doesn't let up, and the child doesn't seem to mind. He chases the ball, jumps, lunges, tries his best not to let it get past him. When Guerrero has to leave to take batting practice, the boy hugs him tightly around the thighs, and Guerrero bends down, strokes the top of his head.
"Good job," he says, and the boy saunters away grinning as if he's just received the biggest gift of his life. Guerrero, too, grins as he jogs toward the batting cage, a long way from the fields of his boyhood and his grandmother's prediction. Somewhere in the Dominican Republic, the ants are talking about him.