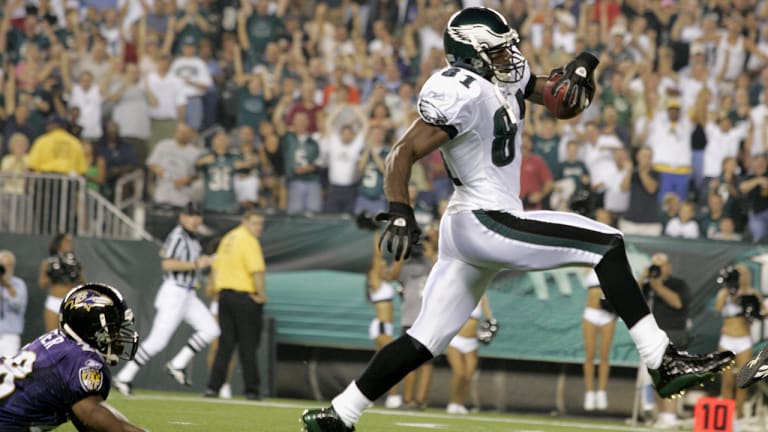 Publish date:
Will they still be smiling in January?
Tough-as-nails Donovan McNabb finally has a big-play receiver, but the Eagles' title hopes could rest on whether he can keep Terrell Owens happy
Two scenes from one day at training camp paint conflicting pictures of a conflicted man.
Scene I: After a morning practice in early August, new Philadelphia Eagles wide receiver Terrell Owens chafed at how often coach Andy Reid runs full-speed scrimmage drills during camp. That's how Reid, with the best record (46--18) in the NFL since the start of the 2000 season, runs his camp, but that doesn't mean Owens has to like it. Linebacker Jeremiah Trotter had flattened Owens in one of those live sessions, leaving the wideout with an aching hip. "To go live, you risk key guys getting hurt--and I feel like I'm one of the key guys," Owens said, in remarks that would make headlines the next day. "In San Francisco, we never went live."
Scene II: After lunch Owens and roommate Donovan McNabb, the Pro Bowl quarterback, returned to their Lehigh University dorm suite to relax before the afternoon practice. McNabb fell into a couch to chat with a visitor. Owens, in street clothes, made a beeline for the middle of the living room and the slanted ab board that he had brought to camp. With his head positioned near the floor and his toes a good three feet higher at the other end of the board, the 6'3", 227-pound Owens did 10 crunches in about 15 seconds. "Just trying to get ready," he said, after he got back on his feet.
There is no way to underestimate the pressure on the two men in this room, particularly on Owens, who can be alternately maddening and charming. He's a chronic complainer. He's a workout machine. But most of all he's a perfect fit for a big-play-starved offense, as his 81-yard touchdown reception on the Eagles' first play from scrimmage in their second preseason game showed. He's a player who can get Philly over the hump and into the Super Bowl.
Here's why the Owens-McNabb partnership will succeed: The controversial Owens practically begged Reid for the chance to play in Philly, and he doesn't want to screw up this opportunity--especially when so many critics are waiting for him to do just that. Plus, this is McNabb's team, the way the Baltimore Ravens are Ray Lewis's, and you don't mess with McNabb's locker room. For his part McNabb wants to prove he can throw downfield, and for the first time in six years he's got one of the NFL's best deep threats.
Here's why the Owens-McNabb partnership will fail: Owens can be a hopeless me-first guy who in the midst of consecutive two-catch games might erupt in a coach's face on the sideline. He'll use the media to snipe at the play-calling or the quarterback's performance. (Never mind that he drops a lot of balls--18 last season.) Owens could become similarly frustrated with the Eagles because, for all his athleticism and leadership ability, McNabb is a below-average passer (57.0 career completion percentage) in a quarterback-friendly offense.
In top form, Owens and McNabb are two of the toughest competitors in the NFL, players who can turn a game around with one spectacular play. But it was made clear in the Eagles' three straight NFC Championship Game defeats, and in the Niners' inability to control their pass-catching man-child, that these two players ultimately need one another to get to the Super Bowl.
Whether they can coexist and thrive under the no-nonsense direction of Reid in an NFL-mad city is the most intriguing story heading into the 2004 season.
The situation in Philly is so much different for Owens than it was in San Francisco, where for most of his eight seasons he was star-caliber but couldn't hold a candle to the likes of Jerry Rice and Steve Young in the eyes of the 49ers faithful. In Philadelphia, Owens has already achieved a kind of rock-star status. A routine catch, with no coverage, was enough to make the large crowds at Eagles camp in Bethlehem, Pa., cheer wildly. "Fans believe he's here to make things all better," says Julie Dubin, the club's manager of community relations. One day Owens was doing an interview while about 500 autograph hounds stood about 50 yards away. After a half hour one man screamed, "We want T.O.! Share him! He's ours!"
These people don't care that two years ago Owens had the audacity to whip out a Sharpie during a nationally televised prime-time game and sign the ball he had just carried into the end zone. Or that more than once last season he publicly ripped his quarterback Jeff Garcia for, among other things, having a weak arm--and then suggested Garcia was homosexual in an interview that was published in the September issue of Playboy. Philly fans are ready to put Owens on the same pedestal as McNabb. And the quarterback seems willing to share the glory.
In August, NFL honeymoons look like they'll last forever, and as they lounged in their dorm suite, Owens and McNabb wanted to think only sweet thoughts. They reluctantly responded to grim hypothetical situations based on past incidents. For instance: So what happens, Owens was asked, if he goes a couple of weeks catching only two or three balls?
"Why do people say that?" McNabb said, cutting in. But before he could continue, Owens piped up.
"As long as we're winning and being productive, I'm fine with that," the wideout said. "A couple of years ago, against the Giants, I only caught a couple of passes [four, actually, for 41 yards], but we won the game. I was cool with it. I blocked downfield. But after the game everyone thought I was griping to get the ball more. Jerry Rice did the same thing I did, wanting the ball. But [the media] looks at me like I'm the worst guy on earth."
"Our philosophy is to take what the defense gives us," McNabb said, "and we're not going to change. There'll be games in which he has nine catches, five catches, three catches. He's not going to change my game. He's going to enhance it."
That was evident in the first full-contact intrasquad scrimmage of the summer. The offense drove 70 yards in seven plays--Owens caught three passes--with the precision Reid and offensive coordinator Brad Childress envisioned when Philadelphia worked a three-way trade for Owens in March. (The Eagles gave up a fifth-round draft pick to the Ravens and defensive lineman Brandon Whiting to San Francisco; an earlier trade, in which Owens went from the 49ers to the Ravens, was voided. After he landed in Philly, Owens signed a seven-year, $42 million contract.)
The plan is to move Owens around in various formations, and to illustrate that point, Childress pulled out the tape of the scrimmage drive in which Owens caught the three passes. "Go back to how the 49ers used Jerry Rice," Childress said. "He was the most displaced wide receiver in the league." On the first play Owens was split right and ran a 21-yard cross; with the defense respecting wideout Todd Pinkston's speed by double-teaming him deep with a safety, McNabb hit Owens in stride. On the second play Owens motioned from the left flank and moved all the way across the formation, then ran a quick out and caught an 11-yard pass near the right sideline. On the third, with McNabb sprinting right, Owens took off from the right inside slot, dashed to the flat and caught a four-yard pass. Three catches from three different starting points, 35 yards.
"T.O. is going to make our system better," Childress said. "He wants to be so good so bad. Plus, this is the best camp Donovan's ever had. I think part of it is, when you put a world-class, competitive athlete with Donovan, himself a world-class, competitive athlete, it brings out the best in both of them."
At the same time Childress realizes that Owens's competitiveness can bring out the worst in the wideout, too. He knows all about how Owens ripped into San Francisco offensive coordinator Greg Knapp on the sideline during a game against the Minnesota Vikings last year, but Childress doesn't expect that to happen to him. "The key with T.O. is communication," he says, "to always tell him where he stands."
But it is just as important for Owens to settle differences with teammates, coaches and the front office through proper channels and with respect for authority. "T.O. didn't communicate with his teammates directly," says Garcia, now with the Cleveland Browns. "He communicated through the press. The public way T.O. demonstrated his emotions just wasn't healthy. He created a huge sense of destruction within the team. When you talk to people who've been on his team, you never hear the words 'teammate' or 'team player' [used to describe Owens]." (In response to the Playboy interview, Garcia said he didn't have time to answer "such ridiculous, untrue comments.")
Before the Eagles signed off on the trade with the Ravens and the 49ers, Owens had to convince Reid that he wouldn't be the divisive force he was in San Francisco. Reid is more confrontational than Steve Mariucci, the former Niners coach now with the Detroit Lions, or Mariucci's successor, Dennis Erickson. Because he has more command of the locker room than Garcia had, McNabb won't hesitate to tell Owens to shut up if he starts acting like a prima donna. "T.O.'s got a capo and a consigliere, which he needs--and which I'm not sure he had in San Francisco the last few years," says Young, the former 49ers quarterback.
Another thing Owens will have to do is start accepting responsibility for his mistakes, such as the dropped balls. Owens can always come up with an excuse, as he did when the subject came up during the dorm interview. "I know why I was dropping them," he said. "I was trying to do too much, trying to make up for everyone else's weaknesses. There were times I did get frustrated, and my concentration was off. You bring up the dropped balls, but what about the bad reads by the quarterback? Nobody keeps stats on bad quarterback reads."
"They do here," McNabb said, without missing a beat. "Welcome to Philly."
If the wideout can learn anything from the quarterback about playing in the City of Brotherly Love, it's that you have to have a sense of humor along with thick skin. From 2000 through '02 McNabb led the Eagles to 11, 11 and 12 wins, respectively, yet in the course of a second consecutive home loss to open 2003, he was booed lustily at Lincoln Financial Field by fans who then started calling for backup A.J. Feeley. Instead of firing back at the crowd in postgame interviews, McNabb accepted responsibility, saying that he had to play better. Says Owens, "I know I have to get tough, I have to get grimy, to play here."
McNabb has almost as much at stake in this partnership as Owens does. The last two NFC title game losses have come in Philadelphia, and in those defeats (27--10 to the Tampa Bay Buccaneers in 2002 and 14--3 to the Carolina Panthers in '03) the offense was awful. In 22 possessions McNabb mustered one touchdown drive (26 yards) and threw four interceptions. It's little wonder, then, that even the low-key quarterback at least gets a little pumped when talking about playing with Owens.
"Not to take anything away from the guys we've had here," McNabb says, "but I think an offense has to have a go-to guy. I've done just about everything a quarterback can do. My winning percentage is up there. But I've never gotten [included] in the great quarterback [discussion]. Why is that? Peyton Manning has Marvin Harrison. Kurt Warner had Isaac Bruce. I had one guy, but that was back in college, when I had Marvin at Syracuse. It's exciting, the anticipation of playing with T.O."
The two have already discussed ways to celebrate touchdowns, but those plans remain under wraps for now. "We have a list," McNabb says.
Ever looking to defend his past actions, Owens says he wasn't trying to be selfish when he notoriously celebrated TDs as a 49er. He insists he was simply reveling in the moment when he danced on the Dallas Cowboys' star at midfield of Texas Stadium in 2001; likewise when he pulled the marker out of his sock and signed the ball after scoring against the Seattle Seahawks. "Dude, do you know how hard we work?" he says. "We work our butts off to get to the end zone. I've never done an obscene gesture. People loved the Ickey Shuffle when Ickey Woods did it [in 1988]. Why wasn't that a me thing?"
After a pause, he says, "What I'm saying is, Why can't I be different?"
You can be T.O., if you help bring long-suffering Eagles fans a Super Bowl win.