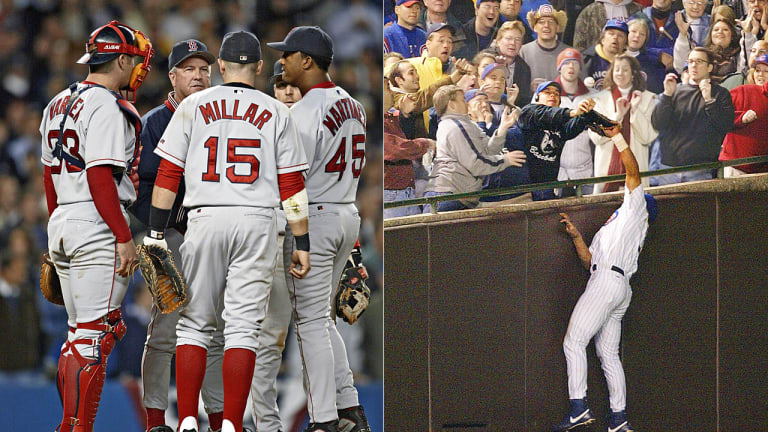 5 Outs Away
A year ago the Cubs and Red Sox each came that close to the World Series, only to see it all blow up in eerily similar—and all-too-familiar—fashion
IN THE CAVITY OF THE CATHEDRAL, HISTORY SOUNDS LIKE a freight train rumbling through a concrete tunnel. Roger Clemens recognized the rumble. Clemens, his retirement plans not yet amended, had spent the last seven innings of Game 7 of the 2003 American League Championship Series in the home clubhouse at Yankee Stadium, nervously wondering if his career and the New York Yankees' season were about to be extinguished by the Boston Red Sox. It was 12:16 a.m. on Oct. 17 when he heard the answer from above.
The clubhouse is carved out among the catacombs and narrow hallways beneath the first base stands. When a moment of excitement—such as the solid thwack of a Louisville Slugger upon a benign knuckleball—brings the fans to their feet, the clatter of thousands of blue plastic seat bottoms snapping upright reverberates through the clubhouse below.
The noise sent Clemens to his feet and then to the door and finally toward the ramp to the field as the pennant-winning home run by Aaron Boone was floating into the leftfield seats.
"I knew that sound," Clemens would later say.
This kind of history sounded familiar. The home run ensured that Boston's 1918 World Series championship would remain its most recent, a streak of futility so long and chock-full of so many absurd near misses that it feels organic, as immutable as a law of nature. Boston is 0 for 85 since Babe Ruth pitched them to the '18 title, including four seasons that ended with defeats in Game 7 of the World Series.
Red Sox seasons die the deaths of spaghetti western cowboys: never graceful, but rather writhing, painful and melodramatic. This ending, at the hands of Boone and the Yankees, was true to form. Five outs from the World Series with a three-run lead, no one on base and their best starting pitcher on the mound, the Red Sox lost the lead without ever using their bullpen. Nobody but the Sox could lose a game so spectacularly.
Nobody, that is, except the Chicago Cubs, Boston's fraternal twin in despair.
The Cubs' institutional losing dates to 1908, when they last won the World Series. After that they are 0 for 96. Since 1945 they have played six games in which a victory would have sent them to the Series--and lost all of them. That agony includes the preposterous Game 6 of the 2003 National League Championship Series against the Florida Marlins. Like the Red Sox, the Cubs were five outs away from the World Series with a three-run lead, no one on base and their best starting pitcher on the mound.
There have been 1,077 postseason games played in the history of baseball. In only 13 of them did a team lose after it led by at least three runs with no more than five outs to go. But only twice did the losing team blow a lead that big and that late while leaving its starting pitcher in the game: the Cubs in Game 6 with Mark Prior and, two nights later, the Red Sox in Game 7 with Pedro Martinez. Two losses with matching DNA. Two out of 1,077. A .2% match. Crazy.
How the Cubs and the Red Sox invented a new way to lose within 48 hours last October is, prosaically, the story of how fatigue rendered each team's ace incapable of holding a lead. Revisiting the two games with the principal figures involved also reveals that this is a story of how baseball can take on religious properties, when belief in the unseen is as good an explanation as any.
Mark Prior threw a 94-mph fastball with his 99th pitch, and Marlins pinch hitter Mike Mordecai lifted it into leftfield, where it settled into Moises Alou's glove. Five outs to go.
Cubs president and CEO Andy MacPhail, sitting in a mezzanine box, began rehearsing in his head what he would say to the national television audience upon being presented with the NL championship trophy. He reminded himself that he would need to find his tie in order to look proper for such a moment.
Prior, the Cubs' ace righthander, had retired eight straight hitters while working on a three-hit shutout. Chicago led 3-0.
Waveland Avenue felt like Times Square on New Year's Eve, though a crowd waiting for a ball to drop would prove to be a cruelly prophetic image. About 3,000 people packed shoulder to shoulder in the autumnal chill on the famous street that runs parallel to the leftfield wall at Wrigley Field, the little jewelry box of a ballpark that was itself quaking with excitement. The Cubs were going to the World Series, something no one under the age of 58 had ever witnessed, including Hillary Clinton, who once said, "Being a Cubs fan prepares you for life--and Washington."
Chicago police had decided before the game that the Wrigleyville streets would be given over to 90 minutes of pure celebration immediately after the game, as long as there were--hey, hey--no open containers. The crowd was ready. Everyone thought Prior looked great. Everyone thought Prior looked strong.
Everyone, that is, except Prior.
"Most times when I pitch," he says, "I feel like in the second, third, fourth innings I'm just getting warmed up. If things go according to plan, I get a little boost after that in the middle innings, and I feel stronger at the end of the game.
"This time I didn't feel that. I felt like I had the same energy level the whole time. I never got that second wind."
Prior, then 23, was drafted by the Cubs out of USC in 2001 and won 18 games for Chicago last season. This night, however, would be his official Cubs baptism.
The Cubs are a Franciscan franchise. For core virtues they embrace humility (they welcome opponents to "the friendly confines" of Wrigley), poverty (as it relates to winning) and love of nature (especially sunshine, grass, ivy and choice hops and barley). The Cubs may not have invented the concept of lovable losers, but they certainly have perfected it.
"I was excited to be drafted by the Cubs," Prior says. "But I got called up in a year we lost 95 games, and you start hearing all the time about the negatives. It gets drilled into you. Even while we were winning last year, people were bringing up 1908 or 1984 or 1969 over and over again. It wears on you."
The Cubs' first-year manager, Dusty Baker, had left a successful 10-year run in San Francisco to change the culture in Chicago. He was the embodiment of cool, grooving to Coltrane or Miles Davis in his tiny office while munching on a toothpick and speaking a language of optimism that sounded Greek to the Windy City. Winning baseball seasons in Chicago were treated like mild winters, totally unexpected flukes that surely meant hell to pay the next year.
"It was probably my most difficult year managing," Baker says. "Toward the end of the year I was psychologically worn out. I thought at the end of the year we were pretty close to getting the mind-set turned around."
Pretty close. Five outs from the World Series, and one strike away from whiffing centerfielder Juan Pierre, Prior fired a 96mph fastball. Pierre swatted the pitch hard, just inside the leftfield line, for a double. Alou fielded the ball in foul ground, near the brick wall of the stands. A few feet away, in the front row of those stands, a 26-year-old man raised in the religion of the Cubs—in his lifetime the team had accrued only seven winning seasons, none consecutively—wished hard for those five outs.
The man looked like a Sibley Guide version of a Cubs fan, if the bird experts ever expanded their artistry into the domain of sports spectators. Well, he looked the part without the beer cup, anyway. Bespectacled, he wore a Cubs cap with earphones atop it, listening to the broadcast of the game. Over a green turtleneck he wore a black sweatshirt emblazoned with renegades, the name of the youth baseball team he helped coach. He was unaware that the quiet life he knew was about to end.
Martinez threw a 93mph fastball with his 107th pitch, and Yankees first baseman Nick Johnson lifted it to shortstop, where it settled into Nomar Garciaparra's glove. Five outs to go.
The Red Sox held a 5-2 lead. Martinez was still throwing hard. He knew, however, that the radar gun was an inadequate indicator of how he was feeling.
"Even when I'm fatigued, I can still throw hard," he says. "My arm speed may be there, but location is where I suffer, and that's because my arm angle drops. I throw three quarters, yes, but it's three-quarters steady. If I start to get tired, my arm drops a little more, and that causes the ball to stay flat over the plate. My velocity doesn't change, but I can't spot the ball as well when I'm tired. That's what happened."
Martinez had not slept well on the eve of Game 7. He was anxious, sure, but his body clock was off: He'd flown from Boston to Tampa (where the Red Sox had ended the regular season) to Oakland (where they had opened the playoffs) to Boston to Oakland to New York to Boston to New York in the previous 20 days.
The fallout from Game 3 had also taken its toll on Martinez. That epic, six days earlier at Fenway Park, had been the sizzling prelude to Game 7. New York had knocked Martinez around for four runs on six hits before the righthander was even out of the fourth inning. So emboldened were the Yankees by the hard swings they took at Martinez that they yelled at him from the dugout, "You've got nothing!"
The fourth inning of Game 3 began with a walk to Jorge Posada, followed by a single by Johnson and a double by Hideki Matsui. Martinez, working with a base open, had seen enough. With his next pitch he whistled a fastball behind the head of Karim Garcia. The pitch hit a stunned Garcia in the back.
"I don't think Pedro was trying to hurt him," says John Burkett, a Red Sox righthander since retired. "He was trying to send a message. It was, F--- this, I've got to put a scare into somebody. And he did." (Martinez claimed the pitch simply got away.)
In the bottom of the fourth inning that day, Red Sox leftfielder Manny Ramirez caused both benches to empty when, bat in hand, he glowered at Clemens after a pitch that was nowhere close to hitting him. Don Zimmer, the portly 72year-old Yankees bench coach, charged across the field at Martinez.
"He reached for my right arm," Martinez says. "I thought, Is he going to pull it? Is he trying to hurt me? I tossed him down."
Zimmer fell awkwardly to the ground in front of the Red Sox dugout. He would apologize through tears the next day for his actions, but that did not stop New York City mayor Michael Bloomberg from suggesting that Martinez would be arrested if he had acted that way in New York.
So it should have come as no surprise when, ahead 4-1 after a rather easy sixth inning in Game 7, Martinez sat next to assistant trainer Chris Correnti and said, "Chris, I'm a little fatigued."
The Red Sox are a Calvinistic franchise. Fathers have passed to their sons, who have passed to their sons, a doctrine of predestination. Only by the grace of God, and not by a wicked starting rotation, can the Red Sox ever win a World Series again. The Calvinists' God, however, also marks certain souls for damnation. So it is that Fenway Park in the late innings of a close game can be churchlike in its silence. The faithful can only wait for God to do His work, knowing that it includes more damnation.
"I want to win a World Series with Boston more than anything else," Martinez says. "I'd rather win one with Boston than three or four with any other team. I've had so many people say to me they pray to God they don't die before the Red Sox win the World Series. But after that, they're satisfied, they can die."
The Yankees made Martinez exert himself in the seventh. Jason Giambi hit his second homer of the night to cut the lead to 4-2. Enrique Wilson and Garcia followed with singles. Martinez gamely fanned Alfonso Soriano, though it took a grueling six-pitch at bat to do so. He had thrown 100 pitches. As he walked off the mound, Martinez gave thanks to God by pointing to the sky, his usual coda to a full night's work.
In the far end of the dugout Garciaparra threw his arms around Martinez, a gesture of appreciation for his effort. At the other end of the dugout pitching coach Dave Wallace pulled his pitching log notebook from his pocket, scratched out Martinez's name and, with the lefthanded Johnson due up next inning, wrote in the name of lefthanded reliever Alan Embree.
"After the seventh," Martinez says, "Chris and Wallace told me that was pretty much it. They were going to talk to Grady."
For a moment, Martinez figured he was done. And such a moment is all it takes to trigger the shutdown of a pitcher's competitive systems. Rebooting is never easy.
"Your energy level drops," Martinez says. "As soon as you think you're out, even for 30 seconds, you get tired and out of focus."
Martinez was getting ready to leave for the clubhouse with Correnti when manager Grady Little approached him. According to Martinez, Little told him, "I need you for one more [inning]. Can you give me one more?"
"I didn't know what to say," Martinez says. "If anything happens, everyone will say, 'Pedro wanted to come out.'
"I wasn't hurt. I was tired, yes. I never expressed anything about coming out. The only way I would say that is if I was physically hurt. The only way."
So Martinez told Little he would try to give him another inning. Little, sensing Martinez's fatigue, decided on a backup plan.
"I'll tell you what, Petey," Martinez says Little told him. "Why don't you try to start the eighth. I might even send you out there just to warm up."
The implication was that Embree would be summoned at any sign of distress, even if it occurred as Martinez threw his warmup pitches.
"Help is on the way," Little told Martinez.
Says Martinez, "At that point, I thought I was batter by batter"--that he would be removed if a runner reached base.
David Ortiz gave Boston another run to spare with a homer off David Wells in the top of the eighth. Martinez, the game more secure, marched back to the mound with a 5-2 lead.
"I was a little fatigued," he says. "But I did not believe I was giving up that lead. That had never happened to me. You might as well be up 10 runs instead of three--that's what it seemed like to me. We had enough to win."
Little, then 53, slightly plump, twinkle-eyed and gray-haired, speaks slowly in a soft voice with a lilting Southern accent. He was Central Casting's version of a big league manager, known to be popular with his players. Indeed, when Red Sox CEO Larry Lucchino had introduced Little, a former Boston coach, as manager during a hastily called team meeting in spring training 19 months before, a happy Martinez had celebrated in front of Little with a raunchy jig in the nude.
As Martinez tossed his eighth-inning warmup pitches, Embree threw in the bullpen. Mike Timlin and Scott Williamson were available too. The three relievers had dominated New York throughout the series, allowing only one run in 111/3 innings and just five hits in 36 at bats. Little would later tell club officials that, as well as the trio had pitched, he did not trust them to keep their nerves under control in such a pressurized spot. He trusted no one more than Martinez.
Little preferred a fatigued Martinez to any of the fresh relievers, and not just to start the inning. The manager would make the same decision a second, third and fourth time when trouble arose in the eighth. "It's the way we've always done it," Little says. "Ninety percent of the time when we send Pedro back out there he completes the inning. He gets out of his own jams. I'd rather have a tired Pedro Martinez out there than anybody else. He's my best."
Until Game 5 of the AL Division Series against Oakland, Martinez had been removed eight times mid-inning in his 60 starts for Little--four of them against the Yankees--and only once after the seventh. But in a subtle bit of foreshadowing, Martinez had not been able to get through the eighth inning of that game in Oakland. Little had pulled him after two hits and used four relievers to secure the final six outs to make possible the New York-Boston steel cage match.
Ten days later, with a World Series berth on the line, the manager had more confidence in Martinez. Little was unaware that the quiet life he knew was about to end.
Like Pierre, who doubled on 2 and 2, Luis Castillo made Prior exert himself. He worked the count to 3 and 2. No one was throwing in the Cubs bullpen. New York Mets lefthander Al Leiter, working as an analyst for Fox, remarked, "[Prior] hasn't shown any reason to have any [bullpen] activity. His stuff's the same."
When Castillo fouled off the sixth pitch of the at bat, however, Cubs pitching coach Larry Rothschild stood up from his seat in the dugout, picked up the phone and ordered reliever Kyle Farnsworth to starting getting loose.
Prior had averaged 113 pitches per start during the regular season, the most in baseball. Baker pushed him beyond that in the postseason. Prior had thrown 133 and 116 pitches in his two previous starts, the most recent one a 12--3 win in Game 2 in which Baker sent him back out for the eighth inning with his team leading by 10 runs. Baker explained that nothing can be taken for granted in a playoff game. Now Prior's odometer had hit 234 2/3 innings for the year—a leap of 167 2/3 from his combined minor and major league total as a rookie.
"My bullpen was tired," Baker says. "[Mike] Remlinger's arm was barking like a dog. [Antonio] Alfonseca wasn't throwing the way he's capable. [Mark] Guthrie wasn't throwing like he usually does. [Dave] Veres wasn't ready. And then there wasn't a spot to take Prior out. It happened real quick."
Prior could no longer finish hitters. He would throw 24 pitches in the inning and get the Marlins to swing and miss only once. He would get two strikes on three batters and retire none of them.
"That's where the second wind comes in," Prior says. "I didn't have it."
Castillo fouled another pitch. And now it was time. The Cubs, the fans and Fox had enjoyed scads of dreamy fun—the Charlie Brown appeal of the Cubs and the Sox had prompted the other networks to scrap original programming and offer up reruns for the ratings slaughter—but now it was time to start restoring order to the baseball universe. It was time for humility and poverty. It was time for the Cubs to be Cubs.
In a span of 12 pitches (not including intentional balls), the Marlins scored eight runs, the Cubs used three pitchers, Waveland Avenue fell as silent as a tomb and Steve Bartman, the Sibley Cubs fan, unintentionally created such infamy for himself that he would have to go into hiding.
The beginning of the end was a foul pop-up by Castillo. Alou drifted across the leftfield line to the padded side wall and jumped to make a backhand catch, his glove just above the green railing atop the wall. He had no doubt that he was about to catch the ball. Three fans seated in the first row, their eyes fixed not on Alou but on the falling baseball, also reached for the pop-up. It was Bartman who touched it. The ball clanked off his left hand. Alou came away with nothing but anger.
By sunrise Bartman's life would become a nightmare. News helicopters hovered over his suburban home; his phone had to be disconnected; he could not go to the consulting firm where he worked; the domain names stevebartman.com, .net and .org all had been claimed; writers for Letterman and Leno were scribbling Bartman jokes as fast as they could; people were planning their Bartman Halloween costumes; and actor Kevin James was preparing a pitch for a movie titled Fan Interference. A Chicago alderman, Tom Allen, told the Chicago Sun-Times, "He better get a new address. He ought to move to Alaska." Florida governor Jeb Bush offered Bartman asylum.
In a statement read by his brother-in-law, Bartman apologized the next day "from the bottom of this Cubs fan's broken heart." He never made a public appearance thereafter. He spoke with MacPhail and briefly maintained private correspondence with baseball commissioner Bud Selig.
"That's not what lost it for us," Baker says. "We had our chances."
And then Baker speaks what passes for the Nicene Creed of the Cubs' and the Red Sox' congregations: "Maybe it was just not meant to be."
All hell broke loose. Not only did Prior walk Castillo with the next pitch, but the ball got by catcher Paul Bako, allowing Pierre to advance to third.
Rothschild visited Prior. Stadium security officers visited Bartman. Both meetings concerned plots for emergency escapes. Only one succeeded.
Now fatigue owned Prior. He tried a breaking ball with his next pitch, to Ivan Rodriguez, but it had none of the snap or tight spin of those from the early innings. The pitch rolled more than it broke, and Rodriguez hammered it, but foul. Prior muscled a fastball past the Marlins catcher on his next pitch. Then he returned to the breaking ball at 0 and 2. Again, he did not have the arm strength to finish off the pitch with the proper snap. It hung over the plate, and this time Rodriguez drilled it fair for a run-scoring single.
"That's what sticks with me," Prior says. "The pitch to Rodriguez. I felt that I hung it. That pitch has got to be down in the dirt. If I get that pitch down maybe he grounds out. I think that's the one pitch that bothers me. Late in the game it's not your velocity that goes. It's your location."
Miguel Cabrera pounded the next pitch into the hardpan in front of home plate. Shortstop Alex Gonzalez moved to his backhand while thinking about starting a double play. The baseball bounced again on the infield dirt, only this time, propelled by topspin, it seemed to accelerate, and it was quicker than Gonzalez's hands. The ball clunked off the heel of his glove.
"The ball just ate me up," Gonzalez says. "I don't think I hurried it as much as it was the ball got on me so fast."
Even though Prior had induced a playable foul pop-up and an infield grounder, the Cubs still needed five outs. Now the score was 3-1, the bases were filled with Marlins and the air was filled with dread. Florida first baseman Derrek Lee, 3 for 25 in the series, was the hitter. The Cubs' scouting report said to pound Lee on the hands with fastballs, and the pitchers had done so successfully almost without exception. Lee's bat had not been quick enough against Chicago's steady diet of power.
Lee told himself to look for something hard inside. Prior wasn't about to deviate from the report at a time like this. Bako called for an inside fastball, and Prior unleashed a 95mph screamer. Again, however, Prior missed slightly with his location. It was a decent pitch, just not far enough inside, especially to a hitter looking in that area. Lee smoked a line drive into leftfield, good for a game-tying, two-run double. Baker was out of the dugout to pull Prior even before the baseball was returned to the pitcher.
The bullpen could not stem this mud slide of a rally. An intentional walk, a sacrifice fly to break the tie, another intentional walk, a three-run double, a run-scoring single ... and it was 8-3 before you could say 1908. The next night, in Game 7, the Marlins would rake Kerry Wood for seven runs ("I choked," Wood would say) in a pennant-clinching 9-6 win, a score that seemed to mock the Cubs' congregation. Year 96 of the wait had officially begun.
Back in New York for the final leg of the ALCS, Martinez did not leave his hotel room. He finally got some sleep before Game 7, and not long after he woke up, he ate lunch in his room. A friend brought Dominican food to him. He watched some television to kill time, then made sure to take the team bus to the ballpark. He wasn't comfortable taking a taxi.
"People said I should be in jail because of the Zimmer stuff," Martinez says. "The fans were saying they were going to bring rocks and batteries. Ramon [Martinez, his brother] wanted to come, but I said, 'Stay in Boston. Anything could happen.'"
Burkett, knowing this was likely to be his final season, had toted a video camera throughout the playoffs. The tape was rolling in the clubhouse before Game 7. One of his favorite images, taken unobtrusively, is of Martinez, sitting alone, facing into his locker, his face taut with concentration and anxious anticipation.
Clemens and Martinez had combined for 476 wins, second most ever for two Game 7 starters. Clemens would be gone in the fourth, down 4-0 and leaving a no-outs and first-and-third mess. Mike Mussina, having never pitched in relief in his 400game pro career, escaped with a strikeout and a double-play grounder.
Out by out, Martinez drew Boston closer to the finish. The Red Sox paradox is that each out brings the club as close to infamy as it does to fulfillment.
"As Game 7 was going on, the drama kept building," Burkett says. "You have people on our team thinking, I don't want to be the one to make the mistake. You know, the Bill Buckner thing. I'm sure it entered people's minds."
After Johnson popped up for the first out of the eighth, Martinez jumped ahead of Derek Jeter, 0 and 2, with fastballs. Catcher Jason Varitek called for another fastball, wanting it so far out of the strike zone that he was nearly standing when he gave the target. Martinez threw to the spot, up and away, but Jeter smacked the pitch to rightfield on a line. Rightfielder Trot Nixon misjudged the ball, and by the time he realized his mistake it was too late. It sailed over his head for a double.
In the immediate aftermath of the game, one of the Red Sox players would grab a reporter and ask, "Was Jeter's ball catchable?" Told that it was, he sighed, crestfallen, "I thought so."
Embree was still throwing in the bullpen, but with switch-hitting Bernie Williams at bat and the lefthanded Matsui on deck, no help came for Martinez. Fox analyst Tim McCarver noted, "You get the feeling [Embree] will be the pitcher against Matsui one way or the other."
Martinez worked to a two-strike count again, this time 2 and 2, and again could not finish off the hitter. Williams drove home Jeter with a hard single off a 95-mph fastball that caught too much of the plate. As expected, Little left the dugout and walked to the mound. Unexpectedly, he returned without Martinez. Writers in the press box above the field howled, "What is he doing?"
Little had left the decision in the hands of Martinez.
"He came out, and he asked me, 'Can you pitch to Matsui?'" Martinez says. "I said, 'Yeah, of course. Let me try to get him.' He didn't ask me about anybody else. Just Matsui."
Martinez seized control of the at bat with another 0-and-2 count, getting called strikes on a fastball and a curve. Varitek called for a fastball up and in.
"We've probably thrown Matsui 80 pitches up and in," Martinez says, "and he's never hit that pitch."
Again, Martinez missed slightly with his location. The pitch wasn't far enough inside. Matsui blasted a line drive that bounced into the rightfield stands for a double. The Yankees had runners at second and third. Now Martinez thought for sure he was out of the game. He had thrown 118 pitches, a number that he had reached only five times that year. But Little didn't move.
"I was actually shocked I stayed out there that long," Martinez says. "But I'm paid to do that. I belong to Boston. If they want to blow my arm out, it's their responsibility. I'm not going to go to the manager and say, 'Take me out.' I'm not going to blame Grady for leaving me out there."
Yankees closer Mariano Rivera was throwing in the bullpen. The next batter was Posada. One more duel between the arch enemies.
Posada had loathed Martinez even before the Game 3 fracas. The two had exchanged heated words that afternoon, and according to Martinez, "Posada started screaming at me in Spanish. He made a comment about my mother. Posada is Latin. He should know, if you don't want to f--- with someone, you don't say anything about their mother." Martinez had turned to Posada, pointed to his head and, he claimed, yelled to him in Spanish, "I'll remember what you said." (Posada denies making any such comment.) The Yankees interpreted Martinez's actions as threatening to hit Posada in the head with a pitch.
Martinez is a renowned bench jockey who enjoys riding opposing players when he is not pitching. He takes particular delight in ribbing Posada, calling him Dumbo, in reference to the catcher's prominent ears. Posada tries so hard to get back at Martinez in the batter's box that he typically fails. He entered last year's postseason 9 for 48 (.188) against Martinez.