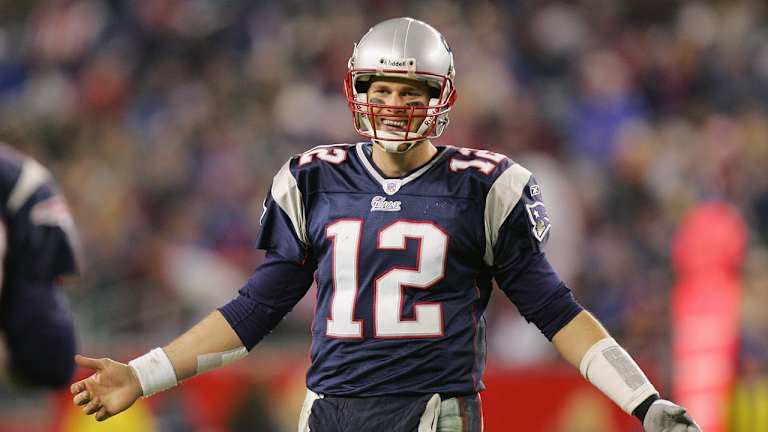 The coach who strode to the front of the meeting room the day after the New England Patriots' Oct. 3 road win over the Buffalo Bills didn't look happy. Bill Belichick seldom does. But you'd figure there'd be a a hint of contentment, perhaps even a little smugness, after winning 18 in a row in a dog-eat-dog league that makes Microsoft versus Apple look like an intramural game.
Streak? What streak? Belichick told his players that they may have beaten the Bills by two touchdowns, but their special teams performance had been a disgrace. He told them that it was, in fact, the worst special teams performance he had seen in his 30 years of coaching: zero punt-return yards, a fumbled punt, a kickoff booted out-of-bounds, a 34-yard run by Bills punter Brian Moorman after he had dropped the snap on fourth-and-two and a 98-yard kickoff return for a Bills touchdown. As a result, Belichick announced, there would be changes on special teams. Backup safety Shawn Mayer, who'd missed a tackle on the touchdown return, was released. Starters--notably linebacker Tedy Bruschi and safety Rodney Harrison--would begin to take regular turns on the suicide squads.
"We can't go on like this if we want to be any good," Belichick told his team. "Things are going to change, starting this week. And there will be more changes if these don't work."
This is the kind of calculated ruthlessness, whacking a decent backup safety with the emotional detachment of a Paulie Walnuts, that Belichick employs when something is amiss with the Patriots. And make no mistake, the kicking game (25th in average punt return, 26th in opponent punt returns, 29th in opponent kick returns) was amiss. "You play for Belichick," says linebacker Mike Vrabel, "and every week's a tryout."
After a week of extra special teams meetings and practice, including repeated work on fake punts, New England showed marked improvement on Sunday. The Miami Dolphins advanced but one of five kickoffs past their 27-yard line. Dolphins punter Matt Turk tried to do what Moorman had done the week before but was stopped after a three-yard gain by Patrick Pass. If Pass hadn't gotten him, special teams captain Larry Izzo would have. "I was eyeballing Turk all the way," said Izzo. "There was no way any punter was making a play on us today."
That's only one of the reasons the Patriots keep on winning. They do whatever it takes. The intensely physical 24-10 win over the Dolphins gave New England its 19th consecutive victory (including three in the playoffs), the longest winning streak in the 85-year history of the NFL. Go ahead and debate whether the Patriots are as good as the perfect 1972 Dolphins (box, page 71) or could line up with Lombardi's Packers, or could slow Joe Montana's 49ers in their prime. All the Patriots know is what their Gatorade-soaked coach told them in a fairly businesslike locker room after the game: "You've done something no other team in NFL history has ever done."
"Think how long it's been since we lost," said Patriots owner Bob Kraft. "Britney Spears has been married twice since then."
In fact New England hasn't been beaten since it suffered a 20-17 road loss to the Washington Redskins on Sept. 28, 2003. Last week one NFL pro scout said his team had approximately 60 players on its league-wide personnel board rated as "blue" (premier players). This scout rated quarterback Tom Brady and defensive end Richard Seymour (page 72) as the Patriots' only blue players. Six teams had more than two blues. New England led the league in "red" players, who are rated just below the blues. The scout's conclusion: New England wasn't good enough to overpower opponents but had enough talent, if coached well, to be a premier team in today's game.
The most amazing thing about the run is the ever-changing Patriots' roster. This is Belichick's fifth year as coach. At the beginning of every season he has had at least 10 starters who weren't in the opening day lineup the previous year, including a dozen guys in '04 who were not in the lineup that opened the season for last year's title team. This year the Pats replaced their running back, the fullback, a wideout, three offensive linemen, the tight end, two defensive linemen, two linebackers and the free safety. By comparison, the lineup for the '72 Dolphins had only three changes from 1971. In '73 Miami changed two starters.
"I think the Patriots' accomplishment in this era of free agency puts their streak on top of all the others," says Ron Wolf, the former Packers general manager and one of the game's most respected talent evaluators. "The Patriots have to deal with so many factors that the teams of a generation ago never did. The secret in today's football is that guys who can coach and teach, like Bill Belichick and his staff, are invaluable. Because if you're really good today, you've got to replace a $10 million player with a $400,000 player almost every year, and the Cadillac has to keep running."
What the Patriots have done almost as well as coaching their established players is developing talent--and paying below-market prices to keep it. Top left tackles command more than $6 million a year; last week Matt Light, one of the top 10 players at his position, signed a six-year, $27 million deal. "It's going to be great playing with these guys for the next few years," Light says. "It's not always about being the highest-paid guy." Bruschi, one of the best defensive playmakers and leaders in the game, could have become a free agent after this season, but in June he signed a four-year, $8.12 million extension. That deal would make him the 12th highest-paid player on the Cincinnati Bengals. He doesn't care.
"You turn on the TV and watch the highlights," says Bruschi, "and you see a bunch of individuals making plays and celebrating as individuals. We don't play to make highlight shows. Watch how we celebrate--with our teammates. Always. You play the game to be on a team like this. Our attitude is we don't want to be good one to 22. We want to be good one to 53."
One to 22 led the way against Buffalo, win No. 18 in the streak. Down 24-17 the Bills had driven inside the New England 20 when Bruschi sacked and stripped Drew Bledsoe; Seymour picked up the loose ball and ran 68 yards for the clincher. The Bills blitzed on 42 of 56 plays and knocked Brady down nine times, but he wasn't sacked and threw no interceptions--while passing for 298 yards and two touchdowns. "No errant throws," marveled Bills defensive backs coach Steve Szabo. "People talk about Peyton Manning and Steve McNair. They're good, but I've been on the other side of the fence from all of them, and Brady's better."
The Patriots needed one to 53 on Sunday. The Dolphins beat the tar out of Brady--he left the stadium with four stitches above his chin and a swollen lower lip--but Corey Dillon (18 carries, 94 yards) picked up the slack on offense. Dillon, the former Bengal who was supposed to be an outlaw, took a $1.55 million pay cut after being acquired in an April trade. So far he has been a model citizen while running for 417 yards in four games. "Money couldn't buy me happiness anymore," says Dillon.
With Dillon sidelined for a spell in the third quarter by an ankle injury, Rabih Abdullah, a September waiver-wire pickup, plowed into the end zone with the first touchdown of his seven-year career. And two rookie defensive backs--safety Dexter Reid, a fourth-round pick out of North Carolina, and Randall Gay, a free agent out of LSU--came up with a fumble and an interception, respectively, to stop Miami drives. Gay, who played half the downs at nickelback on Sunday, might be the ultimate find for Scott Pioli, the Patriots' vice president of player personnel. Gay didn't even start for the Tigers' co-national championship team last season, but Pioli knew he was getting an athlete who had been battle-tested while playing for LSU coach Nick Saban, a former assistant under Belichick and a good friend.
Belichick is a student of the game like no other NFL coach; the library in his suburban Boston home has a wall of football-related books, from Amos Alonzo Stagg to Dave Meggyesy. In the locker room of this unique team on Sunday, Belichick finally paused to consider his accomplishment: The team he directs has done something George Halas, Paul Brown, Vince Lombardi and Bill Walsh never did--win 19 straight games.
Belichick smiled. "It's great to be in the history books," said the man who's read them all.