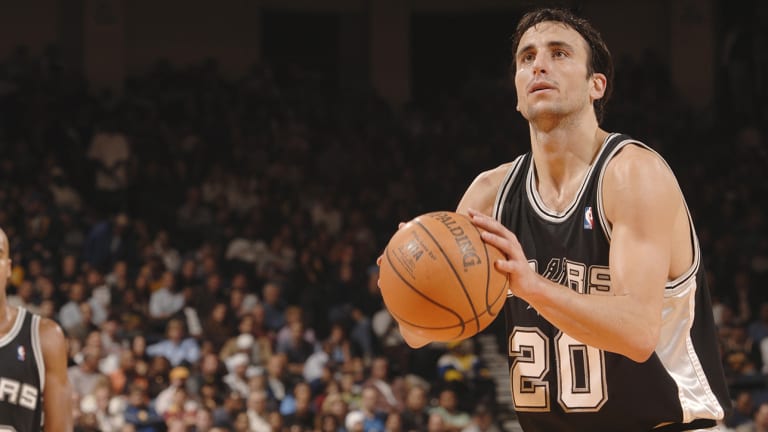 A Hero in Hiding
As an Olympic idol and the highest-paid athlete in Argentina, the Spurs' Manu Ginobili is an inspiration to his people, but an object of extreme--sometimes dangerous--scrutiny
In San Antonio he is known for his clutch shooting, creative passing and slicing drives to the basket. Sure, some young girls might rhapsodize about his smile and his expressive brown eyes, but for the most part the public cares only about his play for the hometown Spurs. In his native Argentina, however, Manu Ginobili long ago ceased being merely a talented shooting guard. There, he is not only the country's finest basketball player and an Olympic hero, but--in a country wracked by economic turmoil--he is alsoliving, dribbling proof that anything is possible. Even his fellow members of the Argentine national team call him the One and Neo, nods to the destiny-bound hero of The Matrix.
It is a heavy burden, being a national icon, especially for an introspective 27-year-old whose idea of a good time is watching HBO movies while fooling around on his laptop. Ginobili didn't sign up for all this: for thousands of crazed fans waiting for his autograph in Buenos Aires, for paparazzi dogging his footsteps, for threats against his family, for reporters calling his parents so often that, as his father says, "every time we hang up the phone, it just rings again." When the NBA season begins this week, he will resume the privileged life of a multimillionaire professional athlete in the U.S. But head 5,400 miles south to his hometown, and you begin to grasp the price he pays for his success.
To understand how a basketball star can emerge in f√∫tbol-mad Argentina, one must go 350 miles southwest of Buenos Aires to Bahía Blanca, a sleepy city of 290,000 surrounded by lush pampas as far as the eye can see. Here, and only here, soccer is second. The ground here, as La Nueva Provincia sportswriter Enrique Nocent puts it, is "planted with basketball hoops." There are 20 basketball clubs in town, each comprising eight age divisions, and it seems that everyone--including the mayor, a former first-division star--is a player.
If the game courses through the veins of Bahía Blanca, then the heart beats inside the Bahiense del Norte gym. Walk past the paddleball courts and the small office crammed with trophies, and you see a giant banner that reads DE BAHIENSE AL MUNDO--From Bahiense to the World--festooned with photos of the club's 10 international players. There, past the images of Leandro Ginobili and Sebastiàn Ginobili, and just before Olympians Alejandro Montecchia and Pepe Sànchez, is Manu Ginobili. Unlike the rest, however, he is looking not up but down and to the side, as if to duck the camera's gaze. The angle puts into relief his most prominent feature, the one that earned him the nickname, as a boy, of Narigón. Big Nose.
On this cool September evening 150 locals sit on the white stone bleachers watching the city's championship game in the top men's division. Back when Manu's dad, Jorge, played point guard, this was a humble concrete court under the stars. Now it is a raised wood floor in a cavernous gymnasium. As the men play, pushing the ball upcourt, draining soft threes and making backdoor cuts--a scaled-down version of the team-first style that won Olympic gold--the gym's most famous alumnus watches. Or at least, a fist-pumping, 15-foot-high image of him does, from a billboard that reads ESTADIO MANU GINOBILI. The real Manu is only a block and a half away at his parents' house, but he will not come to the final tonight. It is, he says, too difficult for him to go out in public.
It began in August 2002, after the national team upset the U.S. at the world championships in Indianapolis and finished second to Yugoslavia. Ginobili came home to find he had gone from local hero to, as his former coach and good friend Gabriel Colamarino puts it, "one of the Rolling Stones." After a press conference at the Municipal Theater downtown, the 6'6" Ginobili stood on the balcony, reluctantly waving to the throng choking the street. "It was awkward," he says in fluent English. "I felt like I was running for president."
His popularity soared even higher after the Spurs won the 2003 title. Ginobili averaged 7.6 points and 2.3 rebounds in his rookie season, winning converts Stateside with his headlong energy and rococo spin moves. "The fans in the United States, they are, well, more polite," says Ginobili. "The fans in Argentina can get wild, crazy. If you meet people in a restaurant, it is fine, but when they get in groups, woooo"--he shakes his head--"it gets dangerous."
This summer Ginobili experienced something of a personal triple crown: domestic, economic and professional success. In July he married Marianela Orono, the daughter of a former Argentine basketball star and the only woman he ever seriously dated. They tried to have a small, private ceremony, but the media crashed the affair. "Some of them got in," says Manu's mother, Raquel, dismissing the incident with a wave of her hand. "One photographer came disguised as an orchestra member."
Next came the contract. After averaging 12.8 points, 4.5 rebounds and 3.8 assists as a starter last season, Ginobili signed a six-year, $52 million deal with the Spurs in July, making him the highest-paid Argentine athlete. But that financial security also amounted to an open invitation for extortion. With the economy in tatters since the devaluation of the peso in 2001, and with the legal system compromised by corruption and an inability to prosecute kidnappers, Argentina has become a hotbed of that crime--a problem throughout Latin America, where an estimated 75% of the world's abductions take place. In September, the mother of Detroit Tigers pitcher Ugueth Urbina was kidnapped in Venezuela; at week's end she was still missing.
In July police intercepted a phone call between members of a kidnapping ring and learned that Ginobili's father was on a list of targets. At the time Manu and his parents were on vacation in the Patagonian Andes. "The police called here and spoke to one of my brothers," says Manu. "At the beginning there was a lot of security. Federal police were at the house, and they followed my parents and my brothers to make them feel safe. You have to be careful. You never know." He shrugs. "There is not a moment where you can say, It's enough, no more security, everything come back to normal."
This was not how it was supposed to be, the youngest son watching out for his family. Manu says he considered taking his parents to the U.S. "for about 10 minutes before I came to my senses." He knew their roots were too strong to pull up; they'd lived in the same modest home for the past 34 years. So every night between 7:30 and 9:30, Jorge and Raquel, accompanied by their genial 9-year-old collie, Otoño (Autumn), can still be found working at Bahiense. Asked if they would move, Raquel shakes her head emphatically. "No, no, no, no," she says. "We are not going to change our lives."
In August, after installing an alarm system and hiring security for his parents--Manu says he does not worry about his own safety because "I'm the one who has to pay the ransom"--he left for Athens. What happened next has already become a gilded national memory: First he led Argentina to an upset of the U.S., then to an 84-69 gold medal victory over Italy. The TV ratings jumped from 6.6 for the U.S. game to 14.0 for the final, a figure nearly unheard of for sports in Argentina. Even at the aptly named Locos Por El F√∫tbol, a Buenos Aires sports bar across from the cemetery in which Eva Perón is buried, 300 people turned out to watch the final on 27 TVs. "It was a very nervous silence, and waiters couldn't even move between the tables," says Abel Barrios, 31, who was the bartender that night. "Then people would suddenly go crazy. Whenever they would score, everyone would shout out, 'Gol!'"
Later that day the nation's soccer team beat Paraguay 1-0 in the final, making it two gold medals within 12 hours for a country that hadn't won one at the Summer Games in 52 years. But Argentina expects to be good at soccer, which has been a source of pride ever since the team took Olympic silver in 1928 (and the World Cup in '78 and '86). A hoops championship--that was something else. Which is why the celebrations for the soccer gold medal, while raucous, didn't compare with those that erupted after the basketball team prevailed.
once upon a time Ginobili was just the skinny brother of Leandro and Sebastiàn, seven and five years older, respectively. When Manu was three, a local coach, Oscar Sànchez, taught him how to dribble with his eyes up and his off arm out to shield the ball. He did it all day, every day. He tagged along everywhere; Fabian Horvath, who coached Leandro and Sebastiàn, says he had to give young Manu a ball to dribble during the older boys' practice or the kid would hincharme las pelotas--which translates literally as "swell my balls" but colloquially as "bust" them.
Enthusiasm didn't necessarily translate into success, however. At 15 Ginobili didn't even make the city All-Star team; Pepe Sànchez--who has since had only cups of café in the NBA--was the junior national team star. "Nobody," says Colamarino, "thought Manu would be this good."
What he was, in essence, was every scrawny American teenager circa 1986. He stayed up late to watch the NBA Finals and was obsessed with Michael Jordan, watching Come Fly with Me and Michael Jordan's Playground over and over. A life-sized Jordan poster from the U.S. still hangs in his bedroom. Then the growth spurt kicked in. He sprouted three inches in a year, and soon enough he was driving and finishing with a thunderous volcado, just like his idol. Previously, he'd been purely a shooter. "My first year professionally, my coach said, 'You see this line--don't ever go past it,'" Ginobili says, referring to the three-point arc. "I was 6'3" and 160 pounds. I was skinny as hell."
Stronger and taller, he signed to play in Italy in 1998. He spent two seasons with Basket Viola Reggio Calabria before starring for Virtus Kinder Bologna. Established as a star in Europe, he signed with the Spurs in July 2002, and ever since there's been an outbreak of black-and-silver jerseys in Argentina. Ginobili's number 20 is available for 99 pesos ($33) in the souvenir shops of Buenos Aires. It's worn at Bahiense del Norte by the little boys and kids like 15-year-old Agustín Juanpataoro, who, with his shaggy hair and matchstick biceps, looks much like Ginobili did at his age. "We all try to play like him," Juanpataoro says. "He is basketball in Argentina."
What does he mean to the country? It depends on whom you ask. Keep in mind that Buenos Aires is in many respects a European city grafted onto South America, from the Parisian architecture to the late-night culture (dinners at 11 p.m.) to the emphasis on soccer. Some 60,000 fans turn out for matches between Boca Juniors and River Plate, Buenos Aires adversaries that make the Yankees--Red Sox rivalry seem tame. A recent survey by the daily Clarín asked whether Ginobili ranks with the nation's five great sporting legends: Formula One driver Juan Fangio, soccer star Diego Maradona, golfer Roberto de Vicenzo, boxer Carlos Monzón and tennis champ Guillermo Vilas. The readers said not yet--he needed to win more titles--but as Juan Carlos Meschini of TYC Sports channel notes, "That he is even mentioned in the same breath is indicative of his stature."
ESPN Latin America now broadcasts two games a week during the NBA season and more during the playoffs, and the future looks bright: There are two more Argentine players in the league this season--Carlos Delfino with the Pistons and Andrés Nocioni with the Bulls--but it is Ginobili, the chosen one, who leads the way. Says Leo Montero, host of NBA Magic on TV and a good friend of Sànchez's and Ginobili's, "Pepe always jokes that if the plane crashes and you are sitting next to Manu, everyone else may die, but you will be all right."
Despite a reputation for arrogance--old joke: How does an Argentine commit suicide? He jumps off his ego--Argentines are also said to be acutely insecure. That's why Buenos Aires has become a haven for medical tourism (read: cheap plastic surgery) and a bastion of eating disorders, and it is renowned for having as many therapists per capita as any major metropolis. Imagine the effect on the national psyche if the success of this basketball team turned out not to be the climax of something great, but the beginning. If Argentina can sustain its success in basketball, that most foreign of sports, then maybe it can compete in other modern arenas. Maybe it can rise again.
That is in the future, though. For now, on this crisp September day in Bahía Blanca, Ginobili is enjoying the present. Sitting on his parents' couch, he talks about the Olympics, rising regularly to answer the door. In the kitchen his mother cooks and his wife chats on a cellphone. Even though Ginobili had a two-story brick house built in a gated community across town, he is more often at his parents' place. "I want to enjoy my time here, which means spending time with my family and my friends, late-night dinners, talking to 4 a.m.," Ginobili says. "The only way to do that is at my home, my friends' home. That is why I don't go out."
Here Manu can be one of the family, falling into familiar routines. For him it is an escape--from the media demands, from the eager fans, from the security men parked outside. For just a little while longer, before he heads back to San Antonio for another season, he can be just Manu. The expectations of a nation will have to wait.
"You have to be careful," Ginobili says. "You never know. There is not a moment where you can say, It's enough, NO MORE SECURITY, everything come back to normal."