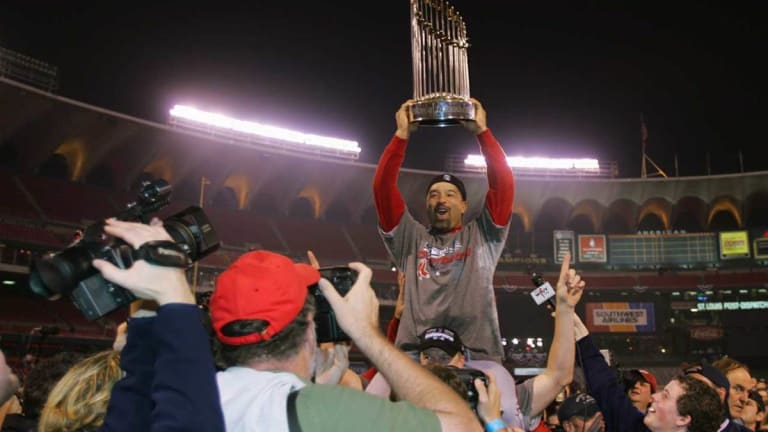 Publish date:
Now Comes the Hard Part
Having won their first World Series in 86 years, the Red Sox face some difficult roster decisions--and, for once, the challenge to repeat
Two hours before Game 2 of the World Series, Boston Red Sox general manager Theo Epstein stood behind a pillar in the home dugout at Fenway Park, out of the sight lines of the media soldiers toting cameras and notebooks on pregame patrol. "What I'm worried about," Epstein said, "is getting so much face time that, if we should ever be lucky enough to win this thing, my life would be turned upside down. I don't need that.
"Think about what this means to New England," Epstein continued. "If this team wins, the players, no matter how ancillary they are or what big stars, will be forever remembered and will always have a place here. Twenty years from now, I'm sure [reserve first baseman] David McCarty could move back here if he wanted to and some company would put him on the payroll in some capacity because he played on the 2004 Red Sox. It's a life-changing experience."
Seventy-two hours later, on a night when the sun, the earth, the moon and the World Series were aligned as never before--it was the first lunar eclipse to occur during a Fall Classic--Boston beat the St. Louis Cardinals 3--0 to complete one of the most one-sided of the 100 Series ever played. The '04 Red Sox, as Epstein had suggested, became immortals. The first major league team to win eight consecutive postseason games, the self-styled frat-house Idiots, with little use for convention, on-time arrivals or shaves and haircuts, won the first world championship in the lifetimes of all but a few members of Red Sox Nation, the first since Babe Ruth helped pitch Boston to the 1918 title.
Other Red Sox teams may win championships, but this one will linger in memory with the unmatched sweetness of a first kiss. Last Thursday, the day after Boston had completed a four-game sweep of St. Louis, a woman in suburban West Boylston looked out her front window and saw an otherwise normal-looking man in his late 50s walking up and down the block giddily swinging a broom. "I guess a lot of people can die happy now," Epstein said after Game 4.
His cover blown, Epstein, 30, is being hailed as the young architect of the Team That Ended the Curse. In 23 months on the job he obtained 16 of the 25 players on the World Series roster--and gave up only two big leaguers (shortstop Nomar Garciaparra and pitcher Casey Fossum) in the process.
Now comes the hard part: the cold business of moving on without some of those beloved players. Two starters and two regulars can become free agents by Nov. 11--righthanders Pedro Martinez and Derek Lowe, catcher Jason Varitek and shortstop Orlando Cabrera. (Boston picked up third baseman Bill Mueller's $2.1 million 2005 option last Friday.) In addition infielder Pokey Reese, outfielder Gabe Kapler, catcher Doug Mirabelli and relief pitchers Curtis Leskanic, Mike Myers and Ramiro Mendoza are eligible for free agency. (Kapler was the first to file, the day after the Series ended.)
"We will not put the interests of any one individual above what we feel is the greater good of the team," Epstein says. "It can be very dangerous to fall in love with a team because it went to the World Series. If you take two teams that each won 95 games, and one of them went to the playoffs and one of them did not, I can almost guarantee you that the next year the team that didn't make the playoffs is going to be better because it will take a more critical view of itself and address weaknesses. As much as I'd like to bring all the guys back, you have to look at it objectively and make the tough decisions."
Says Red Sox president Larry Lucchino, "We set our goal not just to bring a world championship to Boston, but world championships. We're going to try to keep this going. This is not the end of something. It's a start." With every seat sold at Fenway Park, a wildly successful team-owned cable network and interest in the club at an alltime high, the Red Sox, who have won at least 93 games for three years running, have the resources to remain a powerhouse.
Whether to re-sign Martinez and Lowe may be the trickiest decisions. They combined for 30 wins and one out shy of 400 innings in the regular season. They started half of the team's 14 postseason games. The Red Sox were 6-1 in those starts, including Games 3 and 4 of the Series, in which Martinez and Lowe threw twin seven-inning, scoreless, three-hit gems.
Martinez's starts at Fenway have been festive occasions because of the charisma and bravado he brings to the mound--not to mention his 117-37 record in a Boston uniform. He turned 33 during the World Series and, including his postseason work, threw a career-high 244 innings this year. "Contract year," two key Boston decision-makers say dismissively of Martinez, whose 33 starts were his most since 1998. Martinez earned $17.5 million this year, the highest single-season salary ever for a pitcher.
Martinez is well-known for his off-field eccentricities. For instance, he has long been known to carve out his own schedule. After he was removed from his Opening Day start against the Orioles (he gave up two earned runs in six innings), Martinez left Camden Yards during a game Boston eventually lost 7-2. According to one club source, first-year manager Terry Francona harshly scolded Martinez the next day, but Martinez said he had never been made aware that such an early exit was inappropriate.
Martinez did not attend Game 6 of the American League Championship Series in New York, a possible elimination game for Boston. According to another team source, assistant trainer and Martinez confidant Chris Correnti told Epstein that Martinez decided he wanted to stay in Boston an extra day to prepare himself to pitch in relief in a possible Game 7. The Red Sox acquiesced.
Francona did use Martinez in relief in the Game 7 blowout because Martinez wanted to pitch in that historic game and because Francona preferred not to use him in Game 1 of the World Series three days later. Francona liked the idea of a Game 3 start for Martinez because the righthander pitches better with extra rest and in warmer weather. (Boston hosted Games 1 and 2; Game 3 was scheduled for the National League city, which turned out to be St. Louis.)
Several Red Sox sources say that the club has grown weary of the high-maintenance Martinez but still values his craftsmanship, which has allowed him to remain effective even though his velocity has diminished. One source says that the club plans to offer Martinez a two-year deal similar to the extension it gave Curt Schilling last year, a deal that guaranteed Schilling $25.5 million and included a vesting option for a third year at $13 million. If Martinez seeks more, the club may instead use that money in an effort to sign two starting pitchers in a free-agent market that is likely to include Carl Pavano, Matt Clement, Matt Morris, Brad Radke, Kris Benson--and the suddenly revalued Lowe.
The Red Sox had almost no interest in retaining Lowe before he closed out both the ALCS and the World Series with brilliant starts. Lowe, 31, has the second-most wins in baseball over the past three years (52, to Bartolo Colon's 53), but he's been increasingly inconsistent; he received the highest run support of any pitcher in 2003 (7.26 runs per nine innings) and the second-highest support last season (7.29).
By trading former icon Garciaparra on July 31, the Red Sox have shown that they won't let emotion get in the way of bold moves. And Epstein and his staff have been especially adept at under-the-radar pickups, such as signing DH David Ortiz after the Minnesota Twins released him in 2002, picking up righthander Bronson Arroyo after the Pittsburgh Pirates waived him in '03, sending cash to the Florida Marlins last year to get Kevin Millar (who was all but gone to a Japanese club) and trading a minor leaguer to the Colorado Rockies for second baseman Mark Bellhorn on Dec. 16, 2003.
Varitek is a critical piece of the off-season puzzle. The franchise has no ready replacement, and there are no comparable options on the free-agent market. Varitek, 32, wants to remain in Boston, where he's a career .299 hitter (while batting .244 on the road). He may seek a five-year contract that tops the $51 million over five years that the Yankees shelled out to re-sign Jorge Posada in 2002. The Red Sox view an expensive, one-year arbitration award as a possible fallback.
Cabrera, 30, earned $6 million this year and may have more value to another club, since Boston has top prospect Hanley Ramirez on the horizon. The Red Sox like Cards shortstop Edgar Renteria, who's eligible for free agency, but they could also seek a short-term answer, such as free agent Omar Vizquel, 37, to keep the job warm for Ramirez, 20, who hit .310 in Double A.
Even if it makes personnel changes, Boston intends to maintain its offensive personality: a deep lineup that wears down pitchers with power and patience, a philosophy tailored for its cozy ballpark. No other team in baseball sent more hitters to the plate or forced pitchers to throw more pitches last season. The Red Sox used the same grinding tactic in the World Series.
They knew going in that the Cardinals' pitchers would have trouble with their lineup. When Francona and his coaches met with Boston scouts and executives eight hours before Game 1, the meeting room quickly filled with confidence. "With [Cardinals ace righthander Chris] Carpenter out, they had no one with a plus pitch," says a source who was at the meeting. "We crush that kind of pitching." St. Louis pitchers threw 678 pitches in four games, walked 24 batters and struck out only 20. Cardinals starters were able to get the Red Sox to swing at and miss only 16 of 369 pitches.
Boston's other, more celebrated personality trait--the lack of conventional discipline--may change. The season that opened with Martinez going AWOL in the opener ended with Manny Ramirez carrying a portable music player in a pants pocket of his uniform and chatting on a cellphone during team warmups before Game 4 of the World Series. Francona and Epstein would like a more professional approach without losing the exuberance. "Every team every year has its own personality," Epstein says. "One of the things we'll start to see is [more discipline when we] mix in players who have come up through our system." Besides Hanley Ramirez, third baseman Kevin Youkilis and lefthander Jon Lester figure to grow into larger roles within the next two years.
The Red Sox may have been daffy, but rarely has a World Series--winning team had a deeper understanding of its own significance. "I came here to be a part of history," closer Keith Foulke, who signed on last winter as a free agent, said in the raucous clubhouse after the clincher. "And we did it. Now they can take that curse and stick it where the sun don't shine."
Before the last bottle of champagne had been emptied, the Red Sox began planning a World Series trophy tour. The team intends to cart the hardware not only around New England but also to other Red Sox Nation hot spots, such as a Santa Monica, Calif., bar where Red Sox fans convene, the team's spring training complex in Fort Myers, Fla., and a training facility in the Dominican Republic. The Red Sox want to give their famously long-suffering fans a chance to share the world championship in a tactile way, one that heightens the euphoria or even provides some physical proof that they were not dreaming last week. That feeling will never be exactly the same again, and neither will the Red Sox roster.
"As much as I'd like to bring all the guys back," Epstein says, "you have to look at it objectively and make the tough decisions."