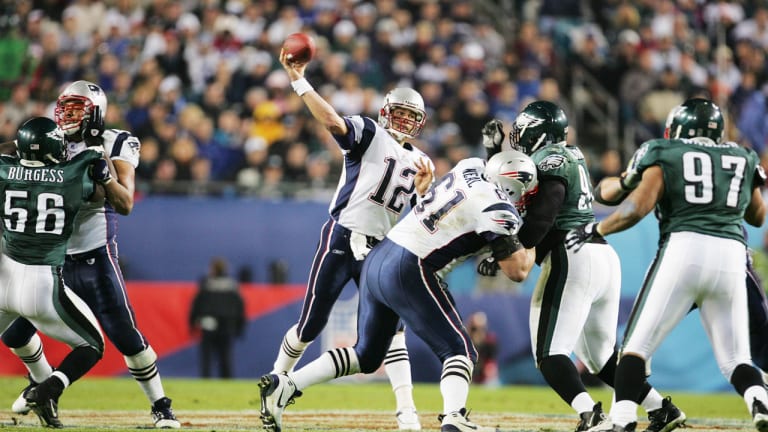 Three-Ring Circus
The Patriots staked their claim as the century's first dynasty and the Greatest Show on Turf, beating the Eagles for their third NFL title in four seasons
Because they do not beat you over the head with their excellence or beat their chests in triumph, the New England Patriots are forever being cast as commonplace champions. They are great in the way that a chocolate milk shake is great, as poised and proficient as the Beach Boys' doing background harmonies onstage. What we are slowly but surely learning from the Pats as they forge the first football dynasty of the 21st century is that dominance comes in many forms, and that sometimes doing the little things well can provide the biggest satisfaction of all.
As these Patriots keep escaping with three-point victories and kicking dirt on the Super Bowl's heritage of wretched excess, skipping individual pregame introductions and engaging in comparatively low-key locker room celebrations, isn't it time we stop being perplexed by their success? Yes, New England's 24-21 victory over the Philadelphia Eagles in Super Bowl XXXIX on Sunday night in Jacksonville was another testament to teamwork, tenacity and the strategic acumen of coach Bill Belichick and his staff. But in vanquishing a brasher opponent to claim the NFL's ultimate prize for the second consecutive year—and the third time in four seasons, matching the record run of the Dallas Cowboys from 1992 to '95--the Pats' players proved they are even more potent than typically perceived.
"Someday I'm going to have kids and tell them I played on one of the greatest teams of all time, a team with a whole lot of great players," said 11th-year outside linebacker Willie McGinest, whose deployment at defensive end was the key to New England's surprise scheme change for the title game. "You might not call them stars, but they just went out and embarrassed people in the biggest game of their lives, so why wouldn't they be stars? It doesn't matter if we won by three or 103—we don't give a damn if people downplay our accomplishments, because all we want to do is win."
So before the coronation of the plucky Patriots as the team of the decade, let's get this much straight: As they proved again in front of 78,125 fans at Alltel Stadium and an estimated 80 million television viewers worldwide, the Pats are more than Belichick's brain and quarterback Tom Brady's golden right arm. Defenders like McGinest, fellow linebackers Tedy Bruschi and Mike Vrabel and strong safety Rodney Harrison, whose second interception of Donovan McNabb iced the game with nine seconds remaining, showed that they're elite players, while unheralded wideout Deion Branch seized footballs out of the cool night sky and the MVP award from Brady's grasp.
"It's awesome to see a guy like Deion win it," said Brady (23 of 33, 236 yards, two touchdowns), a two-time Super Bowl MVP. "The guy has done everything he can for this team, and this is a team full of guys who cheer for one another. The MVP is nice, but that's not why you play. I'm playing for that diamond ring that's as big as a belt buckle."
New England's first two titles came courtesy of Adam Vinatieri field goals in the final seconds—and this victory was only slightly less tense. Again, the Pats relied on their patented formula of individual opportunism, selflessness, innovative game-planning and emotion fueled by perceived disrespect. The last of those came after the Patriots received a copy of an e-mail sent from an Eagles official to a member of the Boston Red Sox organization seeking advice on a prospective victory parade, a missive that Belichick milked for maximum effect during his address to the Pats on Sunday morning at the team's hotel in St. Augustine.
But it was the Eagles, despite being seven-point underdogs, who supplied the bulk of the pregame bluster, from wideout Terrell Owens's assertion that God would heal his right ankle in time to play to fellow wideout Freddie Mitchell's digs at Harrison and the other New England defensive backs. Even Chuck Bednarik, the 79-year-old Hall of Famer and former Eagle, popped off, saying his bitterness toward the Philadelphia organization would compel him to root for the Patriots. Meanwhile, rowdy Eagles fans, who greatly outnumbered their New England counterparts, flocked to congested downtown Jacksonville.
The Patriots didn't make much noise, but behind the scenes they had issues. In an effort to keep McNabb from scrambling, Belichick and defensive coordinator Romeo Crennel junked their 3-4 set in favor of a 4-3 alignment—the Cali front, so named in honor of California native McGinest—in which the veteran linebacker shifted to pass-rushing end. The idea was to cut off the edges and form a semicircle around McNabb, thus discouraging him from throwing to the inside or running.
Going back to Cali unnerved the Pats, who hadn't practiced that alignment since the preseason. When Crennel streamlined the game plan on the Monday before the game, "there were some raised eyebrows," admitted veteran linebacker Ted Johnson. Practices on Wednesday and Thursday, fellow linebacker Roman Phifer added, were "horrible" for the defense, marred by bad communication, erroneous presnap reads and other frequent mental mistakes.
Rather than rail at his charges, Crennel adhered to the Patriot Method, polling the players on what they thought would fix the situation. The consensus: Simplify the scheme. "If you keep hearing from your players that there are too many checks, that means there probably are," Crennel said. "So we cut it back. After the Friday practice we were able to sleep easier."
While the Pats' defense flustered McNabb (30 of 51, 357 yards, three touchdowns) from the outset, ultimately sacking him four times and intercepting three passes while limiting him to zero rushing yards, New England's offense began the game as if in a slumber. Having fallen behind 7-0 on McNabb's six-yard scoring pass to tight end L.J. Smith with 10:02 left in the second quarter—just the second time in their last 27 games they'd failed to score first—the Patriots drove to the Philly four, only to lose the ball when Brady fumbled after bumping into running back Kevin Faulk on a play-fake.
New England finally tied the game on Brady's four-yard pass to wideout David Givens 1:16 before halftime and took a 14-7 lead with 11:09 left in the third quarter on a two-yard scoring toss from Brady to Vrabel, marking the second consecutive Super Bowl in which the moonlighting linebacker caught a touchdown pass. Yet when McNabb whipped a 10-yard scoring pass to running back Brian Westbrook to tie the game with 3:39 remaining in the third quarter, the raucous Philly fans asserted themselves like Broad Street Bullies.
If the Philly faithful thought Brady would be fazed, they haven't been paying attention the past four years, during which the 2000 sixth-round draft pick has ensured himself a place in the Hall of Fame. Following an emotional week in which his 94-year-old grandmother, Margaret, died, Brady exuded an eerie calm when the situation was most tense. He was 4 for 4 on the Pats' nine-play, 66-yard drive, with running back Corey Dillon providing the go-ahead points on a two-yard run with 13:44 left. On New England's next drive Brady and Branch hooked up on the play of the night, a pass over the middle on which the third-year receiver leaped over the back of Philly cornerback Sheldon Brown to turn a possible pick into a 19-yard reception. Six plays later Vinatieri's 22-yard field goal put the Pats up 24-14.
"Outside of that terrible first quarter, we felt we had the game under control," said Branch, who had 133 receiving yards on 11 catches—tying the Super Bowl record shared by Cincinnati Bengals tight end Dan Ross and San Francisco 49ers wideout Jerry Rice, the last receiver to be named MVP (16 years ago). That followed up a 10-catch, 143-yard effort in New England's 32-29 Super Bowl victory over the Carolina Panthers last season.
Yet for all his brilliance, Branch wasn't the most impressive wideout on the field. That distinction belonged to Owens, who 6 1/2 weeks after surgery on his ankle, responded with a nine-catch, 122-yard show of grit. Alas, the same could not be said for the Eagles' other loudmouth receiver, Mitchell, who had angered the easy-to-rile Harrison in the wake of the Pats' 41-27 victory over the Pittsburgh Steelers in the AFC Championship Game by saying he "had something" for the two-time Pro Bowler and that he didn't know the names of New England's cornerbacks. Though Harrison and his friends in the secondary had hoped to hit Mitchell harder than the media slammed Jacksonville (which was derided all week as a second-rate Super Bowl city), they had to settle for limiting him to a single catch for 11 yards.
"All he does is talk," Belichick said of Mitchell long after the game as he sat in his locker room office, his feet propped on a desk. "He's terrible, and you can print that. I was happy when he was in the game."
The coach undoubtedly was pleased with Eagles coach Andy Reid's curious decision to forgo a no-huddle offense while trailing by 10 with 5:40 to go. When the Eagles (15-4) completed a 79-yard scoring drive on McNabb's 30-yard strike to wideout Greg Lewis, only 1:48 remained. After the Pats' Christian Fauria recovered David Akers's onside kick, the Eagles' defense held, but New England punter Josh Miller pinned Philly at its own four with 46 seconds remaining, and Harrison's interception set off a fitting release of red, white and blue confetti.
Belichick, his gray, hooded pullover doused with Gatorade (thanks to Bruschi, who also soaked the coach's 86-year-old father, Steve), celebrated by initiating a hearty group hug with his outgoing coordinators, Crennel and offensive whiz Charlie Weis (box, page 40). Both men were about to become head coaches—Crennel with the Cleveland Browns, Weis with Notre Dame—but first they wanted to savor a second consecutive 17-2 season and the team's historic run. "What did we say, Charlie?" Belichick asked about the words exchanged during the trio's embrace. "I forget."
Weis smiled. "We said we'd been together a long time," he recalled. "We'd had some good times, some bad, but these are moments we'd always have together. And it wouldn't matter that we wouldn't be together anymore. You can be the richest man in the world and not be able to buy moments like this."
Belichick's next challenge will be working with two new coordinators, but enough will be the same in New England to make the Pats the team to beat again in '05. "Five years ago, when I was about to hire Bill, we were having dinner at the Capital Grille in Chestnut Hill," Patriots owner Robert Kraft recalled after the game. "I said, 'Promise me that when we have success that you won't change,' and he has been true to that promise." The coach demands similar humility from his players, who in the words of backup linebacker and special teams ace Matt Chatham, are "all drinking the Kool-Aid. Everybody buys into the team concept, and we'd be stupid not to."
"When you work together—when you embrace words like dignity, integrity and unselfishness—great things can be accomplished," said Bruschi, who thwarted an Eagles drive with an interception at the New England 24 with 7:20 left. Realizing that he, too, was falling into a familiar trap, the ninth-year linebacker caught himself and laughed. "And if you've got some ballers in your locker room," Bruschi added, "you'll win a lot of Super Bowls."
Several hours later, as the clock struck three at the World Golf Village in St. Augustine, Bruschi beamed as Brady entered the VIP section of the team's victory party. The quarterback got the rock-star treatment as he cruised around the room, pausing with teammates to pose for photos with the Lombardi Trophy. Holding his thumb and pinkie together to signify the Pats' three titles, Brady toted the shiny silver football to Vrabel's table, then took it over to Bruschi.
Before and after another camera clicked, neither star said a word. There was no need to.
"Someday I'm going to have kids and tell them I played on one of the greatest teams of all time," said McGinest.