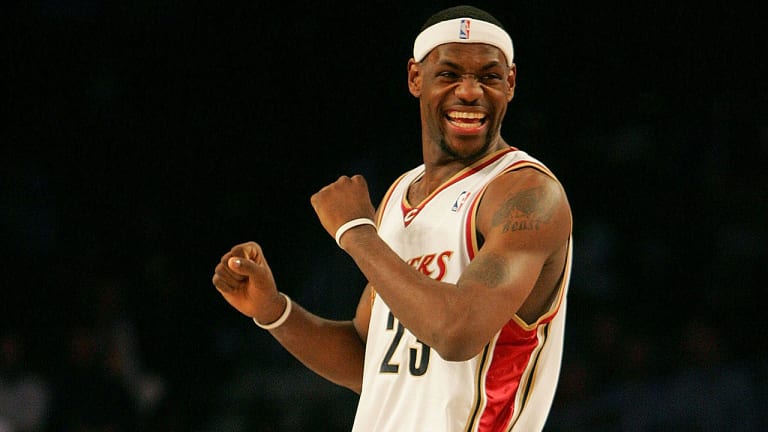 The Future Is Now
When you consider the dazzling arc of his career, it's no surprise that LeBron James, at the tender age of 20, is being measured against the greatest players in the NBA
Walk it back. ¶ Walk it back the way archeologists do, one level at a time, from the newest city on top to the ancient ones below. Read the history, end to beginning. Follow the line of it. Only then does what's happening now seem so inevitable. ¶ Walk it back to the fatherless boy with burgeoning talent. Of course, it makes sense that his high school was charging $120 for season tickets and that Dick Vitale was sitting courtside, slobbering. That his mother got that $80,000 loan to buy him a Hummer. That, at 17, he was on the cover of this very magazine, which proclaimed him THE CHOSEN ONE and wondered if he was the next Michael Jordan. ¶ Walk it back through all the debates. Was his life a triumph of excess? Was he a bad example to people stuck in the worst parts of American society? Walk it back and he's a cautionary tale, representing the strange ways America creates celebrities. Did it all come too fast for someone all too young? ¶ The answers are there in the different layers--from the middle school mythology and from the strange Persian bazaar that was his high school years. Look at the shards and fragments and you see how he's come to be where he is. Evolution only makes sense in retrospect.
And now, just now, he's building something new and gleaming that fits delicately atop everything that preceded it. He makes all the tiny calibrations--how much attention does he want, how much time should he make for himself?--so that the edifice he's building doesn't overwhelm its bedrock and collapse around him. He has passed into a period of becoming the best in the world at what he does. Only when you walk it back does the story seem to be a straight line.
"I just do what I got to do and go out and be myself, on and off the court, and take care of my obligations," he says, his eyes wary and guarded. "That's generally your own destiny--knowing what you have to take care of.
"You can't let nobody run your train. I want to run everybody, and that doesn't mean I want to be hard on people. That's just saying I want to be in control of things because, in my eyes, that's when things run smoothest. But I'm going to hold something to myself, and that's the game of basketball. That's the one part I don't want anyone to get a piece of."
The big American lives don't have acts. They have epochs, each forming the foundation for the next. LeBron James is 20 years old. Only when you walk it back can you see the inexorable logic of him. Only when you walk it back does he make any kind of sense at all.
The producers of The Simpsons wanted him. They needed well-known athletes for an episode in which Homer gives a lesson in victory dances. James has loved the show since before he was famous, a time so long ago he barely remembers it. He could play himself for laughs, and without a couple of million bucks riding on it. So, in the proud tradition of Kareem Abdul-Jabbar's Roger Murdock in Airplane! and Xavier McDaniel's turn as Campbell Scott's imaginary sexologist in Cameron Crowe's Singles, off he went to Springfield.
"When they asked me to do it, I said, 'Of course, anytime I can fit it in, we'll get it done,'" James explains. "It went pretty smooth. I just used my regular voice, you know?"
Last season he was the NBA's Rookie of the Year, better by far than all the skeptics thought he would be. Now he is on the brink of much more. "It's weird talking about a 20-year-old kid being a great player, but he is a great player, and he could be the best ever," says Denver Nuggets coach George Karl. "He's the exception to almost every rule. His maturity is the thing that's the most startling about him. His basketball sense has gotten him to where he is."
James enters this week's All-Star hoop-a-palooza as the league's signature star. Through Sunday he was averaging 25.3 points (as opposed to 20.9 last season), 7.7 rebounds (up from 5.5) and 7.2 assists (up from 5.9). Only four players in NBA history have averaged 25, seven and seven: Oscar Robertson (six times), John Havlicek (twice), Jordan (once) and Larry Bird (once). His shooting percentage has gone from .417 to .489. The Cleveland Cavaliers improved by 18 wins last year after making James the No. 1 pick in the draft out of St. Mary--St. Vincent High in nearby Akron. This season, despite power forward Carlos Boozer's defection over the summer to the Utah Jazz, Cleveland has ridden James to a 29-20 record, the fifth best in the Eastern Conference.
The Cavaliers have a dismal history, going back to owner Ted Stepien, who once replaced the team's fight song with a polka. Almost by himself James made the Cavs a hot property. Attendance went up by an average of 6,791 from the season before he arrived. In 1983, Gordon Gund bought the franchise from Stepien for $20 million. In December he sold it to Michigan businessman Dan Gilbert for an estimated $375 million.
When Jordan was 20, he was fighting Matt Doherty for shots at North Carolina. Then, two years into his NBA career, he was as big a star as James is now--but he was also regularly getting bumped off his shots. James is 6'8" and 240 pounds, almost burly in comparison with other swingmen. His size has enabled him to survive the pounding of the 82-game NBA season. "Mike learned he had to get in the weight room and get bigger," Karl says. "LeBron didn't have to do that."
He also plays a generous game, which secured his standing with his teammates almost from the day he came into the league. Boston Celtics coach Doc Rivers remembers a game early this season in which James drove the lane and dropped the ball off to center Zydrunas Ilgauskas for what would prove to be the game-winning shot, then blocked a shot by Paul Pierce at the other end to seal the victory.
"Forget the talent and the athletic ability, it's his maturity that's light-years ahead," Rivers says. "He keeps his teammates involved. That he's willing to drive it at the end of a game and kick it to a teammate, well, that's not like a second-year player."
And that competitive personality provided a useful armor against the inevitable carping that came when the world seemed to be handing him the keys to the kingdom--to say nothing of the keys to that Hummer--while he was a senior at St. Vincent--St. Mary's. James could have entered the NBA a diva. Indeed, the embarrassing idolatry heaped on him as an adolescent made that likely. If he had, we might still be picking pieces of him from between Shaquille O'Neal's teeth. Instead, on the court, his faith in the concept of being a teammate has been absolute.
"Every night surprises me," he says. "The way we've come together as a family, that surprises me."
"People like him, like Jason Kidd, it's part of them to make their teammates better," says forward Drew Gooden, who has replaced Boozer in the Cleveland lineup. "Guys like to play with someone like that."
Moreover, James is at the center of something of a revival of the NBA itself, which finally may be emerging from its post-Jordan lassitude. Beginning with James, and running through players like Denver Nuggets forward Carmelo Anthony, Miami Heat guard Dwyane Wade and Phoenix Suns center Amare Stoudemire, the league seems suddenly bursting with telegenic young talent--not to mention old fogies like Kevin Garnett and Kobe Bryant. Scoring is up, and so are the ratings, despite the reenactment of Little Round Top that the Indiana Pacers staged in Detroit in November.
"There's a ton of talent now, maybe more than we've ever had," says Rivers. "If you look at Paul Pierce, Tracy McGrady, Jermaine O'Neal, those are the middle-aged guys now. The league is set up nicely for the future."
James doesn't concern himself with that. "I hear talk," he says, "but I don't buy into it too much. I got one thing to take care of, and that's the Cleveland Cavaliers. I try not to get caught up in the league aspect of things."
The eyes are almost shuttered. The smile is small and triangular and brief, as though it might offer too much of a window into lives past and other times, which now seem dim and ancient.
LeBron James's time is calibrated to to the Warhol Meridian. Everybody who wants a slice of it gets 15 minutes, and not the thinnest second more. Because of the fearsome acceleration that makes what he's doing possible, he needs to maintain boundaries and balance. James has fulfilled so many promises that once appeared so ludicrous that you can almost laugh at the heedless circus of his pre-NBA days.
Of course, he made the leap, not only from high school to the pros, but also from kid to brand name. Of course, there was nothing disproportionate about Nike's paying him $90 million before he ever stepped onto the floor in an NBA arena, or about the estimate in Forbes that James would make more than $200 million before he was 25, or the magazine's other estimate that said he'd be worth $2 billion to his team and his sponsors over the same time period. Of course, there always was a clear path through this wilderness of numbers.
Look at where he is now. Take all 15 minutes if you need to. This is how the greatest player of all time--if he turns out to be the greatest player of all time--gets made. "I hope," he says, "I can help guys coming out of high school, if they need advice. I mean, I'll be there to tell them. Even though I'm only 20 years old, I've kind of been through this stuff a lot. Been through the spotlight, been on the cover of the magazines since about junior high. I kind of know the ins and outs of everything."
And now, the new epoch, the one that seems so inevitable in retrospect, is being erected on the Jordan model--smooth, shiny, edgeless. With Jordan, the model blinded everyone to the affairs and to the reckless gambling. Now, as it happens, LeBron became a father in the fall, and he announced that he was happy but not planning to get married anytime soon. TIME magazine reported it, and LeBron's minders from Goodwin Sports Management were not happy about that at all.
All this has happened with a speed that blinds perspective, and maybe perspective is what's needed, a voice from the days when lives were built more slowly, and generations did not pass like lightning.
"The king!" the old coach says, as the media horde around him after practice demonstrates impressive lateral movement in the direction of LeBron James, who is making for the door.
"He doesn't have a lot of time, so move your asses. Got to talk to the King! Uh-oh! The King split!"
And then Paul Silas laughs until he shakes.
He played in the days of floor-length mink coats and rakish hats, when a Rolls was a Rolls and a Caddy didn't look as though it had entered witness protection and come out as a Buick. He played when lapels were wide and ties were wider, and men were men and walked ocelots on leashes. He never flashed any of that, but he knew the people who did, back in the day, which seems a more distant day than 30 years would make it.
Silas was as ferocious a supporting player as the NBA has ever seen, with more rebounds than points in his career. He played in a tight, violent universe of sweat and was a vital part of two Boston Celtics championship teams in the mid-1970s. Silas did the work. Other people wore the mink.
He started coaching with the Clippers when that conspicuous NBA landfill was located in San Diego. (Then, Clippers management allotted each player four pairs of socks for training camp. It was like playing for UNICEF.) Subsequently he coached in Charlotte, and when the Hornets moved to New Orleans, he was fired after the team went 47-35 in 2002-03. He took the Cleveland job in June '03, 24 days before the Cavaliers handed him a high school senior to build his future around.
"I didn't really know that much about him," Silas says. "I knew how athletic he was." As for James, who's surprisingly aware that the history of the NBA goes back further than, well, him, he walked into his professional career with more than a small measure of respect for his coach.
"Honestly, he's probably the best thing that could have happened to me," James says. "To have a coach like that, who's level-headed, who played in the NBA and won championships. You know, he'll let players play, and that was the one thing I love that I was concerned about, coming into the NBA, was to have a coach who would let me play my game.
"Coach, you know, he was a role player, but he had some talent around him up there in Boston."
They could not be more different. The instant superstar with the eight-figure shoe deal and the 61-year-old coach who started his NBA career in St. Louis when the town was still segregated. The exploding supernova of pure talent and the coach who always looked as if he would burst from the effort it took to rip away a rebound.
"It's changed so much, especially with your stars," Silas says. "They're more like rock stars now, mainly due to TV and the kind of media accessibility there is, which we didn't have. It all started with Mike, I think. He became global. He became mega. Now, LeBron has taken over from there."
Silas has chewed him out, especially about his defense, which is still a work in progress. During one game in Miami, when a sideline reporter asked what more LeBron could do, Silas said, "Well, he could get me a couple of rebounds in the second half." Still, he rarely has to tell James anything more than once.
"I had to have patience with him and teach him the fundamentals of our game," Silas explains. "And, then, only during the first season. Now, the second season, he came back, and he had it down. He's the quickest study I've ever been around. He knows immediately when he makes a mistake, and he came back with a confidence he didn't have last year."
As for all the rest of it--the screaming girls in hotel lobbies, the life carved out by a thousand spotlights--Silas looks at it like a man gazing into another world, a younger one, where an ocelot on a leash would not turn a single head.
"I don't think I could've done what he's done," Silas says. "I think about it, and I wonder how he can keep his head about him and not really go crazy. He's just a special kid who understands who he is and how he fits. He can't see himself apart from the team, and that's geniuslike, almost."
He gets up and walks off the floor, half limping and half swaggering, the way he used to leave the smoky arenas when the arenas were still allowed to be smoky. This is the way generations used to pass, slowly, with time enough to catch your breath and time enough to see the next generation coming, far down the line.
Al Jefferson is a big, flat-faced rookie from Monticello, Miss. A year ago he was one of 250 students at Prentiss High. Now, he's a forward for the Celtics, sitting in an arena that holds three times the number of people who live in his hometown, and he's talking about LeBron James as though James were someone who fought for Joffre at Verdun--or at least, for the Fort Wayne Pistons in Rochester.
"You look at the NBA," Jefferson says, "and all the stars came right out of high school--Kobe, Kevin and LeBron. LeBron came in and took it right over, like somebody who's been knowing the game for 10 years at least."
It is as though James's talent has made him older. It's as though his dues were paid in full and instantly, the way that billions of dollars now flash around the world with a single keystroke. He feels the speed of it. He's come to understand the furious momentum that has carried him along since he turned 16.
"We want to lay the stones," James says. "Amare and Kevin and Kobe and Tracy and Jermaine did it for us. I don't want to say the older generation, because they're not that old, but the guys who came before us, they laid the stones, and now we have to lay the stones for O.J. Mayo and all the others who are supposed to be coming out."
He sounds like some talking head on the History Channel, and it's a moment before you realize that he hasn't yet named a player who is 30 years old. Back in the day?
Hell, yesterday was the day.
Soon, today will be the day.
The Nuggets have come to Cleveland, and James is matched up once again with Anthony, who was drafted two picks after LeBron. Since then they both played on the dreary 2004 U.S. Olympic team, but Anthony went into a deep sulk in Athens from which he has yet to emerge. In addition, Anthony made an appearance in a bizarre obverse to all those NBA antidrug PSAs; he popped up in an antisnitching DVD featuring some drug dealers back in his neighborhood in Baltimore. How far James has moved beyond Anthony becomes clear when Denver's coach suggests that Anthony use James, who is seven months younger, as an inspiration. "It's good that LeBron is there to push Carmelo to be better," Karl says before the game. "[Carmelo's] being compared to a great player, and that's good for him."
Both teams start fast but come out of the locker room as though they are desperate for the All-Star break to begin immediately. James scores 14 points in the first quarter alone, and 20 by halftime. He muscles past Nuggets power forward Kenyon Martin for layups and leads the Cleveland break--once faking a shot from the top of the circle only to rifle a pass to Robert Traylor for a layup. However, by the third quarter the Cavaliers have blown an 11-point lead, and James has begun to force three-point shots.
There are holes in his game that are not obvious in the highlight packages. His individual defense can be spotty and, though he's improved his shooting balance tremendously, he still drifts on the rise and fires clumsy air balls. Denver beats the Cavs 106-101, dealing Cleveland only its fifth home loss of the season.
James ends up with 35 points, six boards and six assists. He is the best player on the floor by a hilarious margin, even though he seemed to get bogged down at the end. "Don't measure myself that way," he says after the game, when the question of being the best there ever was comes up. "That's you guys [in the media], always was."
The smile comes again, small and triangular and brief. His past is layered in his eyes, like lost cities on a single site. The one on top is inevitably bright, inevitably golden. 
[originallink:10806991:717919]