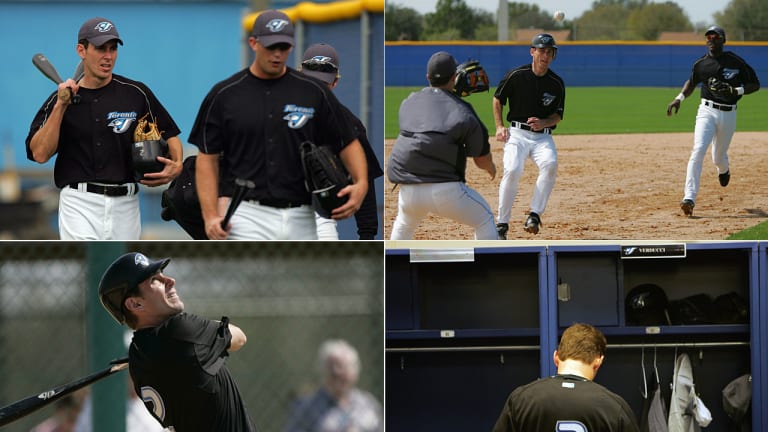 I Was a Toronto Blue Jay
In five days as a major leaguer, the author saw the splendors of baseball—and its hard reality—from the best perspective: inside the game
STANDING IN LEFTFIELD DURING a major league game—I am playing leftfield—heightens my very sense of being. There is a vibrancy to the colors and sensations around me that, even as I stand there, I am cataloging in my most secure vault of memory. I can feel the tips of my metal spikes knifing between blades of grass and into the soft, moist earth. I feel the fit and drape of my uniform, a major league uniform, my amazing technicolor dreamcoat. Gray pants, belted tightly, black-mesh jersey with TORONTO in metallic silver above the stylized Blue Jays logo on the left breast and a shimmering silver number 2 on my back. Never can I remember the sky bluer, the grass greener, the sun brighter.
With a change in perspective, the familiar becomes intensely intimate, like actually standing on the blue carpet of the Oval Office or feeling the floorboards of the Carnegie Hall stage beneath your feet or leaving footprints upon the Sea of Tranquility. It is not an out-of-body experience but rather its opposite: a saturation of sensations.
It is also a little like transporting dynamite on your person. A feeling of power, yes, but with a constant undercurrent of danger, especially knowing that Blue Jays first baseman Eric Hinske, who keeps fouling off pitches like a finicky shopper picking through unripe fruit, could at any moment send a curving line drive screaming my way or, worse, loft a fiendish high fly into that bright, cloudless sky and cruel cross-field wind, leaving me to look as if I were chasing a dollar bill dropped from a helicopter.
This is where the long march of a baseball season begins. A team will play upward of 200 games before the curtain falls on the World Series. This is the first for Toronto, an intrasquad game. About 2,000 fans--nearly all of whom, to my dismay as I try to track pitches from leftfield, are wearing gleaming white shirts--ring the backstop of Field 2 at the Bobby Mattick Training Center in Dunedin, Fla., drawn by those two lovely words after a winter of scraping snow shovels against the driveway: game today.
I am a sportswriter, and sportswriters belong on the other side of the fence with the other unchosen. So why in the name of Kafka is a sportswriter playing leftfield for the Blue Jays? Maybe Kafka, not always the surrealist, can explain. On Oct. 18, 1921, three years before he died at age 40, Kafka cracked open his diary and wrote this entry: "Life's splendor forever lies in wait about each one of us in all its fullness, but veiled from view, deep down, invisible, far off.... If you summon it by the right word, by its right name, it will come."
I have come to Dunedin to summon it. Beginning with the team's first full-squad workout on Feb. 25, I have spent five days as a full-fledged player, in spirit and in uniform--attending every private meeting, running every sprint, participating in every live batting-practice session, sharing every clubhouse joke. "The full metal jacket," as manager John Gibbons promised me.
My most modest goals were to make it through five days with my bats and my hamstrings intact, though not necessarily in that order. My greater goals were to learn about the game up close, in the first person rather than in the third, about how spring training begins to lay the mortar for the sacred brotherhood of teammates--and about myself.
Five days a Jay, standing there with the vastness of leftfield my responsibility, my head is crammed with newfound knowledge. I've heard the ferocious hum of a 95-mph fastball, taken more than 100 swings a day, been hit by a pitch and heard grown men admonished for not washing their hands after using the bathroom.
Now it is about to end. I will get one at bat in this intrasquad game. One chance at splendor.
Day 1: Beware of Fecal Matter
Red Sox, Yankees ... Red Sox, Yankees ... I don't care about the Red Sox and Yankees. We have to take care of ourselves. This is the most important year in the four years I've been here. This is your chance, from right now, to decide what kind of team you want to be." ¶ General manager J.P. Ricciardi is addressing his troops in a classroom down a hallway from the main clubhouse. Like schoolkids the players fill the desks in the back of the room but leave most of the ones up front unoccupied. This is what is known as the annual orientation meeting, ostensibly to introduce the training, coaching and support staff--and this year one embedded reporter--but also for the manager and general manager to set the tone for the season.
The Blue Jays are a blank slate. After a surprise third-place finish with 86 wins in 2003, Toronto sank to the basement in the American League East last year, losing 94 games. The Jays are Liechtenstein in a division with Cold War superpowers New York and Boston. Toronto's best player, first baseman Carlos Delgado, signed with Florida as a free agent. In front of Ricciardi and Gibbons sit only four players who have made an All-Star team, and only one who has hit 30 home runs, centerfielder Vernon Wells. As if to acknowledge his increased importance to the club, Wells is the one player who dares to sit front and center, casually munching an apple.
"I like this team," Gibbons tells his players. "I like our starting pitching. We have good arms in the bullpen. Our defense is excellent. And we have a lot of very good hitters. What we need to concentrate on is being an aggressive team, being a very good situational hitting team and cutting down on strikeouts. Some people will say this team will not hit a lot of home runs. You never know how that will play out. But we're going to be aggressive on the bases."
Trainer George Poulis also addresses the team. He mentions that he noticed "a couple of guys the other day use the toilet, get up and leave without washing their hands. Now you go to the fruit bowl, you touch some grapes, not taking all of them, and the next guy comes in, takes that grape that you had touched and puts it in his mouth. And what's on that grape? Fecal matter. That's how you spread virus and bacteria."
There is nervous schoolboy laughter in the room.
"V-Dub," catcher Gregg Zaun calls to Wells, "I think someone touched that apple."
When the meeting ends, the infielders and pitchers leave for Field 2 to work on bunt defense. I join the outfielders in the four covered batting cages for soft toss, a hitting drill in which a coach tosses baseballs to the hitter from behind a protective screen about 20 feet from home plate.
I work with Mike Barnett, 46, who has the rare distinction of being a big league hitting coach without ever having played a day of professional baseball. Barnett's career as a catcher ended in 1978 when he blew out his shoulder at Ohio University. So one day soon after, just to stay in baseball, he walked into the offices of the Pirates' Triple A team in Columbus, Ohio, his hometown, and asked for a job as a bullpen catcher. He got it. He worked his way through various college and minor league coaching stops until the Blue Jays hired him to be their hitting coach in 2002. "I know every day how fortunate I am to be doing what I'm doing," he says.
The art of hitting is the ability to cast aside the preponderance of failure endemic to the task. Only hitters and weather forecasters can be wrong so often and still keep their jobs. To that end a hitting coach is really a confidence coach. He must be vigilantly optimistic. But even in this fraternity of positive thinkers, Barnett stands out. The joke among the front office staff is that Barnett is so sunny that any day they expect him to say, "You know, I think Verducci has a chance to help us...."
Barnett is not, however, a miracle worker. I am 44 years old. Excluding handfuls of pickup games involving other sportswriters, I have not faced live pitching in more than 23 years, since a Rudy-like career at Penn State spent almost entirely as an outfielder on the practice squad. I have not hit with a wooden bat since I was 10, and that one was held together with nails and electrical tape. Not wanting to pretend to be something I wasn't, I didn't visit a batting cage or even swing a bat to prepare for this adventure.
Barnett makes some quick changes that click immediately: He lowers my hands, changes my swing path to a more downward angle and shows me how to shift my weight through the swing for a more balanced follow-through. I fall in love with the solid feel and thwack of hard maple upon a new baseball. Equipment manager Jeff Ross has issued me two bats, one maple and one traditional ash. The maple is noticeably harder.
"A lot of guys who use maple won't use it early in spring training," outfielder Reed Johnson tells me. "It doesn't break as easily, and early on you tend to get jammed more. Guys would rather just break their bat and not feel the pain."
Here it is, first day of camp, and we're supposed to hit live pitching next. That's hard enough after five months off, never mind 23 years.
"Ten, 15 years ago, we'd hit off coaches or machines for five to seven days first," says Merv Rettenmund, the organization's roving minor league hitting instructor. "But it's not the same as live pitching. So you might as well just dive in and get started."
Rain, heaven-sent, forces a change in plans. Pitchers will throw in the indoor cages, where the light is too dim to allow hitters to do anything but stand in at the plate and track the ball.
I step in against righthander Roy Halladay, the 2003 Cy Young Award winner, who is 6'6", 225 pounds and looks capable of throwing a pitch through the cinder block wall behind the cage. I immediately realize the utter inadequacy of television to capture the power of a major league pitch. Halladay's fastball is angry, announcing its indignation with an audible hum that grows frighteningly loud as it approaches. His slider is even more evil because it presents itself in the clothing of a fastball but then, like a ball rolling down the street and falling into an open manhole, drops out of sight, down and away. His curveball bends more than an election-year politician.
I am so impressed with his stuff--it is February--that I will ask him later how close he is to season-ready velocity. Halladay, 27, tells me he's "just about there right now," having thrown off a mound six times before camp opened. Everyone, it seems, hits the ground running these days.
Miguel Batista, 34, follows Halladay on the mound. I am in a group with fellow outfielders Wells, Johnson and Frank Catalanotto, but no one moves to step in. Batista is still waiting when Wells motions to me and says, "Go ahead." I jump in, to the accompaniment of snickers.
It will not be until the next day that Wells tells me Batista hit three players in the head in spring training alone last year. So I am the royal taster. The three outfielders want me in there to gauge Batista's control. He has about eight varieties of pitches, and all of them move like a rabbit flushed out of a bush. He throws me one pitch that I swear breaks two ways--first left, then right--like a double-breaker putt in golf, only at about 90 mph.
I mention this to the catcher, Ken Huckaby, who laughs and says, "He's filthy. I faced him three times in spring training last year. Struck me out three times on a total of nine pitches."
I don't know how anyone hits Batista, and his teammates' apprehension indicates how uncomfortable he makes hitters. But Batista was 10-13 with a pedestrian 4.80 ERA last year. His gift for making a baseball dance is also his curse. He tends to get careless with his vast repertoire, such as starting weak hitters with errant sliders instead of pumping in a first-strike fastball.
Batista throws me one pitch on which, halfway to the plate, I can see a dot surrounded by spinning seams. Slider! I have cracked its code by reading the telltale dot. Then I realize something: The ball was already halfway to the plate by the time I decoded it, probably too late to do anything with it. Just by tracking pitches from Halladay, Batista, Scott Schoeneweis and Dave Bush, I have come to understand that there is a race between the ball and my mind, and the ball is winning. By the time I process speed, spin, location and probable path and decide whether to swing or not, it is too late. The ball is past me.
Later we face pitches thrown by coaches from about 50 feet away, or what is called dead-arm BP. The cages become a shooting gallery. As heavy rain pounds the metal roof, all four cages crackle with one solid thwack after another. It is so loud that you have to raise your voice to be heard. Coaches take cover behind a protective screen after each pitch as balls whiz past them like shots at a firing range, packing the same deadly force.
During the rainstorm a group of infielders and outfielders huddles in a small dugout nearby while third base coach Brian Butterfield, with a preacher's passion, delivers a sermon on baserunning.
"Make your own legacy," he tells us. "We will always slide into second base. Always. Don't even make that early peel-off an option with two outs. And you know that saying, Don't make the first or third out at third base? Be aware of it, but don't be a prisoner of it. If you get thrown out, that's O.K. Now if it happens again and again, then maybe we have to talk about pulling in the reins. But we're going to be one of the best two-base teams in baseball. Make it a priority."
When Butterfield is finished, it is still raining too hard to go back toward the clubhouse or the batting cages. So, like a bunch of Little Leaguers waiting for the rain to stop, we pass the time telling jokes and needling one another. Second baseman Orlando Hudson, who lovingly refers to 5'8" infielder Frank Menechino as "Mini-Me," is the team's champion trash talker. Hudson, with Wells and Catalanotto, is considering which players should be allowed to locker near them in the preferred corner of the clubhouse in Toronto. This is serious stuff. The layout of the locker room is like a Monopoly board; some neighborhoods have more intrinsic value than others. Whoever joins those three will gain status, moving in among the tribal leaders.
Johnson, 28, with two years of big league service, wants in on the prime property. He is told he must submit a written application explaining why he is worthy and including a proposed name for the neighborhood. "You want in the hood," Hudson says, "you've got to come up with a name."
Then a single, tremendous crack of thunder fills the air. It sends all of us running through the rain like little boys to the safety of indoors.
In that little treehouselike meeting in the rain, and in the clubhouse over the days to come, I gain a better understanding of the natural power of camaraderie in baseball. As in the Army, you are thrown together with people of various backgrounds. You might not even like some of them if you met under different circumstances, but wearing the same uniform, sharing the same locker room and shower room and nakedness and fruit bowl, spending so much time together in a confined space--the long, narrow Mattick clubhouse makes me think of a submarine--bonds you to them almost against your will. There is a strange sanctity about a place where guys can pass wind freely without apology.
I am reminded of this unwritten code when I ask lefthander Ted Lilly, who lockers next to me, about Jose Canseco and his steroid tell-all book, Juiced. Lilly, who played with Canseco on the 2000 Yankees, has the soft, expressive eyes of a giraffe and such a perpetually concerned look upon his face that pitcher Justin Miller calls him "Eeyore." But Lilly's mien becomes even more somber when I mention Canseco.
"I don't understand it," he says. "You become so close with people as teammates. You share things with them all the time, and then one person violates that trust for what, money? I don't understand how you can do that to teammates, to friends."
Lilly uses the words as synonyms. In the way of the clubhouse, to become a teammate is to become a friend. "I don't doubt that some things he said in general may have some truth," Lilly says. "I know I've been tempted [to use steroids]. You think, What can I do to get to that level? It has to cross your mind. But I have always been very concerned about the health impact."
"I'm sure you've seen guys make money off it," I tell him.
"And there are guys who lost money," he says, "because their bodies broke down. And who knows what problems they still face."
Day 2: Of Maxim and Meat Loaf
Now I feel like a big leaguer. I have discovered the miracle of freshly laundered clothes waiting for me in my locker. One day you take off the sweaty stuff and chuck it into a large bin, and the next morning it's all there hanging neatly. My spikes are out-of-the-box spotless. For this I can thank clubhouse manager Kevin Malloy and his crew.
Batista's locker is the talk of the clubhouse. Nothing is on hangers. Everything is folded crisply into neat piles. Finally, Batista walks in and explains: "That's so I'm ready when I'm traded. I've got everything packed up. I just throw it into a bag, and I'm gone. Because you never know when it's going to happen to you in this game."
Everybody laughs, knowing, of course, that he speaks the truth.
At 8 a.m. we are back in the classroom—Wells, with a fresh apple, in the same seat—this time for the annual umpires' presentation, delivered by umpire supervisor Rich Garcia. Garcia notes that the average time of game increased by one minute last year, to 2:51, and players need to be aware of pace-of-game guidelines. He also says more strikes on the upper and lower edges of the strike zone will be called this year—too many were called balls last year, according to the laser-guided QuesTec umpire information system.
Johnson asks Garcia if it is true that QuesTec allows a two-inch buffer zone on each side of the plate when grading umpires. Garcia acknowledges that it's true, and adds that if you include the three-inch width of the baseball, the 17-inch plate actually becomes a 27-inch plate to QuesTec.
There are grumbles in the back of the room.
"Schilling gets more."
"Pedro gets more."
Garcia moves on to beanballs. The quick warnings issued by umpires are designed to cut down on brawls. "And they have," he says. "We had only three last year. Myth: Once a warning is issued, my guy can't pitch inside. Fact: 75 percent of hit batters following a warning did not result in an ejection. So it's working."
"I thoroughly disagree!"
It is Batista, raising a loud objection.
"Last year I was given a warning for throwing a changeup in the dirt," he says angrily. "A changeup!"
Garcia admits umpires can make mistakes but reiterates that brawls are terrible for the game's image and the umpires will act aggressively to prevent them.
Today, under a clear sky, the time has come for live batting practice. Wells, Johnson, Catalanotto and I will hit against Francisco Rosario, a 24-year-old righthander whose 94-mph fastball and sharp slider have him on the cusp of making the club.
The outfielders swing rarely and only sometimes make solid contact. Now it is my turn. I decide to look at the first pitch, a fastball. It seems to hurry at the end, like a car shifting into a higher gear.
O.K., I'm ready. Rosario shows me the palm of his glove, indicating that a changeup is coming. I get a good look at it. It is knee high. As I swing, it disappears, swallowed up by one of those manholes, right under my bat.
The next pitch is a slider off the plate. I let it go. Rosario throws another slider, this time getting more plate than he prefers. I swing and experience that unmistakable feeling of solid contact on my hands, like a hammer delivering the final, perfect blow to a nail. There is no resistance. What looks to the rest of the world like a routine fly ball to rightfield is pure bliss to me.
Jesse Carlson, a nonroster lefthander with a slingshot delivery, is next to pitch.
"V-Dub, should I hit off this guy?" asks Catalanotto, a lefthanded batter.
Just then Carlson throws his first warmup pitch, a searing fastball in the vicinity of where a lefthanded hitter's head would be.
"Forget it," Catalanotto says. "Tom, get in there."
I swing at three of Carlson's pitches and make contact each time, fouling a fastball into the batting cage, hitting another fastball with some authority off the protective screen in front of Carlson and bouncing a curveball in the hole between third base and shortstop. And my bat is still in one piece.
My scariest moment actually occurs when hitting against Double A coach John Valentin. Players don't wear batting helmets for dead-arm BP because the coaches simply groove pitches over the plate. But Valentin lets go of one that is headed straight for my head. It's the last place I'm expecting it, so I freeze for a moment, then finally duck and cover. The ball whacks off the back of my left shoulder. Valentin later apologizes profusely.
"Don't worry," I tell him. "Better you hit me than Halladay or Batista."
Butterfield gives us another baserunning clinic, in which he slips in a mention of an "orange gopher." We all look at each other, perplexed.
"What's an orange gopher?" Menechino asks.
"'Bout 15 cents a slice," Butterfield replies in his best deadpan.
After practice most everyone hits the weight room for conditioning and strength training. Zaun is twisting his hands in a bucket of uncooked rice to make them stronger without the stress of weights. I am running on a treadmill. The smell of meat loaf is wafting into the room from the players' lounge down the hall, part of the daily breakfast and lunch service that is known simply and affectionately around baseball as the Spread.
"I'm not even sure if it's real ground beef," one player behind me says.
"I like it," replies another. "If it's free, it's me."
I take inventory of the room. There is golf on TV, men reading Maxim while riding exercise bikes, Skid Row blasting out of a killer sound system and the aroma of free meat loaf calling the hungry to their caloric satisfaction. The testosterone factor is off the charts.
Day 3: Help from a Higher Power
Chapel. 8:05. In the classroom reads the note in a corner of the clubhouse whiteboard. I am one of six players to attend, all of us in uniform. The service is led by Gabe Gross, a strapping, fuzzy-cheeked 25-year-old outfielder with a swing as pretty as Easter morning. He is, as if straight out of Central Casting, the Southern ideal of the born ath-a-lete, the can't-miss kid who can play every sport, praise God and date the captain of the cheerleading squad with perfect equanimity.
Gross, the son of an NFL player, played football, basketball and baseball in high school and football and baseball at Auburn. He started six games as a freshman quarterback at Auburn in 1998 after being recruited by Terry Bowden.
"My dad told me, 'Son, once you play quarterback for Auburn, your life is forever changed,'" Gross says. "He was right. To this day, no matter what I do in baseball, people in Auburn know me as the guy who played quarterback at Auburn. And always will.
After Tommy Tuberville replaced Bowden, Gross dropped to third on the depth chart in his sophomore season. Two games after losing his starting job and with fall baseball practice about to begin, he quit the football team. Twenty-one months later the Blue Jays selected him in the first round of the 2001 draft. He made his big league debut last year and is likely to begin this year getting more seasoning in Triple A, though he has the tools to be a star any day now.
Gross reads a few passages from his Bible and relates them to himself and baseball.
"I know sometimes I worry so much about baseball, worry about going 4 for 4 that night," he says. "And I know if I put my trust in God, that's really what matters most. And those are the times when I seem to play better too."
The brief service ends with the players offering special intentions for prayer. Most of them involve immediate family members, left behind but never far from thought in this relentless, isolated pursuit called baseball.
Rain pounds Dunedin again. We repeat our Day 1 schedule: soft toss, tracking pitches from the pitchers, dead-arm BP. I'm amazed at the consistent dead-solid contact that players make in BP. Everyone looks like a star, including 24-year-old Alex Rios, a 6'5" outfielder and 1999 first-round pick who mysteriously hit only one home run in 426 at bats last year for the Jays. He added 15 pounds over the winter, though, and the ball is jumping off his bat.
"He's going to have a big year," Rettenmund says of a guy who is so quiet that I don't think I hear him say more than two words in five days.
I ask Rettenmund to tell me the difference between a decent hitter and a great one.
"Effort," he says. "The great ones do it easily. There's less movement, better balance. Look at Vernon."
Wells appears to swing casually, but the ball rockets off his bat. He is a fully formed version of Gross: the son of a football player (CFL), he played multiple sports in high school (baseball and football) and was drafted in the first round (1997). He has decided this year, in keeping with Toronto's newfound aggressive approach to baserunning, that he will be a 30-30 player, though his career high in steals is nine. He says it the way you would tick off items on a shopping list. Consider it done.
"Vernon's amazing," Catalanotto says. "Twenty minutes before a game, you start feeling a little nervousness, the butterflies. It's normal. But Vernon will be there not even in his spikes yet, just kicking back. It's like he's going to play a game in the backyard. He makes it look so easy."
I, on the other hand, am one of those hitters whose effort is too visible. I am working at hitting the ball because I lack that sweet, professional flow that actually takes thousands upon thousands of swings to groove. I stick around for extra hitting against a modern pitching machine that delivers the ball out of a video screen so that it appears to be thrown by a two-dimensional life-sized pitcher.
When I am done I tell the machine's operator, "I saw this machine in Winter Haven two years ago."
"Oh, you used to be with the Indians?" he asks.
"Uh, no. SPORTS ILLUSTRATED."
Day 4: O-Dog, Cat and V-Dub, Plus Two
The council of elders convenes. Wells, Hudson and Catalanotto huddle in front of their lockers to review three applications for preferential locker location. They will pick two from among shortstop Russ Adams, infielder John McDonald and Johnson.
"The Pound?" Hudson says acidly of Adams's answer to the name-the-neighborhood portion of the application. "That's not very original."
"He's just trying to suck up to you," Catalanotto says to Hudson, who is known as O-Dog.
"Bad for you," Hudson replies to the player called Cat. "A cat in a pound is a bad idea."
Nicknames are the pledge pins of the baseball fraternity. Earn one and you know you're in. In addition to O-Dog, Cat and V-Dub, Johnson is Reeder, Halladay is Doc, Hinske is Ske or Hendu, Zaun is Zaunie, journeyman catcher Greg Myers is Crash, Rios is Lexi and so on. Smooth-pated third baseman Corey Koskie, signed as a free agent, has not officially been dubbed, though Malloy delivered his spring training allowance in an envelope marked Commandant Klink Koskie.
Players with nicknames are rarely called by their given name. Indeed, when a bat company representative calls Zaun "Gregg" while taking his order, Catalanotto interjects, "Gregg? How weird does that sound? I didn't know who he was talking about."
Menechino points to me and tells the rep, "Make sure you get his order."
The bat rep is speechless, trying to figure out who this player is.
"Here's what I need," I tell him. "Ticonderoga. Number 2s."
Wells, Hudson and Catalanotto will later confer briefly with Halladay, also one of the elders, on the clubhouse matter. But I am learning why pitchers cannot fully be team leaders. Pitchers do their own thing. They locker separately, train separately, stretch separately. Pitchers and position players are zebras and wildebeests grazing the same range. They have little in common, but nature has assigned them to the same habitat.
Just before stretching begins on Field 2, Gibbons calls out, "I need everybody here for a minute. These guys have something to say."
The team gathers around Hudson, Wells and Catalanotto. Halladay, the zebra, stands off to the side.
Hudson says, "I'd like to announce that we have a name for our corner of the clubhouse: Oreo Row at Web Gem Way. And we've chosen two people to join us. V-Dub?"
"Our first winner is...," Wells says, pausing for dramatic effect. "Reed Johnson." There is applause. "Cat?"
"And the other spot goes to...," Catalanotto says, "Johnny Mac. Sorry, Russ."
Adams stalks off indignantly, feigned or not.
"You lost points," Hudson shouts, "because you had spelling mistakes and wrote on a raggedy ol' piece of paper."
Who knew neatness counts in the big leagues? Left unmentioned is the power of tenure. Adams may be Ricciardi's first No. 1 pick and Hudson's double play partner, but he has only 31 days of service time.
More live BP, and Rosario and his 94-mph heater again. I get two swings, both on fastballs. I foul one off into the top of the cage. The other I hit hard toward where a second baseman would normally play.
"Hit and run, that's a base hit," Barnett says. Mr. Sunshine. I love the guy.
My throwing arm feels good, and I can run with everyone just fine. But fatigue in my left shoulder and right quadriceps from four long days of hitting has undermined whatever mechanics I have. I am, however, still far short of the threshold I established to require even stepping into Poulis's training room: displaced fractures or profuse bleeding.
Day 5: One Shot to Summon the Splendor
Last day. Game day. Hitters pack the batting cages every morning as early as two hours before practice officially begins. But today, as I arrive for soft-toss at 8 a.m. before the 9:30 workout, there are no lines for the first time.
"Fifth day," Barnett explains. "Happens every year. Fatigue begins to set in, and guys know when to back off."
Barnett and Rettenmund have improved my swing. I'm exerting less effort but getting better results. Barnett notes that with my downward path and high finish, I've even begun to impart some backspin to the ball, which generates carry.
"Your swing is good," Rettenmund says. "Your timing is terrible."
He's no Mr. Sunshine. By timing, Rettenmund means the synchronicity of body parts, especially the two-part harmony that must exist naturally between the lower body and the hands. "If you have to think about what your hands are doing," Rettenmund says, "it's too late. The ball is past you."
The team is divided evenly for the six-inning intrasquad game. Coach Ernie Whitt tells me I will be replacing Catalanotto in leftfield after three innings. Gibbons, perhaps extending the aggressive theme of camp a mite too far, tells me, "If you get on, go ahead and take a bag."
The dugout and field are largely quiet. There are one-on-one conversations in the dugout after some at bats, in which every pitch gets a full-blown autopsy. But chatter of the Little League variety is essentially nonexistent, except for one master practitioner: Hudson, whose lips cease flapping only when he sleeps, or so rumor has it. Hudson is to chatter what the machine gun is to ammunition. Even in the middle of a play, when Menechino stabs a hot bouncer at third base and prepares to throw to first, Hudson yells, "Attawaytogo, Mini-Me!"
Our side, the home team, is winning 2-0 when I replace Catalanotto in leftfield in the fourth. Hinske, the finicky hitter, does launch a fly ball in my direction, but it lands far foul. No other projectiles come anywhere near me for my three innings.
McDonald begins our turn at bat in the fifth with a triple, which thrills me because I am next. The infielders play in, which means they can cover less ground against me.
As I step in to hit, a fan behind the backstop says to no one in particular, "Who's this guy? I don't have a number 2 on my roster."
"He's a new guy," says Ricciardi, who is seated with Gibbons behind the backstop. "We just signed him."
The pitcher is Chad Gaudin, 21, a freckle-faced, 165-pound righthander from Louisiana who somehow conceals a 94-mph fastball and hellacious slider beneath his Huck Finn looks. Gaudin (pronounced GO-dan) reached the big leagues with Tampa Bay in 2003 just two years removed from high school. He threw a perfect game in the minors that year and set an organizational record with a 1.81 ERA. After Gaudin finished with a 4.85 ERA out of the Devil Rays' bullpen last year, Ricciardi traded Kevin Cash, a 27-year-old catcher, to add Gaudin's live arm to his bullpen. Cash left behind some of his bats. The black maple one that I have in my hands, still intact after numerous turns in the cage, is one of them.
What I don't know is that among AL pitchers who faced at least 200 batters last year, only 12 hit batters with more frequency than Gaudin (correction: pronounced go-DOWN). It may be a fool's naiveté, but I don't even think about the possibility of getting hit.
During one of our tracking sessions in the cage, I had asked Johnson if he ever dwelled on the possibility of getting struck by a pitch. He told me, "There is no fear factor as a hitter. You're so locked in on hitting that you don't allow that thought. You wouldn't be here if you did. When I'm going good is when I usually get hit. It means I'm staying in there longer."
I step into the batter's box, placing my right foot in the hole McDonald scraped inside the back chalk line. I am aware of nothing but Gaudin--not the crowd, not the infield in and Lord knows not the blue sky.
This moment is the essence of the game, its molecular core. It is why we love baseball as we love a family member, while the other sports have to manage with our lust, infatuation or uncommitted affection. Either I will win or Gaudin will win, and even the most rudimentary fan will immediately know it. No one will have to wait for the game films. And no teammate can help me.
A baseball game will stage about 80 of these batter versus pitcher matchups, all of which appeal to our American sense of democracy--we must take turns at bat--and our thirst for conflict and for quick and clear resolution, the backbone of prime-time television, our real national pastime, as well. Eighty miniversions of CSI.
Since sportswriters fall significantly below utility infielders and pitchers in the food chain of big league hitters, I assume Gaudin will attack me with a first-pitch fastball. I have committed to swing at the first pitch since I woke up and ate a bowl of instant oatmeal from the Spread. Gaudin swings his arm down, back, up and through in that familiar, graceful but orthopedically damning circle of a big league pitcher.
Here it comes. It is a fastball and it is a strike. I have prepared for everything about this pitch except one thing: its speed. The baseball jumps on me so incredibly quickly that I am transfixed. The ball has not just outraced my mind, it has also fried its circuitry. Synapse shutdown. I cannot swing.
"Huuuuh!" bellows the umpire.
I am in a hole, 0 and 1. Worse, I have a slightly gnawing feeling in my stomach that I will never again see a pitch that good.
Now I must swing. Here it comes again. Fastball. Inner half. I swing. Just as I do, the ball is gone. Manhole. It drops so unkindly beneath the path of my bat that I can almost hear it laugh.
I am in hitter's jail, 0 and 2, and Gaudin is not bound by the Geneva Convention. He can do whatever he wants with me--spin one, waste one, shave my whiskers. This much I know: If it is within the 34698 ZIP code, I am swinging. You do not leave eagle putts short, you do not miss the birth of your children, and you do not go down looking in your only major league at bat.