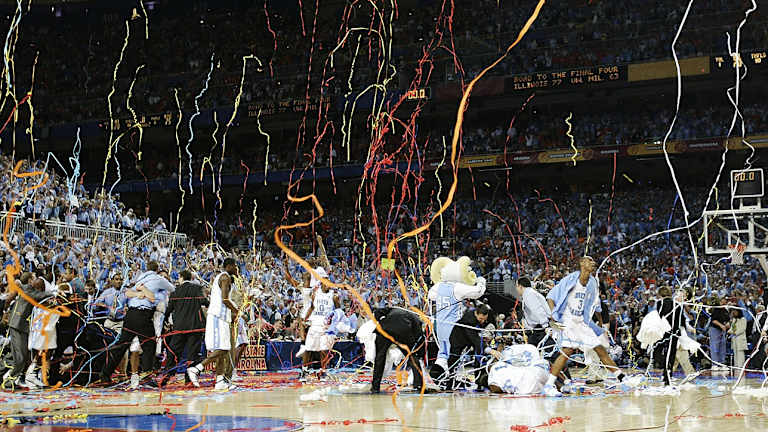 Publish date:
North Carolina's Man in the Middle
Led by the indomitable Sean May, the Tar Heels held off Illinois to give Roy Williams his first NCAA title
Wherever was he going? Seventeen seasons, five Final Fours, three championship games, at long last an NCAA title, and Roy Williams was ... sprinting off the court? Surely one of those scrums of powder-blue joy, breaking out all over the floor following North Carolina's 75--70 defeat of Illinois in St. Louis on Monday night, held a place for him. Surely the man with the Pavlovian tear ducts could find a better way to celebrate a moment that he and most of the Tar Heel State and even a few generous-spirited Kansans had been awaiting for years. Yet there he went, disappearing into some tunnel of the Edward Jones Dome. ¶ Turns out he had to find Illinois coach Bruce Weber to tell him he knew full well that feeling of getting so dadgum close, as Williams might say. He had to empathize when he was entitled to wallow. Had to share when others might hoard. But then, those are precisely the choices Williams had taught a motley assortment of ballplayers, most of them inherited, to make during this season of return--for the Tar Heels, to the top; for Williams himself (a native of Asheville, birthplace of Thomas Wolfe, poet laureate of going home again), to North Carolina.
When Williams wrote a series of dates on a blackboard during a team meeting last fall, he didn't realize that April 4, the day of the national championship game, doubled as Sean May's 21st birthday. "Coach, I promise you it's going to be a very special day," May said at the time. And the man Williams chased into the tunnel late Monday night knew that May was capable of making good on that pledge. Early on Sunday morning, as he broke down film at the downtown Marriott, Weber watched the Tar Heels with something close to dread. "He's a man," he said, watching May settle his haunches into the low post. "He's a beast," he said, as North Carolina's junior center muscled up another bank shot or turnaround. "If we don't stop him in the first 10 seconds of a possession, it's over."
Not that the Illini didn't try. Six-foot-ten James Augustine fouled out, and 6'10" Jack Ingram nearly did, trying to keep May from scoring the 26 points and grabbing the 10 rebounds that earned him honors as Most Outstanding Player. "The guys were telling me in the pregame meal, 'Hope you're ready to eat 'cause we're going to be feeding you all night,'" May said afterward.
And so this most memorable of NCAA tournaments, which began with a Vermont player shaking off his coach to win a game all on his own, ended with Williams having spent a championship season shaking the proverbial lapels of every last player on his team, to impress upon each that none would win a thing all on his own. In the two seasons since he left Kansas for Chapel Hill, Williams had called upon almost every resource a coach can muster. He was by turns a shrink, an enabler, a scold, a pleader, a truant officer.
A team that doesn't reliably take good shots or guard people doesn't usually win a national title. Yet the Tar Heels spent the season stitching together just enough stretches of genius to compensate for, and usually overcome, lapse after glaring lapse. "It's not as pretty as I'd want it to be," Williams said last Friday. "I'm the kind of coach who likes five passes and a dead layup." Notwithstanding that sloppiness, a range of other signs pointed to a Carolina Restoration: A freshman megatalent content in a supporting role (Michael Jordan then; Marvin Williams now). A post player whose learning curve steepened as he shed baby fat (meet May, the new Brad Daugherty). Big men who could find each other with high-low passes in the lane (instead of James Worthy to Sam Perkins, watch May and forward Jawad Williams hook up in traffic). A blur of a sweet-shooting point guard (to a line that goes back to Kenny Smith and Phil Ford, add Raymond Felton). Even the wondrous Marvin Williams, the future lottery pick who grew up in the unlikely outpost of Bremerton, Wash., could trace his earliest hoops knowledge to his father's Dean Smith instructional video.
But the most compelling evidence of North Carolina's return to glory proved to be the team's resilience. A dozen years earlier Smith presided over a national champion that surmounted double-digit deficits in three of its last four tournament games. These Heels held off the Illini's furious comeback from a 13-point first-half deficit, but not before they'd come from nine down in the last three minutes to defeat Duke in their regular-season finale, from 13 behind to beat Clemson in the ACC tournament and from eight in arrears to overtake Michigan State 87--71 in last Saturday's national semifinals.
Their troubles in the first half against the Spartans were mostly of their own making. North Carolina turned the ball over nine times, jacked up nine errant three-pointers and reached the free throw line only once. No one demonstrated his impatience more than Felton, who, in the midst of a Michigan State run that gave the Spartans a 38--33 lead at the intermission, hoisted a brittle 25-footer with 20 seconds remaining on the shot clock. But to start the second half Felton came out with what teammate David Noel called his "infamous stare" and made sure that May got the ball on the block, where he could throw around his six feet, nine inches and 255 pounds to best effect, scoring 18 of his team-high 22 points after intermission.
Asked afterward if his players were perhaps a little too conscious of their own talent, Williams responded with a question that essentially conceded the point: "Do you have children?"
At the same time Williams took pains to point out that his players weren't the dreaded "bad kids" who prompt late-night commiseration in the bar at the coaches' hotel, only the well-meaning products of a youth-basketball culture that makes a fetish of individual play. Several Tar Heels still carried the scars of a 20-loss season bookended by home defeats to Hampton and Davidson and back-to-back humiliations at the hands of Duke. "We were young," said forward Jackie Manuel, who with Jawad Williams and guard Melvin Scott is one of the holdovers from 2001--02, "and people expected us to be the saviors. But you start to understand what it takes to become a winner."
Very gradually you start to, anyway. A year later May showed promise in the post as a freshman, and the Tar Heels won the preseason NIT. But he hurt his foot in December, and the team wound up 19--16 and ended the season in the NIT. Meanwhile the players chafed under coach Matt Doherty and told athletic director Dick Baddour as much. When the school announced Doherty's firing, the scene at the press conference represented to many Chapel Hillologists a how-low-it-could-go tableau: the players huddled together in a corner of the room, dressed casually by the standards of any college campus but slovenly by the coat-and-tie lights of the Carolina Corporation. Bill Guthridge, the longtime aide who had succeeded Smith, made sure that for the announcement of Roy Williams's hiring, the players were properly gussied up.
"When you go through tough times, it's human nature to revert to familiar habits," Williams said last week. But the familiar habits of a team that knows little but losing will be losing habits, such as "looking to the name on the back of the jersey rather than the one on the front," as Williams put it. He finally succeeded in convincing his players that, talented individuals though they may be, each had some flaw--May (then at 266 pounds), his weight; swingman Rashad McCants, his self-centeredness; Felton, his decision making--that would make it futile for any of them to try to win games by himself. It took the entire 2003--04 season, but the players eventually acknowledged that there just might be something to all that front-of-the-jersey stuff.
"I've said that last year was my most difficult in coaching, and it was," Williams reiterated last Friday. "This year was easier, but we were always on the edge. We've constantly emphasized getting them to believe in each other and play defense. That second piece, we're still fighting."
That was most evident in the regional final in Syracuse, where the Tar Heels surrendered 82 points to a team, Wisconsin, that usually has no interest in scoring more than 65. Back in Chapel Hill for practice on Monday and Tuesday, Williams, wanting his players to focus on coverage and caroms, unbolted the rims from the backboards before running the team through its regular paces, shooting drills included. Even in the final minutes of the national semifinal with Michigan State, with the game salted away, he lit into McCants and Scott after the Spartans' Maurice Ager sank an open three-pointer from the corner. "They were pointing at each other like, It's not my man," the coach explained. "I said I didn't care. It's North Carolina's man." On Monday night the Tar Heels proved they had learned their lesson: They held Illinois scoreless for the final 21/2 minutes.
To sell his players on that first piece--believing in each other--Williams had screened video during the season of the most selfless team he could find. It was a team that, May recalls, "moved the ball 15 times with, you know, no dribble." The clip was of Illinois, which in the other semifinal had taken Louisville apart 72--57 as if performing a kind of science project.
"The whole thing is to control Felton," Illinois assistant coach Jay Price had said during Weber's Late Night Tar Heels Film Festival. "They don't run a lot of [set plays]; it's all transition and lobs. We have to control that." The Illini couldn't. After trailing by 13 at the half, they made two thrusts that tied the game, and the Tar Heels repelled each with an individual move not exactly out of the Carolina canon. First, with a little more than five minutes to play and his teammates looking on, Felton pulled up to sink a cold-blooded three-pointer. Then, three minutes later, McCants threw up a crazy windmill in the lane, only to have Marvin Williams conjure up a follow, much as he had done to beat Duke a month earlier, to claim a 72--70 lead.
The Illini had two more chances. Luther Head sent a three off the back of the iron, but Ingram retrieved the rebound to give them another shot. This time Head drove through the lane, as if on a sally to the basket, only to spot Ingram just outside the arc. But Felton deflected Head's pass with a forearm, chased the ball down, drew a foul and sank the first of three clinching free throws. Said May, "That steal was the key to the game. After that we could see the doubt in their eyes."
Two placards behind the North Carolina bench on Saturday--sean may? sean will! and rashad mccants? rashad mccan!--had underscored the deceptive simplicity of the task facing the mercurial Tar Heels and highlighted the dominant personalities in their locker room. On the court and off, May and McCants have an almost astrophysical relationship: McCants as a kind of celestial body orbiting May's gravitational field. McCants is still as obsessed with his pro prospects as anyone on the team, talking last week about picking up where soon-to-retire NBA sniper Reggie Miller will leave off. At the same time he has given the public glimpses of his vulnerability: in the intestinal ailment that caused him to miss four games late in the regular season, which his mother, Brenda Muckelvene, attributes to stress over her battle with breast cancer; and in the tattoos on his right and left biceps, which read, respectively, born to be hated and dying to be loved.
May has helped ground McCants. "Sean is so open, but he can have his feelings hurt and 15 seconds later bounce back," says their coach. "And that openness and willingness to step forward has been good for Rashad [to see]. Anything negative happens to Rashad, Sean treats him the same [as always]."
Says May, "I'm more outspoken, he's more internal. We're total opposites, and people say opposites attract."
For his part, May corrected his lax conditioning, reinventing himself with a summer of workouts and dieting. "He's taken parts of his body and moved them around," his coach says. May passed up his hometown team, Indiana, for North Carolina because "it would have been too hard to be the second Scott May in Bloomington," he says, referring to his dad, the former Hoosiers All-America. "And I knew from the way I ate that I wouldn't be a small forward [like him], shooting jump shots." Still, May's footwork, the way he uses screens, how he puts the ball on the floor only when absolutely necessary, all betray the bloodlines of Scott, who led Indiana to an NCAA title in 1976.
On Monday afternoon, in the spirit of that Illinois video his coach had screened earlier in the season, May showed a couple of teammates clips of his father's championship Hoosiers, the last team to go unbeaten. "They had five NBA draft picks, but they didn't care who got the credit," Sean said. "I want people to see guys coming together for one cause, one purpose, and putting all the selfishness behind them."
Sean had no idea he would soon catch one more replay from '76. During warmups he looked up at the Jumbotron to see his dad running into the embrace of Indiana teammate Quinn Buckner. "That really pumped me up," Sean said later. "It gave me goose bumps."
When Roy Williams finally made it out of that tunnel after consoling Weber, he found May sprawled on his back on the floor. "What's this, my big man is tired?" he joshed. Then, from the winner's podium, he waved to Smith, his mentor and patron, who sat with Jordan in an upper-level box (and who needed two more Final Fours than Williams did to win his first title). Williams's opening words to the press echoed almost precisely what Smith had told his then--young assistant upon winning in 1982: "I'm not really that much better a coach now than I was about three hours ago."
Earlier this season Williams had snapped at a fan in a hotel lobby who told him not to "let us down."
"What do you have invested?" he replied. "It's our lives. It's just for you to go bragging at the coffee shop." Win or lose, he insisted last week, he'd "be on the 1st tee" on Tuesday morning.
To fully understand the grand design of North Carolina basketball, it's always best, as Williams heads for the golf course, to study the fine details. For years Smith had organized a gathering of Carolina-bred coaches for a long August weekend of golf and chalk talk; this year he turned over to Williams the responsibility for arranging it. For almost as long Williams had picked up his old boss's tickets at the Final Four; this year he sent his administrative aide, Jerod Haase, to fetch them. The succession is complete.
Moreover, and more important, the brand has been rehabilitated. Carolina basketball is, as Felton said, "back to where it's supposed to be."
 
THE WOMEN'S CHAMPIONSHIP GAME between Baylor and Michigan State was played after this issue went to press. • • • • GO TO • • • • SI.com/basketball/ncaafor reports from Kelli Anderson and Richard Deitsch.
 
COLOR PHOTO
Photograph by John W. McDonough
   Illinois defenders fouled futilely or hit the deck trying to stop May's relentless work in the paint, which yielded 26 points, 10 boards and the Most Outstanding Player award.  
COLOR PHOTO
JOHN W. MCDONOUGH (2)
HEEL OVER HEADS
McCants led a first-half uprising with 14 points, helping Carolina surge to a 40--27 lead at the intermission.
COLOR PHOTO
JOHN W. MCDONOUGH (2)
DRIVING FORCE
Dogged early by foul trouble, Felton filleted the Illini with seven assists, drained a cold-blooded trey in the crunch and came up with the game-clinching steal.
COLOR PHOTO
DAVID E. KLUTHO
DIVE PLAY
Dee Brown and the rest of the Illini went all out in usually vain attempts to dislodge the ball from May's mighty mitts.
COLOR PHOTO
DAVID E. KLUTHO (INSET)
BLUE HEAVEN
Streamers and tears fell as the Tar Heels madly celebrated and Williams showed his emotion after finally reaching his elusive goal.
COLOR PHOTO
JOHN W. MCDONOUGH
  [See caption above]