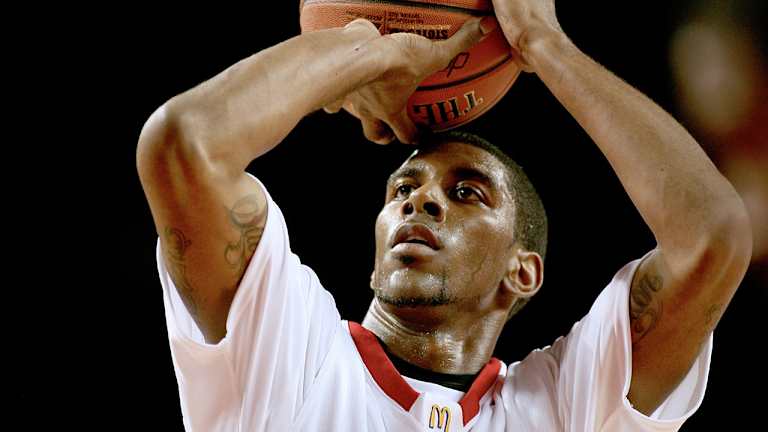 The Next One
Like LeBron before him, O.J. Mayo became a familiar name to NBA scouts while only a sophomore in Ohio
Sitting in a gymnasium on the San Diego State campus last week, O.J. Mayo had difficulty recalling all the places he had played basketball since the end of his high school season in March. "You want to know where I've been? Whew, I don't even know," he said, before ticking off some of the states and cities. "North Carolina, Virginia, Indiana. Been to Houston twice, Chicago for a day. It's been somewhere different every week." Later this month Mayo is scheduled to travel to Atlanta for an AAU tournament and to Richmond for the NBA players' association camp--and that's before he crisscrosses the country during the July evaluation period, when college coaches are permitted to watch prospects. "It's hard being on the road because you can never drop your guard," Mayo says. "But this is what I work for all year. So it's fun, too."
Though he just completed his sophomore year at North College Hill High in North College Hill, Ohio, just north of Cincinnati, Mayo, a 6'5" guard, is a grizzled veteran of the summer circuit. Last week he demonstrated yet again why he is widely considered to be one of the top five high school players in the country, regardless of class. Competing for one of three U.S. squads at the seven-team 2005 International Sports Invitational hosted by USA Basketball, Mayo led all players in scoring (27.5 average) and steals (6.0). His soft shooting touch (a tournament-high 15 three-pointers) and explosive first step made him virtually unguardable, and he demonstrated considerable poise while playing full time at point guard, his preferred NBA position.
"It's hard to say a guard is a can't-miss prospect, but he's as close to that as you can get," says an NBA team official who was in San Diego. "He's a very mature player for someone his age. He's the clear leader of his team, and you can tell the other players listen to him. He's definitely a rare talent."
For Mayo the frenzy of summer basketball is in some ways a welcome change from the high school season, when his school was dogged by criticism for having brought in Mayo and two other big-time transfers from out of state. A native of Huntington, W.Va., Mayo relocated to North College Hill at the end of his eighth-grade year. His mother, brother and sister remain in Huntington while Mayo lives in Ohio with Dwaine Barnes, a close family friend whom Mayo calls his "grandfather" and who is also the coach of Mayo's AAU team, the D-1 Greyhounds. North College Hill's imports--Mayo and classmates Keenan Ellis and Bill Walker--took a program that went 2-18 three years ago to the Division III state title this season; Mayo averaged 26.7 points and became the second sophomore, after LeBron James, to be named the state's Mr. Basketball.
At times the well-traveled Mayo, 17, can't believe he is still two years from his high school graduation, but he has no regrets. "I'm still a kid and I like to have fun, but when you're under the scope, you have to watch what you do all the time," he says. "Right now I have to be mature and stay on top of things. I can have my fun later."
Coming Up
Though projected as the top pick in next summer's NBA draft, Greg Oden (SI, Dec. 6, 2004), the No. 1 player in the class of 2006, says he will go to Indiana, Michigan State, Ohio State or Wake Forest. Below, five more uncommitted seniors to watch:
Chase Budinger, 6'7" forward, La Costa Canyon High, La Costa, Calif.
An even better volleyball prospect, he'll likely end up in Pac-10
Derrick Caracter (above), 6'9" forward, St. Patrick High, Elizabeth, N.J.
Highly skilled behemoth (300 pounds) needs to overcome immaturity; lists a final four of Louisville, Memphis, Villanova and Virginia
Spencer Hawes, 6'11" center, Seattle Prep, Seattle
Crafty post player is comfortable on the block; North Carolina and Washington are the front-runners
Brandan Wright, 6'9" forward, Brentwood Academy, Brentwood, Tenn.
Duke, Kentucky and North Carolina are tangling over this explosive lefty
Thaddeus Young, 6'8" forward, Mitchell High, Memphis
Athletic, versatile swingman has yet to develop short list of potential schools
COLOR PHOTO
PETER READ MILLER (MAYO)
PRODIGY
Mayo (last week in San Diego) first played varsity ball as a seventh-grader.
COLOR PHOTO
MICHAEL J. LEBRECHT II/1DEUCE3 PHOTOGRAPHY (CARACTER)