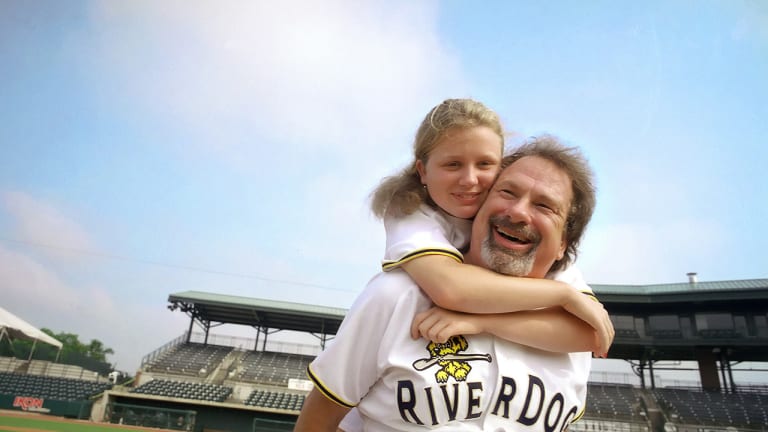 The Sorcerer's Apprentice
Mike Veeck, the wizard of the minor leagues, has passed on his love of baseball and penchant for comic spectacle to his teenage daughter, Rebecca. She has taught him a few things too
A man with a salt-and-pepper goatee walks alone through an airport. Pick an airport. Any airport. He has walked alone through them all. He's thinking about his five minor league baseball teams. He's thinking about putting on the world's largest pillow fight on the field after a Hudson Valley Renegades game; hatching a reality show to find the next Natural of either sex for the St. Paul Saints; spraying green paint over the bald spots on the Charleston RiverDogs' field; holding BALCO Night at a Sioux Falls Canaries game and handing a small plastic cup of Mello Yello to every fan at the gate; and, yes, sad to say, staging a Tommy James and the Shondells concert at a Fort Myers Miracle game ... when suddenly his eyes close. To see what it feels like to be his daughter. Again.
They close partway—no, that's cheating—then tighter until it's all gone: the harried commuters and zigzagging children and jostling luggage. He sends his left foot, slowly, into the blackness ... then ... his right foot. There it goes, the bottom dropping out of the pit of his gut. Now the left foot again ... three steps ... four ... five....
His eyelids open. He chickens out. Darkness 1, Veecks 0. But plenty of games remain on the schedule, so call now for group packages and bobblehead giveaway dates.
This is a 100-year story, covering four generations of one baseball family, but don't panic. There are only four characters to follow, and they're all named Veeck, and only two of them, the two still breathing, truly concern us. We'll even provide a genealogy, the way Russian novelists do—
William Veeck
↓
Bill Veeck
↓
Mike Veeck
↓
Rebecca Veeck
—and deliver you midgets and Martians and mimes being pelted with hot dogs, which Tolstoy never did.
Mike's in a taxi. Pick a taxi. Any taxi. He's ridden in them all. He's thinking about the five minor league teams he consults and writes ads for, besides the five he partly owns. A nice little wad fattens his pocket. It's a Vegas taxi. He never used to give the slots the time of day, but that was before he discovered their secret: They make everything go away. They make you forget.
The first half of his life was hand-to-hand combat with his father's shadow. Booze, drugs, jail, divorce, a heart attack—he tried all the classic routes to escape or annihilate it ... and himself. But that was nothing compared with the second half: mortal combat with his daughter's shadow, the literal one descending over her eyes. Everything's a weapon now. Every trick, hustle, gag and audacity—the entire Veeck kit and caboodle—he's pulling out of the attic, hoisting out of the gene pool, taking to the plate. He's 54 and swinging from his heels at something he can't even see.
He calls the RiverDogs' office from the cab.
"Charleston RiverDogs, Rebecca speaking, how may I help you?"
It's her. He braces. He never knows what's coming. The effects of the disease may have worsened. Or some jerk at school may have soaked the bathroom floor again and given her a shove, and then Mike will beat himself to a pulp for being 2,000 miles away. He wings it, alters his voice, hopes for the best.
"Yes, ma'am, this is Elvis Presley. I'm out here in Vegas with your father."
"Daddy! Heyyyy, Groove Thing! You're my pop! You're in—da da da da de daaah—Las Vegas! How are ya, Elvis?... Laaaahs Vegas! Did you win?... Thirty-six hundred! Viva my money!... O.K., love you dearly, but I must get back to work because the phone is ringing, and please tell Elvis I said hi. Bye-bye!"
That's Rebecca. She's working the phones. She's got retinitis pigmentosa. She's 13. She's blind.
Oh, yes, she's a ham ... with honey mustard glaze and melted cheese. She wants to be a singer and drummer in a rock-and-roll band, a Broadway actress, a dancer, a pianist, a writer, an equestrienne—"Hey, wanna see a blind kid ride a horse? I love an audience!"—and then, when she's gotten all those out of the way, she wants to be, just like her great-grandfather, grandfather and father, "a baseball guy."
Mike pockets his cellphone. His eyes cloud with tears. He hates being away from her 15 days out of the month, keeping all these crazy crap games afloat. He loathes the road. He needs the road. Was born for the road. He feels guilty when he's not out there making money and flogging the cause—raising funds and awareness of Rebecca's disease everywhere he travels. Guilty when he's not back home by her side. What's a man, the father of a jewel like her, supposed to do?
His own father is a one-legged legend, a Hall of Famer, the damnedest owner sports ever saw: Bill Veeck. The one responsible for ivy on the outfield walls at Wrigley Field, for the Chicago White Sox' last American League crown, for the Cleveland Indians' last world championship, for record attendance figures, exploding scoreboards, postgame fireworks, names on the backs of jerseys, a midget pinch hitter named Eddie Gaedel, a 43-year-old rookie named Satchel Paige, belly dancers at home plate, circus acts at second base and an outfielder named Minnie Minoso dressed as a matador as he waved a cape at a fake bull on Mexico Fiesta Night—all while Bill's polishing off five books a week, three packs of cigarettes and a case of beer a day, fathering nine children and hosing down the infield before ball games in his swimming trunks on a wooden right leg.
Mike spends his toddler years living in an apartment inside a baseball stadium, Sportsman's Park in St. Louis; the bullpen's his first sandbox. He moves 11 times in his first 11 years, the new kid always trying to fit in, and then moves once more at age 16: out of his own home in Easton, Md., into the family's studio apartment a couple of hundred yards away, just to get away from his old man, the one whom everyone—rich men, poor men, sportswriters, thieves—except Mike and a dozen buttoned-down major league owners find the most engaging man on earth.
Mike starts hitchhiking in high school. The only hitchhiker in Easton who doesn't care which way the driver's going, because going is all that matters. Who doesn't care if there isn't even a driver, or whether that's not hitchhiking, son, that's larceny. It costs him only a few nights in jail.
Then one day in 1975, three years after Mike graduates from Loyola College in Baltimore, his old man calls out of the blue, invites him to a 12-hour liquid lunch at a saloon, and at the end of it says, "McGill"—Bill calls him that out of affection for Cornelius McGillicuddy, the ancient owner-manager of the Philadelphia A's better known as Connie Mack—"McGill, I'm going to buy the White Sox again. You might want to come check it out. It's going to be interesting." And Mike, an English major/philosophy minor/rock band drummer and guitarist adrift, realizes he's being offered a job in the Show, a shot at the bigs, a place at the legend's elbow.
Hot damn. Double dip: He finds Dad. He finds himself. Some of Dad's best promotional ideas are actually Mike's ideas, because the kid's got a couple of quarts of zany in the blood too. Then, in his second year on the job as promotions director, Mike uncorks a whiz-banger. He's sitting in a Chicago saloon one summer night at 3 a.m., relishing the 20-stage disco-dancing contest that just juiced the gate at a White Sox game, when he remembers two things: his abhorrence of disco and his old man's marketing mantra—think opposites. So he blurts, "What about an anti-disco night?" Before he knows it, it's July 12, 1979, and he's got 60,000 fans inside 52,000-capacity Comiskey Park, another 15,000 pounding on the ticket booths and 15,000 more gridlocked on the Dan Ryan Expressway, all for Disco Demolition Night. He's got vinyl Bee Gees 45s whizzing through the air, a dumpster behind second base crammed with the crowd's old disco albums, explosives about to blow them to kingdom come ... and a mushroom cloud of marijuana smoke wafting overhead with the second game of a twi-night doubleheader against the Detroit Tigers yet to be played.
Down goes the detonator, up goes Abba and—ohhh my Waterloo! Finally facing my Waterloo!—there goes Mike's career. Onward they surge, Pillage People and Travolta Revoltas, climbing over the dugouts and fences, shimmying down the foul poles, storming the field, torching the field, cartwheeling the batting cage across it. When the Night Fever subsides, six people are injured and 39 arrested, and the 14th forfeited game in modern major league history has been declared. A travesty, howl the media and Sox season-ticket holders. When the following season ends, Dad sells the team—forced out of the game by runaway costs as the free-agent era explodes—and Mike is so radioactive that not a single baseball mogul will touch him.
For a half-dozen years he bangs around in Florida, sending unanswered application letters to the bigs, hanging drywall and promoting a jai alai fronton, pretending not to miss baseball, not to wonder if he was just his father's creation, not to notice the disappointment of all the strangers when they find out that he's Mike Veeck, not Bill. It all crests in the mid-'80s. He's drinking a bottle of whiskey a day, inhaling recreational drugs and watching his marriage unravel. His heart starts skipping beats. He starts blacking out. He goes to the hospital to take a Lamaze class to help his soon-to-be-ex-wife give birth and has a heart attack there instead. The doctor gives him two years to live unless he changes. His first child, Night Train, is born. His father dies. He cries so hard that his glasses fly off his face. His father's shadow doesn't die. Mike gets divorced. He goes into debt. He loses the battle for joint custody of his son.
Then comes Veeck Demolition Night, when a cop in Fort Lauderdale pulls him over and pours him into a cab instead of a jail cell. The bleary glimpse he catches of himself, on his hands and knees clawing under sofa cushions and through underwear drawers for nickels and dimes as the cabbie waits in Mike's town house, is so degrading that the next day he weaves on his bike to the local Alcoholics Anonymous chapter, then stands outside paralyzed for hours until an old woman named Mary comes out and reels him in.
One hundred fifty AA meetings in the next 90 days, 100 hours of bike-riding a week—they help, but it's really baseball that makes the shadow go away. Baseball, ringing him up out of the clear blue in 1989 after a New York lawyer named Marvin Goldklang buys a wreck of a minor league franchise named the Miami Miracle and bumps into Baltimore Orioles general manager Roland Hemond, who tells him, "If you're crazy enough to buy the Miami Miracle, you're crazy enough to hire Mike Veeck." So Goldklang does. Mike unleashes a decade of pent-up promotion, the franchise moves to Fort Myers and it becomes, financially, its nickname: a Miracle.
No. It's really Libby Matthews, a plucky pharmacist's assistant who shows up in his life the same year that baseball does, who makes the shadow go away.
No. It's really the firecracker they produce together, blue-eyed Bec.
No. The shadow doesn't go away. It just gets swallowed by a deeper, darker one.
Her first baseball job, before turning two, is team greeter. Rebecca squeaks the same salute, 16 or 17 per customer, to everyone entering the St. Paul Saints' front office:
Hi!
Hi!
Hi!
She collapses from hospitality prostration in Libby's arms in the seventh inning each night in the stands behind third base. By age four she's a ballpark rat, darting from bleachers to concession stands to broadcasting booth to gift shop to jump castle to groundskeeper's tractor to her pal in the stands behind home plate, Saints fan Peter Boehm, who reads books to her between innings. She and the team's mascot, a pig, deliver baseballs to the home plate umpire wearing matching tutus, clown suits or rabbit ears. "Oh, it's embarrassing," she'll concede, "but it's baseball. So it's O.K." She and the pig take between-innings spins across the field on a remote-controlled motorcycle. She's slapped with a three-game suspension by her father for excessive waving to the crowd. She dresses up in a miniature San Diego Chicken costume when the real Chicken shows up, follows him across the field, and right on cue, lifts her leg and pretends to pee on the ump, bringing down the house.
By age six she's answering the front-office phone. "St. Paul Saints, Rebecca speaking, how may I help you?"
"How old are you, Miss?" a caller grouses. "Aren't there laws against child labor?"
"Oh, well," she replies, "I'm doing what I love!"
She fits right into the menagerie that Mike assembles on the Saints, the second minor league team that the Goldklang Group—Marvin, Van Schley, actor Bill Murray and singer Jimmy Buffett—asks him to run. There's Darryl Strawberry, recovering from drug addiction; J.D. Drew, baseball's No. 2 draft pick, recovering from a ruptured negotiation with the Philadelphia Phillies; Ila Borders, the first female pitcher in pro baseball history; Dave Stevens, the second baseman in training camp with no legs; Don Wardlow, the radio color man with no eyes; Sister Roz, the nun who gives fans massages on the dugout roof; Rebecca, the radiant urchin ... and Mike himself, walking to centerfield when the ballpark's empty, asking his dad for advice.
St. Paul eats it up. Joint's packed every game, 2,000 on the season-ticket waiting list. HBO and 60 Minutes bring their cameras to gawk. Mike turns his father's philosophy into a way of life: Fun Is Good. He empties another cup of coffee, leans back in his chair. The eyebrows start hopping, feet jiggling, fingers wriggling as if something's coursing through him that he can't contain. Here it comes: another shenanigan. Give away a funeral to a lucky customer. Give away a vasectomy on Father's Day. Give away minibats and invite Tonya Harding. Give away seat cushions with Don Fehr's and Bud Selig's faces on opposite sides so fans can sit on the one they blame. Wrap fans in rubber fat suits and have them sumo wrestle between innings. Hire improv actors as ushers, post signs prohibiting neckties and the Wave, offer free admission to pregnant women on Labor Day, hold Lawyer Appreciation Night and charge attorneys double, have a blue Spanish cockatiel trained to croak Ball! and Strike! and What are ya, nuts? over the P.A. system.
Betty Crocker's lab kitchen gone berserk, he calls it. Childish? What's better than being a child, asks the man who on one of his weekly outings with Night Train pours a jar of maraschino cherries down his pants in a grocery store to make his son giggle, who rides bikes with the boy through a car wash to make him guffaw. Ain't no stopping him in St. Paul; he's on a roll. He stations mimes on the Saints' dugout roof to provide instant replays, a stunt so heinous that the crowd smashes concessions sales records in its frenzy to turn hot dogs into missiles: Even Bad Is Good. The Saints win three Northern League championships between 1993 and '97. During one of the title celebrations Mike races onto the field and scoops up Rebecca to save her from being trampled by the players.
The lights never go out in Veeckville. He works all day and all night, just as his father did, keeps his staffers up till 4 a.m. strumming his guitar, regaling them with the story about the time Dad dressed his midget ex-pinch-hitter, Gaedel, and three dwarves in Martian costumes and lowered them from a helicopter onto the field at Comiskey to deputize the White Sox' diminutive double-play combo, Luis Aparicio and Nellie Fox, as honorary Martians in their battle against the giant Earthlings. The next day, when Mike's dazed employees sag at work, he lights an M-80 firecracker and rolls it down the office corridor, his laughter as loud as the ka-boom! Funny, though, that laugh of his, that wheezing, honking eruption. It always ends so abruptly. As if someone yanked a plug.
He still hasn't made it. It's still not the bigs. The Goldklangers buy the Sioux Falls, Charleston and Hudson Valley teams, making Mike part-owner and president of all three as well as the Saints and the Miracle. Impossible. Nobody could have that much energy. Nobody except a man trying to carry his father's torch and escape his father's shadow ... at the same time.
Twenty-five million bucks. That's the net worth of the business Mike and his Mischiefmakers are building, enough doubloons to glitter in the eyes of the major league stuffed shirts who've snubbed him for two decades. And so at last, in 1998, it happens: The Tampa Bay Devil Rays ask Mike to be their senior vice president in charge of marketing and sales. He pops the champagne and dances Libby around the living room. At 48 he's back in the Show. Without Daddy. On his own.
A month passes, just enough time for Mike to start finding his way around paradise. He zips up to St. Paul to emcee a charity event on the day that Libby takes seven-year-old Rebecca to Emory University Hospital in Atlanta to find out why she couldn't read the top line on an eye chart. His cellphone rings. It's Libby. Something's wrong with Rebecca's eyes, something unpronounceable and unthinkable. There's no cure. No way to stop it from killing the photoreceptor cells in her retinas. The lights are going out.
What scares her most is awakening in the pitch black, alone, and not knowing if the pitch black means it's happened—she's gone blind. So the little girl with retinitis pigmentosa, her central vision already vanishing, keeps taking her pillow and blanket to the hallway outside her parents' bedroom to sleep on the floor beneath the painting of Grandpa Bill. Her guardian angel, she tells people. He'll look out for her.
Mike looks down at his sleeping daughter. Then up at the painting of his smiling father. Dad knew. He was born into a house of shadows, to a mother still wrecked by the death of her seven-year-old son, Maurice, by a bullet accidentally fired by his best friend five years before Bill was born. Bill's father, William Sr., buried himself in his work as a sportswriter for the Chicago American so effectively that Cubs owner William Wrigley, upon reading William Sr.'s series of articles about what was wrong with the team, said to him, "All right, if you're so smart, why don't you come and do it?" and named him Cubs vice president in 1918 and president one year later, launching the Veeck family on its blazing trail across baseball's sky.
Somehow, Bill ran faster and harder than his father, even on an ankle smashed to bits by the recoil of a 50-mm antiaircraft gun during a Marine training exercise in the South Pacific during World War II. The ankle became infected and, doctors kept telling him, required amputation. Instead Bill kept pouring cologne down a hole in his cast to kill the stench and kept running, parlaying a stake in a minor league team, the old Milwaukee Brewers, into the purchase of the first of his three major league teams, the Indians. Relenting at last to the knife and inviting a thousand people to a coming-out party for his new wooden leg, dancing every dance until the pressure split open his stump and he had to crawl back to his apartment, trailing blood, on his hands and knees. Oh, well. "Suffering is overrated," he declared. "The only thing we have to fear is fire and termites!" Running his whole life, on three hours' sleep a night, through a failed first marriage, 36 operations on his right leg, emphysema, and lung cancer, running with a children's rhyme—he confessed in his memoirs, near the end—forever echoing in his head: Run, run, as fast as you can. You can't catch me, I'm the gingerbread man.
So what does Mike do as the world goes dark on his daughter? Buries himself in his new Off the Wall advertising campaign to pump everyone up about the Devil Rays, in his 16 hours a day of work and his dozen speeches a week—his overnight bag always packed and ready in his car so he can bolt justlikethat. He's lying in bed one Friday night, recuperating from himself, when Bec runs in wearing new battery-powered glasses that whir and telescope, like a zoom lens, to magnify objects. "Sharp!" he enthuses. "Space-age!" Then he pulls the sheet over his head against the wave of despair and remains in that bed, with his work notepad and phone, the whole weekend.
One evening a half year after the diagnosis, Mike comes home from work and tells Libby how frustrating his day has been, how all the petty politics and stuffed shirts are gumming up his Betty Crockery. Libby explodes. His day? What about her day, running from doctors to vision technologists to Braille tutors to teachers' conferences? What about the two crowns she's fractured, grinding them in her sleep from the tension of going to war alone? "Our lives are going to change!" she cries. "If you want to continue to be a man driven by your career, you can. But you're going to miss something. You can lose your second child the way you lost your first. There's this whole other world out there, and you're missing it."
Him ... blind? He cringes, staggers around for another week, delivers another Fun Is Good speech to another roomful of enthused local citizens and is trudging back to work afterward when a thought hisses in his head: You're a liar. This isn't fun. He quits the next day. Walks away after seven months from the thing he craved for 20 years. Now what?
He wants to change. He wants to turn and face this new shadow ... but how? He keeps finding himself in front of that painting of his father, above his sleeping girl. It's all there inside that man, the malady and the antidote, coiled one around the other, nearly impossible to disentangle. It's all still there, deep in Mike's memory....
The swimming pool. He must have seen that amputated stump before, he must have, but the first time it dawned on him, his first consciousness of it, was at a pool as his father stripped to his trunks. Mike's eyes filled—not quite with tears, his mother, Mary Frances, would recall, but with a luminousness—and in that same instant Bill grasped what was occurring and began to hop on his good leg, flapping the stump in a crazy dance and singing, "Daddy's little leg ... Daddy's little leg...." And what was rising up the little boy's throat came out as laughter instead of a sob, and ... that was it. From that day on Mike was proud to be the one to whom his father handed the wooden leg at the ocean's edge so the boy could run it back to their towels before they dived into the waves. Tickled when his dad gathered the gawking children around him, hammered a nail into the wooden leg and snorted, "Now go home and see if your fathers can do that!" Delighted when his dad carved out a hollow in the wooden leg and used it as his ashtray.
Yes, it occurs to Mike. That's it. The way to confront the thing he's been fleeing, Bec's loss, his loss. Dad's way. Hammer it with humor. He starts to sway and sing, to the tune of the 1962 hit Johnny Angel, "Ret-in-i-tis...." Rebecca takes the cue and sings, "pig-men-to-sa...." Back and forth they go until it's their song. He bangs his head into the front door, pretending he didn't see it; she mimics him and they collapse in a heap, laughing. "What's the matter with you, kid?" he yelps. "You blind?"
"Yeah," she croaks. "What do ya expect out of a blind kid?"
"Oh, I see.... So you're still blind."
They both play hooky: she from school, he from work. The Veecks hit the road for most of '99. "I want you to see all the things that are wonderful," Mike tells her, swallowing those three extra words: while you can. They go to Yosemite and the Badlands, to Bermuda and Ireland and Guadalajara and New England and New York City. They see snow in the Grand Canyon, ride horseback in Death Valley. They jump fences to bury their noses in rose fields, to pick cotton and almonds and pecans and pistachios, to harvest life and save scraps of it in her wooden memory box. He lowers the roof of their rented convertible, pulls Rebecca into his lap so she can grip the steering wheel and know what it feels like to drive the Pacific Coast Highway, big breakers crashing the cliffs on her left, sea breeze whipping through her hair and the oldies station cranked. "Car dance!" he bellows, jiggling the wheel left and right as she whoops.
He spoon-feeds her Grandpa's spirit, every story he can remember, as they roam. Did you know, Rebecca, that once when your grandfather owned the minor league Brewers, back in the '40s, they played at a ballpark in Columbus, Ohio, that was so dark they could barely see? And instead of getting mad he turned it into fun by having his players wear miner's lamps and his first- and third-base coaches hold up lanterns and his second baseman take light-meter readings? Not that Grandpa was averse to darkness, because another time, when his Brewers were losing a critical game, he had his electrician short out the stadium lights—zap!—sorry, game's canceled, a shame it'll have to be replayed.
Mike and Rebecca pull into Cooperstown to see Bill's plaque in the Hall of Fame. Mike lifts his daughter to see a picture of his dad beside Larry Doby, the African-American ballplayer whom Bill chose to break the American League's color barrier with the Indians in 1947. The little girl presses her face to the photo of the middle-aged white man and the young black outfielder, runs her fingers over it, turns her head to the side to see if her peripheral vision can do any better. Then she asks the most bittersweet question that Mike ever heard: "Which one is Grandpa?"
Mike can sense it beginning to happen, the slow melting of ego. A glimpse of the world through the eyes of someone who can barely see. Rebecca looks up at the blue sky one day, holding his hand, and says, "It's O.K., Daddy, if I go blind, because I'll always have you and Mom to tell me what you see."
If you've ever stood inside a chalked box with a 1-2 count against a fastball pitcher in a big league ballpark in the late afternoon, then you know. A man, after considerable anxiety, can adjust to a shadow, but almost as soon as he does, the shadow moves. So he can never relax.
Mike returns to his minor league empire. Rebecca goes back to school. The sun moves across their blue sky. The shadow shifts.
The black holes in the center of Rebecca's vision grow larger and begin to devour the periphery as well. The closed-circuit TV monitor that magnifies her school texts to 10 times their size is no longer enough. The schoolwork grows more complicated. Each test she must study for, each homework assignment, takes twice as long for her as for her classmates. All those straight-A report cards and honor-roll ribbons disappear from the Veecks' refrigerator door. She hits puberty. It's a different condition, blindness at 13, from blindness at eight. A whole new kind of darkness for her and her dad to navigate.
Now she yearns, more than anything in the world, just to be like the other kids at her middle school just outside of Charleston. Yearns to smash the Braille typewriter that clacks out the difference between her and them. Yearns to ditch the full-time adult aide who accompanies her to every class to help her take notes. Yearns to read one of the notes that kids pass in class, just once, so she can know what they're giggling about. Yearns to walk the hallways without worrying if a book bag's waiting on the floor to send her sprawling. Dammit, she won't use that white cane that her orientation-and-mobility tutor keeps urging on her. Won't take people's arms unless she has no choice. Won't admit she missed that plot turn on the movie screen. And don't you dare mention a school for the blind. She's mainstreaming, no matter how big and crowded and confusing high school will be next year. "I like big!" she gushes. "I love crowds!"
She says, "I'll be fine. I'm a Veeck." That means no retreat. That means you scoff at your handicap, like Grandpa, never give in. Damn, it's confusing for a kid. A couple of times a month she'll say something that makes her dad look at her in awe and say, "You're him." Grandpa. Reincarnated. Both blue-eyed, blond-haired lefties overloaded with sauce and smarts and spunk. It floods her with joy when he says that. She'll Google Grandpa and hear the robot voice on her Jaws software read the text about Bill's legendary tenacity. She'll go out in the yard, lift her right leg and hop on the left one for 10 steps and tumble, just to know what it felt like to be him. And now her teachers and Braille tutors and parents are telling her that damn the torpedoes won't work, that she's got to accept her blindness, use the cane, use the Braille, stop the bluffing, let people know that she can't see and needs a hand before she finds herself in deep trouble.
She concedes, finally. Once. The Veecks are changing planes in Atlanta last summer with Mike on crutches, his femur fractured in three places from his attempt to ride his bike, catch a basketball thrown behind him and shoot at the same time—why not? The foot traffic is pitiless, bumping the blind girl and her hobbling father. Rebecca finally halts, thrusts out her jaw, jerks off her backpack, yanks out the telescoped white cane and takes the lead, tapping and shouting as she goes, "Coming through! Cripple coming through!" Meaning her father, of course.
"I accept that I'm blind," she says, "but I never totally accept it. You can't. You don't. Because pride will be lost if you totally accept it. Accepting it means I'm O.K. with it—and I'm not. You give in if you accept it totally. One percent of me—no, one and a half percent of me—doesn't accept it. I keep that one and a half percent for me. I want my sight back. I'm only 13, but I'm sick of waiting. I just want my vision back. I'm at the age where I'm realizing I'm not going to be able to drive or maybe even see my own kids when I have them. I think God did this for a reason. I just don't know what it is yet."
Some days it all piles up on her: the cruelty of classmates who yank chairs out from under her, the certainty that she's the only 13-year-old girl on earth who hasn't been asked out by a boy, the geography test for which she has to identify all 50 states, their capitals and all the squiggly rivers and mountain ranges in between from studying a map that she alone has never seen. She storms upstairs. Slams the door. "Why did you do this to me?" she screams at the ceiling. No! That can't be her. She's a Veeck. She collapses onto her bed, picturing all the kids who have it worse than she does, picturing the ones in Iraq with their limbs blown off, scalding out her self-pity and anger. Then she gets up and cranks up the music, dances and sings and weeps.
Days like that, the darkness sifts down and settles over Mike. He's not sure anymore when to crack a joke or sing a song about her blindness, when to bump into the front door or run into a tree and titter on one of their two-hour tandem bike rides. She might laugh. She might explode. She's the Dalai Lama one minute. The next she's the kid who insists there's a Santa Claus and a Tooth Fairy and a cure for retinitis pigmentosa right around the corner. She's a teenager.
It kills him to hear her upstairs sobbing. Kills him that it was his recessive gene that coupled with Libby's and wrought this. Kills him to have to tell her she can't try out for the basketball team or the cheerleading squad or ride her bike anymore. Kills him to kill off the child in her, the believer, even though he knows, for her good, he has to. Kills him because his whole life's about making and marketing magic, awakening the child asleep in us all. Kills him that he has to get up at six the next morning, board another plane and leave her for five days to fight her fight without him.
"It's the life we choose," he tells her as he lifts his suitcase.
"It's the life we choose," she echoes. "I know you're good and you've got to go show your tricks to the world."
"I'm strong like bull," he says.
"I'm strong like baby bull," she says.
Then her fingers search the air, trying to find his cheek, and she kisses him, and he turns for the door. Because worse than leaving is the helplessness he feels if he stays. He can do nothing here to save her, but if he climbs on that plane, if he launches another madcap marketing campaign, if he gives another speech that makes another 50 men laugh and cry and feel what it feels like to watch the lights go out, if he signs and sells another hundred copies of his new book, Fun Is Good, if he goes on three hours' sleep until he grows so surly that he has to crawl into the tub and take another three-hour bath, then maybe he can salt away enough money to make sure his daughter never knows a day of need, and maybe, just maybe, he can hand the Foundation Fighting Blindness or Charleston's Storm Eye Institute another fat check that'll help make a miracle appear beneath a microscope. It's the only shot he's got at relighting Rebecca's world: his father's torch.
And so he goes, harder than ever, but for a higher purpose—for her—cutting corners on each road trip to get back earlier, buying a stake in a private plane so he can fly home at any hour to catch her piano and dance recitals, so he can sit in the audience holding it all in, the pride and the panic, when she pirouettes across the stage: Does she know she's one step away from the edge? God, does she know?
And keeps telling himself that no matter how hard this is, no one could be better equipped for it. Because they've got Libby, the warrior. Because they've got Don Wardlow, the blind man Mike hired long before his daughter's diagnosis, who showed Rebecca during his six years as color man in the Saints' and the RiverDogs' radio booths that nothing's impossible. They've got laughter, they've got music—the piano and drums and guitars at home that Mike and Rebecca love to play—and there they go again, crooning that Temptations verse they love to croon: I've got sunshine on a cloudy day.
But facts are facts. The days, in all likelihood, will only grow cloudier, and Santa Claus won't walk through her bedroom door and pull up the blinds. So she pops another one of the Great Classics—she's already got more than 100 recorded books under her belt—into her player and listens away the rest of the day, knowing that her mind is her treasure and that blind men like Ray Charles, the one she loves most, have seen something beyond and dragged the whole world there with them. Reminding herself of the dream she had years ago, before the eclipse even began, in which a little girl, one who looked like her but wasn't quite her, came up to her, touched her eyes and said, "I'm sorry ... but you have a path to take."
There's one place where she can see. One place where Rebecca knows every stairway and doorway so well, it's as if she weren't blind. Where she has freedom to wander, and family at every turn: Dad in the seats beyond third base kibitzing with fans, Mom in the office lending a hand, half brother Night Train on the ball field supervising between-innings mayhem, and dozens of employees doubling as her uncles and aunts.
When school's out and the RiverDogs are at home, she works a few games each week and then just roams the park during a few more. She mans the guest-services booth near the entrance. She sells programs. She keeps the little kids smiling while they wait in line for the jump castle. She escorts Charlie the RiverDog, who can barely see through his costume's headpiece—the blind leading the blind. She dresses up as characters on Geek Night and '80s Night. She does radio ads for the team and occasional player introductions on the P.A. mike. She plays Twister with eight-year-old fans but gives them fair warning: "I'm gonna beat your booty!" She's all empathy and charisma while handling callers on the office phone, until one fan too many on a rainy night demands to know when the downpour will stop and the ball game begin. "What am I?" she blurts. "A psychic or somethin'?"
She loves the smells. She loves being the last human being who still yells, "Charge!" when she hears the tape-recorded bugle. She loves the aura around the game she can barely see. "My real job," she confides, "is to keep everyone at the ballpark happy. To keep everyone alive. Especially when my dad's not here. He tells me I'm his secret eyes when he's gone. I let him know when something's not right."
Sometimes she sits alone in the stands when the ballpark's empty, tilts her head so the edges of her retinas, where not all the photoreceptor cells are dead, take in that beautiful sweep of fuzzy green. "I can feel it when I stare at a baseball field," she says. "I've got stuff to do, something big to help people, something that has to do with a baseball field. The world is stupid, so stupid—it fights and kills over land. I look at a baseball field, and I see this piece of land that's everybody's land. And every field I see has a piece of my family in it. I know this sounds corny, but I see my grandfather out there walking on the grass on his peg leg. I see this place where you can run and be a child somewhere besides your own home. And who made this place that way? My dad! I love him for that.
"I like to think about what I'll do if I run a team some day. I want to come up with crazy ideas, because ideas are great. If you can make 'em, wonderful. If you can't, I'm sorry for you. People are too serious. People need to loosen up. Like I've got this one idea where you put Slip 'n' Slides all along the sidelines of the field, and you soap 'em up and let kids slide and sit in the sun while the ball game's going on right beside them, and I know you'd probably have to put a net up to protect them, and I know the idea needs a little work, but...."
The closest she's come to that, her hands-down favorite ballpark moment each season, is Big Splash Day, when she puts on her bathing suit and climbs onto a platform over a water tank, baiting bystanders to ante up a buck to hurl three balls at the bull's-eye and dunk her.
Mike watches her from a distance. He's sure it could be like this at big league ballparks, no matter what the stuffed shirts say. No matter that he's taken two more cracks at it, with the Florida Marlins and the Detroit Tigers, neither job lasting long because divine lunacy can't last in a bureaucracy, because of the usual turf battles, and because he insisted on commuting from Charleston to be here for moments like this.
"Ahhh, you throw like a girl!" she taunts a fan. Mike grins. Swear to God, he's never seen her so alive.
"What's the mattah wit' ya!" she bellows. "Ya must be blind!"
Bang! She kerplunks into the water, spluttering and laughing herself silly.