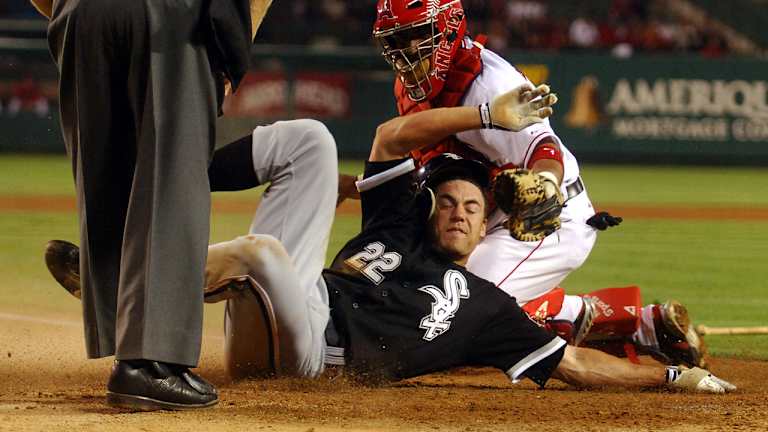 Stealing the Show
Bedeviling opponents on the base paths, fleet leadoff man Scott Podsednik has the White Sox racing toward their first World Series in 46 years
Scott Podsednik, the most brazen base stealer in the majors, does not fear getting caught; nor does he relish making a habit of it. So on a sultry Friday afternoon he sits, displeased, behind a steel door in a windowless room off the concrete hallway between the Chicago White Sox clubhouse and the third base dugout at U.S. Cellular Field. Podsednik shuffles through video of the previous day's game against Toronto until he reaches the bottom of the seventh inning, which ended when Blue Jays catcher Gregg Zaun threw him out, by an embarrassing space of daylight, attempting to steal second.
"Basically," Podsednik laments, "I did everything wrong here. Watch my front foot." He gestures to the flat-screen monitor and slows the video to 1/20 speed. Three and a half steps from the first base bag, Podsednik is crouched, legs spread wide, hands resting on bent knees. When Toronto righthander Jason Frasor begins his motion to home plate, Podsednik lifts his right foot high--his arms, like a strung marionette's, rise with it--curls his body toward second base and plants his right foot back in the exact same spot on the infield dirt. He rewinds, repeats the sequence. Right foot up, and back down. Rewind, repeat. Right foot up, and back down. Mike Gellinger, the club's computer scouting analyst, watches alongside. "You took a step and didn't go anywhere," he observes. Podsednik agrees. He lifted his foot too high, didn't properly coordinate the movements of his arms with those of his legs, and never squared his hips cleanly toward second. "I took a false step. I didn't gain any ground." Rewind, repeat. Podsednik runs through this Zapruder film of an unsound jump a half-dozen times.
Cockiness bubbles in the blood of every base stealer--every good one, anyway. "The thing I like about Scott most," says Chicago first base coach Tim Raines, whose 808 stolen bases rank fifth all time, "is that everybody in the ballpark knows he's going, and he's still successful. That's rubbing it in their faces, like, You can't get me. You know I'm going, and you still can't get me." Podsednik is a Texan who speaks with a musical twang and has a fondness for the occasional cowboy flourish. On the field before batting practice, when he picks up the twin bottles of water and Gatorade he totes everywhere, he twirls one in each hand and sticks them in his back pockets, like a gunslinging dandy.
But his bravado masks an abiding diligence. Podsednik spends at least 20 minutes before each game watching video, of himself and of the opposing starter's tendencies with men on base; he spends as much time reading advance scouting reports. "The more I know, the better," he says. "What's the pitcher's time to the plate?"--Raines keeps a stopwatch at first base; anything above 1.3 seconds is an unlocked front door--"Does he like to pick over? What kind of move does he have? What kind of pitches does he throw in certain counts? Does he get rattled with baserunners on?" Podsednik is bold, and as it turns out, also a bit of a bookworm.
In the third season of his long-deferred big league career--drafted by the Rangers out of West (Texas) High in 1994, he spent nine years, three of them mostly lost to injury, kicking around the minors--Podsednik has revived the stolen base, long disappeared into anachronism as baseball spent the last decade bulking up. After getting 70 bags with Milwaukee to lead the majors a year ago, Podsednik was, with 54 stolen bases at week's end, running away with his second straight title.
The White Sox, keen to reinvent themselves as a little-ball club, according to the preference of manager Ozzie Guillen, dealt slugging outfielder Carlos Lee to the Brewers for Podsednik and righthanded middle reliever Luis Vizcaino in mid-December. Plugged into the leadoff spot, Podsednik has hit .285 with a .352 on-base percentage and jump-started Chicago to baseball's best record and a near-insurmountable 13-game lead in the American League Central. Says Guillen, "He's the igniter."
Guillen and general manager Kenny Williams believed that the '04 White Sox, despite leading the league in home runs, had become too dependent on power. So Podsednik, followed by second baseman Tadahito Iguchi, an unselfish hitter who will take pitches, have reconfigured the top of the order. This was, in some quarters, a dubious exchange--after the Podsednik trade, Chicago Sun-Times columnist Jay Mariotti wrote that Williams was "trading mashers for midgets"--but the White Sox have responded with more stolen bases and sacrifice bunts than any other club. Speed, and the disruption it causes, govern the offense.
Says Raines, "Once Scott gets on, the defense is moving all around, holes are opening up all over the place, guys are cheating to the bag, catchers are edgy, moving around behind the dish, not really giving the umpire a chance to see pitches. He changes the whole outlook of the game."
Podsednik, 29, was born in West, a tight-knit hamlet of two and a half thousand outside Waco. Scott's mother, Amy, is an administrator at West High; his father, Duane, has worked at a glass plant in Waco as long as Scott has been alive. At a bar and grill near his Chicago apartment last week, two blocks from the skyscrapers on the Magnificent Mile, Podsednik smiled as he described his hometown. "There's one exit, off I-35, so don't pass it," he said. "Don't blink an eye."
Asked what the town is known for, he hesitated. "What about the kolaches?" suggested his girlfriend, Lisa Dergan. She was referring to the pastries filled with fruit or cream cheese that are a signature of West's sizable Czech community, to which the Podsednik clan belongs. West keeps close watch on its local boy made good. At Wolf's Bar, on Oak Street--which serves only beer and wine, but, says 73-year-old Joe Wolf, a family friend who was bartending one afternoon last week, "There's a liquor store across the street, and if a man wants to go and get himself a bottle, we'll give him a glass"--Podsednik's uniform numbers from Milwaukee and Chicago (20 and 22, respectively) are painted on the wall. "If Scott's playing," says Wolf, "we've damn sure got that game on."
This was the insular environment Podsednik left at age 18, for Port Charlotte, Fla., the Rangers' Gulf Coast League affiliate. It was the first time he had left Texas. "I couldn't wait for the season to end," he says. "I was homesick, went through a lot of phone cards, played games in 100 degrees and humidity every day. When I look back now on those early years, it's a tough life as far as the travel and not having all the amenities to keep yourself healthy." The postgame spread at Port Charlotte, he recalls, was "a loaf of bread on a table, some peanut butter, some jelly, some bananas, a free-for-all."
Throughout those early seasons in the minors, Podsednik did not distinguish himself except with his speed, and he shuttled among three organizations (Texas, Florida and Seattle). He underwent surgeries--hernia, wrist and knee--in each year from 1999 through 2001 that nearly derailed his career. "I started to question whether I was cut out to play," he says. "What kept me going was, I really didn't want to do anything else. If you asked me right now, what would you be doing if you weren't playing baseball, I wouldn't know how to answer."
He surfaced with the Brewers, who claimed him off waivers from the Mariners before the '03 season. Podsednik won the centerfield job six weeks in and picked up 43 stolen bases, batted .314 and finished second to the Marlins' Dontrelle Willis in the Rookie of the Year voting. Under Milwaukee first base coach Davey Nelson, who mentored Vince Coleman among others, Podsednik became a pupil of base stealing. "He never stopped training, never stopped working," says Choice Lynch, a close childhood friend from West. "If we were out drinking, when he got home at 12 or one in the morning, he'd never even stop inside his house. Just went straight into the garage, put on his running shoes and ran himself out [on a road near his house]."
Always quick--an accomplished 300-meter hurdler in high school, he declined track and baseball scholarships to turn pro--Podsednik has grown into an artisan of base stealing who discusses technique in minute detail. An esoteric running dialogue has developed between him and Raines, involving the most efficient way to break: Raines believes a runner should keep his front foot on the ground and take a crossover step toward second with his back foot; Podsednik prefers to lift his front foot slightly, even drawing it back slightly toward first, while squaring his hips to second.
"Raines says you lose six inches my way," Podsednik says, "but my argument is, yes, I lose those six, but I clear my hips quicker, and I'm on my way running quicker, so they cancel out." With White Sox strength coach Allen Thomas, he has timed both methods and found them equivalent. Eighty-one percent of the time over his major league career, he has beaten the tag, the third-best percentage, behind Carlos Beltran and Tony Womack, among active players.
For all the science in his approach, Podsednik is a thief, stung with the impulse to take off running. Says Nelson, by way of explaining Podsednik's uncommon gift, "He has larceny in his heart."
The Top 10 Leadoff Men
Unlike in 2004, when he too often pulled the ball and was the majors' least effective leadoff hitter (his .244 batting average and .315 on-base percentage both ranked last), Podsednik has rejoined the game's elite one-hole hitters. Here are SI's top 10 this season, with the numbers that matter most at the top of the order: on-base percentage, stolen bases and a high total of pitches per plate appearance (P/PA). All statistics are as leadoff hitter, through Aug. 7.