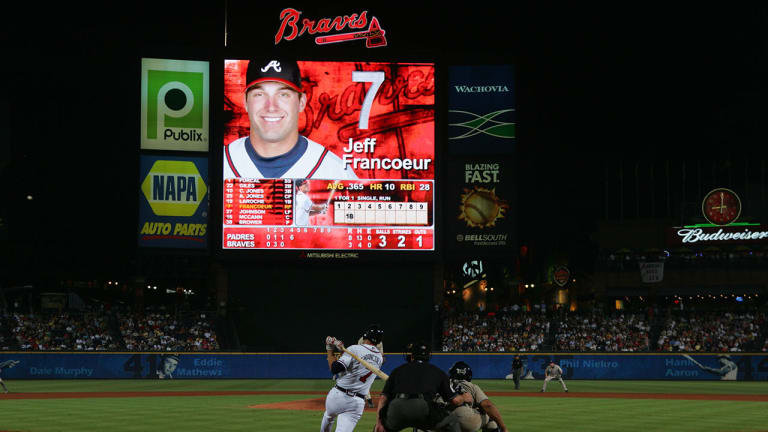 Publish date:
Georgia's New Peach
Swinging and singing, Atlanta's homegrown Jeff Francoeur leads a pack of precocious rookies who have the Braves tasting yet another division title
"A youth to whom was given so much of earth, so much of heaven." —William Wordsworth
There are dirty dishes in the sink, an empty box of Fruity Pebbles and the remnants of a late-night Arby's run on the counter, an ironing board unfolded in the dining area and a flat-screen television that dwarfs the living room. There is, in other words, nothing remarkable about this suburban Atlanta apartment shared by two young bachelors—aside from the fact that at this moment, approaching noon last Thursday, the 21-year-olds sprawled on their rented furniture are watching themselves on TV. Atlanta Braves rookies Jeff Francoeur and Brian McCann have been in the Show for what, a couple of months now? So the initial I'm-on-Baseball Tonight! thrill has receded to the point where they regard themselves on ESPN with almost quizzical detachment, at least until a tight shot of Francoeur, standing in rightfield, appears on the screen. McCann, the rookie catcher and Francoeur's friend since age 12, studies the footage, which shows his roommate's moving lips, and hollers, "Dude, what were you singing?"
Francoeur smiles, and the darkened living room brightens. A TV close-up hardly does his vast good nature justice. With his cap pulled low, his nose seems too prominent, his open face—"Winner written all over it," Braves manager Bobby Cox says—appears too angular. Although he'd played just 30 games in the majors, of course Francoeur was singing in the outfield. Why not? He says it was a country song, although he can't remember exactly whose. Kenny Chesney, maybe? It doesn't matter. For this child of earth and heaven, life is a happy melody.
Born and raised in the Atlanta area, Francoeur was kissed by the sporting gods—Braves third baseman Chipper Jones recalls tuning in to the state high school football playoffs just to watch the kid—and famously had a choice of eventually playing big league baseball or immediately playing big-time college football. (His football and baseball teams at Parkview High won state championships in his junior and senior years. If some team other than the hometown Braves had drafted him in the first round three years ago and offered less than $2.2 million to sign, this conversation might be taking place in the dorm room of a Clemson defensive back.) He seemingly can do anything on a ball field, even sing. "I'd give [baseball] up to be a country music star," he says with an air of conviction. (Braves fans needn't worry; Francoeur is tone deaf.)
The TV highlights roll on, showcasing Francoeur's typically sublime game against the Los Angeles Dodgers the previous night. He went 2 for 5, lifting his average to .373, and hit his 10th home run, a 407-foot parabola that landed midway up the leftfield stands. He saw a total of 16 pitches, on par with his economical average of 3.34 pitches per plate appearance. He threw out pitcher Odalis Perez at second base by unleashing a strike while standing one step from the rightfield wall, his ninth outfield assist. ("I can remember playing catch with him a year or two ago in spring training and not thinking much of his arm," Jones says. "Boy, was I wrong.") The righthanded-hitting Francoeur's first major league triple, an opposite-field rope on an 0-and-2 changeup that struck the top of the fence, was impressive as much for the stroke ("I really liked that," Dodgers hitting instructor Tim Wallach said the following afternoon) as for the swiftness with which the 6'4" 220-pounder circled the bases. Speed, clearly, is yet another implement in the seemingly bottomless Francoeur toolbox.
Following that 10-2 win, Braves starter Tim Hudson said of Francoeur, "He's like Roy Hobbs. I'm waiting for him to come out of the bullpen and start striking guys out, throwing 98 [mph]. Or to start hitting bombs lefthanded." Francoeur was born the year The Natural hit theaters, but he knows Hudson's reference is to the guy who goes light-tower at the end of the film. Told that in Bernard Malamud's novel the tragic Hobbs strikes out, the rookie laughs and booms, "That's why books suck!"
No, the reason books—or at least baseball novels—often disappoint is that authors conjure preposterous characters and absurd situations to heighten the drama. Say some hack writer invents a handsome, strapping young baseball player (aren't they all handsome?), nicknames him Frenchy (trite), puts number 7 on his back (a la the Mick, lucky number, cheap symbolism) and summons him from the minors to bolster his talented but sagging hometown team (so 1920s). The kid proceeds to hit about 100 points higher in the majors than he had in Double A (a fanciful conceit), smacking homers and gunning down runners, all the while singing along to the soundtrack in his head (you've gotta be kidding!) and lifting the local nine into first place. Not even Hollywood would buy it.
Yet since July 7, when Francoeur was called up from Double A Mississippi and became the 10th rookie on the Braves' roster at the time, that bit of fiction has become fact—right down to the singing.
Francoeur was hitting .370 with 23 extra-base hits in 127 at bats through Sunday as the Braves held a 3 1/2-game lead in the National League East; 15 other rookies have contributed as the Braves attempt to win their 14th straight division title. Four of them—Francoeur, McCann, 24-year-old righty middle reliever Blaine Boyer and 21-year-old righthanded starter Kyle Davies, now back in the minors—are from the Atlanta area, a boost for a franchise in a city blasé about the team's success and a welcome reminder of sports at its most organic: Our Town vs. Your Town. "I'm in the bullpen before the game and my high school buddies are [in the stands] ragging me," says McCann, who grew up in Duluth, 30 miles from Turner Field. "Three years ago we were sitting in math class." The lefthanded-hitting catcher, called up from Double A a month before Francoeur, is batting .306 with 11 RBIs from the eighth spot; more important, the Braves are 21–11 in games McCann has started.
When three fifths of Atlanta's rotation was injured at midseason, the polished Davies was called up from Triple A Richmond and went 2–1 with a 0.77 ERA in four starts. Boyer had a 2.16 ERA through Sunday and had allowed no runs in his last eight appearances. After a 1-for-30 start the disciplined 23-year-old Kelly Johnson—he saw 38 pitches the night against L.A. that Francoeur hurried through 16—had raised his average to .244 and been a distinct outfield upgrade over Raul Mondesi. Pete Orr, a 26-year-old backup infielder, was batting .302 with nine pinch hits, second on the Braves only to 47-year-old Julio Franco. "All our rookies have helped us win games," Cox says. Indeed, Atlanta's 16 rookies are two more than the woeful Kansas City Royals had used this season. Atlanta general manager John Schuerholz says the in-season infusion of youngsters was like changing the tires of a bus traveling at 60 mph, an apt metaphor for a team that just keeps rolling.
The Braves have created a homegrown, pitching-based fiefdom that dates back to 1991, and they look capable of extending their dominance to two decades or more with this influx of precocious talent. "We're used to having young players," Schuerholz says. "Are we used to having 10? No. But it's a reaffirmation—not that we need it—that our scouting and player development are top notch." The apogee of this grow-your-own approach came on June 15 in Texas when all 10 Braves in the lineup, including the designated hitter, were products of the Braves' system. Seven of them were rookies.
The Braves' clubhouse still seems as much boardroom as locker room—Cox bans music—but the new kids on the block are in the process of invigorating, if not altering, the staid culture. Naturally they have made rookie mistakes. Francoeur, McCann, Boyer and Johnson spent their Aug. 15 off-day on a lake outside Atlanta but neglected to wear sunscreen; they arrived at the ballpark the next day looking like advertisements for Red Lobster. McCann and Francoeur didn't find their apartment (30 minutes north of Turner Field) until a few weeks ago, thus running afoul of Atlanta's kangaroo court, which fined each player $20 for living at his parents' home while playing in the majors. Their wrinkled dress shirts on a mid-July road trip prompted hitting instructor Terry Pendleton to write IRONING 101 on the chalkboard under EXTRA WORK FOR THE ROOKIES. "I guess you learn this stuff as you go," Francoeur says. "I'm ironing now." It's the only time since he was called up that he's been pressing.
"These guys have given us a glimpse of the future and a shot of adrenaline," Braves ace John Smoltz says. "They're so excited to be playing the game, they don't even realize what's at stake. Especially [Francoeur]. He has set the world on fire. None of us who have been here—Andruw [Jones], Chipper, myself, maybe [second baseman] Marcus Giles—ever had a beginning like these guys. This is surreal."
Francoeur's amazing start—San Francisco Giants manager Felipe Alou astutely compares it with Willie McCovey's spectacular July 1959 debut—certainly has its share of Twilight Zone moments, including Francoeur nailing Luis Gonzalez of the Arizona Diamondbacks twice at the plate within four innings on Aug. 14, and a 4 for 4 against the Giants five days earlier. "It was strange because that's my first four-hit game ever in pro baseball," Francoeur says. "Never had a perfect day in the minors, no 2 for 2 with two walks or anything. Because I've always been a free swinger, at some at bat during the game I'm going to get stupid and swing at a dumb pitch."
An old saw suggests that many Caribbean players became free swingers because walks wouldn't get them off the island, but there's no mention of Lilburn, the Atlanta bedroom community in which Francoeur was raised. Using a standard 34-inch bat, the rookie hacks at pitches from his shoelaces to his shoulders. He doesn't have a strike zone, he has a zip code. In his first 131 plate appearances Francoeur had no walks, the longest such streak at the start of a career for a position player since 1984. Of the 437 big league pitches that Francoeur had seen through Sunday, only nine were delivered with three balls in the count. He has swung at the first pitch 47% of the time; the major league average was 28%. He occasionally frets about selectivity and actually once watched video of his at bats until McCann sauntered by and said, "That's not you. That's not what got you here." Francoeur agrees. "When I don't think," he says, "I do well."
The definition of "a good at bat" has broadened in the past decade to include long stays at the plate, even otherwise unproductive outs, as long as they wear down a pitcher. With 30 RBIs in 34 games and a .717 slugging percentage, Francoeur, usually batting sixth, might prompt seamhead scholars to revisit the notion. To borrow from Hobbes (Thomas, not Roy), the at bats of baseball's hottest hitter tend to be nasty, brutish and short.
"My whole life, plate discipline has been the knock on me," Francoeur says. "I'm not the kind of guy who'll look for a certain pitch and take two strikes till I get it. The biggest difference here is that I haven't been swinging at sliders in the dirt."
McCann: "[For] two years in A ball, pitchers would get two strikes on him, and then they'd throw every pitch in the dirt until he swung."
Francoeur: "Before the home stand's out [last Sunday], I'm going to walk."
McCann: "No shot. Unless it's a four-pitch walk."
Francoeur did finally draw a walk, but it was through no fault of his own: The Padres issued him an intentional pass in the eighth inning of Sunday's game. Chipper Jones nonetheless endorses Francoeur's desire for a dollop of plate discipline—"Add 50, 60 walks a year to what he'll put up and the sky's the limit," Jones says—but hopes the rookie never loses his aggressiveness.
Of the veteran Braves, Jones probably best understands the pressures on Francoeur. When Jones was a rookie, David Justice dubbed the No. 1 overall draft pick the Golden Child. With the innate advantage of being a homeboy whose name has been news since 10th grade, Francoeur, who made it to the majors with 267 fewer minor league at bats than Jones, will become the Platinum Child once he demonstrates that he can handle pitchers the second time around. "He's been hot," Milwaukee Brewers manager Ned Yost says, "but give the league a little time to figure out how to pitch him, and then we'll see how good he is."
Maybe we'll know by late October. That's the too-short baseball month in Atlanta, something Francoeur, a Tomahawk Chopper from the moment his father took him to Atlanta-Fulton County Stadium at age four, grasps all too well. With the vehemence of youth, he declares, "When [Minnesota Twins first baseman Kent] Hrbek knocked [Braves outfielder] Ron Gant off the base [in Game 2 of the 1991 World Series], that was the cheatingest [play] ever."
To settle those old autumn scores for his hometown team, Francoeur will move earth and heaven.