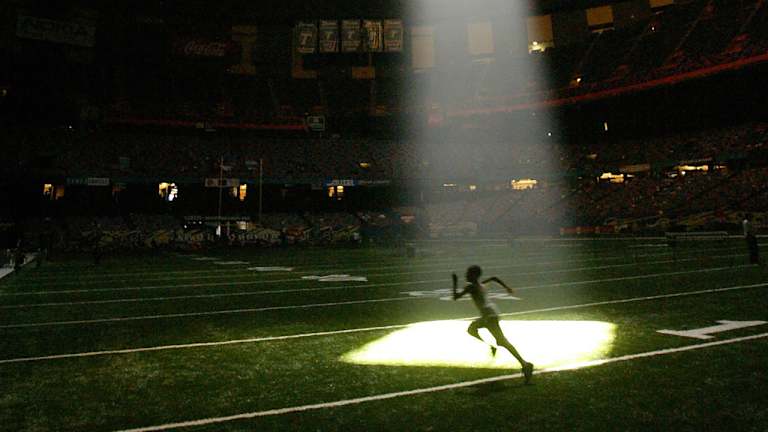 Dark Days
Nothing will ever be the same—New Orleans, the Superdome, how we think about sports. And there are no small stories
The kid's head felt as if it were coming apart. He kept staring at the television screen. Chunks of the Superdome's roof had blown off. Water was leaking down elevator shafts and stairwells. Debris fell from the ceiling and landed on the field where the most magical moment of his life had occurred. His two older brothers were somewhere in the Dome, among all the wretched who lay stunned on their military cots. His mother, father, two sisters and grandmother were ... where? Maybe drowned. The kid's head felt like the Dome. All coming apart.
Josh Leavell was 800 miles from Ground Zero, one of the lucky ones from New Orleans's desperate Ninth Ward who got out, one of tens of thousands of athletes drifting across the land, ghosts wondering what had happened to everything they counted on, everything solid.
When the killer storm approached, the people had looked for the mightiest edifice to run to and hide. That would have been a church or a city hall in another time and place, but in 16-year-old Josh's it was a sports stadium: our cathedral.
One piece of Josh had wanted to run there with his two brothers: What could possibly dent that fortress of concrete and steel, 27 stories high, and its 9.7 acres of roof? Another piece of him had wanted to stay in his own ramshackle little house to protect his mother and sisters and their scant possessions, since his father didn't live with them. But his mom had insisted. So he and his twin brother, Jonah, swallowed their dread and hugged their family goodbye. They climbed into the car with the kindly 26-year-old art teacher, Aaron Collier, who looked out for them at Desire Street Academy, where both boys were running backs on the football team, and began a journey farther than either of them had ever traveled.
They reached North Wilkesboro, N.C., where Collier's parents lived. Days passed. Every few hours Josh called his mother's cellphone, asking God to let him hear her voice. He got nothing, so then he asked God to please let it be only her phone's battery that was dead.
He was a kid with an infectious grin and a laugh like a flooded car engine trying to start. But now.... "What if my entire family is dead and I have no place to go?" he cried. "I want to go home! I'm freaking out!" He dropped to his knees with his twin, sometimes to pray, sometimes to toss their tiny stuffed football and try to forget.
Every time the phone rang, he jumped. It was never her. He went outside and tried to run. After all, he had a football season to prepare for. After all, sports had saved his life. Eight years ago a Heisman Trophy winner, a former New Orleans Saints quarterback named Danny Wuerffel, had materialized in his poverty-shattered neighborhood, a place that looked as if a hurricane had hit it before the hurricane had hit it. An angel, Wuerffel was. He'd taken on the job of development director at Desire Street Academy, a school funded by charity and run by a Presbyterian ministry. Josh was admitted as a seventh-grader, and the next year Wuerffel persuaded Matt Hasselbeck, the Seattle Seahawks' quarterback, to finance the scholarship that Josh received. Wuerffel even entrusted Josh to write a report on the Heisman Trophy candidates last December, to help Wuerffel decide for whom he should cast the precious vote that all former Heisman winners are granted.
Josh laced on his sneakers and hit the road in this strange land, the wooded foothills of the Blue Ridge Mountains. Five days a week, all summer, he and half a hundred other football players at Desire Street Academy had lifted weights and run a mile and a half through the streets of their decaying neighborhood, raring to begin their school's first year of varsity football. He was only a sophomore, but already Josh was one of the players urging the stragglers to keep up with the pack, because it's not just you, man, we're all tired, and we all stay together because we're DSAC—Desire Street Academy Community. We're a team. Then they'd all come together, sling their hands in one big knot at the end of their workouts and chant:
Who are we?
DSAC!
What do we do?
We execute!
But now, just two blocks into his run through the oaks and the pine trees, Josh felt his legs slow ... then stop. How could he jog while rescue teams in boats used sticks to push away the bloated corpses of his Ninth Ward neighbors?
He walked back to the Colliers' house. He checked his e-mail for the hundredth time for word from his family. Nothing. He went outside to play basketball. It seemed absurd, playing games invented to imitate man's struggle for survival, when back home attics were filling with water and people's fingers were clawing at roofs. He lasted 15 minutes and then put the basketball away. Sports wasn't what he thought it was. Sports was a luxury.
He turned on the TV again. It stupefied him, every time. The worst natural disaster in the history of the nation, death toll in the thousands, damages estimated at $100 billion. All the stadiums and arenas, the houses of glory, had been turned inside out, into houses of suffering. The hardwood at Louisiana Tech's Thomas Assembly Center, where Karl Malone once sent bodies sprawling, was now filled with sprawling bodies. The Pete Maravich Assembly Center at LSU, where Shaquille O'Neal once thunder-dunked, was now a hospital groaning with stroke victims and diabetic survivors struggling to hang on.
And the most incomprehensible of all, the Superdome—where one of Josh's heroes, Michael Jordan, feathered in the jump shot that delivered Dean Smith's first national championship for North Carolina, in 1982; where Josh's guardian angel, Wuerffel, picked apart Florida State 52–20 in the '96 Sugar Bowl to win the national title for Florida; where Josh himself had raced onto the field two years ago as a puny eighth-grader, playing in a scrimmage before 60,000 at halftime of a Saints-Dolphins preseason game, grabbed an option pitch with his heart in his throat and slammed for three yards--was now the site of riots, murders and rapes, even an apparent suicide by a man who couldn't bear another moment of the stench and hurled himself from a balcony. The cathedral designed so that every game could be watched at 72° Fahrenheit and 50% humidity, free of nature, had been overwhelmed by nature.
That night, playing in the Dome, awash in sound and light, Josh had his epiphany: He'd go to Nebraska, where the option pitch had once been the game's deadliest hammer. He'd become a pro football player. He'd play in the Superdome again, make all of them—Hasselbeck and Wuerffel; his mama, who drove city buses; Collier, the teacher who'd all but adopted him--proud. But now ... would anyone ever play in that hellhole again? Would any fan ever be able to stand and scream for a 15-yard buttonhook pass? Or would the Dome have to be razed for the city to roar again and forget?
The kids had to play ball again, adults across the South agreed. Before federal troops had even reached the Big Easy to stop the looting and feed the starving, high school athletic associations on the fringes of the apocalypse began moving up starting times to squeeze in football games before city-ordered curfews, passing lightning legislation to allow the masses of displaced student-athletes immediate eligibility at any new school where the tide had washed them.
From his parents' home in Destin, Fla., Wuerffel worked the phones trying to pull off another miracle: to move all 12 teachers and 190 at-risk boys from Desire Street Academy to a conference-center camp outside Jackson, Miss., turning it into a boarding school. The Colliers, Aaron and his wife, Kristen—Wuerffel's assistant at the school—began searching for a school where Josh and his twin could begin anew and play ball. Josh stared into space as the adults babbled about plans. He still had no clue where his coach or teammates were. Maybe they'd all made it out. Maybe not. What he wouldn't give now to see them all back together on that ragged practice field where the grass was so long that a fumble could be recovered only after it was found.
He couldn't imagine starting over at a new school, joining a team of total strangers at Kristen's alma mater, Boiling Springs High, amid the peach orchards in Inman, S.C. But that was the plan. Would they even let him suit up, three weeks after practice had started? Would he ever touch the football? Would they stare at the refugee freaks?
His head began to pound each day. He leaned closer to the TV screen, trying to glimpse one of his family members amid the lost souls being herded from one domed sports palace to another, spilling out of buses in T-shirts emblazoned with the logos of teams and sports organizations that had been the first to step up and clothe them. No. Nothing.
And still, each night, just before he lay in bed, he found himself dropping to the floor to do 50 push-ups and 50 sit-ups. Somewhere beneath all the dread, he longed to race across grass again.
Last Saturday they drove to Inman, to start over there. Seven days after the storm, Josh finally got a call. His father and one brother had survived. As of Monday night his mom, two sisters, grandma and other brother were still unaccounted for. If the phone would just ring, and that 504 prefix would just flash on the screen, then look out when he hit the practice field. He'd take that first option pitch around right end and no one, ever, would touch him.