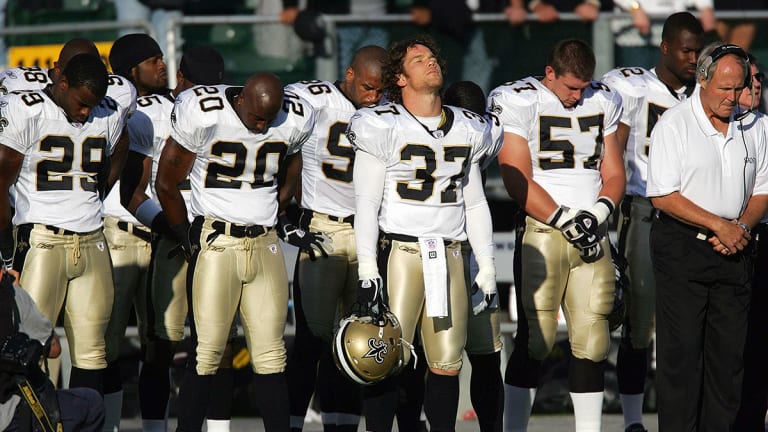 Do you have a Sunday paper?" the old man on the sixth floor of the Crescent on Claiborne Hotel in downtown New Orleans called out to Deuce McAllister, leaning out a half-open window and wiping the sweat from his bald head. "Can you bring one up to me?" The New Orleans Saints' running back, who for the past four seasons has provided Sunday thrills for the locals, stared back at the man from atop a raised section of I-10. Six feet of putrid, debris-infested water filled the wide street that separated them--Claiborne Avenue, at its intersection with Canal Street--while the gulf between their respective realities was as vast as Lake Pontchartrain.
Nearly a week after Hurricane Katrina had turned the Crescent City into a disaster zone, McAllister couldn't fathom that a man seemingly trapped without food, water or electricity would ask for news. Surely the stranded senior needed the assistance of one of the many soldiers or rescue workers who now roamed the area. "There's a boat coming by that can take you up out of here," McAllister shouted to the man.
"I sure would love to read that paper," he replied, glaring quizzically at the 26-year-old NFL star in the red mesh Salvation Army vest.
McAllister and I had come to the nearly abandoned city on Sunday with a trio of Salvation Army volunteers, driving 2 1/2 hours from Jackson, Miss., where McAllister, a native of nearby Lena, Miss., has a car dealership. During stops at Louis Armstrong International Airport and various points along the interstate overlooking the battered buildings and flooded streets, we witnessed surreal scenes—"This looks like a third-world nation," McAllister said on more than one occasion—and pondered troubling questions.
Why had it taken so long to transport so many marooned victims to safety? How long would it take to remove the squalid water, and what horrors would be uncovered beneath its filmy surface?
Of far less import, but on the minds of many evacuees we encountered: What will become of the Saints, a team that for four decades has been intimately bound up with the city's self-image?
A week earlier the Saints had heeded hurricane warnings and left, setting up temporary shop in the San Francisco Bay Area, where they were scheduled to play the Oakland Raiders. Players, coaches and staff members watched helplessly as Katrina hit New Orleans and the city flooded. Some players, fearing for friends and family members and concerned about property damage, became unnerved. Tempers flared during a meeting at the team's Fremont, Calif., hotel, with some Saints demanding unsuccessfully that the team not play the preseason finale. "It's going to be a hard year," coach Jim Haslett conceded after a 13-6 defeat last Thursday night. "We are going to be gypsies."
Then Haslett gave his players 72 hours of personal time before they were to report to the franchise's new home base in San Antonio. After training there this week, the Saints will open the regular season on Sunday against the Carolina Panthers in Charlotte. Their second game, scheduled as a home contest against the New York Giants, will be played at Giants Stadium in East Rutherford, N.J., to inevitable echoes of 9/11. At week's end it remained unclear where New Orleans will complete the remainder of its "home" schedule—LSU's Tiger Stadium and the Alamodome in San Antonio were being considered, along with a proposal to play all 16 games at opponents' stadiums. But while the disaster that befell their city may make the Saints America's sentimental favorite, the franchise's future is cloudy.
Even before Katrina, there were doubts about owner Tom Benson's commitment to New Orleans. In April he cut off negotiations with Louisiana officials over a long-term lease tied to major renovations of the Superdome. The Saints' deal runs through 2011, but they can get out of it after this season by paying the state $81 million. Benson, who declined to comment for this story, has a second home in San Antonio, which long has hoped to attract an NFL team. In addition, the lucrative Los Angeles market remains open, though some of Benson's fellow NFL owners would likely try to force him to sell to someone of their choosing before approving such a move.
The Saints' future is a sensitive issue to players like McAllister and wideout Joe Horn, each of whom spent time last weekend visiting evacuees--Horn at Houston's Astrodome, McAllister at several Jackson-area shelters--and hearing pleas not to stray too far.
"Y'all bring us home, to the Super Bowl," a short, shirtless man sitting on a cot inside the Astrodome told Horn on Saturday. "Don't leave us now."
"Don't worry, we're gonna represent Louisiana," Horn replied. "We're gonna be back as soon as we can, and that's real."
A day later McAllister walked along I-10. Piles of garbage and ratty blankets lay strewn across the shoulder of the highway. A group of evacuees was being helped down from an Army Humvee, near a military helicopter that had landed on the freeway. A young man in a Yankees cap helped armed soldiers load his ailing grandfather onto a stretcher. He turned to McAllister and asked, "Did y'all win that game against the Raiders?"
McAllister smiled as he talked football for a minute, but he had no illusions that the Saints could play some divine role as healers. He'd heard reports from evacuees of rapes at an elementary school shelter in the Bywater neighborhood of New Orleans, and of dead bodies left unattended throughout the city.
At one point he looked down from the interstate and watched a pair of middle-aged women repel a rescue boat, instead choosing to wade through the chest-high water halfway around the block to a small aluminum craft of their own. "We've got our own private boat," one explained before beginning the 500-yard journey. Alas, when they reached the vessel, they found it padlocked to a fence.
As they started back through the water, a large television set floated by. One of the women looked up at the freeway and recognized the man in the red vest. "That's Deuce McAllister," she said.
Her companion's reply: "I don't give a damn who that is."