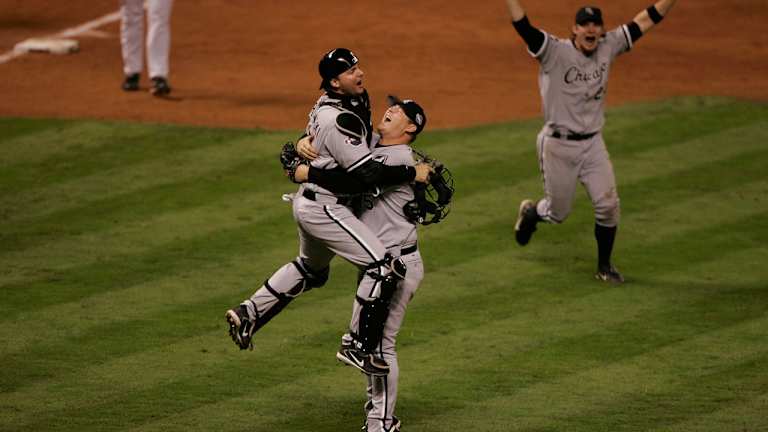 Strange is the baseball world we live in to have the Boston Red Sox and the Chicago White Sox charmed by world championships 365 days apart after waiting a combined 63,554 days (174 years) to win one. If this is what history-be-damned, postmodern baseball looks like—every team has a ghost of a chance (and any team with the power pitching to survive three rounds of playoffs has much more than that)—then no one has played it better than the White Sox.
"Other [Series winners] have more Hall of Fame players," said Chicago first baseman Paul Konerko, the cornerstone of the club, cigar in hand and dripping with champagne after the Sox completed their sweep of the Astros in Houston on Oct. 26, "but as a team I'll put us up there with anybody."
Unlike their Bostonian cousins in futility and footwear, these Sox did not provide much inspiration for poets, novelists, folklorists, essayists or, to judge by the worst ratings in Fall Classic history, television viewers. They were too cursed to even have a curse. Since they last won a championship in 1917, the White Sox had thrown as many World Series (1919) as they had legitimately lost (1959). It was a most unremarkable 88-year drought, producing little angst but frequent switches in the Sox' logos, colors and uniforms, as if they were hiding in baseball's witness-protection program.
The 2005 White Sox raised the profile of the franchise, attaining not just a championship but a level of historical greatness that seemed unlikely even to the players themselves. Greatness? The White Sox? This team, which joined the 1997 Florida Marlins, a one-hit, wild-card wonder, as the only world champions without a .300 hitter or a 20-game winner? Yes, the Sox' greatness was derived from how well they played the game together rather than from their individual talent. The record shows it.
Only two teams in baseball history have won wire to wire, had the most victories in their league and also swept the World Series: the 1927 Yankees and the 2005 White Sox. Those were the Murderers' Row Yanks, one of the iconic teams in sports. The '05 Sox bludgeoned no one. They did not commit murder; misdemeanors were more like it. They did whatever it took to beat you and no more than that. They took the game from you, but let you keep your dignity.
Fittingly, the White Sox pulled off the most underwhelming sweep in World Series history. They became the first team to sweep the Series while winning every game by one or two runs, and their cumulative six-run advantage tied the 1950 Yankees for thinnest margin in a Series sweep. They never beat a Houston starting pitcher; they scored the tie-breaking runs in the fourth, ninth, 14th and eighth innings; and they became the first team to twice hit a game-deciding home run in the ninth inning or later of a postseason series. What's more, the two guys who belted them, Scott Podsednik in Game 2 and Geoff Blum in Game 3, had combined to hit one homer for the Sox in the regular season.
Game 4 was the perfect finale for the team that, as Astros outfielder Orlando Palmeiro said after making the last out, "played a little better than us every time." Chicago joined the '62 Yankees as the only teams to clinch the World Series by winning a 1–0 game on the road. The run they scratched out was classic White Sox baseball, executed with the subtle precision of a pickpocket.
Willie Harris, a bench player who hadn't scored a run for 40 days and 40 nights, smacked a 97-mph fastball from Houston closer Brad Lidge for a pinch-hit single. Harris moved to second on a sacrifice bunt by leadoff hitter Podsednik, reached third on a groundout by Carl Everett and scored on a ground ball single up the middle by Series MVP Jermaine Dye.
It was the 20th time, including the postseason, that the Sox cut the heart out of their opponent by one run on the road. Only the 1970 Orioles, a ball club that rolled to 108 wins, had more such victories (22). The 2005 White Sox also matched that mighty Orioles team with one of the greatest finishing kicks ever. The Sox ended their championship run on a 16–1 tear, including 11–1 in games decided by one or two runs, 11–0 on the road and 11–1 in the postseason. They lost only one game over the final 29 days, the American League Championship Series opener to the Los Angeles Angels 3–2. No other team except those '70 Orioles, who finished 18–1, earned a world championship by winning 16 of its last 17 games.
"We played our best all-around baseball in the postseason," Konerko says. "We swung the bats better in October than we did in May. That doesn't make sense. It shouldn't be like that when you're facing the pitching you see in the playoffs.
"We're the perfect example of why you don't need to put together an All-Star team to win a championship. You just have to peak at the right time. I'm not naive enough to think we're some unbeatable team. We could start the playoffs tomorrow and get knocked out in three games. But it happened that things went right for us for one month. We did everything well."
On the day before the World Series began, the Astros conducted a meeting with their pitchers, catchers, coaches and advance scouts to review information they had gathered about the White Sox. The consensus was that the matchup favored Houston's pitchers. The Sox' hitters, according to the scouts and a season's worth of statistics, were a free-swinging bunch. Only three AL clubs had walked fewer times, and Konerko, with 81 bases on balls, was the lone hitter to draw more than 50. The Astros' staff, meanwhile, had struck out more batters than any other National League team's except the Cubs' and the Brewers'.
The Astros, however, never saw that free-swinging team. Chicago drew 15 walks in the four Series games (it averaged 2.7 per game in the regular season), refusing to bite at pitches that skirted the strike zone. The White Sox and the 2004 Red Sox are the only teams to win eight straight postseason games, and both did so with a slew of long, tough at bats.
"It started in Anaheim," says Konerko, referring to Game 3 of the ALCS. "We walked in there like we owned the place. I don't know why. Nothing was said. There wasn't one thing that happened. We just developed this attitude, a mean streak that came out at the right time."
Dye, for instance, saw 4.78 pitches per plate appearance during the World Series, a 20% increase from his regular-season number. He had key, lengthy at bats in each of the first three games before his game-winner in the clincher: a nine-pitch at bat in the first inning of Game 1 that culminated with a home run off Roger Clemens; a seven-pitch at bat in Game 2 that ended with his phantom hit by pitch, setting up a Konerko grand slam; and an eight-pitch at bat in the fifth inning of Game 3 that took the starch out of Houston righthander Roy Oswalt. Dye capped the last of those by flicking a slider for a run-scoring single, one of a career-high 46 pitches Oswalt threw in the inning as Chicago turned a 4–0 deficit into a 5–4 lead.
"They played with a whole lot of confidence," Houston lefthander Andy Pettitte says. "They were much more disciplined at the plate than we expected. It was amazing. They played like they just knew it was their year."
Houston did rally to tie Game 3 on a two-out, two-strike double by Jason Lane in the eighth. But the Astros failed to score any of their 20 runners the rest of the Series, going 0 for 31 with men on base—a cumulative no-hitter, and then some.
Game 3 finally ended at 1:20 a.m. Central time after 482 pitches, 341 minutes, 43 players, 17 pitchers, 14 innings and one serendipitous change of mind by White Sox manager Ozzie Guillen. When second baseman Tadahito Iguchi made the last out in the top of the 13th, Guillen double-switched lefthander Damaso Marte into Iguchi's number 2 spot. In what had been the pitcher's spot on his blue lineup card, Guillen wrote oz in black fine-point marker, to indicate that he would insert second baseman Pablo Ozuna there. As Guillen walked up the dugout steps to give the changes to umpire Jerry Layne, he spotted Blum standing in a corner of the dugout. Guillen recalled bench coach Harold Baines's suggestion a few innings earlier that Blum, a switch-hitter more adept from the left side, would be a good fit late in the game because Houston had only one lefty remaining in its bullpen, Wandy Rodriguez.
Guillen stopped and wheeled around. "Blum," he said, "you're in."
In the 14th, Blum, a former Astro, found himself looking for an inside fastball from righthander Ezequiel Astacio on a 2-and-0 count. Astacio obliged. Blum drilled it on a line over the rightfield wall. It was his first RBI in 55 days.
Strange things have to happen to win a World Series," Sox owner Jerry Reinsdorf said after the clincher. "I've always known that. The stars do have to align."
In addition to the home runs by Podsednik and Blum, the White Sox enjoyed several calls that were clearly blown by umpires in the postseason (box, right), injuries that allowed them to miss Angels ace Bartolo Colon and all but two innings of Clemens and, most important, the dropped-from-the-sky success of pitchers Jon Garland, Jose Contreras and Bobby Jenks (who became the first rookie to save a World Series clincher).
"Pitching and defense," Guillen says. "That's the kind of team I wanted because it keeps you in games and gives you a chance to win."
Such was their pitching depth that no White Sox starter carried the burden of an ace. Number 4 starter Freddy Garcia, for instance, was brilliant in the finale, throwing seven shutout innings. Guillen's bullpen was so deep that he trusted four relievers in the eighth innings of the Series—and that did not include the amazing escape artist Orlando Hernandez, who worked his magic so predictably to get into and out of a ninth-inning jam in the Game 3 all-nighter that you half expected him to pitch with a tuxedo, a top hat and a lovely, sequined assistant.
There was no secret to what the White Sox did, no new formula from which opposing general managers will crib. As Oscar Wilde wrote in 1891, nine years before the White Sox even existed, "Must we really see Chicago in order to be educated?" This team was loaded with pitchers, most of whom threw at least in the mid-90s; it caught the ball on defense; and it played a selfless offense that equally embraced the sacrifice bunt (no AL team had more) and the home run (only three teams in the league had more). The whole approach would have worked pretty much as well in 1917.
But just as the Red Sox sent ripples far beyond Boston with the Comeback from being down 3–0 to the Yankees in the ALCS, the White Sox established a legacy that extends beyond Chicagoland. They nearly ran the table in three weeks of postseason play, and they won 68 games overall by one or two runs. (The '27 Yankees, the cutlass to their rapier, had 40 such victories.)
No matter how they accomplished it, these White Sox were assured a place in baseball history just for ending the game's second-longest drought. (Next up in the pay-it-backward lineup: the 0-for-97 Cubs.) Says Konerko of Chicago fans who had waited all those years for a championship, "They've suffered a long time. I'm honored to be on the team that gave it to them. When you win, people don't forget you."