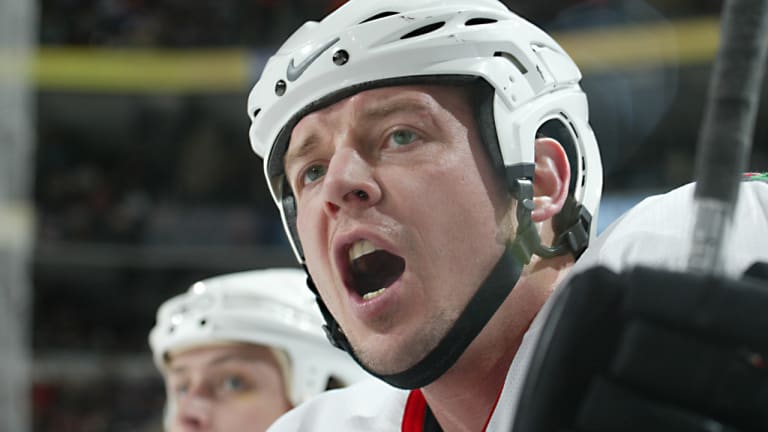 No Troubles in Belfast
Former NHL star Theo Fleury, now sober, is back on the ice and thriving—in Northern Ireland
The Belfast Giants, Northern Ireland's only pro hockey team, bill their games as a sanctuary of sorts in this long-riven city. When the Giants play on the home ice at Odyssey Arena, Catholics and Protestants check their religious passions at the turnstiles. Fans can't come in wearing soccer jerseys of either the Glasgow Celtics (the Catholics' favorite club) or the Glasgow Rangers (the Protestants' choice). The team's slogan is: In the Land of Giants, Everyone Is Equal.
The newest, littlest and most famous Giant is 5' 6" Theo Fleury, who is himself in search of a safe place, 32 months after scoring the 1,088th and perhaps final point of his stirring, Hall of Fame--caliber NHL career. "Without hockey, I know I'd be dead," Fleury, 37, told the Winnipeg Free Press last month. And, as he said to SI last week, "Hockey is hockey, here or in the NHL. You get out there and everything's about the game. What's nice here is that afterward I can walk down the street and people don't recognize me, don't care about my past."
In Calgary, where Fleury won a Stanley Cup in 1989, spent 11 of his 16 NHL seasons and has gone down as the greatest Flame of all time, everyone knows the troubles he's seen. Three times he has been suspended for violating the NHL's alcohol and substance-abuse policy, including an April 2003 ban that will remain in effect at least until Fleury appeals to commissioner Gary Bettman.
Fleury long ago acknowledged his difficult upbringing as the son of addicts, but lately he has spoken more openly of his own battles with alcohol and narcotics, of drinking in alleyways and descending into crack dens as his career dissolved. Those struggles may help explain the pugnaciousness that marked the latter days of his NHL career. In January 2002 he famously shoved the Sharks' mascot beneath the arena stands in San Jose. A year later he got into another highly publicized scuffle in a Columbus, Ohio, strip club. Now, Fleury says, he is clean, and has been since months before his October arrival in Belfast. "I'm doing better than I ever have in my life," he says.
Fleury joined the Giants at the urging of a Calgary friend who is a part owner of the team. He earns about $750 a week, the British Elite League maximum but well off the $7 million he pulled down as a New York Ranger in 2001-02. He lives in the upscale neighborhood of Holywood (the team provides a house and car for him) with his fiancée, Jennifer Ivanochko, who, like Fleury, is from a tiny Canadian prairie town.
An emotional player, Fleury has always had an almost numinous connection with his fans. Today, some 15 pounds heavier than his NHL weight of 174, he is cheered on by home crowds that average about 3,800. In a nine-team league sprinkled with failed minor leaguers and earnest locals (the talent level is on par with a low minor league in North America), Fleury has scored 30 points in 15 games, by far the best pace in the league. In his first game, against the Edinburgh Capitals, he scored three goals, had four assists and, true to form, fought and bested 6'3", 218-pound enforcer Fredrik Oduya. ("I beat up one of the toughest guys in the league," says Fleury, "and no one's messed with me since.") The home crowd chanted "Fleury, Fleury" throughout his debut, and it hasn't quieted since. The Giants are in first place.
"He has lifted every player on the team," says general manager John Elliott. "The skill and standards that he has ... he's immense. He's a great asset in the locker room."
Fleury fills his down time by strolling the Belfast docks, watching the NHL on satellite TV and traveling. After the Giants' season ends in the spring, he and Ivanochko plan to return to Calgary and marry. "We'll take it from there," Fleury says. "I'm not looking very far ahead. Will I come back here next winter? Maybe. It's going great. Will I try to get back in the NHL? I just don't know. In my life I am never sure where I will end up."