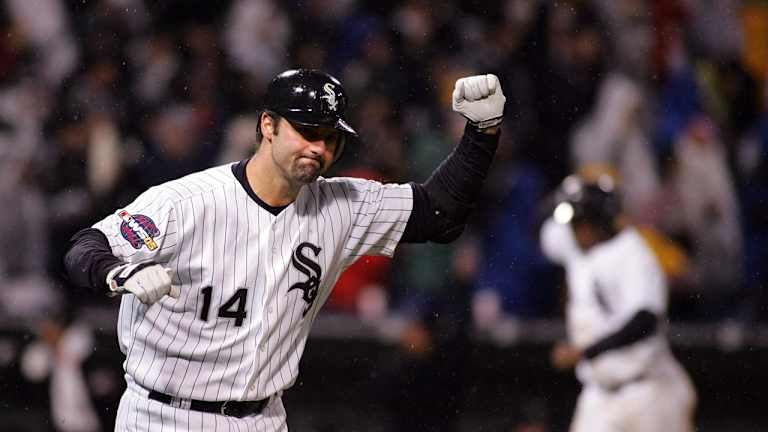 Publish date:
Paulie Revered
First baseman Paul Konerko experienced a once-in-a-lifetime October, leading the White Sox to their first title in 88 years
Every so often a ballplayer enjoys a season of such indelible pluck and timely success that he becomes the unofficial proprietor of that year. Luis Gonzalez owned 2001 the way Jack Morris did 1991 the way Kirk Gibson did 1988 the way Bret Saberhagen did 1985 the way Bucky Dent did 1978 and the way Roger Maris did 1961. It is a tribute either to the democracy of the sport or its nutty randomness that such eternal ownership can be claimed, as in each of the aforementioned cases, by a player not found in the Hall of Fame.
The synonymy of a ballplayer and a year is decided without debate or ballot or a five-year waiting period. It happens quickly, organically. And at precisely 11:01 Central Daylight Time on the night of Oct. 26 it was readily apparent that the baseball year of 2005 belonged in perpetuity to the same man who clutched the ultimate out: White Sox first baseman Paul Henry Konerko, who--like Fridge, Walter, Michael, Scottie and Sammy--will henceforth be known to even the most casual fans around Chicagoland by a monomial, familial handle: Paulie.
With his humility, his lunch-pail work ethic and his rise after a spotty start to his career, Konerko is a Paulie kind of guy. You don't call a guy with an entourage Paulie. End-zone exhibitionists, contract holdouts, self-serving horn tooters ... you won't find a Paulie among them. Paulie is a man of the people. Paulie's your buddy. Paulie helps you move into a new apartment. Paulie always buys the first round. Though now seemingly superfluous, the cacophonous Konerko--it sounds like a metal tool box being knocked over--cements the Everyman role.
As Paulies go, Konerko had a most extraordinary 2005. O.K., it was cool enough that the guy hit 40 home runs for a second straight season, made his second All-Star team, finished sixth in the American League Most Valuable Player voting and hit cleanup for the world champs. But in addition, in the span of 11 days in October, he was named the MVP of the AL Championship Series; witnessed the birth of his first child, Nicholas; hit the most dramatic grand slam in World Series history; and caught the last out of the first baseball world championship in Chicago since 1917.
Oh, and one more thing. Thirty-three days after the sweep of the Houston Astros, Konerko, 29, re-signed with the White Sox as a free agent for $60 million over the next five seasons. The first round really is on him. Hey, there are still a few days left in 2005, still time for Paulie to buy a winning lottery ticket, solve the riddle of Lost and establish peace in the Middle East.
Albert Pujols had a fantastic year. Alex Rodriguez was superb. Bud Selig succeeded in getting the players' union to accept tougher steroid punishments and a ban on amphetamines. Youppi!, the abandoned mascot of the team formerly known as the Expos, found work with the NHL's Canadiens. But nobody in baseball had a better year than Paulie.
Konerko is just one of many reminders how stardom in baseball, more so than in most sports, often does not come ready-made. It slow cooks. Yes, Konerko was a first-round draft pick in 1994, taken 13th by the Los Angeles Dodgers out of Chaparral High School in Scottsdale, Ariz. But potential in baseball is so difficult to forecast; for instance, from that draft one out of four first-round picks would never reach the major leagues.
The Dodgers drafted Konerko as a catcher but rather quickly decided that he would not get to the big leagues at that position. Wearing number 66, he started his first game with L.A. in 1997 as a third baseman and then was cast the following year as the heir apparent to Eric Karros at first base. After Konerko hit .212 in only 55 games over those two seasons, the Dodgers shipped him to Cincinnati in '98 in one of those classic midseason deals--anonymous youngster for name veteran--to obtain relief pitcher Jeff Shaw. (Los Angeles never reached the postseason in the four seasons Shaw pitched there.)
Konerko batted .219 for the Reds before they dealt him to the White Sox for centerfielder Mike Cameron. At age 22 Konerko owned a .214 career batting average in the big leagues and had been traded twice in less than five months. As it turned out, though, he had found a home. After seven seasons in Chicago, Konerko has hit the fourth-most homers in White Sox history (203) while averaging 30 homers and 95 RBIs and establishing himself as the team's unofficial captain.
Konerko hit five home runs in the 2005 postseason, including his grand slam in Game 2 of the World Series five days after his wife, Jennifer, gave birth to Nicholas. The Astros, up 4-2, were seven outs from tying the Series at one game apiece, but Konerko blasted the first pitch from reliever Chad Qualls to put Chicago in front. (The White Sox would need a ninth-inning walkoff homer from Scott Podsednik to win the game.) It was only the 18th grand slam in 101 Fall Classics but the first that put the trailing team into the lead as late as the seventh inning.
"How lucky am I," Konerko said after that game, "that I hit a grand slam in the World Series and it's still the second-best thing to happen to me this week?"
Konerko had no interest in keeping the baseball that ended the White Sox' 88-year drought, an extremely valuable totem. Instead, he turned the ball over to a visibly moved White Sox owner Jerry Reinsdorf at the team's championship rally in Chicago two days later.
In late November, while Konerko was finalizing his new contract with Chicago, newspapers also carried stories about the Red Sox' petitioning a judge to get their hands on the World Series ball that had ended their 86-year drought in 2004. The first baseman who caught that last Series out, Doug Mientkiewicz, laid personal claim to the ball, and a year later the rather awkward dispute that ensued remained unresolved.
For the White Sox the return of Konerko was more important than that of the baseball. The Baltimore Orioles had offered Konerko more money, $65 million over five years, and the Los Angeles Angels had offered him an opportunity to play closer to his Scottsdale home. But Chicago offered him something on top of the $60 million that no other ball club could.
"It's as simple as where your heart is," Konerko said the day his deal was announced. "That's what brought me back."
For the record Luis Gonzalez hit 29 fewer home runs in 2002 and has not been back to the postseason since. Jack Morris was 0-2 in the 1992 World Series. Kirk Gibson hit .213 and missed more than half of the 1989 season with injuries. Plagued by pain in his right shoulder and foot, Bret Saberhagen was 7-12 in 1986. Bucky Dent hit .230, his career-worst as a regular, in 1979. Roger Maris hit 28 fewer home runs in 1962.
That's how it goes when you achieve something as rare as your own personal year. Konerko will hit more home runs, make more money, maybe even win more world championships, but the experience will never be so fresh and so dense in newfound joy as it was this year, his year. Paulie will have 2005. Always.