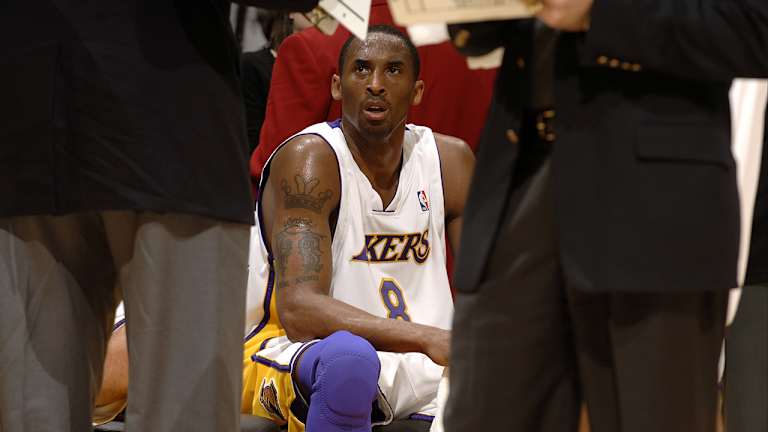 Eighty-One
Forget Jordan. Step aside, LeBron. Scoring machine Kobe Bryant had the second-highest point total in NBA history. Now the question is, can he crack triple digits?
There are no moving pictures of Wilt Chamberlain's 100-point game at the Hershey (Pa.) Sports Arena on March 2, 1962, and so that epic performance has been consigned to the dim mists of history. Like Bigfoot, the Big Dipper stomps along in our collective imagination of that evening, grainy, not quite real. But then, in living color and looping through 24-hour news channels, came Kobe Bryant and his 81 points. Truly, we can say we've never seen anything like it. On Sunday, Bryant laid four score and one on the Toronto Raptors at Staples Center, where his Los Angeles Lakers overcame an 18-point third-quarter deficit to win 122–104. Nobody besides Wilt has ever racked up more in an NBA game, and the 6'7" Bryant did it with relative economy, making 28 of his 46 shots and 18 of his 20 free throws. (Chamberlain was 37 of 63 from the field, 28 of 32 from the line.) "Eighty-one is 81," marveled New Jersey Nets guard Vince Carter the following day. "I don't care if you're playing summer league, pickup or PlayStation." Michael Jordan, with whom Bryant is inextricably linked (usually in this sense: Kobe is no Michael) had a career best of 69 points (chart), and for that he needed overtime. Kareem Abdul-Jabbar, the NBA's most prolific scorer, topped out at 55. Bryant got that many in the second half on Sunday.
But what is most notable about Bryant's eruption is that it seemed almost inevitable. In a rout of the Dallas Mavericks on Dec. 20, Bryant had 62 points through three quarters, then sat out the fourth. On Jan. 6, he tattooed the Philadelphia 76ers for 48, winning a duel (and a game) against Allen Iverson. The next night, against the Los Angeles Clippers, he dropped in 50 points, including 40 in the second half. Since his explosion against Dallas, Bryant was averaging 43.4 points at week's end on respectable 46.6% shooting from the floor.
Clearly, something is going on. Bryant will tell you, poker-faced, that he is scoring so much he led the league with 35.9 points per game through Sunday, the highest figure since Jordan's 37.1 in 1986–87-only to increase his team's chances of making the playoffs. (At 22–19, the Lakers were seventh in the Western Conference.) But down deep, fueled by testosterone and pride, Bryant has set out to occupy a place atop the current NBA hierarchy, a spot that, in his mind, he has never reached.
From the moment that Bryant joined the NBA out of Lower Merion (Pa.) High in 1996, his talent stamped him as the heir apparent to Jordan. But few believed he had the maturity to match Jordan on the floor and the charismatic personality to match him off it. When the Lakers won championships in 2000, '01 and '02, Shaquille O'Neal was unquestionably L.A.'s leading man. Bryant's legal troubles stemming from a 2003 rape charge in Colorado brought him down another peg. Coming into this season, Bryant was hardly passé, but neither was he top-of-mind, not with younger superstars like the Cavaliers' LeBron James and the Heat's Dwyane Wade on the rise.
As the season nears the halfway point, however, Kobe has made himself the story in the NBA. "Everybody called every player in the league," says Wade of the 81-point onslaught, "because that's history right there." Not to mention great theater. Last Saturday the 21-year-old James scored 51 to surpass Bryant as the youngest player to reach 5,000 points. So Kobe went out 24 hours later and got his 81, as if to say, LeBron Who?
And now he's reaching back into ancient history. It's difficult to compare Bryant's 81 with the 100 Chamberlain scored as a Philadelphia Warrior. Chamberlain was an imposing 7'1", 270-pound specimen who, while graceful and athletic, physically dominated the opposing center in almost every game. On the night he hit the century mark against the Knicks-heck, on most nights over the first seven years of his career, during which he averaged 39.5 points-his teammates did little else but feed him the ball. And his 100-point night didn't exactly happen under the bright lights.
"I mean, it did happen in Hershey, Pennsylvania," says Lakers coach Phil Jackson. "It was an entirely different atmosphere from getting 81 in a game in Los Angeles, [in] a game where people can double-team you, zone you, trap you, get the ball out of your hands. Players who were at Hershey that night said that the rims were more than forgiving, too. I mean, Wilt, who couldn't shoot free throws for a damn [51.1% for his career], made 28 of 32."
Jackson laughed, then added, "On the other hand, 81 isn't 100."
Bryant, too, didn't have much trouble getting the ball back from his teammates on Sunday night. They may not like him, but they stand in awe (sometimes literally, to the dismay of Jackson, who likes ball movement in his triangle offense) of his ability. But, unlike Chamberlain, Bryant often had to bring up the ball, free himself on screens, squeeze himself between defenders and dribble this way and that to create space and get off shots. Chamberlain's 100-point night was rather a straight-ahead feast, all roast beef and potatoes; Bryant's 81-point night was a smorgasbord, with six layups or dunks, and 22 jumpers that came from all angles.
Could Kobe hit triple figures? The odds say no. Defenses would do almost anything to prevent it-face-guard him so he couldn't get the ball, put as many as four players on him, dismember him, anything not to become known as the team that gave up a hundred. Here was Utah Jazz coach Jerry Sloan, a legendarily tough guy, reflecting on Bryant's achievement the day after: "I wouldn't feel very good about myself if a guy scored a lot of points and I didn't use my fouls to try to stop him." Said Heat forward Antoine Walker, "If someone got 81 on me, I'm going to clothesline him."
Also, Bryant would need the cooperation of his teammates, and his relationship with them, particularly power forward Lamar Odom and point guard Smush Parker, remains iffy. They love his talent, hate his propensities for criticizing them and ignoring them during games. Would the other Lakers let him get 100? Scottie Pippen, who was famously the "other star" when Jordan was in his prime, watched the game on TV and said on Cold Pizza the following day, "[With Michael] you wanted to feed him the ball. You wanted to see him succeed.... You look at a player like Lamar Odom.... He didn't really step up in the game last night. He didn't seem like he wanted to play a role."
[originallink:10820156:725900]
And would Jackson let Bryant get 100? Their relationship was volatile, to say the least, before this season, but it's better now-Kobe's talent and toughness have earned Jackson's respect. On Monday, Jackson was asked if he could envision a 100-point scenario. "Well, I don't think anyone, in this era, could imagine that," he said. "Then again, I couldn't have imagined 81 either."
Neither could Bryant. "To sit here and say I grasp what happened would be lying," he said on Sunday. "Not even in my dreams." But now that he has 81, you can bank this: Some of Kobe's dreams have three digits.