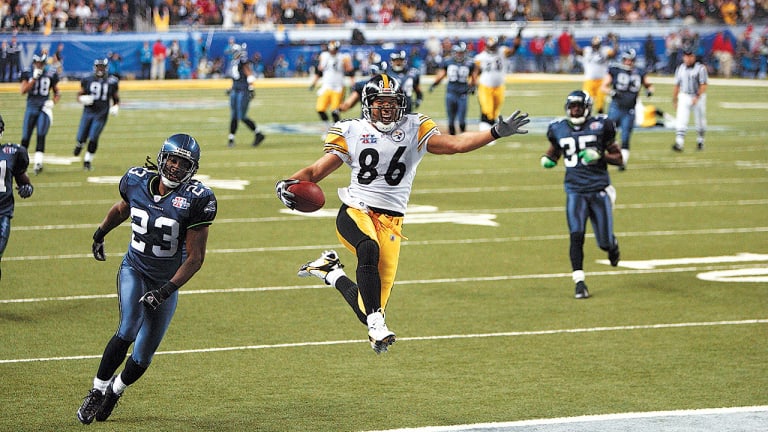 Hearts of Steel
An inspired performance by wideout Hines Ward and big plays by lesser names carried the Steelers to victory over the Seahawks and their fifth NFL title—a fitting end to a historic out-of-town playoff run and a courageous rally from a 7–5 start.
THE HIT CAUGHT Hines Ward off-guard, momentarily jolting the Pittsburgh Steelers' inexorable wideout. Craning his neck to see who was wrapping him up from behind, Ward eyeballed a laughing man with long hair, dark sunglasses and a weathered cowboy hat. The receiver smiled broadly at one of the Steelers' most famous fans, singer Hank Williams Jr., who had joined hundreds of revelers at the Pontiac Marriott in suburban Detroit in the early hours of Monday morning. "Remember when I saw you in training camp and you were calling me Mr.Hank?" asked Williams, a frequent visitor to the team's headquarters."Well, you're Mr. Hines today. In fact, you're the entertainer of the year."
Several hours earlier Ward had regaled a Pittsburgh-heavy crowd of 68,206 at Ford Field, and a worldwide television audience, with his distinctive, proletarian brand of football, blocking, catching passes and ramrodding his way to MVP honors in the Steelers' 21–10 victory over the Seattle Seahawks in Super Bowl XL. Later on Monday he would fly to Disney World with teammate Jerome Bettis, who announced his retirement after the game, then zoom back to Pittsburgh for a victory parade through the city's streets on Tuesday. But Ward is one player who is sure to stay grounded in the face of his burgeoning fame.
A former college quarterback and tailback at Georgia who fought his way to All-Pro status despite having lost his left anterior cruciate ligament in childhood, Ward is the NFL's anti-TO: a selfless star revered by his coaches and fellow Steelers. "Hines's character symbolizes what kind of team this is: close-knit and physical," outside linebacker Clark Haggans said in Pittsburgh's jubilant locker room after the franchise had won its NFL-record-tying fifth Super Bowl title. "He's the best receiver in football and one of the toughest people I've ever been around."
Are you ready for some football, Steelers style? The Seahawks weren't, spoiling the first Super Bowl appearance in franchise history by making more mistakes and fewer big plays than a Pittsburgh team that appeared more vulnerable than a Detroit autoworker. Despite a shaky performance from second-year quarterback Ben Roethlisberger and the virtual disappearance of their two marquee defenders,wild-haired strong safety Troy Polamalu and outspoken outside linebacker Joey Porter, the Steelers plodded to victory in a game that will be remembered less for the caliber of play than for what its outcome represented: one for the thumb, finally, for 73-year-old Pittsburgh owner Dan Rooney, whose club won four Super Bowls in the 1970s; a crowning career achievement for coach Bill Cowher, in his 14th season with the Steelers; and a confirmation that faith in one another and accountability can carry a team past seemingly insurmountable odds.
"Don't ever count us out," Porter said after Pittsburgh had limited the Seattle offense, top-ranked in the NFL, to its lowest point total of the season."People definitely wrote us off in December, and when you tell somebody they can't do something, proving it wrong is the sweetest joy of all."
Cowher pushed the right buttons on a surprisingly sloppy Super Sunday, but his most important move might have come two months earlier, when he walked into a meeting room at the Steelers' training facility the morning after a 38–31 home loss to the Cincinnati Bengals. That setback had essentially ceded the AFC North title to the Bengals and put Pittsburgh, at 7–5, on the brink of playoff elimination.The players shuddered. Would Cowher launch a spit-filled tirade? Would his head explode?
To the Steelers' relief, the man with football's most celebrated chin turned junior high history teacher instead. Passing out grade sheets, Cowher gave his players an assignment: Watch film of the Cincinnati game and for every play assign yourself a grade (plus or minus) in each of three categories: technique, effort and how well you followed your assignment. "It was revealing," Cowher recalled last Thursday morning as he sipped coffee in the cafeteria area of the team's hotel in Pontiac. "Some guys, like Troy, were overly critical of themselves; others were a little too lenient. But the most important point I wanted to make was that if each guy did just a little bit more and was accountable for his actions, we could turn this thing around-together." Said Bettis, the 33-year-old running back, "It drove home the message: Before you start to point fingers, you've got to look at yourself first."
The Steelers' self-examination and recommitment spurred an eight-game winning streak that vaulted them from playoff long shots to history-making champions: the first No. 6 seed to win a Super Bowl and only the second team to win its first three playoff games on the road, beginning with a 31–17 wild-card triumph over the Bengals. In its stunning divisional-round upset of the top-seeded Indianapolis Colts and its AFC Championship Game drubbing of the second-seeded Denver Broncos, Pittsburgh played at a scarily high level, with big names like Roethlisberger, Polamalu and Porter in starring roles.
Yet Super Sunday belonged to the unheralded Steelers, perhaps fittingly, as foreshadowed by Cowher's pregame address to the team. "It's not going to take a super effort from any one individual," he said to his players. "You play as a team, and you're going to walk away as champions." They did, thanks to such lesser lights as second-year halfback Willie Parker, whose 75-yard burst on the second snap of the second half, helped by Pro Bowl left guard Alan Faneca's perfect block on linebacker Leroy Hill, gave Pittsburgh a 14–3 lead. The defensive standouts included Haggans, nose tackle Casey Hampton and cornerback Deshea Townsend, each of whom sacked Seahawks quarterback Matt Hassel beck, and cornerback Ike Taylor, who atoned for several early lapses in coverage by snagging an interception at the Steelers' five-yard line with 10:46 remaining and his team clinging to a 14–10 advantage.
Four plays after that, the Steelers' biggest pass since Terry Bradshaw hit John Stallworth in Super Bowl XIV was thrown not by Roethlisberger (9 of 21, 123 yards, two interceptions) but by wideout Antwaan Randle El, a former standout quarterback at Indiana whose 43-yard strike to Ward provided the game's signature moment.Credit another perfectly timed call to red-hot offensive coordinator Ken Whisenhunt, who two plays earlier had set up the trick pass by calling a speedscreen to Randle El for a seven-yard gain. Then, on first-and-10 from the Seattle 43, Whisenhunt sent in Zero Strong Z Short Fake Toss 39 X Reverse Pass,which was run out of the same formation as the speed screen. "I was soexcited," Randle El said later, "I had to make sure I didn't give it away."
After Roethlisberger pitched the ball to Parker on the left side, Randle El swung around from his position wide to the left to take a handoff from Parker, then continued rolling to his right as Ward flashed open between three confused defenders. Throw it to me now! Ward thought to himself. Please, please get it to me. Without breaking stride, Randle El released what he would later call the"prettiest pass" of his life, a tight spiral that Ward caught on the run just inside the Seattle five-yard line, beyond the pursuit of cornerback Marcus Trufant, and cruised in for the game's final points with 8:56 remaining.
"I can throw it like that, too," Ward said afterward. "But the difference between me and 'Twan is that in his heart, he still wants to be a quarterback. I just want to catch balls."
It was a redemptive moment for Ward, whose earlier mishandling of two Roethlisberger passes had symbolized Pittsburgh's offensive futility. The Steelers went nearly four minutes into the second quarter before finally making a first down, while the Seahawks reached their own 47 or deeper on five of their six first-half possessions. But Seattle came away with only three points before intermission, as a combination of dropped passes and costly penalties-including a questionable offensive pass interference call on wideout Darrell Jackson that nullified his apparent 16-yard touchdown reception with two minutes left in the first quarter-kept Hasselbeck (26 of 49, 273 yards) from capitalizing. Indeed,with a number of borderline or puzzling calls, the referees' performance appeared as flat as that of the teams, and when the Rolling Stones blasted their new song Rough Justice during the band's halftime set, Mick Jagger seemed to be singing to the Seahawks.
Though Roethlisberger had played brilliantly in the first three postseason games, Seattle coach Mike Holmgren based his defensive strategy on the premise that the young passer wouldn't replicate his success. "I'd rather put the ball in his hands," Holmgren said last Thursday while sitting in his temporary office at the team's Dearborn hotel. "I can't believe how poorly Denver played in the secondary in the championship game. Denver, to me, didn't make Roethlisberger think very much. What we can do is give him a lot of different looks."
For much of the evening Roethlisberger looked like the discombobulated passer who struggled in last year's AFC Championship Game, during which the top-seeded Steelers were dismantled by the New England Patriots-Cowher's fourth loss in five conference title games, all at home. (The Steelers were beaten 27–17 by the Dallas Cowboys in Super Bowl XXX.) But Big Ben struck at opportune times against the Seahawks. Midway through the second quarter, on third-and-six from the Pittsburgh 45, Roethlisberger's improvised shovel pass to Ward while scrambling to his right resulted in a 12-yard gain. Later in the drive, on third-and-28 from the Seattle 40, the quarterback dashed to his left to elude Seahawks defensive end Grant Wistrom, pulled up to avoid crossing the line of scrimmage and threw back to the right to Ward at the three-yard line. Three plays later Roethlisberger's lunging keeper gave the Steelers a 7–3 lead.
His one-word postgame assessment of his overall performance: "Ecch."
Roethlisberger cheered up slightly while riding on the team bus to the victory party."It's not how you picture your Super Bowl moment," he said, "but with this team it had to be that way. Before every game it's, Who's going to step up big today? Hines played well, but for the most part it wasn't the big-name guys offensively and defensively. That's sort of been the M.O. of this team, why it's such a special team and why we won." It's also how Roethlisberger, 23, supplanted the Patriots' Tom Brady as the youngest quarterback to guide a team to a Super Bowl victory.
While Bettis got the key to the city of Detroit earlier in the week (sharing the distinction with Saddam Hussein), it was Parker who made the game's pivotal run. Three years ago he was a bench warmer at North Carolina, on the verge of quitting the team and pursuing a career in physical therapy. He stuck it out through his senior season, however, bursting into tears before his final college game while taking the field with his parents on Senior Day. Though he didn't play in that game, Parker smiled as the final seconds ticked away. "I was just so happy when the game got over with," he said, "knowing that I didn't have to see anybody in that program again."
Parker made the Steelers' roster as an undrafted free agent in 2004-team scout Dan Rooney Jr.had been impressed with Parker's play in high school and kept his eye on him-and took over the starting job this fall after Bettis and Duce Staley suffered preseason injuries; Parker rushed for 1,202 yards. His scoring dash on Sunday was the longest in Super Bowl history, surpassing Marcus Allen's 74-yarder in Super Bowl XVIII. "I'm glad I sat on the bench at North Carolina," Parker said after the game. "All the people there were watching me and my team today, having fun."
In a season marred by All-Pro wideout Terrell Owens's getting banished by the Philadelphia Eagles after repeated clashes with teammates and coaches, Ward, who turns 30 next month, merely made plays, punishing as many defenders as he could in the process. "I don't look at myself as a prototypical wide receiver," Ward says. "I look at myself as a hell of a football player." He certainly is Pittsburgh's best wideout since Hall of Famers Stallworth and Lynn Swann. On Jan. 30, about 12 hours after the Steelers had arrived in Detroit to begin preparations for the Super Bowl, Ward and a group of teammates accompanied Bettis on a late-night trip to Icon, a downtown club. Clad in a green throwback jersey from Bettis's Notre Dame days, Ward chilled in a darkened corner as the Bus soaked up most of the attention. Noting the off-season departure of receiver Plaxico Burress, a free agent who signed with the New York Giants,Ward said, "For me, this season has been about proving I'm a tough player.Without Plax, some people wondered if I could be as effective. I think I've proven I can be."
Ward, whose mother is Korean and father is African-American, then joked that he had a chance to become the "first Asian Super Bowl MVP." He fulfilled that prophecy by making five catches for 123 yards, including a sublime shoestring grab of a Roethlisberger pass early in the third quarter; by delivering a crushing block on cornerback Andre Dyson during Parker's touchdown burst; and, perhaps most impressively of all, by gaining 18 yards on a second-quarter reverse that ended with him and free safety Marquand Manuel crashing into the Seahawks' bench area. "I wanted to hit him," Ward said later of Manuel, who suffered a pulled left groin on the play and did not return. Later, during a third-quarter timeout, Seahawks rookie middle linebacker Lofa Tatupu sauntered up to Ward and said, "I normally don't respect receivers, but I respect you."
The scary thing was that Ward, during practice two days before the game, had sprained a joint in his left shoulder. "It happened when I caught a pass and hit the ground," Ward recounted as he strolled through the cavernous ballroom that housed the Steelers' victory party. "So I decided to take a pain-killing shot. Normally I wouldn't do that type of thing, but I wasn't going to miss this game. I still can't lift my arm very high because it's so sore. But you know what? That's really the best kind of pain."
Clad in what he called a "Cab Calloway-style" pin-striped suit, Ward signed autographs and posed for photos. And he got that hug from a country-music icon who might as well have been acting on behalf of the city of Pittsburgh. "This game did a lot for a lot of people," Ward said, his smile as wide as the Monongahela River. "It was big for Coach Cowher because people said he couldn't win the big game. It was big for Jerome because it was the last game of his career. It was big for Ben Roethlisberger because people didn't know if a quarterback that young could win this game. And it was big for somebody like me because I was covering kicks when I first came into the league. I look back on those days now, and I feel like I've come a long way."
In two months' time the Steelers came further than anyone could have imagined-all 53 of them,individually and as a team.