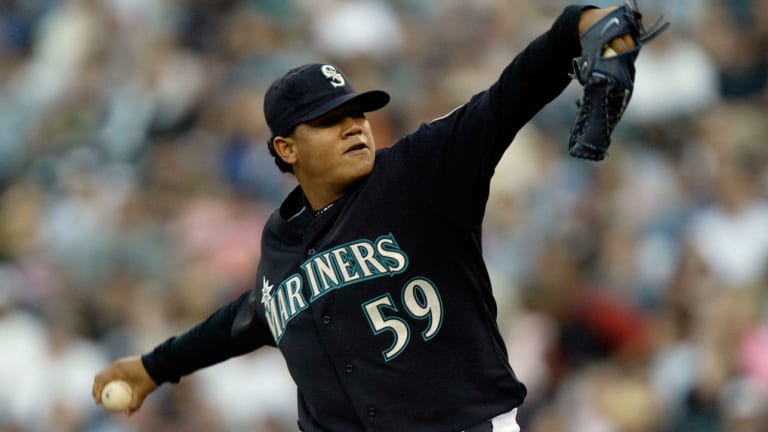 The Pitching Prodigy: Felix Hernandez
A rare gem at 20, he's already polished and must be handled with care
The mountains of Cordillera de la Costa, a range near the coast of Venezuela, surround a fertile valley from which rises Valencia, the nation's third-largest city (pop. 1.9 million). Its economy runs on staples of commerce that would not distinguish Valencia from most any other midsized city: motor vehicles, textiles, cattle feed and a market for products of the surrounding agricultural region, such as sugarcane, cotton and cattle driven from the Orinoco prairies.
Very soon, though, Valencia will be known as the place that produced Felix Abraham Hernandez, the greatest pitching prodigy in more than 20 years. He caught the attention of the Mariners when he was 14 years old, breaking off whipsaw curveballs, firing upper-80s fastballs and radiating the cool, gunslinger mound presence of a man twice his age.
That's the astonishing thing about Hernandez, who made 12 mostly sublime starts for Seattle last year (4-4, 2.67 ERA) and turns a ripe 20 on April 8. The righthander seems to have arrived in the big leagues at this ridiculously young age fully formed, not just as a 6'3", 230-pound man but also as an ace blessed with every gift known to pitching and the instincts to know when to use them.
Hernandez does nothing to discredit the notion that he was born to this greatness. One afternoon, sitting on a picnic bench outside the Mariners' spring clubhouse in Peoria, Ariz., he is asked who most influenced his development as a pitcher.
"Nobody," he replies. "This is the way I have always pitched."
Nobody?
"Nobody," he says again. And then, tapping his pitching hand over his heart, he adds, "It's just inside me."
The history of 20-year-old full-time starting pitchers in the big leagues is riddled with blown arms and wrecked careers. In this information age, in which pitch counts have become as much a part of the vernacular as innings and strikeouts, Seattle is armed with more data than any previous team that faced such huge custodial responsibility. And still the Mariners have no way of ensuring Hernandez's health, what with labrums and rotator cuffs seemingly answering only to their own unscientific clocks.
"We're going to do everything we possibly can to protect Felix," general manager Bill Bavasi says. "He's got too much going for him. I'd never be able to live with myself if we did anything less than our absolute best. But even then the truth is, we just don't know for sure."
The hope diamond has been stolen once and been sold several times to pay off debts, but ever since it was donated to the Smithsonian Institution, in 1958, the gem has left the premises only four times. The Mariners will need to send out Hernandez more frequently than that, though how he is handled won't be much different. "The way pitching is, when you get a kid this good, you want to take care of that talent," Mariners manager Mike Hargrove says. "Nobody wants to get Tommy John surgery when they're 25 years old. We're lucky to have Felix. At the same time, we have a tremendous responsibility."
Hargrove was manager of the Indians in 1997 when 21-year-old Jaret Wright logged 2132/3 innings (minors, majors and postseason included). Wright threw 2032/3 innings the next season-and has not been healthy enough to reach 200 innings again. Asked how much the Indians monitored such workload data as pitch counts, Hargrove says, "We never thought of that back then. The first thing you did was determine if he's ready to pitch in the big leagues. If he was ready to pitch, you let him pitch."
In general, the younger the pitcher and the greater his workload, the higher the orthopedic surgeon's bills that follow. Since 1967 seven pitchers have thrown 200 big league innings in a regular season in which they were 20 or younger at the All-Star break. Six of them broke down with major arm injuries before they were 25: Gary Nolan (200 innings in 1967), Don Gullett (1971), Frank Tanana (1974), Dave Rozema (1977), Dwight Gooden (1984 and '85) and Edwin Correa (1986); only Bert Blyleven (1971) did not.
How much should the Mariners use Hernandez this year? Bavasi is relying on a simple mathematical formula that was discussed at a player development meeting three years ago in Vero Beach, Fla., when he worked for the Dodgers. "A lot of good high school pitchers fell to us in the draft," Bavasi recalls. "We talked about the best way to develop and care for young arms. We kept coming back to the old saying among baseball people that you should max out your innings at 10 times your age. The thinking was you shouldn't exceed 200 innings until you're in that 21 to 24 range. It felt safe to me. Dr. Frank Jobe was there and liked it too. He had referred to it for years. That was good enough for me."
The formula-call it Jobe's Law, in honor of the man who pioneered Tommy John surgery-includes spring training and postseason innings. Starting pitchers typically throw about 20 innings in spring training. At 19 Hernandez threw 172 1/3 regular-season innings last year between Triple A and the majors.
"Honestly, if he didn't have bursitis," Bavasi says, alluding to a minor elbow irritation that caused Hernandez to miss a handful of midseason starts, "I'm not sure what we would have done. As it happened, he went over 170 innings, which allows a club the right to keep a pitcher out of winter ball. Anything less than that, he can go play in the winter leagues. So that worked out perfectly."
Jobe's Law would confine Hernandez to about 180 regular-season innings this year, which for the desperate Mariners may be as difficult as counting calories in an ice-cream parlor. The team has lost more than 90 games for two straight years, and average attendance dropped by more than half a million fans over that time. Hernandez averaged seven innings per start in his 12 games with Seattle in '05. If he makes the standard 32 starts at the same rate, he would rack up 244 total innings, spring training included.
So where do the Mariners cut out 40-plus innings? Do they pull him from games after six innings even if he is pitching well? Do they skip six of his starts at assorted times over the season? Do they shut him down for the year in August? And how difficult will that be if the Mariners are in contention? How hard will it be for a manager with somewhat shaky job security and a general manager on a year-to-year contract to intentionally not use their best pitcher?
"There's some flexibility," Bavasi says of adhering to Jobe's Law. "We'll look at everything-pitches per inning, how many of those innings have runners on base, which are more stressful ... everything."
Hernandez, who already acquiesced to the team's wishes by opting out of the World Baseball Classic, says, "Whatever they say, that's what I'm going to do. They know better than me."
Hernandez's enormous talent, however, will test Seattle's best intentions. He is baseball's top pitching prospect since Gooden-and who on the Mets was going to pull the plug on Doc in the middle of the pennant race in 1985, when he would finish 24-4 with a 1.53 ERA in 2762/3 innings? Hernandez, though he does throw 97 mph, is a different pitcher from Gooden, who relied on two pitches: a high, riding fastball and a wicked curveball. Hernandez is a rare amalgam of a power pitcher and a ground ball pitcher, spotting his fastball, curveball and changeup, all of which scouts rate as well above average. The Mariners junked his slider in the minors because the pitch, which can strain the elbow, seemed superfluous.
"How good is he?" Bavasi asks. "Put it this way: How many true Number 1 starters are there in the American League? Five? He's one of them, no questions asked."
One AL All-Star, who did not want to be named, says of Hernandez, "Wow! He had the best stuff of any pitcher I saw all last year. I came into that game locked in, red hot, and he shut me down."
Hernandez is a confident sort who in Double A pitched with FELIX EL CARTELUA embroidered on his glove, which makes him a self-proclaimed "badass." Asked what he thinks of his 12-start cameo last year, when big leaguers batted .203 against the teenager, he throws his head back, grins and purrs, "What do you think?" Asked what he loves most about pitching, he declares, "Strikeouts. They are the best. A good feeling."
"It's his demeanor on the mound that sets him apart from other guys with stuff," says former Seattle catcher Dan Wilson. "He's got great confidence, and it's not the kind of confidence that's going to get him in trouble. He knows he can throw any pitch at any time to get you out."
Scouted at 14 and signed at 16 for a $710,000 bonus, Hernandez is the heir to Pedro Martinez, who broke out in 1997 at age 25 as the next great sensation in pitching, someone who imbues those 30 or so days and nights that he's on the mound with rock-concert energy.
Asked where else he might be at 20 if not so blessed, Hernandez is stupefied for a moment, as if such a thought has never occurred to him, then finally says, "Actually, in my bed. I like to sleep. Just relaxing. Or maybe college."
He adds, "I want to be in this game for as long as I can. This is what I love to do."
This purpose, this talent, is all he's ever known. It's as natural and as immutable as the Cordillera de la Costa that looms over Valencia.