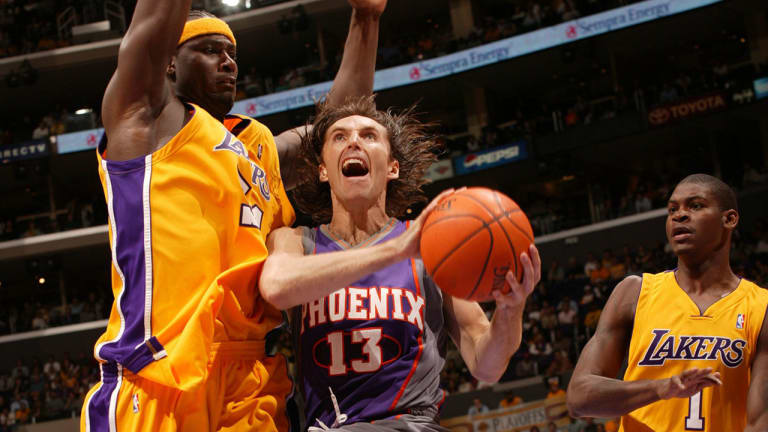 Fast Break
How did the Suns celebrate their dramatic comeback over the Lakers? By preparing for L.A.'s other team. Here's the view from the inside
The suns weren't five minutes removed from their emotional, Kobe-stopping, back-from-the-dead first-round win over the Lakers last Saturday night when second-round dread set in. As the Phoenix players and coaches came charging into their US Airways Center locker room after a 121-90 Game 7 smackdown, it was as if Clippers stars Elton Brand and Sam Cassell were standing by the steam table munching their burgers and fries and saying, "It's about time to get it on, fellas."
There was a tangible reminder of what lay ahead as well. In the coaches' office, assistant Marc Iavaroni picked up the 58-page loose-leaf notebook that had been prepared by chief scout Todd Quinter, the one with Los Angeles Clippers scouting report in bold letters, and said, "Do we have to start studying this already?" He knew the answer.
As much as the NBA likes a protracted first-round playoff series--this one began 13 days earlier with a 107--102 Phoenix victory--it also likes quick turnarounds for the second round to maximize weekend TV audiences. And so Phoenix, like the Spurs and the Cavaliers, had to quickly curb its enthusiasm after closing out Round 1. Sure,it was nice that the Suns had become only the eighth team to win a series after being down 3--1. And that they had held scoring champ Kobe Bryant to one second-half point. And that they had ousted Lakers coach Phil Jackson for the first time in his 15 first-round series. But the Clippers tip-off would take place in Phoenix a mere 48 hours later.
"Sometimes playing right away can be an advantage," said coach Mike D'Antoni over a postgame meal at Pizzeria Bianco, a restaurant near the arena. "There seems to be something about going right into a Game 1 that, for whatever reason, you sustain your energy.When it can start getting hard is Game 2."
D'Antoni proved to be prophetic. In a wildly entertaining opener on Monday night, Phoenix pulled away for a 130 -123 win. Though one of the Suns' biggest fears--how their shaky D would hold up against the punishing Brand (a dominant 40 points on 18-for-22 shooting)--was realized, Phoenix showed no signs of fatigue.
Clippers consciousness had set in with the Suns even before their epic series with the Lakers was over. As the seconds ticked away in Game 7, forward Shawn Marion felt not only elation but also the weight of expectations. "Who do I have to guard next?" he asked assistant Phil Weber. "[Seven-foot Chris]Kaman or Brand?" The look-ahead theme continued in the locker room, where D'Antoni's post game remarks were both congratulatory and cautionary:"Unbelievable job, guys. Down 1--3. Take tonight and savor it. But know we have the Clippers coming in. We know we can beat those guys.... We kicked Laker ass, now we can kick Clipper ass." Then point guard Steve Nash (left), who would receive his second straight MVP trophy the following morning, stepped in."I know it's Saturday night and that was a great win," he said."But we have a long way to go and we need our rest. Let's think about the next one."
By 7 a.m. on Sunday the Suns' coaches were huddled in their fourth-floor office at the arena, Quinter's scouting book opened before them. It begins with a pie chart that breaks down the percentage of times the Clippers ran certain plays in the Denver series (post-ups 31%, side pick-and-rolls 17%, etc.). "Well, guys,we're in the Elite Eight," said D'Antoni. Chairman and CEO Jerry Colangelo arrived at about eight bearing a box of pastries. "If we get past the second round," he said, "it's steak in the morning."
Like most teams,Phoenix divides the scouting assignments during the season among the assistants. The Lakers had been Iavaroni's responsibility, and the Clippers belonged to Weber, which means he had them in the playoffs, too. It's his jobto select the clips from which a defensive game plan will be devised and to get the discussion of tactics started. After that, anyone can say anything at anytime, an exercise in both democracy and chaos.
"What do youwant to do on pick-and-rolls?" asked D'Antoni. (That's generally where all defensive strategy talks begin.)
"That's a bear right there because when Elton Brand rolls out, he's as good as anybody in the league," said Alvin Gentry, who was Brand's coach for two years in Los Angeles. "We have to stay attached to him."
"Keep in mind that they're shooting an unbelievable number of pull-ups off the break,"Weber said. "Cassell will pull, [Cuttino] Mobley will pull, [Corey] Maggette will pull. Brand has even come down and jacked it. Corralling[surrounding players in transition] and getting back are key."
"They'll be harder to scheme because they're a transition team," said Iavaroni."The Lakers set up their offense, and that allowed you to set up your defense."
The discussion continued nonstop for three hours, changing directions faster than Nash in the open floor. Gentry stressed that Brand is devastating in the post going to the middle but guardable when forced to spin to the baseline. D'Antoni wondered if they could bring their double teamer on Brand from the baseline, as they did against the Lakers. They all agreed that they should allow defensive specialist Quinton Ross to shoot from the outside but couldn't decide whether a similar strategy should be used for backup point guard Shaun Livingston. Quinter noted that when Brand is double-teamed he will look for Kaman underneath, and that Kaman can finish, unlike the purple-and-gold's Kwame Brown.
But it wasn't all serious. When Iavaroni noted that Kaman is an underrated passer, Weber added that he and Brand have "great chemistry." D'Antoni had one question:"Does that mean they vacation together?"
Afterward the coaches traipsed downstairs, where the team was waiting for practice. The mood of the players was similar to that of the coaches--loose and confident but also businesslike. They sang an off-key Happy Birthday to Marion, who turned 28 on Sunday, but kept their thoughts on the Clippers. In fact, there was little mention of the Lakers' meltdown. "We shouldn't have even been in a Game 7 because we should've beaten them earlier," said forward James Jones."Plus, the Clippers have been sitting around thinking about us, so we needed to start thinking about them right away."
And though the Suns took Game 1, L.A.'s other team is likely to give them plenty more to think about.
"We know we can BEAT THOSE GUYS," D'Antoni said after Game 7. "We kicked Laker ass, now we can kick Clipper ass."
PHOTO
Photographs by John W.
McDonoughPHOTOPhotographs by John W. McDonoughFLYING START Barbosa (10) and the Suns showed no weariness in a frenetic opener.