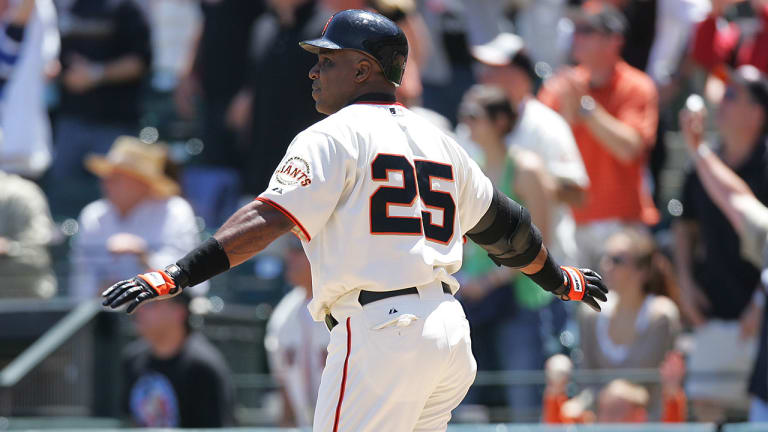 Henry Aaron gracefully endured the pressure of the chase, and then stopped it with one lash of his bat.
—Sports Illustrated, April 15, 1974
Thirty-two years later the significant difference of Barry Bonds's 715th home run will not be lost on anyone at Sports Illustrated, especially Ron Fimrite, now an SI special contributor, who wrote the Henry Aaron story on deadline. "Aaron was challenging an almost mythological figure in Babe Ruth and had the additional problem of being black and playing in a Southern city," says Fimrite, who lives in San Francisco. "We didn't realize at the time what he had gone through in terms of hate mail and death threats. Barry's problems have been self-imposed."
Fimrite had 40 minutes to file his piece but captured the historic evening with nuance and detail: "It rained in Atlanta during the day, violently on occasion, but itwas warm and cloudy by game time. It began raining again just before Aaron's first inconsequential time at bat, as if Ruth's phantom were up there puncturing the drifting clouds. Brightly colored umbrellas sprouted throughout the ballpark, a brilliant display that seemed to be merely part of the show.The rain had subsided by Aaron's next time up, the air filled now only with tension. Henry wasted little time relieving that tension. It is his way."
The following week SI ran a 12-page story by George Plimpton, who had trailed Aaron since homer number 710 in September 1973. "It was a simple act by an unassuming man which touched an enormous circle of people, indeed an entire country," Plimpton's piece began. "It provided an instant that people would remember for decades—exactly what they were doing at the time of the home run that beat Babe Ruth's great record."
That was then. It is impossible to ignore what Bonds has accomplished, but even in San Francisco you hear people complain about him as a cheater.
Over the past two years SI has covered Bonds with 11 stories, three of them covers. They were tough stories, most of them, reporting Bonds's alleged use of steroids and questioning the validity of his records—and almost all of them by SI senior writer Tom Verducci. As a 13-year-old in Glen Ridge, N.J., in April 1974, Verducci enjoyed Aaron's pursuit of Ruth's home run record on a couple of levels. "It was a historic assault on a record that felt as if it had stood since the beginning of time," says Verducci. "And it also meant that I could stay up late to watch baseball."
On deadline tonight everything feels different. Staying up late to watch a game suggests an innocence that has been leaking from baseball since the so-called Steroid Erabegan in the mid-1990s. Bonds's march to pass Ruth's 714 (Leading Off, page 6) was marked by bad feeling and a general joylessness that fly against the spirit of the very words home run. The A's fan who caught the tying ball in Oakland was widely quoted as saying he hated Bonds.
Baseball threw a party that night 32 years ago in Atlanta, when Aaron hit 715. Fimrite wrote, "Sammy Davis Jr. was there, and Pearl Bailey, singing the national anthemin Broadway soul." This time Major League Baseball, led by commissioner Bud Selig, is officially taking a pass. The fans will party with determination in San Francisco, but it won't be the same. "Outside the Bay Area, 715 will be dull and flat," says Verducci, who has covered baseball for 25 years, the last 14 for SI. "There will be much more to question than to celebrate—nothing like one of those signature moments in baseball history when you remember where you were."
That's where we are.
SI.COM
For more on Bonds's tying Babe Ruth, including a photogallery of his milestone home runs, go to SI.com/baseball.
PHOTO
NEIL LIEFER (AARON COVER)
PHOTO
BRAD
MANGIN (BONDS COVER)