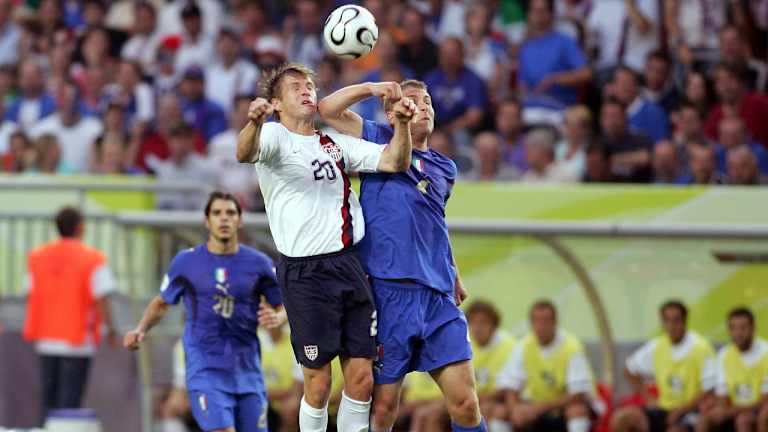 To Be or Not to Be
Heavy-handed officiating aside, the U.S.'s fortunes took a turn for the better against Italy, setting up a match that may affect the team for years
One point. That's all it was, a single measly point in the standings, and yet rarely has a World Cup tie meant more. Last Saturday night a nine-man U.S. team stood up to mighty Italy in one of the epic games in American soccer history. The 1--1 thriller had everything except a winner: three red cards, one own-goal, a bloody facial gash, controversial calls galore and players so exhausted they staggered at the final whistle like Bourbon Street drunks. "Head-to-toe cramps, that's what it felt like," said U.S. captain Claudio Reyna, who played all 90 frantic minutes. "If I even move on the plane ride back [to Hamburg] I'm going to completely collapse."

By holding off the Italians in a wild nine-on-10 second half, the Americans earned their first World Cup point in eight games on European soil, delighting a fierce band of supporters at the Fritz-Walter-Stadion in Kaiserslautern,Germany. And so it came down to the final Group E match on Thursday: Tie or lose to Ghana, which upset the Czech Republic 2--0 on Saturday, and the Americans provide fresh meat to the vultures who circled after a 3--0 opening-game loss to the Czech Republic. Why can't the Yanks succeed in Europe?Is it time for manager Bruce Arena to move on after eight years in charge? And will forward Landon Donovan ever live up to his potential? Win in Nuremberg,and the U.S. earns a respectable four points in group play for the second straight World Cup--though without an Italian victory over the Czechs in Hamburg, that total won't be enough to advance. "We've still got a mountain to climb," U.S. goalkeeper Kasey Keller said on Saturday, "but at least it's climbable."
Amid the uncertainty one thing was clear: The Americans had indeed drawn the Group of Death. (Just wondering: If U.S. forward Eddie Johnson was skewered by the press for comparing soccer to war last week, why is the term Group of Death applied each tournament to the most competitive foursome?) But against the same two opening opponents, Ghana had bagged three points to the U.S.'s one. For the Americans, saving face against Italy was worth far more than moving up in the group. It was a reminder to the world, and to themselves: We're still pretty good at this game. "Getting beat 3--0 was embarrassing, and we didn't do American soccer justice," said midfielder Clint Dempsey, who in his first Cup start added a jolt of energy on the right flank, executing three Brazilian-style step-overs on one of several penetrating runs.
After his disappearing act in the opener Donovan--the premier player in MLS but a nonfactor during his brief career in Germany--was on the verge of becoming the inverse of David Hasselhoff. At Kaiserslauten, however, the 24-year-old Donovan was active from the start, finding seams and taking on defenders. "He was the player we think he can be," said Arena. The U.S.'s rediscovered confidence was contagious: Even after Alberto Gilardino gave Italy a 1--0 lead on a sliding header in the 22nd minute, the U.S. kept pressing, evening the score when Cristian Zaccardo knocked in an own-goal off Bobby Convey's freekick five minutes later.
If anything, the Americans were too aggressive, sometimes even reckless. Hulking center back Oguchi Onyewu settled down after being whistled for a series of early fouls and had his much-anticipated breakout game, shackling 6'5" Italian striker Luca Toni. But Gooch's teammates weren't so shrewd. After the U.S. had gone up a man with the 28th-minute ejection of Italian midfielder Daniele de Rossi--whose vicious elbow opened a fissure below the left eye of forward BrianMcBride--U.S. midfielder Pablo Mastroeni earned his own foolish red card 17 minutes later for a crunching, studs-up tackle on the left ankle of Andrea Pirlo. Then, two minutes into the second half, defender Eddie Pope picked up his second yellow card (for a sliding tackle from behind on Gilardino), and he too was sent off.
With all the blood, sweat and venom flying, a World Cup match had suddenly turned into Thug Ball. "I'm not sure I've ever coached in a game when we've had two players red-carded," muttered Arena, while the players were even more pointed in their criticism of Uruguayan referee Jorge Larrionda. "We could have won that game, and we probably should have, with a little better officiating," Donovan said.
Larrionda quickly entered the pantheon of U.S. soccer's villains, and reports surfaced of his six-month suspension for unexplained "irregularities" in Uruguay thatkept him from working the Cup in 2002. Of course, conspiracy theories are nothing new to the sport--welcome to the club, America!--and they are often connected to the Italians. Four years ago they charged that Ecuadoran referee Byron Moreno had cheated them in their second-round loss to South Korea by disallowing an apparent goal and ejecting star Francesco Totti. (No wrongdoing was found, though Moreno subsequently served a 20-game suspension in his domestic league for adding a suspicious 13 minutes of injury time to a game.)Likewise, Italian powerhouse Juventus is at the center of a widening scandal for, among other things, influencing referee assignments.
Many neutral observers believed that Larrionda was overzealous in issuing cards, a trend that World Cup organizing committee chair Franz Beckenbauer proclaimed was harming the tournament. But before livid American fans start hanging Larrionda in effigy, it's worth noting that his most controversial calls were largely correct. The red cards for De Rossi and Mastroeni were clearly deserved, and Larrionda made the right decision when he disallowed DaMarcus Beasley's go-ahead goal midway through the second half, whistling McBride offside. While Pope's ejection was harsh--he appeared to catch the ball with his foot before clipping Gilardino--a veteran of three World Cups should know better than to attempt a tackle from behind while carrying a yellow. Besides, even when Larrionda missed calls, he demonstrated an equal-opportunity incompetence.Though he failed to whistle a second-half handball by Alessandro Nesta in Italy's penalty box, he also disallowed what should have been a deflected free-kick goal for the Azzurri in the first half.
Some questioned Arena's refusal to go for the win by using his third sub in the game's final minutes. But the tie still enabled the U.S. to meet one of his pretournament goals: to have a chance at a second-round berth entering the final group game."People need to realize, we just played one of the best teams in the world with nine men for a half and grinded out a point," Reyna said. "It's an amazing result."
A historic one,even. For the Classic in K-Town meant much more than a single, measly point. It meant new life in the Group of Death.
PHOTO
Photograph by Bob
Martin
RED TIDE After coming out aggressively, McBride (20) was turned into a bloody mess by an Italian elbow, touching off a raft of red cards from ref Larrionda to (top, from left) De Rossi, Mastroeni and Pope.
PHOTO
IVAN SEKRETAREV/AP (MCBRIDE)
[See caption above]
PHOTO
ADNAN
HAJJ/REUTERS
[See caption above]
PHOTO
KIERAN
DOHERTY/REUTERS
[See caption above]
PHOTO
MICHAEL
STEELE/GETTY IMAGES
[See caption above]
PHOTO
ANDREAS
RENTZ/BONGARTS/GETTY
IMAGES
STIFLED The 6'5" Toni (9) had his hands full with Pope and Mastroeni before their exits reduced the match to nine-on-10.