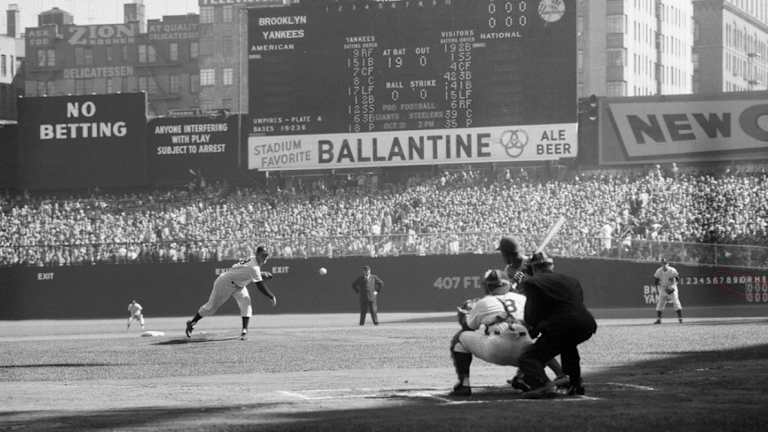 Don LARSEN - Pitcher Perfect
THE ONLY MAN TO THROW A PERFECT GAME IN THE WORLD SERIES STILL REMEMBERS EVERY DETAIL OF THAT AFTERNOON HALF A CENTURY AGO, WHEN HE WAS UNTOUCHABLE
Some mornings, when the wind is light and the water calm, Don Larsen takes his pontoon boat out and casts his fishing line. Bass, salmon and trout are plentiful in the lakes near his Idaho home, and it is usually not long before he has caught more than enough for dinner. But Larsen, 76, often lingers out on the water for a while, enjoying the quiet or, if it is one of those days when he has rounded up company, conversation with a friend or two. Then he heads back to shore and makes his way into town, maybe stopping at the post office or the pharmacy, where he is a familiar face after 13 years in the community. By early afternoon he is at his home in Hayden Lake (pop. 500), and in the evening he and Corrine, his wife of 49 years come December, enjoy his morning haul and the glow of the sunset. That is, in Larsen's estimation, the perfect day. In October it will have been 50 years since he enjoyed a flawless outing of another sort, becoming the only man to pitch a perfect game in the World Series. Larsen was 27 then, a New York Yankees righthander whose career was unremarkable both before and after that day, but on Oct. 8, 1956, he was as masterly as any pitcher has ever been. He dominated a Brooklyn Dodgers lineup that featured four future Hall of Famers--Roy Campanella, Pee Wee Reese, Jackie Robinson and Duke Snider--as well as Gil Hodges, in a 2--0 Game 5 victory. "It's an amazing memory," he says. "But that's what it is, a memory. I'm just as happy with the life I have now as I was back then." The fairy tale lasted into the off-season, when the suddenly famous Larsen appeared on Bob Hope's TV show, on which he met James Cagney, Lucille Ball and Desi Arnaz. But after that it was back to real life, beginning with the contract he received that winter from Yankees general manager George Weiss. For his 11--5 regular-season record and perfect game, the Yanks initially offered him only a $1,000 raise. Larsen's friend Arthur Richman, a baseball writer for the New York Daily Mirror, wrote a letter to Weiss on Larsen's behalf, making the case for a larger raise. Larsen recalls that Weiss replied with a note that read, "If you forget you wrote this letter, I'll forget that I received it." After some negotiating, however, Larsen and the team reportedly settled on a $5,000 increase to $18,000. He pitched three more seasons for the Yankees before they traded him to the Kansas City Athletics in December 1959 as part of a deal that brought New York another player who would make Yankees history: Roger Maris. After spending 1960 and part of '61 with the A's, Larsen pitched for the White Sox, Giants, Colt .45s, Orioles and Cubs before retiring in 1968 with a record of 81--91 in 14 seasons.
After that he did what most players of his generation did when their careers ended--he got himself a real job. Larsen, who grew up in San Diego, worked for 24 years as a salesman for Blake, Moffitt and Towne, a paper company in San Jose. Larsen never mentioned his baseball career to prospective clients, partly because he's too humble a man for that and partly because he knew they would eventually figure it out anyway. "It usually took them a little while, but when they realized who I was, it pretty much meant I had a deal," he says.
Retirement brought Larsen to Hayden Lake in search of peace and quiet, an interesting choice for a guy who was such a carouser during his playing days that one of his nicknames was Night Rider. The season that ended with Larsen's perfect game began when he wrapped his car around a utility pole at 5 a.m., during spring training; the joke was that no one could be sure whether he was coming in or going out. When David Wells pitched a perfect game for the Yankees in 1998, he and Larsen spoke by phone about some of the other things they shared, including an alma mater--Point Loma High in San Diego--and an enjoyment of New York's after-hours pleasures. "I told him we ought to get together and raise a little hell," says Larsen, who does not apologize for his taste for the nightlife. "I was young and living in the big city," he says. "What would you do? Sit in your room and read?"
Larsen can be gruff like that and, at times, seemingly unsentimental. Take, for example, the Corvette he was given by Sport magazine for being named MVP of the Series. "I drove it for a couple of years and got rid of it," he says. "It was a beauty of a car, a two-tone convertible, cream white and red. But I already had a car, so what did I need another one for?" He didn't part so easily with the ball with which he struck out pinch hitter Dale Mitchell for the final out of the perfect game. After the Series he had the ball cast in silver, along with his hat and glove. But in 2002 he put the items up for auction to start a college fund for the two children of his only son, Scott. The memorabilia sold for $120,750, but Larsen doesn't know who the buyer was, nor does he want to. "There's no point," he says. "I made the decision to sell it, and I don't regret it in the least." But does he miss the mementos? His booming voice grows a bit softer. "Yes, I do," he says.
The memories, though, are Larsen's forever. He shares them with fans who line up for his autograph at card shows, telling them about how, because of a bad Game 2 start, he didn't even know he was starting that morning until he arrived at Yankee Stadium and found the ball in a shoe in his locker. He recalls the running catch that Mickey Mantle made on Hodges's blast to deep left center in the fifth inning--a ball that he says would have been a home run in today's remodeled Yankee Stadium--and also remembers perhaps the closest call of the day, Robinson's shot in the second inning that caromed off third baseman Andy Carey's glove to shortstop Gil McDougald, whose throw to first narrowly beat Robinson.
But for the most part, the Dodgers went down quietly against Larsen, who had changed to an abbreviated windup late that season in hopes that it would help his control problems. The new delivery could not have worked better than it did that day. Larsen threw 97 pitches, only 26 of them balls, and five of his seven strikeouts were on called third strikes. "I never had control like that before or since," he says. "It just seemed that everything I threw was on the black." Even now Larsen sounds a little amazed at his accomplishment. Perhaps that's why he doesn't resent having missed out on the huge endorsement money and other benefits that surely would have followed if he had achieved perfection today. Just to be touched by greatness on that one day, it seems, was reward enough for him. "If Nolan Ryan had done it, if Sandy Koufax had done it, if Don Drysdale had done it, I would have nodded and said, 'Well, it could happen,'" Yankees public address announcer Bob Sheppard once said. "But Don Larsen?" You get the feeling that Larsen has said the same thing to himself.
He claims he cannot remember a single day in the last 50 years when the events of that afternoon in the Bronx have not come to mind. Even if no one asks about the perfect game, "on those days I just think about it myself," he says. Larsen can still recall the day with near-perfect clarity, including the way he sneaked a cigarette in the dugout during the seventh inning and his surprise when his catcher, Yogi Berra, told him in the clubhouse afterward that he had thrown not just a no-hitter but a perfect game.
The only questions Larsen cannot answer are what he calls "the vague ones," such as, What was it that transformed him that afternoon? And its corollary, Why was he never able to recapture it? Those are not among the mysteries he ponders while floating on the lake. For years he has told people that the beauty of his perfect game is that it is not a record that can be broken. As Larsen once put it, "Not many people get to do something that's only been done once." Larsen's achievement can be matched but never surpassed. When a man has that knowledge, he can feel quite at peace out on the water, waiting for the fish to bite.