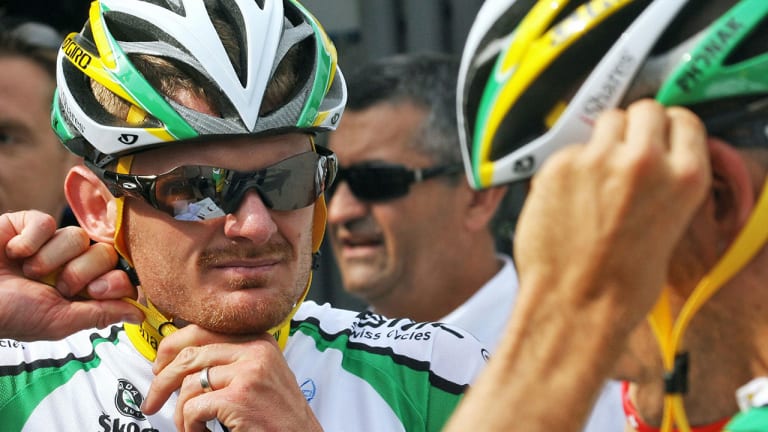 Attitude on Wheels
As brash as evern following three big early-season wins, former mountain biker Floyd Landis rides into the Tour de France finally free of his former boss and nemesis, Lance Armstrong
Floyd Landis never saw the stump that sent him flying. Screaming down a steep descent during his first lap at the 24 Hours of Canaan, a mountain-bike relay race in West Virginia, Landis strayed from the track into a patch of weeds. When his front wheel hit the concealed stump Landis was propelled into the air like a circus clown shot from a cannon. "The wheel took on the shape of the stump,"recalls Will Geoghegan, one of Landis's teammates at that 1994 race. "It was like a cartoon." Geoghegan was resting at the team's condo, not expecting Landis for another hour, when he saw a bloodied lunatic riding a wheelie in his direction and shouting, "I need a new wheel!"

Same race, following year: In a mudfest, Landis had three flat tires, and his bike light failed during a wee-hours loop. He finished the lap riding on his rims and "biting down on one of those squeeze lights people have on their key chains," says Geoghegan, who shares these Landis stories "to give you an indication of his determination."

Were it not for his hardheadedness, Landis would never have taken up pro mountain-bike racing 11 years ago, when he was 19. He would not have trained at night and in winter on the byways of his native Lancaster (Pa.) County. He would not have entered races without the permission of his parents, who worried--correctly--that his obsession with the sport would come between him and the family's Mennonite faith. He would have quit riding in 1998, when his mountain-biking team lost its sponsorship, and not made the implausible leap to road racing, which he did so well that he soon attracted the attention of a team called the U.S. Postal Service.
Were it not for his mulishness, Landis would not have clashed with his masters at Postal: team director Johan Bruyneel and another stubborn cuss by the name of Armstrong. Had they not butted heads, Landis would not have defected two years ago to the team sponsored by Phonak, the Swiss manufacturer of hearing aids, whose pea-green and lemon-yellow jerseys are, appropriately, the loudest in the pro peloton.Now in his second year with Phonak (and his first as its uncontested leader), Landis is having a breakout season. He's won three major week long stage races--the Tour of California, Paris-Nice and the Tour de Georgia--and he's a strong favorite to earn a podium spot at the Tour de France, which starts on July 1.
By far the most dramatic of Landis's recent victories was his four-second win in Georgia over Tom Danielson of the Discovery Channel (formerly U.S. Postal Service) team.Landis held that Lycra-thin lead going into the penultimate stage, which ended with an obscene three-mile climb up 4,784-foot Brasstown Bald Mountain. Midway through the ascent, he found himself isolated with Danielson and Discovery's Yaroslav Popovych, who lurked only 97 seconds back in the general classification. The Discoveries took turns attacking Landis, hoping to force him to expend extra energy. Instead, Landis let Popo go up the road,spot-welding himself to Danielson and even attempting to draw him into conversation. "I'm happy to let Popovych win the stage," Landis recalls telling the Discovery rider. "I just gotta stay with you."
In the end Popovych couldn't hang on--he fell to third--and Danielson couldn't drop Landis. Why talk to Danielson during the climb? "I was just trying to get into his head," says Landis, grinning. "When you're trying to drop a guy and he sits there talking to you, it's the most annoying thing in the world."
That win was sweeter for Landis because it came at the expense of his former team. When he joined the Posties, Landis had just three full seasons as a pro roadie under his belt. He'd competed, by his count, in only "four or five" week long stage races under his belt when he was informed that he would be working for Lance Armstrong in the 2002 Tour de France. That Landis got through the hardest bike race in the world on his first try was a measure of his toughness, of how far he'd come in a short time. It was also a measure of how little he'd changed since his days in the fat-tire fraternity. That was Landis during the final stage, popping wheelies on the Champs-Élysées.
Floyd is the second oldest of Arlene and Paul Landis's six children. Paul owns a car was hand laundromat near Farmersville, a hamlet in Pennsylvania Dutch country. He and Arlene are devout Mennonites who took the family to services every Sunday--"and on Wednesdays," Floyd adds with a touch of asperity,"in case you forgot what they taught you on Sunday."
In keeping with their faith, the Landises had no television. For entertainment Floyd and his buddy Eric Gebhard rode their bikes a half mile to the Conestoga River--to fish, they told their parents. "But we didn't care about fishing," says Landis. "We liked to throw rocks and burn things. You don't have TV or video games, what else are you going to do?"
When Floyd was 15 he and Eric upgraded to mountain bikes. Floyd dropped $300 on a neon green and orange Marin Muir Woods. "My dad was bitter for a month," he recalls.When their local bike shop put on a race, Floyd entered--in the beginner class--and won. A year later he won the sport category, the next level up. The future could not have been clearer to him: He would race mountain bikes for a living.
His parents didn't see the wisdom of this career path. Forbidden to go on training rides afterschool until he'd finished his chores, Floyd had no choice, in his mind, but to ride at night. In the 2005 book Lance Armstrong's War, author Daniel Coyle tells how Paul, skeptical of his son's claim to be riding his bicycle for hours after dark, once followed him at a discreet distance along the roads of eastern Lancaster County.
When Floyd was 18 he won the junior national cross-country race in Traverse City, Mich. After graduating from Conestoga Valley High, in '94, he moved to Irvine, Calif.,where he raced first for TWB, a tiny bike components company, and, after TWB went belly up, for Chevy Trucks. When the latter sponsorship was yanked in the spring of '98, the cycling career of Floyd Landis appeared to be over.
Rather than return to Farmersville, however, Landis stayed in California and did what came naturally: He rode for hours on end. "I didn't know what else to do,"he says. After a couple of months of 50-hour training weeks he was still unemployed--but in terrific shape. He and Geoghegan, who'd been a Chevy Trucks teammate, decided to enter some road races. They took pleasure in creating chaos in the peloton. They would attack out of the gate and stage arguments in front of other riders:
"It's my turn to go."
"No it's my turn."
"You got to attack last time!"
 And then one of them would attack.
To the angry questions that followed--"Who the hell are you guys? Why do you keep attacking?"--their stock response was, "We don't care. We're mountain bikers."
We may not win,they would go on to explain, but we enjoy making it a little harder for the guy who does win. Finally, in April 1999, after Landis took second in one race and third in the next against some of the top road riders in the country, he got a call from Mercury team director John Wordin, who asked him, "Do you want to ride for us?"
"Well,"said Landis, "I don't really have much else going on."
Professionally,no, but his personal life had taken a felicitous turn. Landis had met Amber Basile, whose daughter, Ryan, attended a preschool across from his apartment in San Diego. They would be married in February 2001.
Meanwhile, Land is learned how to lead out a sprinter--in this case Mercury's Gord Fraser, one of the strongest riders in North America--and how to ride in a criterium, a race consisting of many laps around a shorter course. In the spring of '99 Landis found himself in the lead of a prestigious under-25 race in France called the Tour de l'Avenir. He finished third, a preposterously good result for a rider no one in Europe had ever heard of. Not long after, he got a call from Dan Osipow of the U.S. Postal Service. Landis thanked him for the call but told Osipow he'd agreed to ride for Mercury for two more years. Halfway through the second of those seasons, Mercury went broke. Which is how, in 2002, Landis came to be riding in the service of Lance Armstrong.
In January 2003 Landis broke his hip on a training ride. Doctors inserted a number of screws,but the bone "compressed" while healing, according to Landis, "so[the screws] were sticking out." They caused pain in the tendons that rubbed over them. After he raced in that year's Tour de Georgia, Landis underwent surgery to have the screws removed. Nine weeks later he rode the Tourde France--this after one doctor had advised him to stay off the hip for six months. What on earth was Landis thinking?
He was thinking about how much he didn't want to go back to Farmersville and empty the lint filters in his dad's laundromat. Landis regained his form in '04. That year's Tour de France featured a time trial up the sinister, serrated Alpe d'Huez.Instructed by Bruyneel to "go easy" so he'd have plenty in the tank for the next day's brutal stage, Landis placed 21st. At dinner that night, both Armstrong and Bruyneel made sarcastic remarks such as, "Not bad for a guy who was going easy." They were accusing him, not in so many words, of riding for himself rather than husbanding his strength to help the team leader.It made him furious.
"I'd done my job every day and done it without saving anything for myself," he says."And that applied to my entire three years with them. That night I called Amber and said, 'If those a------- want to see me go hard, they're gonna see it tomorrow.'"
Pacing Armstrong up a monstrous Alp called the Col de la Croix Fry on a sweltering day, Landis was sensational, riding almost the entire peloton off his wheel. He set so savage a pace that only five riders could stay with him. One of them was Armstrong, who looked at times as if he were struggling to keep up.
That was Landis's finest day in a Postal uniform. Soon after, he bolted for Phonak, leaving behind--as so often happened when a rider bid Armstrong adieu--a burned bridge.But the ill will between Phonak and Discovery, stoked by Armstrong at last year's Tour de Georgia and in evidence during the race this year, seemed to abate on the final day this April. Bruyneel was uncommonly gracious in congratulating Landis.
"You were the strongest," he told his former domestique. They had a nice chat. Of course Landis remembers his days in Bruyneel's employ. He also remembers what his mother is fond of saying: "A servant is exalted in time."
NO LANCE = BIG CHANCE
The absence of a certain Texan for the first time in eight years should create a wide-open Tour de France. Here are six favorites to ride down the Champs-Élysées in the yellow jersey
Ivan Basso, 28, CSC
So what if he rode (and won) the taxing Giro d'Italia in May? Basso, the most talented rider, is blessed with (relative) youth and the best team. He should gain enough time in the mountains to offset the seconds he will lose to Jan Ullrich in the time trials. ODDS: 2 to 1
Jan Ullrich, 32, T-MOBILE
After a wretched early season Der Kaiser found his form and won the Tour deSuisse in mid-June. In the end it won't matter. His time has come and gone. The five-time Tour runner-up will have to settle for another second-place finish.ODDS: 3 to 1
Floyd Landis, 30, PHONAK
He began the year like Eddy Merckx but seemed to fade in mid-June at the Dauphiné-Libéré. How will he fare without Santiago Botero and José EnriqueGutiérrez, suspended by Phonak for their alleged links to a doping scandal?ODDS: 4 to 1
George Hincapie, 33, DISCOVERY CHANNEL
Armstrong's longtime aide-de-camp is finally in charge. After crashing in April's Paris-Roubaix one-day classic--the Big Hink was in contention to win when his handlebars snapped off--he's due for some good luck. ODDS: 6 to 1
Levi Leipheimer, 32, GEROLSTEINER
The Montana native is on a roll after winning the Dauphiné, during which he showed grit (recovering from a fall in the first stage) and then killer instinct (sealing victory by attacking on the legendary Mont Ventoux). ODDS: 8 to 1
Alexander Vinokourov, 32, ASTANA-W√úRTH
By leaving T-Mobile for a squad plagued by a doping scandal, the predatory Kazakh traded one chaotic situation for another. While it's always fun to see him attack, Vino needs to pick his spots more judiciously. ODDS: 10 to 1
"I was just trying to get into his head,"Landis says of Danielson. "When you're trying to drop a guy and he sits there talking to you, it's the MOST ANNOYING THING IN THE WORLD."