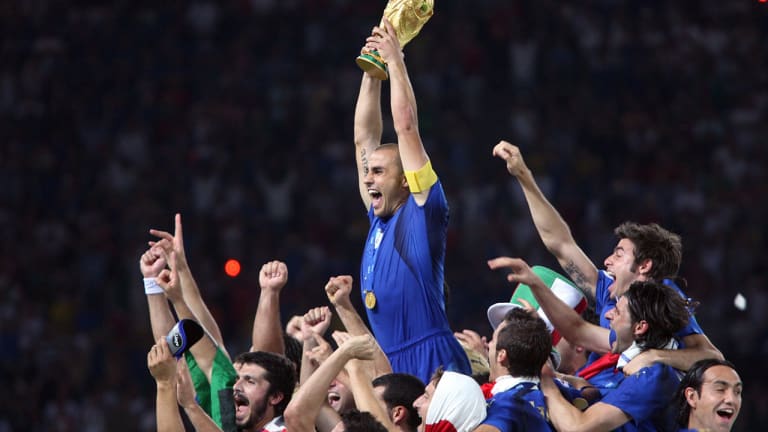 Surreal World
In a mad, mad final match, Italy rode its stalwart defense to a fourth championship, while the greatest player of his generation left the field in infamy after a shocking moment of mindless rage
The record will show that Italy won its fourth World Cup on Sunday, a hard-earned championship born of lockdown defense, relentless (and downright un-Italian) attacks and flawless teamwork. But the mind's eye will recall one searing image from the final at the Olympic Stadium in Berlin, and it won't be Marco Materazzi's game-tying header or Fabio Grosso's title-clinching penalty kick or Fabio Cannavaro's triumphant trophy-thrust as cannons belched clouds of white confetti overhead.
Instead it will be this sad tableau: the greatest soccer player of his generation, perhaps minutes from enjoying his finest hour in his final game, tarnishing his legacy with an outburst so shocking in its violence,so naked in its rage, that it instantly joined Mike Tyson's ear-chomp of Evander Holyfield in the pantheon of Inexplicable Sports Insanity. Fans could only speculate why French midfielder Zinédine Zidane used his head as a battering ram against Materazzi with the score tied 1-1 in overtime. But they won't soon forget the sight. Considering the stakes, the stage (a global TV audience of two billion) and Zidane's regal stature (a three-time FIFA world player of the year), it was as if Cal Ripken Jr. had decided, late in his record-breaking 2,131st straight game, to bash an opponent with a baseball bat.
"This is sad,very sad, for him to end his career like this," said French coach Raymond Domenech after Zidane had been ejected and Italy had won a soulless penalty-kick shootout 5-3. "I would have preferred to have taken him out five minutes earlier so that the crowd could have applauded him."
Before his descent into madness, the 34-year-old Zidane had been the feel-good story of the World Cup, leading Les Bleus on a run that almost no one had foreseen. In fact, until Sunday the tournament's signature moment had been Zidane's masterly performance in a 1-0 quarterfinal upset of Brazil, a game in which he rediscovered the genius-the 360-degree spins, the quirky ball drags, the lasered passes-that had carried France to its first World Cup crown, on home soil in 1998. When Zidane's seventh-minute penalty kick struck the Italian crossbar and landed just inside the goal line, giving France a 1-0 lead and marking the first goal by an Azzurri opponent during the Cup, it appeared that Zizou might complete his Hollywood script and retire a champion.
Materazzi,naturally, had other ideas. A tattoo-covered hardman whose nickname is the Matrix, he atoned for his early penalty by heading home the equalizer 12 minutes later off a pitch-perfect corner kick from midfielder Andrea Pirlo. All night long the Matrix reloaded, strong-arming French attackers with aplomb,until his fateful clash with Zidane midway through the second half of overtime.Replays showed Materazzi jostling Zidane inside the Italian box. An exchange of words followed as they headed downfield, whereupon Zidane wheeled and crumpled the Italian defender with a move worthy of a professional wrestler.
Zidane is known for his shyness and sangfroid-they helped him win the title Most Popular Frenchman of All-Time in a 2004 nationwide survey-but sudden explosions of temper have plagued him throughout his career. During World Cup '98 he was red-carded (and suspended for two games) for stomping on Saudi Arabia's Fuad Amin. Two years later, with Juventus, Zidane received a five-game suspension for head-butting Hamburg's Jochen Kientz in a Champions League match. In the new documentary Zidane: A 21st Century Portrait, 17 cameras tracked his every move during a 2005 Spanish league game, and Zidane still drew a red card for his role in a shoving match. He must have known that even more cameras would be trained on him in Berlin, yet that awareness hardly kept his rage in check.
In the absence of any postgame explanations from Zidane (who never appeared before the media) or Materazzi (who walked through the interview room blasting a boom box and refused to comment), armchair psychologists were left to ponder the cause of the shocking outburst. "Sometimes when you play [Zidane's] position, you get frustrated," said Italian midfielder Francesco Totti, noting his own suspension for spitting on an opponent in Euro 2004. "I don't know what happened, but he's human."
Inevitably, Zidane's meltdown has overshadowed Italy's soul-stirring return to glory, and that's a shame. No team in the history of the World Cup had spread its goal-scoring among more players (10) than this edition of the Azzurri, which used all 20 field players on its solidarity-fueled roster. Coach Marcello Lippi's boys may have worn feminine names-say hello to Simone, Gigi and Andrea-but their M.O. was all testosterone. Led by bulldog midfielder Gennaro (the Growl) Gattuso and central defender Cannavaro, the Azzurri set hearts aflutter across Germany with their appearance in a beefcake underwear campaign for Dolce & Gabbana. Their back line similarly undressed the opposition,tying the record for the fewest goals allowed (two) by a World Cup winner.
In fact, the toughest game in the Azzurri's road to the final came against (surprise!) theU.S., a 1-1 first-round tie in which the Americans played most of the second half with nine men to Italy's 10. Taking advantage of a fortunate draw, Italy had to eliminate only lightly regarded Australia (1-0) and Ukraine (3-0) to setup a classic semifinal against the Germans in Dortmund. After almost two hours of pulsating if scoreless action-yes, there is such a thing-the Azzurri silenced more than 65,000 screaming Germans with sublime goals by Grosso and Alessandro del Piero in the final three minutes. When Prime Minister Romano Prodi visited the exultant locker room, the Italians did what only came naturally. "We sang O Sole Mio," said Cannavaro.
It's true:Italians really do break into song for no apparent reason. Consider the new tune about Cannavaro, the 5'9" captain who dominated the Cup, using his freakish hops to out jump taller forwards. A native Neapolitan, Cannavaro began his career at Napoli, where he'd served as a ball boy for the championship teams led by Diego Maradona. During the World Cup, Cannavaro's hometown fans gave him their highest honor, changing an old song they had reserved for Maradona:
Oh, Mama, Mama, Mama!
Do you know why my heart beats?
I have seen Cannavaro!
I have seen Cannavaro!
Oh, Mama! I fell in love!
More than any other player, Cannavaro kept his team even-keeled during one of the most turbulent periods in the history of Italian soccer. He's one of five Azzurri who play for Juventus, the Serie A champion that was facing a likely demotion to the minor leagues this week as the result of a match-fixing scandal involving the club's former general manager. Meanwhile, onetime Italy teammate Gianluca Pessotto, now a director at Juventus, lay in a hospital bed after hehad leaped from a second-story window in an apparent suicide attempt. As Gianluigi (Gigi) Buffon, the Azzurri's nonpareil goalkeeper, said on Sunday night, "I just hope everyone can celebrate and be happy for a little while before we get back to our everyday problems."
Ultimately, it was Buffon and the Italian defense that won the World Cup-with help from the crossbar that denied France's David Trezeguet in the shootout. Before the final, Materazzi spoke prophetically of how Italy would stop the rampaging Zidane. "We have people who can mark Zizou all over the field, and we've got Gattuso, who's in incredible form," said the Matrix. "If he were any more up for it, he'd destroy everything."
Perhaps, but nobody figured Zidane would destroy himself in the most public venue imaginable. Moments after his red card, as he trudged toward the stadium tunnel and into a life beyond soccer, Zidane passed the World Cup trophy on its elaborate pedestal. Eight years ago, on a brilliant night in Paris, he raised the 11-pound gold bauble and kissed it before an enchanted nation. Now Zidane didn't acknowledge the trophy, much less touch it. Good thing. He didn't deserve to.
SI.COM
More soccer news from Grant Wahl, plus Jonah Freedman'sPower Rankings, at SI.com/soccer.
The Italian back line UNDRESSED its opposition, tyingthe record for fewest goals allowed by a World Cup winner.
FOUR
PHOTOS
WDR
/EPA (3);
Jasper Juinen /
AP
MIND GAMES Materazzi headed in the equalizer (opposite), then goaded Zidane into his stunning extra-time cranial assault.
PHOTO
ROLAND
WEIHRAUCH/
EPA
GIGI FORCE Having been beaten just once by an opponent in seven tournament matches, Buffon had cause for joy.