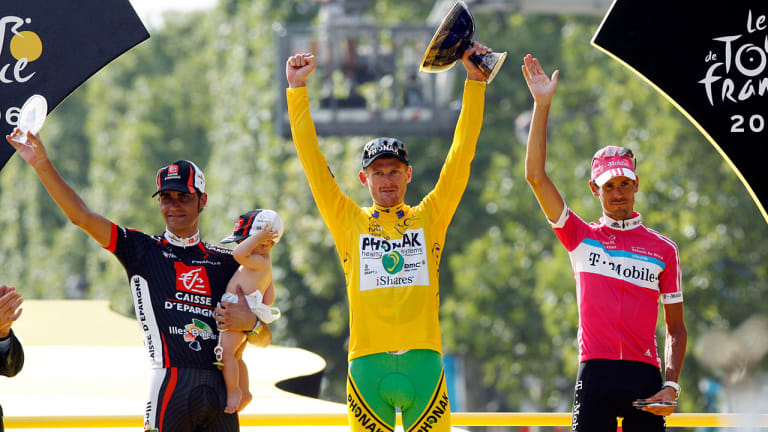 Publish date:
The Amazing Race
Written off after a meltdown in the mountains, Floyd Landis executed a bold and spectacular turnaround a day later and then cruised to victory
High in the Alps of the Maurienne region of France, guests at Les Chalets Goelia awakened on July 20 to the twitter of birdsong, the lowing of dairy cows and the slightly less euphonious sound of heavy metal blasting at high volume.

"When I heard Floyd playing Metallica really loud," recalled Koos Moerenhout, a rider for the Phonak team, "I thought, O.K., something's going down today."

Something major had to go down in order to get Floyd Landis back atop the Tour de France. The previous afternoon the 30-year-old Phonak captain and former teammate of Lance Armstrong had been in excellent position to succeed the Texanas Tour champion. But early on the climb of an Alp called La Toussuire, the final ascent of the Tour's toughest day, Landis had cracked like Humpty Dumpty.His cadence slowed, his breathing became tortured. His face, usually a mask of indifference, betrayed deep suffering. Having begun the day in the leader's yellow jersey, Landis nosedived to 11th place, eight minutes and eight seconds behind new leader Oscar Pereiro. With only a single mountain stage remaining in which to make up significant time, Landis had eliminated himself from contention.
That was his thinking, at least, for the next dark hour or two. But then Landis was relayed a message from five-time Tour winner Eddy Merckx, the Cannibal himself, whose son, Axel, is a Phonak teammate, and his mood began to shift. "You've lost the battle, not the war," the elder Merckx said.
Not that Landis usually needs such reminders. This is a guy who is as obstinate as Pharaoh in the Book of Exodus, a rider who has raced the past four years with a degenerative hip condition. (Landis confirmed last week that he will have his right hip replaced within the next two months.) It was simply not in him to go gentle into the realm of also-rans. As he later said, "I needed to prove to[my teammates] that it's worth working for me, that I don't give up after one bad day."
As night fell,"everybody started to regroup, find the morale we had lost," Moerenhout said, "and we made a plan."
It was less a plan, really, than a wing and a prayer, bringing to mind the scene in Animal House in which a battered Otter rises to his feet to argue that "a really stupid and futile gesture be done on somebody's part."
"We're just the guys to do it!" concurs Bluto, and the Deltas rise as one and storm out of the room.
Landis and his teammates didn't stay up all night constructing a float bearing the legend EAT ME. They did, however, wreak considerable disruption and confusion in the peloton the next day. The Hail Mary pass that Landis threw on July 20 did not just succeed beyond all expectations, putting him in striking distance of the lead, which he seized for good in the Tour's final time trial two days later.It also provided a gleaming counterweight to the doping scandal that had overshadowed this Tour since the day before it began. (Operación Puerto, as Spanish police called it, led to the expulsion of pre-race favorites Ivan Basso and Jan Ullrich, among others.) By single-handedly transforming stage 17 into a kind of velo Instant Classic, Landis ensured that this Tour will be remembered as much for the heroics of a rider who was there as it will be for the suspicion hanging over those who weren't.
Plus, the dramatic ride got him off the hook with the host country. The French had been carping at Landis for his lack of panache, for not attacking, for not winning stages, for eking out his slender margin with all the élan of a claims adjuster. But after his meltdown Landis threw away his caution. One bad hour in the Alps made a desperate man of him.
He rose on the morning of the 20th completely recovered from his disastrous fringale (that's French for bonk) and set about the important task of working himself into a controlled fury. Faced with something akin to mission: impossible--a ton of time to pull back from the leaders and essentially one stage in which to do it--Landis had little use for rational thought. "I had to get rid of calculated logic for a while," he said, "and just get angry."
The Metallica helped, as did Kid Rock's Fist of Rage, as did Le Dauphiné Libéré, a French paper whose headline that morning said LANDIS OUT. "That made me mad,"he later allowed. At the start that morning, in a town at the base of La Toussuire, a reporter made his way to the Phonak bus, essentially to extend condolences to Landis, who seemed strangely upbeat.
"You know," he said, flashing a smile, "we may be able to get some of that time back today. I'm feeling like myself again."
Moments earlier he had laid out to his teammates the specifics of the day's plan--the Hail Mary,as it were. They would drop the hammer on the peloton 50 kilometers into that day's 200.5-km stage, at the base of the Col des Saisies, the first of the stage's five categorized climbs. The Phonaks would go as hard as they could for as long as they could, then launch Landis, who thereafter would be on his own.
Even Landis would later describe the strategy as "ridiculous" and "absurd."Simple aerodynamics dictates that it takes a lone cyclist up to 30% more effort to ride as fast as the peloton. Early solo breakaways fail more frequently than Vegas weddings.
As they straddled their bikes at the start, Landis confided in his friends George Hincapie (Discovery Channel team) and Dave Zabriskie (CSC), both fellow Americans, that he would attack on the first climb.
"Yeah, he told me," said Hincapie, who did not try to dissuade his friend. "You can't tell him not to. You can't tell him anything."
As a very tired peloton wended its way through Arc Valley, approaching the first climb, word got out that Phonak intended to attack. There was general groaning. "A bunch of the French guys in the back were yelling at [Phonak]" for making extra work for everyone, said Zabriskie. "But it wasn't like Floyd was doing it to get on TV, like they do."
When the men in lime began their acceleration, there was already a breakaway group 11 minutes ahead. By the time Landis bid his knackered teammates adieu, halfway up the mountain, they had whittled the gap to six minutes. Landis then reached the lead pack with startling ease.
"He was taking great, huge chunks of time out of us," marveled Stuart O'Grady, the Australian sprinter for CSC, who was riding in the breakaway. "It was incredible. I've done 10 Tours de France, and I've never seen anything like it."
Upon overtaking the escapees, Landis rode directly to the front, where he set a pitiless pace that immediately shed several riders. "He was going 58K per hour [36 mph]on the flat," recalled O'Grady. "We hit the climb and he maintained 26,27K per hour. One climb and I was shot. And I was on a good day."
Landis let it be known among the group that he was willing to gift the stage to anyone who would take some pulls for him, helping him gain back the time he'd hemorrhaged the day before. No takers. O'Grady works for Carlos Sastre, who'd been the prime beneficiary of Landis's meltdown. Juan Manuel Garate of Quick Step demurred; he didn't want to be seen as working against Pereiro, a fellow Spaniard. Everyone,it seemed, had an excuse. So Landis went ahead by himself.
At the summit of the second climb, the Col des Aravis, Landis was 4 1/2 minutes clear of the peloton. Halfway up the Colombière, his third mountain of the day, the gap was 5 1/2 minutes. By this time, Pereiro's Caisse d'Epargne teammates were leading the chase at the front of the bunch, trying to tamp down rising panic as they worked in vain to bring Landis back. Inexorably, amazingly, the gap kept growing: 6:00, 6:12, 6:34, 7:09. By the time he reached the base of the beastly Col de Joux-Plane, Landis led the peloton by an astonishing 9:04.
How could this happen? Caisse d'Epargne had worked hard to chase down Landis. Where was CSC?Where was T-Mobile? The answer was fairly simple. "They were already here," said Phonak's Victor Hugo Peña, pressing his thumb up under his chin, cycling sign language for at the limit.
"No one had the legs to pull him back," said CSC stalwart Jens Voigt. "He was simply stronger than everybody else."
The last hope was that on Joux-Plane, the stage's final climb, Landis would again crack. Didn't happen. Because he was out on his own, Landis had constant access to a team car. Unlike during the previous stage, he ate and drank with regularity. On a day with temperatures in the high 90s, he went through 77 water bottles,according to his trainer, Allen Lim. Less than half that H20 went inside him;the rest he sprayed on his head, down his shirt and over his limbs.
As he crossed the finish line Landis punched the air, still harnessing the anger he'd manufactured that morning. He'd pulled back 7:38 from Pereiro and six minutes from Sastre. T-Mobile's Andreas Klöden, who'd begun the day 5:39 ahead of Landis, now trailed him by 1:59.
But Landis haddone much more than resurrect his hopes of victory. With a performance lauded as INCROYABLE and GRAND and MONUMENTAL in the next day's headlines, this native of Farmersville, Pa., had ridden his way into the lore of the Tour.
"He's just proved he has incredible character," gushed Tour director Christian Prudhomme, standing behind the finish line. "The performance he had today is something I haven't seen in 20 years." Such a brazen attack, so far from the finish, with so much at stake, evoked the audacious exploits of Bernard Hinault and Mercxk.
How fitting, then,that those legends would be among the first to congratulate Landis two days later, following the stage 19 time trial. After the epic 17th stage, this race of truth, as time trials are known, bore a whiff of anticlimax. In a businesslike effort Landis calmly carved the remaining seconds he needed from his rivals to reclaim le maillot jaune for good.
It marked the fifth time Landis had ascended the podium in this Tour. (The next day, on the Champs-Élysées, he would climb it one final time, with his daughter, Ryan.)With a broad grin but without warning, he flung his bouquet in the air. Tracing a graceful arc, the sunflowers sailed some 35 feet before they were snagged cleanly by his wife, Amber, setting off a fresh surge of applause for a man who was clearly on the roll of a lifetime.
"Landis proved he has incredible character,"said the Tour's director. "The performance is something I HAVEN'T SEEN IN20 YEARS."
PHOTO
FRANCK FIFE/AFP/GETTY IMAGES (INSET)
CAPTAINCOMEBACK - After making up most of his deficit in a scorching stage 17 (inset),Landis regained the lead in the final time trial.
PHOTO
Photograph by Vincent Curutchet/DPPI/Icon
SMI
 [Seecaption above]
PHOTO
JAVIER
SORIANO/AFP/GETTY IMAGES
TEAMWORK With the hard part over, Landis (in yellow) and his Phonak mates set off on the leisurely ride into Paris on Sunday.
PHOTO
VINNY TENNIS/SUNDAY NEWS/
AP
THE HOME TEAM Back in Pennsylvania, Landis's parents, Paul and Arlene, shared in their son's newfound celebrity.