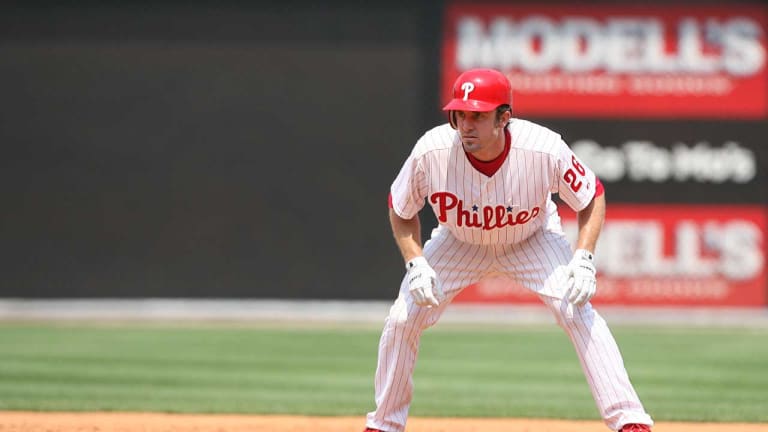 Grime Pays
Phillies second baseman Chase Utley has put up some filthy numbers in 2006, proving he's more than just another pretty face in an ugly uniform. In fact, he's SI's choice as the dirtiest player in baseball (and we mean that in the best possible way)
Phil sheridan has been taking care of the Philadelphia Phillies' laundry since 1992, which makes him privy to all the dirt on the team. When he comes to uniform number 26, Sheridan, the team's assistant clubhouse manager, no longer bothers to check for nasty stains, he just dumps it into a bucket with an industrial protein-release solution for a 30-minute soak. He knows that in a typical game, number 26 can hit for the rinse cycle: dirt, grass stains, pine tar and, occasionally, blood. "He's behind [ex--Phillies outfielder Lenny] Dykstra because he doesn't chew--Lenny was a self-made mess--but this is more natural, especially the grass stains," Sheridan says. "Even if this guy doesn't get a hit, he still gets his uniform dirty. I mean, it's filthy." During the soak Sheridan periodically stirs the grubby uniform around the bucket with the barrel of a broken bat, then sprays any remaining splotches with a stain remover before washing it in even more protein release, mixed with detergent. Introducing Chase Utley, number 26 in your programs, the prince of Tide. "Chase is a dirt ball," Sheridan says. "In the best possible way. He's a good dirt ball."
The game has been deconstructed relentlessly by seamhead scientists, but no one has been able to place a value on a dirty uniform, to formulate a grass-stain coefficient. If Utley had played during the black-and-white-TV generation, he would have been known simply as a guy who hustles. But as the appeal of this virtue has diminished in baseball's current culture of cool, baseball's lexicon has overcompensated by growing more colorful in descriptions of it. Players who dirty their uniforms every game are referred to as dirt balls or dirt dogs. Maybe playing hard and playing right in the bigs deserves no more than a grudging nod, but as the schedule slouches into the dirt-dog days of August, note the sloth: New York Mets pitcher Aaron Heilman lollygagging to first base on a dribbler in a July 23 game against the Houston Astros; Boston Red Sox slugger Manny Ramirez waving at a ball off the wall that turns into an inside-the-park home run for the Seattle Mariners' Adrian Beltre that same afternoon; innumerable outfielders who apparently think a cutoff man is that SUV cowboy on the interstate. And in an exchange that will live in Philadelphia lore as Bloody Sundae, pitcher Cory Lidle publicly questioned the Phillies' commitment to winning after being traded to the New York Yankees on July 30. That drew a riposte from reliever Arthur Rhodes, who assailed Lidle for devouring ice cream in the clubhouse after starts rather than running or lifting weights.
If some Phillies do lack big league industriousness--former closer Billy Wagner leveled the same charge after signing with the Mets in the off-season--Utley is beyond reproach, conspicuous in his effort. The 27-year-old second baseman dives for all grounders in his zip code. He grinds out at bats and bursts out of the box as if someone had fired a starter's pistol, even when he's not trying to extend a hitting streak. (His 35-game hitting streak, the longest in the majors this season, was snapped by the Mets last Friday.) Yankees third base coach and former Phillies manager Larry Bowa says, "He plays every game like it's the seventh game of the World Series." The old-school player with a name out of an old school (Chase Utley? Wasn't half the Yale class of '73 named something like that?) is an antidote for indolence, an All-Star who goes home every night with a dirty uniform but a clean conscience. He has a host of dirt ball confederates (see box, page 46), but Utley is SI's choice as the game's dirtiest player. In the best possible way.
"You never want to take anything for granted," Utley says. "As soon as you start taking the game for granted, that's when it bites you in the ass."
His approach is more feral than it is Will Ferrell. Phillies beat writers were doing their dogged best to interrogate the guarded Utley about the streak after he had launched his third home run in two days against Arizona in late July and neared the midway point to Joe DiMaggio's record of 56, but Utley was not about to grace them with a quip, or even a decent quote about the streak. Boastfulness isn't his way, and his reticence is understandable, given that the one butt-bite of Utley's young career has not sufficiently healed.
In the eighth inning of a round-robin game against Canada at the World Baseball Classic in March, Utley cracked a deep fly to center, flipped his bat aside and raised his arms in celebration of an apparent go-ahead, three-run homer. Instead, the presumptive homer nestled in the glove of Adam Stern on the warning track for the third out. "I thought for sure it was a homer," says the chastened Utley. "I got text messages from my buddies about it. I'd have given myself crap too. You definitely won't see that again from me."
That loud out in the WBC has been the only fly in Utley's ointment. Since becoming a regular in June 2005, he has impressed most baseball people. "Having talked to guys on other teams and other managers, [it's clear that Utley] gets everybody's attention," Diamondbacks manager Bob Melvin said. No one more than Dodgers catcher Russell Martin. After doubling in the tiebreaking run at Dodger Stadium on June 4, Utley broke hard to the plate from third on a chopper to first baseman Olmedo Saenz and barreled into Martin with a forearms-leading, headlong dive, wallpapering the catcher as the ball squirted free. The throw was far enough up the first base line that he could have slid and avoided a collision, but in Utley's uncompromising world, if he's in for a penny, you're in for a pounding.
That collision was seismic; his hustle on another decisive play a week earlier had a more subtle impact. Leading off the fifth inning of a 2-2 game against the Brewers, Utley beat out a grounder to second by an eyelash. Two outs later Ryan Howard hit a two-run homer. "The harder you play this game, the more you get out of it," said Utley, who had a .391 on-base percentage (including .442 against lefties) and was leading all second basemen with 21 home runs. "I never want to look in a mirror and say, What if? What if I had run harder? What if I had dived for that ground ball?"
Phillies' assistant G.M. Mike Arbuckle, who scouted Utley in high school in Long Beach, Calif., contends that aggressiveness like Utley's must be innate or developed at a young age. Utley's drive to be first-team all--grass stains is probably in his DNA, but it was nurtured in the Wiffle ball games on the lawn of neighbor Denny Mayfield's house on Ashbrook Avenue. Mayfield, who also served as Utley's first T-ball and Little League coach, was the neighborhood game's commissioner, pitcher and arbiter of its unique rules, which included retiring base runners by hitting them with the ball. "The boys," recalls Dave Utley, Chase's father, "enjoyed exchanging welts." Mayfield, a longshoreman, was one of those lionized youth-league coaches: intense without being insane, positive without being pushy. He would pepper the kids with phrases like "Be a star!" Utley soon was showing what he had five times a week in the Lakewood Batting Cages, five miles from his home. His parents would give him $20 and drop him off at the machines. He would hit until his hands hurt or his money ran out. He was such a cage rat that the owners, who gave him odd jobs, often would turn on the machines and let him hit for free.
Emerging from the School of Base Knocks at the batting cages, and later from UCLA, was a lefthanded swing as sweet as a Mother's Day card. With a hands-high open stance adapted from watching future teammate Jim Thome on television, Utley can flick his hips and yank a pitch to right or stay back and drill it to left center. "His swing has been very consistent," Phillies manager Charlie Manuel says. "What he's hitting, he's crushing."
His stroke is orthodox, but his fielding is idiosyncratic. Despite an alarming 12 errors, he is less an indifferent second baseman than he is a work in progress. The Phillies, who tried their 2000 first-round draft pick at third in the minors, judiciously have allowed Utley to sort out how to play the position through hard work. "Ryne Sandberg was a jabber," says John Vukovich, a special assistant to general manager Pat Gillick, of the Hall of Fame second baseman's habit of stabbing at ground balls. "One coach in Chicago wanted to change him, but [then manager Don] Zimmer said he hadn't seen a jabber like that since Jackie Robinson. The message was clear. Leave him alone. That's Chase. He's shown he can be special down the road. Let's just let him do it at his own pace, which happens to be all-out."
His hustle has entranced Philadelphia. He is a polyestered, pinstriped Johnny Depp: Women adore him and men envy him. (The upper deck of Citizens Bank Park is dotted with Chase's Chicks and Utley's Ugleys fan clubs.) In a legendarily critical town--ex-Phillie Jay Johnstone once said that when games are rained out, fans head to the airport to boo bad landings--Utley is bulletproof. Well, almost. In his first major league start, in 2003, he hit a grand slam against the Colorado Rockies. "Grand slam, I'm really pumped up; standing ovation; great," Utley says. "Next at bat, we're up six runs, I strike out and get booed. They're yelling at me to go back to the minors. It keeps you on your toes."
Certainly Utley has kept fans on theirs, for ovations. He hit .405 during the streak and established himself, with Howard, as a beacon of hope for a franchise so lacquered in futility that its one championship in 123 years makes the solipsistic Cubs look like the Yankees. Relief pitcher Ryan Madson has a pair of Utley bobbleheads, a full-page newspaper picture of him, a scorecard with Utley's likeness and a chase T-shirt in his locker, which is just two candles and an incense holder short of a shrine. "Hey," Madson says, "I'm a fan too." And he's not the only Utley acolyte in the Phillies locker room. Manuel compares Utley's swing to those of Ted Williams and Wade Boggs. Reds reliever Rheal Cormier references Nomar Garciaparra because Utley never gives away an at bat. And closer Tom Gordon sees a resemblance to George Brett. "Like George, he makes the pitcher work," Gordon says. "Different swing patterns--George was swinging more down and in, Chase sprays the ball--but with Chase having such a good idea of what he wants to do every at bat, he's way ahead of himself. With George Brett, you think 3,000 hits. If this kid continues to prepare and play the way he does, he could accomplish that."
Even if seamhead science suggests that Gordon's prediction is fanciful--Utley would have to average 216 hits a season until age 39 to hit 3,000--it will all come out in the wash for this rare type of player. Among the dirt dogs, Utley is best in show.