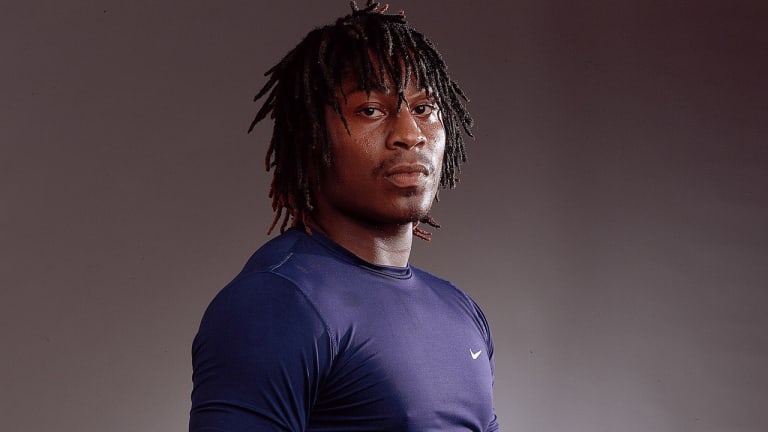 The Biggest Man On Campus
Overshadowed among this year's Heisman candidates, Cal's quiet but explosive running back has the tools—and the supporting cast—to win the most coveted award in college football.
Front-Runners
Quarterback Brady Quinn, Sr., Notre Dame
He's a Notre Dame quarterback who has the perfect system (coach Charlie Weis's pro-style attack), a top 5 team with lots of weapons (including All-America wideout Jeff Samardzija and 1,000-yard rusher Darius Walker), guaranteed national television exposure (through the Irish's contract with NBC) and a strong résumé (3,919 passing yards and 32 touchdowns last season). Did we mention that he's a Notre Dame quarterback? If this really were a race, Quinn would already be 10 yards ahead of the field.
Running back Adrian Peterson, Jr., Oklahoma
As a freshman he was as good as expected, rushing for 1,925 yards and finishing second in the Heisman vote. Despite missing significant time in four games last season, he ran for 1,108 yards as a sophomore. But it still seems as if Peterson has yet to hit his stride. If he can stay healthy and if quarterback Paul Thompson can keep defenses from loading up to stop the run the way they did last year, Peterson should produce the spectacular season everyone has been waiting for.
Wide receiver Ted Ginn Jr., Jr., Ohio State
Notre Dame's Tim Brown (1987) and Michigan's Desmond Howard ('91) took the pass-catching, kick-returning route to the Heisman, and the equally versatile Ginn is following the same road. With the departure of Santonio Holmes to the NFL, Ginn should produce more than the 51 catches for 803 yards he amassed last season. Combine that with his return skills—he took two kicks back for touchdowns last year—and Ginn should get plenty of touches in the open field, where he is electrifying.
Contenders
Running back Michael Bush, Sr., Louisville
At 6'3" and 247 pounds, Bush, who rushed for 114.3 yards a game and scored 23 TDs last year, is bigger than some of the linemen and linebackers who try to bring him down, plus he's got speed and moves. Call him a dark horse, but guys named Bush tend to do well in elections.
Running back Kenny Irons, Sr., Auburn
A year ago he was a transfer battling for playing time. Now, 1,293 rushing yards later, Irons is battling for a Heisman. The Tigers' tough SEC schedule could work in his favor because his yards will come against stout defenses. It would help if more passes were thrown his way; he had 14 catches last year.
Quarterback Chris Leak, Sr., Florida
He's a traditional pocket passer, which isn't the perfect fit for coach Urban Meyer's spread-option offense, but he has a year of experience with the system and a strong arm. Leak will be pushed by hotshot freshman Tim Tebow, but the competition should make him better.
Running back Steve Slaton, Soph., West Virginia
Though he scored six TDs against Louisville and ran for a Sugar Bowl–record 204 yards against Georgia, Slaton is at a big disadvantage in name recognition compared with the rest of these candidates. The Mountaineers need to stay in the top 10 for him to have a shot at the trophy. And they might just do that.
Quarterback Troy Smith, Sr., Ohio State
His performance in the Fiesta Bowl last season—racking up 408 yards of total offense and outplaying Notre Dame's Quinn in a 34–20 Buckeyes victory—put him in the Heisman picture. If Smith stays there, it will be because of his ability to turn broken plays into big ones, a la Vince Young.
The Sleeper
Marshawn Lynch
Upon seeing reporters headed his way after practice, Marshawn Lynch has been known to hide behind teammates, a playful—and futile—attempt to avoid interviews. Though he's cooperative when cornered, he isn't particularly interested in deconstructing how he does what he does when he carries the football. But Heisman Trophy campaigns are unlike political ones in that words matter far less than deeds, which is why Lynch, California's elusive junior tailback, is in position to make a serious run at the award.
Of course most of the Heisman voters are media members, so Lynch wants to make it clear that he has nothing against them. "It's just that I'm all about playing, not talking," he says. Lynch may lack the name recognition of Heisman favorites such as Oklahoma running back Adrian Peterson and Notre Dame quarterback Brady Quinn, but his 1,246 rushing yards last season, including 194 yards and three touchdowns in a 35-28 win over BYU in the Las Vegas Bowl, got the electorate's attention. His season totals would undoubtedly have been higher if not for hand and finger injuries that sidelined him for two games and limited him to five carries in a third, so the Golden Bears can reasonably expect even better production this year.
Another key ingredient in Lynch's shot at the Heisman is that Cal, ranked eighth in SI's preseason Top 20 and expected to challenge Southern Cal in the Pac-10, should be in contention for a BCS bid—keeping him in the national spotlight. In fact, Lynch's status in the Heisman race is almost identical to his team's standing in the national championship picture. They're both intriguing dark horses who, with a break or two, could be much more than that by season's end. "It all comes down to the team; that's the biggest thing," he says. "If we have the kind of season we're capable of, I'm pretty sure there will be a lot of guys on this team who will win some awards."
Lynch has breakaway speed—he had at least one run of more than 20 yards in each of his 10 games last season—but his leg drive is his most remarkable attribute. At 5'11" and 217 pounds, he's too much for most would-be tacklers to handle alone. "He's one of those guys who disappears into a pile, and just when you start looking to see where the referee is going to spot the ball, he busts out of it for 10 or 20 more yards," says Oregon coach Mike Bellotti. "His legs never stop pumping."
One of the biggest impediments to Lynch's winning the Heisman might turn out to be the Bears' depth at running back. His backup, junior Justin Forsett, is a 5'8", 180-pound flash who rushed for 999 yards last year and averaged more yards per carry (7.6) than Lynch's 6.4. "There's no way you can keep a back like Justin on the bench," Lynch says. "No matter which one of us is in the game, our offense is going to be dangerous."
But Cal's offense is most lethal when the ball is in Lynch's hands, and if he is called to the podium in New York City on Dec. 9 to accept the Heisman, he will, of course, be expected to make a speech. The electorate will be pleased to know that Lynch's aversion to public speaking goes only so far. "If my teammates and I play well enough for me to win the Heisman," he says, "I'll be happy to talk about it."