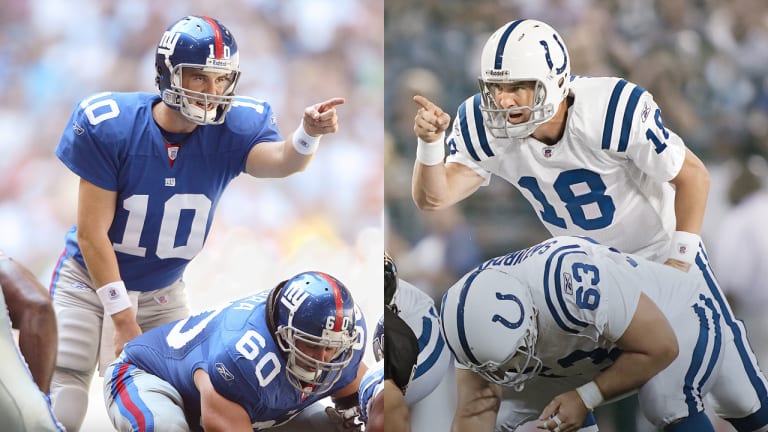 May the Best Manning Win
Eli and Peyton face off for the first time in the Sunday-night opener, and they don't particularly want to talk about it (even with each other). Making NFL history as the first brothers to start at quarterback in the same game, they'll add another chapter to the Manning family saga-and when it's over, you won't want to be around the one who lost
On a tree-lined street in a shaken city, two men and their mother took a detour down memory lane. Following lunch in New Orleans's Garden District on a warm July afternoon, Peyton Manning had a sudden urge to see the house in which he first dreamed of becoming an NFL quarterback. With his mother, Olivia, riding shotgun and his younger brother, Eli, in the backseat, Peyton steered a Honda pickup toward Seventh Street and parked in front of a goldenrod-yellow wooden cottage.He opened the cast-iron front gate and waited as Olivia reluctantly followed,while Eli stayed in the car and chatted on his cell phone. Looking back at the youngest of her three boys, Olivia smiled and thought, Eli wouldn't do this in a million years. At first glance the house appeared to be a single-story shotgun structure, but Peyton, who lived there until he was almost seven, knew otherwise. He had fond memories of the large upstairs bedroom that he had shared with his older brother, Cooper, the second story hidden by the extended shingled roof in front. This was a 19th-century camelback house, designed to fool building inspectors who rode by on horse and buggy into undervaluing the property. It was on that second floor that Peyton had learned to compete, battling Cooper and their father, Archie, in heated contests with a foam basketball. This was where he was determined to go.
After ringing the bell, Peyton smiled as an elderly man opened the front door. Reaching out to shake hands, Peyton introduced himself and asked to come inside. Although he didn't buy the home from the Mannings when they sold it in 1983, the owner was aware of its history and recognized the Indianapolis Colts' star. He invited Peyton and Olivia inside but rebuffed the quarterback's request to go upstairs."I'm sorry," the man said. "It's just not in good enough shape." Peyton pressed his case, at one point ascending a couple of steps before being told--again--that the second story was off-limits.
Olivia took the man at his word and went back to the car, where Eli had finished his phone conversation. The third-year quarterback of the New York Giants was two when the family moved a half dozen blocks away to the house his parents still occupy, and he seemed utterly uninterested in revisiting the past. But back inside Peyton persisted. A few minutes later he returned to the car and said,"O.K., y'all can come on in." As Eli shrugged and followed, his big brother turned back and told Olivia, "And I'm going upstairs."
This Sunday night in East Rutherford, N.J., Olivia Manning will be upstairs in a luxury suite at Giants Stadium, part of a sellout crowd watching her sons make history. A former Ole Miss homecoming queen who began dating a Southern football legend-to-be during her freshman year, Olivia has experienced a lifetime of thrills and chills as the most emotionally invested fan of the four men in her life. She and Archie once attended 17 of their sons' basketball games in a single week. "One day when the boys were young, I pulled out of my driveway and headed up the one-way street going the wrong way," Olivia recalls."That's when I realized, O.K., I'm losing it--too many games."
What makes Sunday's different is that Peyton, 30, and Eli, 25, will become the first brothers to start at quarterback in the same NFL game. Given that Peyton's Colts went 14–2 last season and won the AFC South for the third year in a row, while Eli's Giants were 11--5 and took their first NFC East title since 2000, the matchup would be sexy enough without the family drama. That the brothers were each drafted with the No. 1 pick—and that their father played 14 years in the league—adds to the intrigue. Throw in the backdrop of New York City and NBC's nonstop promotion of its new Sunday night NFL slot, and what you have is the pro football's most hyped season opener, ever.
Think of it as the league's answer to Venus and Serena Williams at Centre Court in Wimbledon."It's kind of exciting to be part of football history," Olivia says,pausing to sip ice water in her living room. "I don't want anybody to say,'Oh, poor Mrs. Manning.' This is a great thing."
Olivia smiles as she says this, but should we believe her? After the game, one of her boys will be miserable, a mother's concern long after the kids have left the nest. To know this, merely mention last season's playoffs and watch the color drain from Olivia's face.
January was as bad for the Mannings as August was for Pluto. In his first postseason start, a wild-card game against the Carolina Panthers at Giants Stadium, Eli threw three interceptions and suffered a 23--0 defeat. A week later in a divisional-round clash at Indy, the Pittsburgh Steelers pounded Peyton and the top-seeded Colts and then held on for a stunning 21--18 victory. Faced with yet another long off-season of he-can't-win-the-big-one chatter, Peyton became so upset during his postgame press conference that he criticized his offensive linemen.
"It's not easy to be around either of them after a loss," Olivia says. "Your heart just hurts for them."
Nearly eight months later two quarterbacks seek redemption, and neither is thrilled about discussing the uncomfortable circumstances: One will jump-start his season att he other's expense. It is why, as the 32-year-old Cooper says, Peyton and Eli"seem to have developed a case of lockjaw" in recent months. While both Mannings profess to being excited about the matchup--"It's going to be an awesome atmosphere," says Peyton—they'd rather play it down. Referring to each team's All-Pro pass rusher, Eli said during training camp, "[The Giants' Michael] Strahan and [the Colts' Dwight] Freeney don't care if it's two brothers playing quarterback. For the other 52 guys on each team, it's a football game, not a [story]."
For the Mannings,it's another chapter in a pro football saga that began in New Orleans, where Archie was the Saints' starting quarterback for all but one season from 1971 through '81, hanging tough for lousy teams. "Every single year, we had hope, and then we'd lose," Olivia recalls. "The best we ever did was 8–8. I wasn't as nervous for him as I am for the boys—it's different when it's your children—but I should've been, because he was running for his life."
At home the Mannings made a point of not pushing their sons into sports--Let's be normal was their mantra--but Cooper and Peyton were so competitive that they immediately gravitated toward Archie's world. With Eli, it was different."He got dragged to so many [of his brothers'] games when he was little," Archie says, "we thought he'd rebel against sports."Often, when faced with a Saturday or Sunday of spectatorship, Eli would beg his mother, "Get me a babysitter." Sometimes he and Olivia would browse through antique shops on Magazine Street while Archie took the older boys to their games.
While Peyton seemed born to be a quarterback, Eli came off like a budding tax auditor who happened to be a gifted athlete. "Eli would come home from one of his baseball games and not say a word, and you'd ask him how it went," says Cooper, an institutional broker for an energy research firm and a married father of three."He'd say, 'Good,' and not much more. We'd later find out from my mom that he'd hit a game-winning homer in the bottom of the ninth. If it was Peyton in the same situation, he'd barge through the front door and yell, 'Dinger, baby!'"
If Eli was reserved by nature, he became even more so, his parents believe, as he struggled to learn to read. The same person who would later score an exceptional 39 out of 50 on the Wonderlic, the intelligence test used by NFL teams to evaluate prospects, was on the verge of having to repeat the first grade. Instead,Olivia and Archie switched him from Isidore Newman, the elite private school the older boys attended, to St. George's, a smaller school known for its reading resource center. "He was getting ribbed by some of his friends, and he worked very, very hard to overcome his problem," Olivia remembers."He wanted so badly to make it back to Newman, and after the seventh grade he tested back in."
Eli's football success at Newman--he threw for at least 2,000 yards and 20 touchdowns in each of his three seasons as a starter--caught his parents by surprise. When he gotto Ole Miss, where decades earlier his father's heroics had inspired ballads(Cooper, a talented receiver, was set to play for the Rebels before a spinal condition ended his career), his teammates initially viewed him as an aloof child of privilege. Saints halfback Deuce McAllister, who was the team's star during Manning's first two years in Oxford, recalls, "We saw him driving an SUV and looking so nonintense, and we'd say, 'Eli, do you even care about football?' I mean, we understood his brother had just signed a $100 million contract and his father had deep pockets, but we thought, A lot of people would kill to be in your position, and look how you're approaching this. It was obvious why they called him Big Easy."
As it turns out,Big Easy and the Big Apple may be an ideal fit. Eli's even-keeled demeanor serves him well in a city of tabloid-fueled fan overreaction and on a team with animated and headstrong standouts such as tight end Jeremy Shockey, wideout Plaxico Burress and halfback Tiki Barber. After replacing Kurt Warner midway through his rookie season in 2004, Manning remained unruffled even as defenses exploited his inexperience. Then in Week 3 of last season, in a spirited Sunday-night road game against the San Diego Chargers--the team that had picked Manning at No. 1 before he forced a draft-day trade to the Giants--he stepped into a stadium where bitter fans were giving new meaning to the phrase hangten. Recalls Giants center Shaun O'Hara, "We all thought, If Eli's going to crack under pressure, this is going to be the game. Instead, he blew us away."
Manning kept his poise and played well in a 45--23 loss, setting the stage for a seven-game stretch in which his clutch play yielded five wins. But over New York's final six games--including the playoff defeat, in which he admits forcing some second-half throws--Manning had 10 interceptions and only four touchdown passes; he wound up with a 52.8 completion percentage for the regular season.
Manning believes he can connect on 60% this season by improving his footwork and more effectively using his outlet receivers. In his defense, he has taken on more than any other young NFL quarterback of recent vintage not named Manning. If the Steelers' handling of Ben Roethlisberger during his first two seasons represented one extreme—keep it simple, avoid big mistakes and when in doubt check the plays scribbled on your wristband--Giants coach Tom Coughlin took the opposite approach. In addition to running a sophisticated attack, Manning even points out the middle linebacker (the key to an offense's orientation) and makes pass-protection calls at the line of scrimmage, responsibilities that many teams assign to the center.
Coughlin thinks that Manning is smart enough to handle those tasks, and that the long-term dividends will offset any short-term hiccups. But, at times, Manning has appeared overloaded. Says one offensive player who was with New York in '05,"They have him thinking so much at the line, I don't even know how he gets through his reads. How can you not play stiff?"
The answer, the Giants hope, lies in the Manning genes: Peyton doesn't play stiff, so ultimately Eli won't either. As much as Eli likes to poke fun at his big brother's seriousness, down to a spot-on imitation of Peyton's gesticulations at the line of scrimmage, there's no doubting who his role model is. Fullback Jim Finn, who spent his first three years with the Colts before joining New York in 2003, remembers one Indy practice that Eli, during a break between semesters at Ole Miss, watched from atop the portable tower used for videotaping. "I don't think the coaches or anyone else knew he was there," Finn says. "He was up there 30 minutes before practice started,just watching everything Peyton did." (Eli's admiration for his older brother extends to off-the-field endeavors, such as the PeyBack Foundation's Hurricane Katrina relief effort last September, when the two Mannings passed out supplies at shelters in Baton Rouge.)
After last season,however, with the NFL's scheduling formula having ensured that their teams would meet in 2006, the flow of football information between them dried up."Before, I would study him on film and ask him questions about what he saw and compare notes about other defenses," Eli says. "That's all stopped." Over the summer Peyton and Eli spent a weekend playing golf with their father outside New York City. At dinner one night in Manhattan, Archie asked about LaVar Arrington, the Giants' newly acquired linebacker. "He's a good guy," Eli answered, "and he's going to give us some big rushes. I think we'll use him.... " Eli stopped; Peyton had pulled out a Sharpie and was pretending to take notes on a napkin. All three men cracked up. "The next night we were at a friend's house in the Hamptons," Archie says,"and the NFL Network was showing a Chiefs-Giants game from last year. The guys in the Giants' secondary were miked, and on the sideline they were talking strategy and calling out specific numbers. All of a sudden the TV went off, and Eli was standing there with the remote, half-smiling."
If this sibling rivalry must play out in our living rooms, so be it--but no football game, even one as epic as Sunday's, is going to alter the Manning family fabric. Prickly P and Easy E may have different leadership styles, but neither approach is inherently superior, and only the odds makers will be guilty of favoritism.
Late last spring Archie and Peyton met in Las Vegas for a shared corporate speaking engagement,entertaining questions from the audience as part of the program. A woman took the microphone and became tongue-tied while addressing Archie. Finally she blurted out, "Who do you like best, Peyton or Eli?"
A hush fell over the room. "Actually," Archie replied, "Olivia and I like Cooper better than both of them, because he's got the grandchildren."
In a more serious moment Archie and Olivia speak glowingly of all three boys, of how they have worked hard to become successful and at the same time developed into compassionate men. They take pride in the way that Peyton has supported and advised Eli. Peyton's guidance has been subtle, which is not his nature.Whether trying to vault his team to an NFL championship or ascend a stranger's staircase--and, for the record, he never did make it to the second story of his old house--Peyton is not someone who'll go down without a fight.
Nor, for that matter, will Eli. Perhaps, in his own inconspicuous way, he'll even figure out a way to get to the top first.