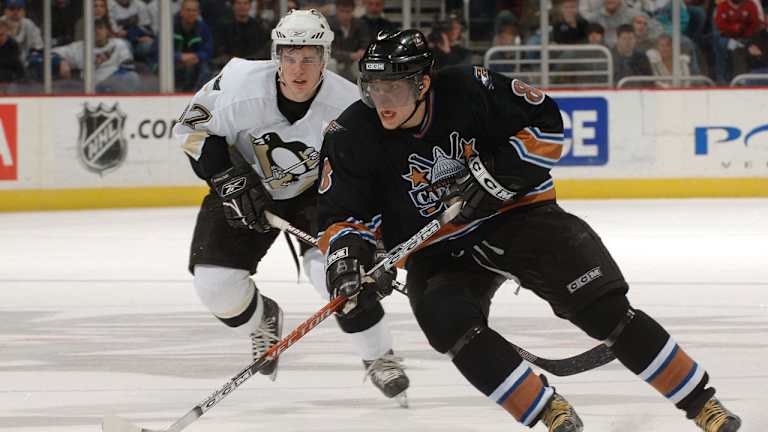 Publish date:
Will You Tune In To These Two?
The NHL has spruced up its game and lured its core fans back. Now it hopes young stars Alexander Ovechkin and Sidney Crosby can make the league more visible in the U.S.A.
Maybe it's not a catchy marketing slogan, but the NHL has this going for it: The players are generally nice people. O.K., get your nice-guys-finish-last-in-the-Nielsens joke out of your system, then wrap your mind around the notion that some of the roughest athletes are among the most down-to-earth, the kinds of guys who would give you the shirts off their backs. Or in the case of Sidney Crosby, a jersey.After three hours in a photo studio with Alexander Ovechkin, posing in light that flattered them almost as much as their statistics from incandescent rookie seasons in 2005--06, Crosby tugged his black number 87 Penguins sweater over his head, held it out to Ovechkin, clothed in his Capitals gear, and asked almost shyly, "Want to trade?"
Crosby, 19, and Ovechkin, 21, are not friends in a conventional sense. Indeed, they barely know each other. Their paths crossed in four Pittsburgh-Washington games last season, and they socialized and traded phone numbers after the NHL awards ceremony in June, when Ovechkin was named the league's rookie of the year over Crosby in a landslide of Reagan-Mondale proportions (124--4 in first-place votes) that will strike future generations as an anomaly. During the photo shoot last month they made conversation about their summers and training programs while moving their chins this way, angling their skates that. Over the coming months they will grow closer because their careers are linked not only by their age and talent, but also by their status as the foundation for a league trying to rebuild itself. After getting its on-ice product in order inits first season following the 2004--05 lockout, the NHL is scrambling (yet again) to gain a foothold in the U.S. sports fan's imagination. The league isn't as concerned that Crosby and Ovechkin get to know each other this season as it is that you get to know them.
Ovechkin, at 6'2" and 220 pounds, is rangy and raw and unconventionally handsome, his open face dominated by a nose that slaloms to the left. Crosby, 5'11" and 199 after adding five pounds of muscle during the off-season, is compact, thick through his haunches, preternaturally poised and slick in his appearance.Ovechkin, from Moscow, is playful even in his second language. Crosby, from Nova Scotia, is sober even in his first. Ovechkin, a winger with a righthanded shot, is brimming with speed and manic invention, wallpapers defensemen and scores goals that seem to defy the laws of physics. Crosby, a center with a lefthanded shot, can slow the tempo or quicken it, a puppet master who makes deft passes and flicks precise wrist shots.
"On ice, rivals," Ovechkin says, "but in the league for sure [we are]partners."
Says Crosby,"We're from opposite places, but we can relate to similar things." Each may be the only player in hockey who really understands what it is like to be the other. The way Bill Gates can identify with Warren Buffett. The way Magic Johnson could understand Larry Bird.
Across the chasm of decades and sports, Ovechkin and Crosby echo the partnership of Johnson and Bird--Showtime paired with no-frills--who graduated from the 1979 NCAA title game to the NBA. Separately they went on to win titles; together they roused a league that would soon welcome Michael Jordan and gobs of promotion through sneaker and soft-drink endorsements. The sports and entertainment landscape is more cluttered than it was in the '80s, but the NHL remains formidable in its niche and is in possession of two talents capable (perhaps) of crossing the street from athlete to celebrity. The standard measure of hockey's blessed (Ovechkin became the second rookie ever with 50 goals and 100 points; Crosby became the youngest player with a 100-point season) always has been how quickly they lead a team to a Stanley Cup. Ovechkin and Crosby will also be judged on their ability to move the NHL into the national conversation.
The timing is right for the Further Adventures of Sid and Alex. While their rookie brilliance was duly noted, even the heralded Crosby and the dashing Ovechkin were buried in the post lockout tumult of massive player movement, new rules and shootouts.Now the new game's settled in, and with the imminent slippage of the NHL's circus teams--powerhouses Detroit and Colorado--Crosby and Ovechkin have the middle ring pretty much to themselves. The erstwhile great teams, constrained by a $44 million salary cap, are ceding pride of place to great players. As in the NBA (Watch LeBron and the Cavaliers take on Dwyane and the Heat!), NHL players are moving up the marquee. Think about it: If somebody offered you tickets to see any NHL team, you would, Original Six bias aside, probably choose Pittsburgh for a glimpse of Crosby and Russian rookie Evgeni Malkin or Washington to see Ovechkin, the greatest show on skates.
After the NHL's extreme makeover, the 2006--07 aftershocks are subtle but profound. In a shift that nudges hockey closer to the American mainstream, the league will become more player-oriented in its self-promotion, going all out to leverage stars such as Crosby (who led the NHL in jersey sales last season) and Ovechkin (No.5, and rising). In a groundbreaking move, a player on each team will serve as a business representative, offering input on how to promote the league and helping to decide such things as which players will be miked on televised games. The NHL and the players' association have a list of a dozen or more players--Crosby and Ovechkin, of course, top it--that they have identified as deserving of a public-relations push.
The league lined up Cup winners Eric Staal and Cam Ward of Carolina for fashion spreads in GQ and FHM and is hawking that list of 12-plus players to titles such as Mademoiselle and Vanity Fair. NHL officials are working hard for spots on Letterman and Leno--Crosby was a guest on The Tonight Show after being selected No. 1 in the July 2005 draft--and also on improbable sports outlets such as The View, Ellen and the grandmommy of them all, Oprah. Preaching to the converted,if not necessarily to the informed, John Shannon, the NHL's senior VP of broadcasting, is producing about 75 videos focusing on players' lifestyles (nice-guy nuggets) that will be distributed to networks such as Fox, MSG,Comcast and Rogers Sportsnet as well as to NHL arenas for play on their scoreboard video systems. A new commitment from the players, says NHL VP of communications Bernadette Mansur, has made such outreach efforts easy to execute.
There is, of course, an economic imperative for the players. Limited to 54% of gross revenue by the collective bargaining agreement, they can grow their income only by growing the game. "This isn't an ego league," Capitals goalie Olaf Kolzig says. "Not everybody goes around tooting their own horn. But to get back on the radar in the U.S., guys have to take responsibility for the state of the game. If that means tooting their own horn for the good of hockey, other players will understand."
For Crosby, being one of the faces of hockey "is something I've grown into, like tying my skates"--since he was anointed by Wayne Gretzky as a future NHL record-breaker when Crosby was a mere 15-year-old. For the gregarious Ovechkin,he is seizing his moment. "I love to do crazy things," Ovechkin says."Like [at] the draft." In Vancouver a few days after the league awards banquet, he sat at Washington's draft table and delighted fans throughout the arena (as well as the TV audience), when he took general manager George McPheeup on his offer to go to the podium and announce the Capitals' two first-round picks.
"[The NHL has] so many dynamic players like [Dallas's] Mike Modano and [Colorado's] Joe Sakic, guys who should be household names," says Stars center Jeff Halpern, Ovechkin's former captain in Washington. "Ovie and Crosby can be bigger. Every time they play each other, it should be a national TV game. Instead of Detroit or Rangers games, get these two kids on there. Crosby versus Ovechkin."
On a 10-day trip early in his rookie season Crosby lugged some heavy baggage, Sid the Kid burdened not only by expectations but also by made-to-measures. Mario Lemieux,Crosby's team owner, captain and landlord (Sid lived with Lemieux and his family in Pittsburgh last season and will do so again this year) pulled him aside to explain the facts of life: Instead of packing five suits take two or three and change shirts every day. Mix it up. Other rookie tutorials were more public, less pleasant.
During a power play in an early-season game, Crosby overstayed his regular shift by perhaps 15 seconds. When he returned to the bench, Mark Recchi, who played his first NHL game when Crosby was a one-year-old, lashed out, questioning Crosby's commitment to team play. Crosby, always selfless with the puck, responded in an impolitic way, barking back at the veteran. The blowup was hardly Halley's Comet, but it underlined Crosby's great strength and his single flaw: his struggle to channel his passion. On the plus side of his rookie season was 102 points, including 53 at even strength, two more than Ovechkin. On the debit side was his NHL-high six unsportsmanlike conduct penalties, including thosefor protesting calls.
If there were a DVD of Crosby's greatest snits it might begin with Nov. 16, 2005, 14 weeks after Crosby's 18th birthday. Derian Hatcher, the punishing Flyers defenseman,soured Crosby's mood early in the second period by performing a Sher-wood root canal with impunity. The high stick, un penalized, split Crosby's upper lip and broke three front teeth; the new face of the NHL was a mess. Crosby went to the dressing room for repairs, was told he could get stitches between periods, went out for his next shift and took yet another high stick from Hatcher, again unpenalized. Crosby yelped at referee Kevin Pollock and was nailed with an unsportsmanlike conduct penalty that negated the rest of a Penguins power play in a scoreless game. "In the dressing room after the period he knew he had taken a bad penalty," says Recchi, who after a deadline trade to Carolina is back with the Penguins and on good terms with Crosby. "It says a lot about his character that he set the world on fire in the third." Ultimately that night the rookie did more for his teammates--who in a telling sign of the team's lack of fortitude sought no retribution against Hatcher--than they did for him; he had a goal and an assist in the third period, then bagged the overtime winner.
"He handled[his rookie season] as well as any player coming in with that hype," says NBC analyst Eddie Olczyk, who coached the Penguins for 30 games last season before being fired. "But people remember Philly. National game. Miked up. No one comes to his defense. The unsportsmanlike. I often talked to him about being able to handle emotions and adversity as a marquee player. I told him that 20 years ago he would have been chopped in the back of his legs, elbowed to his head, every shift. I told him he couldn't be challenging everything,disagreeing with calls. It doesn't surprise me [if] referees are labeling him[as a chronic complainer.]"
Crosby is not unmindful of a burgeoning reputation, but as he looked up from a dinner of steak and mushrooms last month, he said in a polite, firm voice, "I respect officials. I do. But I can honestly say that I take pride in my emotion."He is also aware, however, that grousing is now a luxury he can't afford. When new Penguins coach Michel Therrien startled the hockey community by making Crosby an alternate captain last December, Therrien was force-feeding him a dose of responsibility. "If there's something I need to work on this year,beyond face-offs and defense, it's my emotions," said Crosby. "It's part of being a leader, showing the guys the right way."
After Team Canada's ill-advised Olympic snub of Crosby in late December (Ovechkin was selected to play for Russia at the Turin Games) and then Ovechkin's showing upon every sports channel highlight reel with his supine, over-the-shoulder,one-handed, goal of the year in Phoenix last Jan. 16, Crosbymania subsided. Too bad. Crosby, who bounced from his natural center position to the wing and back,was truly discovering his NHL identity only by then. If his adrenaline buzz and the media crowds dissipated, checking lines and No. 1 defense pairs still targeted him. "When you're in Game 50 or 60 and you're going up against top players and you're still finding a way to make things happen," Crosby says,"then you're doing something right." The last six weeks of the season were his Olympics, his Stanley Cup, on a last-place team. He scored 37 points in his final 22 games.
"Like all superstars, Gretzky and [Steve] Yzerman, Tiger Woods in golf, pressure excites Crosby," says Detroit Red Wings general manager Ken Holland, Crosby's G.M.at the 2006 world championships. "Sophomore jinx? No chance. He and Ovechkin will be in the top 10 in scoring, and one will probably lead the league. For the next decade one of them will be leading the league."
On a crisp September morning, on a public square one subway stop from Toronto's old Maple Leaf Gardens, a mob of 100 or so businessmen and students greeted Ovechkin as if he were the Muscovite next door. When asked why Canadians, whose identity as a hockey nation was molded by the 1972 Summit Series victory against the Soviet Union, particularly seem to adore him, Ovechkin grinned and said, "Maybe because I'm good." The occasion was the release of NHL 07, an EA Sports game that features Ovechkin on the cover, and when his virtual face appeared on a monitor, ready to take a penalty shot, Ovechkin studied the likeness and asked, "Why am I not smiling?"
Then, he laughed.
Ovechkin's good humor is accentuated by his willingness to banter in a language that he is still getting his lips around. He avoids translators--he'll play hockey on his terms, but is determined to talk it in yours--yet while discussing the Capitals' vacant captaincy with McPhee last month, Ovechkin suggested he was not ready for the job because of his imperfect English. While he sticks his Jordanesque tongue out on the ice, he sometimes trips over his tongue off it. Last year a fan asked for an autograph "to Phil." Certain of the name,the obliging Ovechkin signed, TO FILL.
"He so badly wants to be part of the North American experience, the NHL, that he embraced everything, including language," Halpern says. "He's bursting with excitement. When his teammates score, he gets even more excited than when he scores because he's dying for them to share the experience." If his on-ice mix of Pavel Bure's elusiveness and Jarome Iginla's power is complex, his joy is simple.
"It's a great time for me," Ovechkin says. "When people come up and say, 'Please sign[an autograph]' because they know you and love hockey, and you play in some great city where lots of people watch and scream and everybody has a great time, I feel energy. The energy comes to you. And you play the same way."
Not that playing for a rebuilding team in Washington, a mediocre hockey market, was without lessons. Unlike Crosby's tutorials, Ovechkin's typically occurred in the privacy of the dressing room, where a veteran would motion Ovechkin off the couch during pregame meetings. "There was only one couch in the lounge, for veterans only," Kolzig says, chuckling. "The thing with Ovie, he took criticism really well. He'd make the same [defensive] mistake over and over and Glen [Hanlon, the coach] would really let him have it, but he wouldn't sulk or take three or four games off. He'd apologize, and then go out and have a terrific game."
Ovechkin needed a little longer to adapt to NHL 07 than he did to the NHL in '05--06. He was 6 for 13 in shootouts on the ice but about 0 for 20 on the console that morning--until the virtual player he had selected deked and beat the goalie with a backhander. That virtual player, the one Ovechkin used to go five hole,wore a black number 87 Penguins jersey.