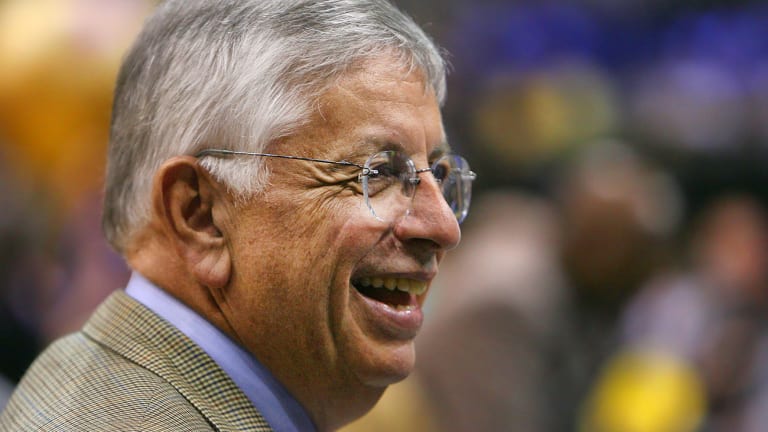 Publish date:
The World According to David Stern
This article originally appeared in the Nov. 6, 2006 issue of SPORTS ILLUSTRATED.
An SI writer was invited to join NBA commissioner David Stern's five-country, eight-game, seven-day tour of Europe last month, during which Stern schmoozed, cajoled, teased, challenged, lectured and charmed sponsors, corporate executives, players, coaches, NBA employees, journalists and fans. The writer also was the direct object of all the above verbs, especially teased.

"I saw you yawning just now," Stern said one day, "and I heard you snoring during the ride to the airport. Is this too much for you?"
"I heard you snoring too," the writer said.
"Yes, but I have an excuse," Stern answered. "Unlike you, I'm actually working."
DAWN, SOMEWHERE OVER RUSSIA. Cue a disembodied voice from the front of the private plane: "Harry (the Horse) Gallatin. Nat (Sweetwater) Clifton. Kenny Sears. Carl Braun."
The other four passengers begin to stir. What's he talking about?
"Connie Simmons. Ray Felix. Richie Guerin. Dick McGuire."
The voice is flat and nasal, a New York City voice. The names are of assorted New York Knicks from the 1950s, the Knicks of David Stern, son of a Manhattan deli owner, graduate of Columbia Law School and a man whose bust would appear on a Mount Rushmore of league commissioners, right there next to Kenesaw Mountain Landis and Pete Rozelle.
Stern offers his early-morning litany to rouse himself between yawns and stretches. In the course of 60 hours he has flown across the Atlantic, taken a dozen meetings, answered questions at a half-dozen press conferences, shaken a thousand hands, signed a hundred autographs, witnessed basketball games in Barcelona and Rome and pressed the flesh at two postgame receptions. He has slept for 90 minutes of this 4 1/2-hour flight from Rome to Moscow (which turns into 5 1/2 hours because of fog), stretched out on the front couch of the Gulfstream-4, his feet resting on a mound of magazines (Variety, Forbes, Sports Business Journal) and newspapers (International Herald-Tribune, The New York Times, The Wall Street Journal) that he has perused and gutted. "I'm an inveterate clipper,"he says, showing a binder groaning with paper. He'll snip anything that draws his interest, particularly stories about the environment and medical breakthroughs—along with, of course, pieces on sports and business.
But an hour and a half of shut-eye is enough. Maybe not for the other passengers, all of whom are younger than the 64-year-old Stern, but enough for the commissioner, who seems to draw life from the enervation of others. "He crushes us," says Andrew Messick, senior vice president of NBA International and two decades Stern's junior. "Just crushes us."
As his eyes adjust to the half-light, Stern turns on his BlackBerry. It brings bad news: an account of the arrest of Pacers swingman Stephen Jackson for firing a gun outside an Indianapolis strip club. (One week later Jackson would plead not guilty to charges of battery, disorderly conduct and felony criminal recklessness.) The commissioner shakes his head as he scrolls. "I wish we could legally ban players from carrying guns," he says. "But we can't." (On a conference call with journalists three weeks later Stern would issue a plea to players to leave their guns at home.)
Stern smiles as he reads an invitation from the Charlotte Bobcats to attend their first home game. "Guess I'll have to do the car wash," he says. Car wash is his term for a full day of activities: breakfast speech, lunch with owners, perhaps an afternoon sit-down with local movers and shakers, then the game. Immediately ahead, as the plane descends, lies the intimidating Moscow car wash, beginning at 10:30 a.m.: sponsor meetings, interviews, a photo shoot at Red Square, a wreath-laying at the grave of legendary Soviet coach Aleksandr Gomelsky, a game between the Los Angeles Clippers and CSKA Moscow and a reception at the home of U.S. ambassador William Burns—and that's all followed by a midnight flight to Paris.
But Stern is energized. He is eager to see his old friends in Russia, which he first visited as commissioner in 1988 (when the national anthem still mentioned Lenin), and he isn't even bothered when fog forces the plane to divert to an airport farther from downtown Moscow, complicating a schedule that already seemed impossible. Stern enjoys the thought that he will be taxed to the maximum and chuckles when he imagines his staff on the ground racing from Sheremetyevo Airport to pick him up at the more remote Domodedovo.
"We could just fly straight to Paris," says Messick, half joking.
Stern shakes his head and smiles. "No matter what," he says, "we are going to this freaking game."
The commissioner is in the middle of a 17,000-mile airborne whistle-stop tour that will enable him to monitor his league's latest ambitious international venture, officially called NBA Europe Live Presented by EA Sports. (In the NBA something is always presented by something.) Stern sent four of his teams (the Philadelphia 76ers, Phoenix Suns, San Antonio Spurs and Clippers) to hold a week of training camp in four cities (Barcelona; Treviso, Italy; Lyon, France; and Moscow, respectively) and play games in three others (Rome, Paris and Cologne, Germany). The teams and locales were carefully matched: The Sixers' Allen Iverson is extremely popular in Spain, where they apparently like antiestablishment figures; Suns coach Mike D'Antoni was a prominent player and coach in Italy; and Spurs guard Tony Parker is a Frenchman. As for the Clippers in Moscow, well, somebody had to go—it's a burgeoning market.
For someone who has been in the public eye for so long—he was named commissioner in 1984, 14 years before Major League Baseball's Bud Selig, 11 before the NHL's Gary Bettman and five before the NFL's Paul Tagliabue, who was recently succeeded by Roger Goodell—Stern has been remarkably successful in deflecting requests to participate in behind-the-scenes profiles. He has agreed to this one only after some negotiation and on the understanding that the NBA's international business will play a prominent role in the story. (Stern will no doubt think it's not prominent enough and will make his feelings known.) Over the course of the trip, pieces of his personal life slip out, though rarely does he offer them.
For example, Stern loved the musical Jersey Boys, the story of Frankie Valli and the Four Seasons. He thinks of himself as a cross between a Manhattanite (Stern's Delicatessen was in Chelsea) and a Jersey boy (he moved to Teaneck at age 12 and attended Rutgers). He was, he says, 114th in a class of 530 at Teaneck High; he still remembers the stats.
Unlike his close friend and former assistant general counsel Bettman—they talk every week—Stern is not a big hockey fan. He "sort of" follows the New York Mets, he says, because he and his sons, Andy and Eric, used to watch them together when the boys were growing up. (Andy, 40, is a managing director of an international real estate development company; Eric, 38, is senior counselor to the governor of Montana.) Stern occasionally takes in New York Yankees games with George Steinbrenner in the owner's box. "But if I'm going to watch anything besides the NBA, it's probably pro football," he says. "I'm a Giants fan."
In the past five years Stern has had a few arthroscopic knee surgeries and sometimes limps slightly. But he played recreational hoops as a youth and looks to be, and says he is, in excellent shape. He watches his diet and drinks alcohol sparingly, though on busy days he does ladle in the caffeine. He also has an incurable sweet tooth. (On the plane he tears into the disgusting-looking confection known as Swedish Fish.) He plays tennis regularly, often with his wife of 43 years, Dianne, a freelance writer. (They met through family friends in Teaneck and married during Stern's first year at Columbia Law School.) The two also enjoy taking long walks and hikes; on David's only real day off during the European tour, the couple legged it for hours through the streets of Paris.
Though Stern's inner compass in leading the NBA has been largely unerring, he has trouble finding his way back from somewhere if his wife is not along. As he enters hotels, for example, he invariably makes the wrong turn to get to the elevator, though he makes it decisively. "He has no sense of direction," says Dianne, "yet he always knows where he's going."
Had the client list of Proksauer Rose, the Manhattan firm at which Stern began working immediately after graduating from law school in 1966, not included the NBA, the commissioner believes he would have remained, quite happily, "an intense litigator," one active in the New York State Bar Association. Instead the young Stern was assigned to NBA matters and eventually left Proksauer Rose, in '78, to become the league's general counsel. He was named executive vice president in '80 and the league's fourth commissioner in '84, succeeding Larry O'Brien.
In the late 1980s and early '90s, Larry Bird, Magic Johnson and Michael Jordan helped Stern overcome the league's severe financial and image problems and usher in an era of unprecedented popularity. As they began to retire, there was talk that the commissioner would exit as well. But while Stern says he has had "myriad opportunities" to run companies and write his memoirs, he insists that he has never come close to leaving the hot seat.
"Sure, July Fourth comes and, man, you're really tired," he says. "But [in the NBA] there is always something to challenge you, always something to keep you young. I'm being completely honest when I say I'm not even thinking about retiring." The consensus among his employees is that he's telling the truth.
Outspoken though he often is, in public Stern stays away from politics. The wellspring of his power, after all, is the NBA owners, some of whom have blue-state views and some red-state. But in private the commissioner leans to the left. As he sits in the drab Domodedovo Airport lobby, waiting for his documents to be checked and his harried caravan of drivers to arrive, he sees Vice President Dick Cheney scowling on a Russian TV station. Stern lets out a hoot of derision.
"With our leadership," he says, "we are in as big a trouble in this country right now as I can ever remember." As he and Dianne make their way through the New York Times each morning, they swap sections, compare notes and generally commiserate about the Administration in Washington.
Over the past months the NBA drafted a mission statement of which Stern is exceedingly proud. It talks about values and social responsibility, and it pledges that NBA employees will "conduct ourselves in accordance with the highest standards of honesty, truthfulness, ethics and fair dealing. " Stern's most satisfying recent business relationship has been with Adidas, which also espouses a make-the-world-better philosophy.
Now, there is plenty of room for cynicism when bottom-liners start talking altruism. And the many NBA haters in the U.S. would suggest that players such as Stephen Jackson are living repudiations of the league's mission statement. But Stern holds that the document has had a "profound effect" on him and on those who work for him. He hardly gets through a day without mentioning the NBA's Basketball Without Borders program, which each summer sends dozens of players to conduct clinics in far-flung and often impoverished parts of the world, and he fumes when the league is criticized for too often airing its NBA Cares spots. "We're going to keep right on showing them," the commissioner say spugnaciously, "because social responsibility is extremely important to us."
It troubles him, then, that the league is increasingly doing business in countries with abhorrent or at least questionable government policies. Three days after Burns welcomes the NBA delegation to Spaso House following the Clippers' 94-75 loss to CSKA (formerly known as the Red Army team), the ambassador stands in the rain among other mourners at the funeral of Anna Politkovskaya, the 13th journalist killed since Russian president Vladimir Putin came to power in 2000. Politkovskaya, like the others, was critical of Putin's government. (Her killer or killers had not been apprehended at week's end.) Stern is intimately familiar with the details of the murder and decries it—suspecting, as many do, that government officials had a hand in it. Yet Russia, now fertile ground for capitalists, is a prime NBA business target. "We have to think about opening an office here," Stern says as he rides through the streets of Moscow with Rob Millman, an NBA International vice president.
China presents an even greater conflict for Stern because it has both colossal business potential and a terrible human rights record. The commissioner has traveled throughout the country, both for business and to satisfy his intellectual curiosity, and there is no doubt that China is critical to the global future of the NBA. Yet its repressive policies fly in the face of the league's mission statement.
"Believe me, the China situation bothers me," Stern says one day, traveling between Paris and Cologne. "And a voice at home [he means Dianne, who is more outspoken about politics than he is] reminds me about it all the time." He sighs heavily. "But at the end of the day I have a responsibility to my owners to make money," he says. "I can never forget that, no matter what my personal feelings might be." Stern doesn't expand on that thought, which is atypical; his mind is nothing if not lawyerly, able to slither around and through the most vexing questions. But the road to China is littered with philosophical land mines, and as the NBA snuggles up to Beijing, it will be interesting to see if Stern speaks out when he's troubled.
Closer to home lies a neon-lit dilemma. Years ago Stern turned up his nose at the mere mention of Las Vegas because he didn't want anyone connecting the NBA to gambling. He still doesn't. But times change. He okayed the 2007 All-Star Game to be played in Vegas and—lo and behold—the Las Vegas Convention and Visitors Authority is an official sponsor of the Europe Live tour. Which explains why the Honorable Oscar Goodman, who was a mob lawyer (his own description) before being elected mayor of Las Vegas, is a prominent figure on the tour, escorting two showgirls done up in blue and pink. Stern doesn't pal around with Hizzoner (who recently advocated cutting off the thumbs of graffiti artists who deface public property in Vegas), but he doesn't shun him either.
As one travels with Stern, it becomes hard not to compare him with another liberal and pragmatist. David Joel Stern is, indisputably, the William Jefferson Clinton of commissioners. They have met on several occasions, and Stern and his wife talk with admiration of Clinton's friendliness and his ability to expound on almost any subject. The commissioner is nowhere near as charismatic or as recognizable as the 42nd president, but he's a rock star compared with his peers: Bettman and Goodell, like Tagliabue, come across as well-dressed lawyers (which they are), and Selig is as beguiling as a small-town hardware salesman.
"Charisma is at some level the art of relating to people," says Don Luongo, a retired U.S. Secret Service agent who sometimes works as Stern's one-man security force, "and that's what the commissioner is all about." Luongo knows about charisma, having been assigned to both Clinton and Ronald Reagan, men he holds in high esteem for their ability to connect to the masses. "Plus, Mr. Stern's energy level is off the chart," says Luongo. "People feel that. I feel that. I feed off it."
At 5'9" Stern is not physically imposing, but he looks good. He has a full head of gray hair and wears expensive suits, tailored shirts and classy ties. (Purple is a favorite color.) His self-confidence is unwavering, as might be expected from a man who reportedly makes more than $10 million a year and has increased league revenues twelvefold. At every stop along the European trail he is asked to sign autographs by both young and old. He relishes the attention.
Like Clinton, Stern also relishes being the indefatigable iron man, the alpha male who outworks, outschmoozes and outlasts everyone else in the room. He could squeeze in a short nap at the Swissôtel in Moscow, but having found the downstairs coffee lacking, he suddenly claps his hands and, sounding like a high school kid organizing a beer party, says to a reporter and two NBA employees,"Hey, let's go to my room! I've got a great cappuccino machine!" And all adjourn there. Later, en route to the ambassador's house after the game, Stern dozes, openmouthed, but suddenly cuts into a conversation with a comment about Russian basketball history.
"My only explanation," whispers Messick from the seat behind the commissioner, "is that he hears when he sleeps."
Stern's itinerary in Europe has been worked out almost to the minute by his executive assistant, Sue-Ann Pisack, who goes through her day with a cellphone in her ear, a BlackBerry in her hand and anxiety in her chest. Before each meeting, gab session, dedication ceremony, press conference or reception, the commissioner is briefed by the p.r. person on-site, an NBA International staffer or perhaps Adam Silver, the deputy commissioner. They cover everything. "We don't suggest taking the lift at the arena," Sau Ching Cheong, a p.r. person from NBA China, tells Stern before he heads for the CSKA Universal Sports Complex in northern Moscow. (The elevator is at best cranky and at worst nonfunctional.) Stern listens while others talk, but more than likely he will follow his own script and instincts (though he doesn't take the lift).
He has been traveling abroad for so long that he knows not only the names of international basketball officials and TV executives, but also their kids' names. Nonetheless, Stern all but wins the day just by showing up. "Sitting down with him says everything about the commissioner and his organization," says Carlos Campos, an Adidas Spain exec who takes a meeting with Stern in Barcelona. "We have never even met [FIFA president] Sepp Blatter, far less had a meeting with him."
Stern's attention to detail is astonishing. As he greets Coca-Cola officials in Barcelona, his first question is, "How's Sprite Zero doing?" Perusing a notebook full of bar graphs and sales-figure charts during a meeting in Rome, he stops and points to one. "You left a percent sign out here," he says to Umberto Pieraccioni, Adidas Italy's managing director. Before the tour's final doubleheader, in Cologne on Oct. 11, the commissioner's eyes run over the seating chart. "How about if you move George Bodenheimer over here?" he says. The ABC Sports/ESPN honcho is duly moved. On planes and in cars Stern usually decides who sits where, calling for a reporter to sit near him on occasion and, on others, exiling the scribe to a different seat or different vehicle, depending on whether or not he feels like answering questions.
Even when he is in the mood he doesn't speak—he filibusters, uninterrupted, with Mohammed-on-the-mountain hauteur. In Stern's press conferences there is very little Q and much A. But he does not string together nonsense in Rumsfeldian fashion. (Man, would he hate being labeled Rumsfeldian.) He can be repetitive and evasive, but there is no underground collection of Stern verbal miscues. His hands move as he talks, suggesting a conductor in mid-symphony, but he will often stop and stare into space as he searches for the precise word or phrase before resuming, as Messick says, "in complete sentences." There are times when he seems to be finished but then adds his pet phrase "And by the way ..." For Stern, by the way is not an introduction to a throwaway line; it's a signal to keep listening.
He doesn't just seize and hold the floor with underlings and overmatched reporters. When former NBA center Vlade Divac arrives for a powwow in Barcelona to discuss the possibility of Real Madrid, the Spanish League team for which Divac is now an executive, joining the NBA, the commissioner disarms him immediately. "Vlade, why don't you flop for us," Stern says, alluding to Divac's well-deserved reputation for faking fouls. Divac laughs and feigns falling. But in the course of the 45-minute meeting Stern makes it clear that Real Madrid should get back in line and that the NBA will decide who joins the NBA, thank you very much. Divac gets in about, oh, a dozen words.
At a Barcelona sit-down with Jonathan Ford, the London-based sports sponsorship manager for Coca-Cola, Stern was, to an extent, the party with hat in hand: The NBA wants more European sponsorship dollars from Coke, which was a major sponsor of the World Cup, and Ford is reluctant. During the meeting Stern preaches about the NBA's international appeal ("We are serious about becoming the most respected sports league in the world"), plays the underdog card ("We know we have our work cut out for us here with you guys") and gently teases Ford, an unabashed soccer fan, about the racial makeup of Britain's national team. "It's the one place where your colonial policies might've had some latter-day benefits," Stern jokes.
Ford may not be convinced about the future relationship between his company and the NBA, but he is convinced about Stern. "Just meeting with him was fantastic," says Ford. "He is one of the forefathers of sports marketing."
There are stories that Stern can be a fire-breathing dragon. Ask for confirmation, and some NBA staffers will roll their eyes in affirmation. "In the early days," remembers former NBA executive Rick Welts, who came to the league in 1982, "there would invariably be a point during the day when he would absolutely destroy you. You'd feel as tall as an ant over something you mishandled." But Welts, now the president of the Suns, says the commissioner always made amends. "Your phone would ring at 10 o'clock at night, and by the time you were finished talking to him, you were ready to charge into the office to do battle on behalf of the NBA," he says. "He has a miraculous ability to create what seems to be a unique relationship with everyone who works for him."
The consensus is that Stern has mellowed, but his demanding nature is still there for all to see. "Hey, Peter," Stern says to Peter Fink, a member of his events team, the night after the game in Barcelona, "the NBA Cares spot [that was played on the scoreboard] had really low volume. What happened?" He doesn't bark, but it's clear that he wants an explanation of perhaps the only thing that went wrong all night. "Technical glitch," says Fink.
As Stern reclines his seat en route to Moscow, he pulls out his BlackBerry. "This is perfect," he says. "I can read the reports." (All NBA department heads are required to file them weekly.)
A weary Messick, who has been working 20-hour days for the past month, turns around. "I didn't do mine yet," he says.
"That's O.K.," says the commissioner, though his tone suggests, I wish you had.
When he meets with staffers, Stern's favorite sign-off line—he uses it a half-dozen times during his week in Europe—is some variation of this: "Congratulations on a great job. And, as usual in the NBA, your reward for working hard is more hard work."
It would be a vast understatement to say that Stern's staff is alert when gathered around him. His minions, pens poised for note taking, do attentiveness the way Nancy Reagan did adoration. Their efficiency is alarming. When a journalist travels with the commissioner, someone greets him on the tarmac, reaches around his neck to remove the credential from the Barcelona games and replaces it with the one for Rome. (In the real world a reporter could expire from thirst before an official would deign to point out the location of the press gate.) "David is extraordinarily demanding," says Messick, "because he understands how an event is supposed to be run. There's no part of the process he hasn't been through, so he gets frustrated when he doesn't see the results he's looking for."
But Stern can also be disarmingly informal. Even if this is studied, it works. Almost everyone calls him David. (When Stern is not around, a simple He is an adequate replacement. What did He think? Is He coming to the meeting?) The commissioner remembers the names of his employees. He swears strategically. The NBA hires an extraordinary number of eager beavers, and Stern is able to reach across the generation gap—partly because they're focused on pleasing him, of course, but partly because he can extemporize about the latest Xbox, the success of Grey's Anatomy or the stylistic differences between Adidas's Stella and Y3 models. That stuff doesn't slide easily out of the mouth of Bud Selig.
On the afternoon of Stern's final day on tour, in Cologne, about two dozen of the NBA's young international staffers gather in a hotel conference room at his request. Sitting comfortably at the head of the table, the commissioner asks each of them to state his or her name and length of employment. After Tom Marchesi, a young NBA International p.r. man, finishes, Stern nods approvingly. "I've been reading your stuff on BlackBerry," he says. You don't think young Marchesi would run through a wall for this guy?
When Stern himself finishes, everyone in the room applauds.
On his way out, he passes a reporter. "You look a little tired," Stern says. "Are you going to make it till the end of the day?"
And the NBA's alpha male marches on.
---
The Business of Basketball
No U.S. professional league has a greater global presence than the NBA, thanks to a forward-thinking commissioner, an aggressive and comprehensive marketing strategy, and a game that translates easily.
The bottom line for the NBA's international business is the bottom line: It's very lucrative. International revenues are about $150 million--or 5% of the league's total--and they come from three sources: foreign TV contracts (NBA games and other programming are shown in 215 countries, in at least 43 languages, through deals with 164 TV partners), merchandising (one quarter of the sales of jerseys and other apparel takes place outside the U.S.) and licensing agreements (of which there are 18, with companies such as Adidas, Coca-Cola, McDonald's and Nike). 
Overseas audiences want to see the product—hence the NBA's Europe Live tour and plans for a return trip in 2007. Still, even as European players stream into the NBA (there are more than 50 on opening night rosters), the possibility of an NBA Europe division, which commissioner David Stern began musing about in the early '90s, has grown more distant. That frustrates some in the Old World. "We always hear, 'We want to do it, but we need a little more study,'" says Begońa Liso, head of sports acquisition for Sogecable, a network in Spain. "Then four more years go by, and it's, 'Let's give it a little more study.' We do wonder if it will ever happen."
Probably not. As much as Europe embraces the NBA, the league's biggest opportunity for growth is in China. Europe's entrenched basketball structure—in-country pro leagues, amateur teams and club teams, national teams, the Euroleague—and its decaying arenas work against an NBA partnership. China, by contrast, is a blank slate. A five- or six-team NBA China division is already on the radar screen for Stern, who thinks the Chinese government would build in six months the necessary half-dozen facilities.
NBA business is already booming in the Far East. The league has offices in Beijing, Shanghai, Hong Kong and Tokyo—by contrast, the Paris office handles all of Europe, the Middle East and Africa—and Stern expects the number of employees in China to double, to 100, by the 2008 Olympics. There are plans to send an NBA Developmental League team to China this season to play exhibition games against the national team in preparation for '08.
NBA merchandise is already sold at more than 20,000 retail outlets in China. The NBA has marketing partnerships with six major companies in the country: Amway, China Mobile, Li-Ning (a sporting goods company), Nokia, Red Bull and Tsinghua TongFang (a high-tech firm). To feed NBA games and programming to 30 million fans per week in China, the league has a dizzying number (83) of TV contracts.
China represents a perfect storm of conditions to foster growth: a country with an expanding capitalist economy, an international icon (7'6" Yao Ming of the Houston Rockets) and a coming mega-event (the Olympics). Hoops executives in Europe clamoring for an NBA division should realize that Stern is behaving like an ambivalent exotic dancer: He's showing a lot of leg, but he's not going to take it all off.