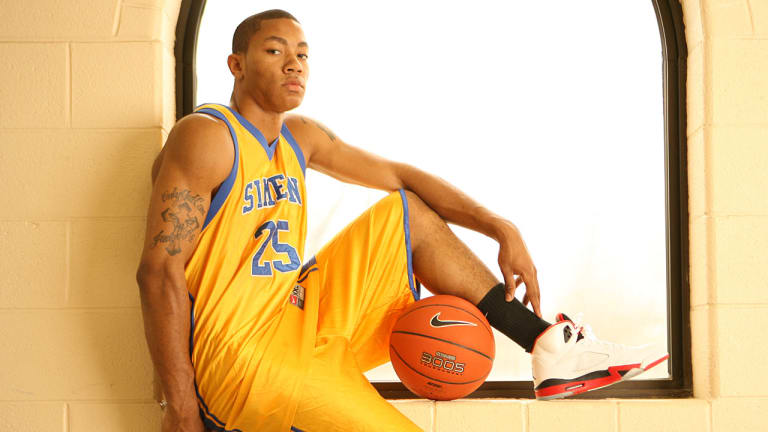 The Well-Guarded Guard
It took three very tough and determined brothers to foster the talents of a young Derrick Rose and protect him from a miasma of Chicago gangs, dealers, hangers-on and, perhaps scariest of all, agents
Chicago has a history of devouring its young basketball stars. Ben Wilson was the No.1-ranked high school senior in the country in 1984—"Magic Johnson, but with a jump shot," said former NBA standout Nick Anderson—but just before his final season Wilson was shot and killed while on his school lunch break. Ronnie Fields was a victim by different means. Illinois's Mr. Basketball in 1996 was a year behind Kevin Garnett at Farragut Academy and with his 40-inch vertical leap seemed destined to meet Garnett in the NBA. But street agents and other poachers moved in, and he made one bad decision after another until his career finally dwindled away in basketball's minor leagues.

Derrick Rose, who has heard the cautionary tales of Wilson, Fields and some of Chicago's other lost hoops prodigies, could easily have fallen too. Derrick was brought up in a single-parent home in one of the worst neighborhoods in Chicago, and agents and their middlemen were chasing him before he was in high school. Yet Derrick is thriving, a top five player in the class of 2007, a 6'3" guard who might be the best player to come out of Chicago in a decade.
He is the leader of the Simeon Career Academy basketball team, which is a defending state champion and seventh in SI's preseason national rankings (page 67). So why did Derrick blossom when so many others withered?
The answer was standing in the back of the room a few weeks ago when Derrick announced his decision to play next season for the University of Memphis. Derrick's older brothers—Dwayne, Reggie and Allan—built a wall around him the day they realized he had a special talent. They took control of every facet of his life, monitoring his friends, his schoolwork, even his coaches, in a manner that some find extreme. They have been accused of taking over the basketball program at Simeon and, even worse, of "pimping" him for their own gain. Their response to such criticism is a shrug. They know that when your brother is a basketball prodigy on Chicago's South Side, you can't trust the village to raise him. Not when the village is a big part of the problem. "People haven't liked some of what we've done," says Reggie, "but when it's your brother, you don't care what other people think."
The Englewood section of Chicago has a violent past and a violent present. In the 19th century it was home to serial killer H.H. Holmes, whose exploits were chronicled in Erik Larson's best seller The Devil in the White City. In 1998 the neighborhood made national headlines when two seven- and eight-year-old boys were falsely charged with murdering an 11-year-old girl. In 2003, after a seven-year-old girl was shot, a teacher at Englewood High had his students write letters to a Chicago Sun-Times columnist. "I have seen people get shot, stabbed and beat to death right before my eyes," wrote a student named Patrice. Another, Shanika, wrote, "The bad boys and girls are taking over."
A single mother raising children in Englewood has to contend with gangs, gutted schools and overwhelming poverty. Yet Brenda Rose reared her first three sons there without serious incident. All attended college, and each holds a steady job. Dwayne, 34, works at a shipping company; Reggie, 31, is a machine operator for Pepsi; Allan, 26, delivers computers. "My mom would walk down the street and drag us home if she heard we were getting into trouble," Dwayne says. "Even the drug dealers, when they saw her coming, would stop dealing and tell her where we were."
Yet Brenda's wisest bit of parenting might have come later, when strangers began calling the house, expressing interest in her youngest son, Derrick. When Brenda looked at her son, she saw a child, but those who knew basketball saw a rare package of abilities. With a basketball in his hands, Derrick could be explosive and efficient at the same time, blowing past defenders but never forcing the action. "His main asset is his strength," says Chris Monter, an NB Adraft analyst. "He has the quickness and the leaping ability you want in a guard, but he really knows how to overpower other guards. A lot of people think he is a one and done player." In other words, he'll be in the NBA following his freshman year of college ball.
After Simeon's Class AA state finals victory last season, people marveled at how Derrick dominated the game—which he did—but few realized that he had scored only nine points. "He doesn't have to score to take over a game," Reggie says.
At a Las Vegas tournament in July, Derrick had 21 points, 14 rebounds and 12 assists in a matchup with O.J. Mayo, widely considered the best guard in the class of '07. But that wasn't Derrick's most impressive performance of the summer. A month earlier, after he'd injured his right (shooting) hand in a fall, he played a game using only his left and still scored 12 points.
Derrick was skilled and tough and, from about eighth grade, a marked kid. Brenda saw the onslaught coming and knew what to do. "His brothers knew basketball, I didn't," she says. "I told them to handle it."
Dwayne, Reggie and Allan quickly formed a fatherly triune that, in their words, "smothered him." One of them always picked him up and dropped him off at school. At least one attended his practices and games. If he needed new shoes or clothes or if he acted out and needed to be punished, more often than not one of the brothers handled it. "We'd do good cop, bad cop on him all the time," Reggie says. They monitored the people he came into contact with, those who called the house or stopped him in the neighborhood for a chat. If he went somewhere when none of the brothers were free, "we'd have someone we trusted go and spy on him," Reggie says.
Early on they found it fairly easy to keep people away. But "then he got to high school, and everyone started to notice him," Dwayne says. "That's when things really picked up."
There are three murals in the Farragut Academy gym. Two are of Garnett; the other depicts Ronnie Fields soaring for a dunk: RONNIE FIELDS AIR SHOW, 1992-96, it reads,and then his accomplishments are listed, including 372 dunks.
There are many theories for why Fields never made it, but the soundest one is this: His family provided him with little protection—his mother was 15 when he was born—so street agents and others took over. "They look for kids who don't have a support system, and then they come heavy," William Nelson, Fields's coach at Farragut, says of the poachers.
Imagine then the trepidation the brothers felt when some of the same people who had preyed on Fields cast their covetous gazes on Derrick after he led Simeon's freshman team to a city championship. Almost overnight the AAU team that Derrick had played on since the sixth grade took on a new look. "All of these people got put on staff, and I couldn't understand where they came from," Reggie says.
His response was to create his own AAU team and take nine of Derrick's 14 AAU teammates with him. That angered some parents and coaches the brothers had known for years, but Reggie believes it was the right move. "People were just beginning to really look at how they could make money off Derrick," he says. "If we hadn't kept those people away, he could have ended up like Ronnie Fields."
The better Derrick played, the more people pushed to get close to him. Once, Derrick's cellphone number got out, and in a 24-hour period he received nearly 40 text messages and more than 60 calls from strangers. "There was a message from this [AAU] coach from California trying to get me to play for him," Derrick recalls, "and someone from down south saying he'd help my family move so I could go to school there."
Derrick got a new number, and the brothers quickly instituted a policy: No one but family could get through to Derrick without going through Reggie. "When people asked Derrick for his number, he would just give them mine," Reggie says."Then they'd call and I'd ask, 'So, what do you want with Derrick?'"The brothers got so good at "smothering" Derrick that agents accused them of exploiting him. "They'd say we were looking to make money off our brother," Reggie recalls. "I told them, 'No one is going to pimp Derrick. But if anybody is going to pimp him, it's going to be his family.'"
Fans of various colleges waited in front of Reggie's house, hoping for the chance to urge him to have Derrick pick their school. Big-name agents regularly called Reggie to say they were flying into Chicago and were willing to meet with him. Random men would approach Dwayne and ask him, "What kind of car does Derrick drive?" A question that was far from innocent, implying that there were people willing to give Derrick and his brothers gifts that would be anything but free.
"It's been crazy," Dwayne says, "but it's been crazy for us, not for Derrick."
Ben Wilson's death shook Chicago, and the Reverend Jesse Jackson and Mayor Harold Washington used Wilson (and the two teenagers who killed him) to show that the city had failed its children. "We have not heard their screams in the night," Washington said. He promised change, but have the screams stopped?
"In many ways it's worse for kids now," says Tamara Sterling, Simeon's principal."The violence is the same, but kids now deal with issues that didn't exist before, like homelessness. We have kids who live on the streets, who don't have food."
Dwayne says,"When we were looking at high schools for Derrick, we looked at how many gang areas he'd have to go through to get to school. We looked at the neighborhoods around the school. We talked about how many friends he would have there who would look out for him." That they chose Simeon—the same school Ben Wilson had attended—wasn't a surprise. It has long been a bastion for Chicago's children. Industrial buildings around the school provide a buffer from the rough neighborhoods nearby. And an unwritten policy ensures that only in rare cases will children from nearby homes be admitted. "That way if something happens at school, a kid can't just call his brother or some friends who are a few blocks away," says Robert Smith, the basketball coach and dean of discipline for boys.
Kids feel safe at Simeon, especially since 2003, when the students moved into a new facility as polished as any suburban school. Last year more than 5,000 kids from all over the city applied for the 400 spots in the freshman class. Simeon's 94% attendance rate is 15 points higher than the average for Chicago public high schools. "Our kids have pride," says Sterling. "It's one reason you will rarely see a fight at Simeon."
Dwayne, Reggie and Allan trust Simeon to keep Derrick safe, but in basketball matters they still demand a lot of control. People pushed for Derrick to play varsity as a freshman, but the brothers insisted he play with his class. "We didn't want to single him out from the other freshmen," Reggie says. Derrick was also not allowed to speak to the media until the end of last season. "Kids start reading about themselves too much and get an ego," Reggie explains. The brothers let it be known that they weren't happy that longtime coach Bob Hambric insisted on controlling the college recruitment of his players. For instance, he wouldn't let players commit to a school until after their senior season. In a convenient stroke of fortune, Hambric retired after the 2003-04 season and was replaced by Smith, who is close to the Roses. "I don't know that Derrick would still be at Simeon if that hadn't happened," Reggie says of the coaching change. Ten of Simeon's 14 varsity players (including Nick Anderson's son) will play for Reggie in the summer, so the team seems as much his as Smith's.
Which is fine with Smith, who says, "The reality is that when you have a player like Derrick, you have to work with his family."
Working with the Roses has it benefits. When the shoe companies vied to get Derrick to their June camps, Reggie and Derrick used that interest as leverage to get five of Derrick's teammates invited as well. "That caused a lot of controversy. People were saying I got money to send Derrick to [Reebok's] ABCD camp," Reggie says. "What I got was more exposure for his friends." And when Derrick announced his decision to attend Memphis, he held a joint press conference with two teammates signing with Wisconsin-Milwaukee. "They deserve a press conference too," Derrick says.
"I think Simeon has been good for Derrick, and Derrick has been good for Simeon," says Sterling.
From the brothers' perspective, it has helped that Simeon preaches the cautionary tale of Ben Wilson to every student. Derrick was told the story as a freshman and was asked to draw a lesson from it. What he came up with ("Don't get in no trouble") was generic and the kind of answer most students give. But since he wears Wilson's number 25 jersey and plays in a gym named after the slain star—and now that he finds himself at the same moment in his career that Wilson was when he was murdered—his answer is much more knowing. "When you are that good, people come after you," Derrick says. "To deal with all that, you need help."