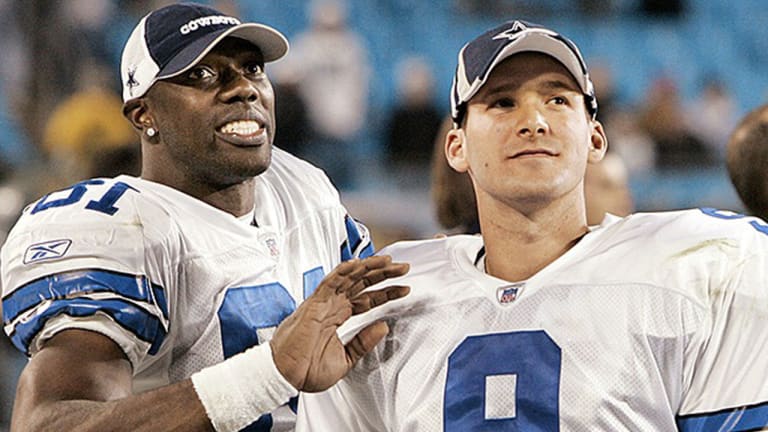 Silver Star
In two months, Cowboys quarterback Tony Romo has gone from a buried backup to the NFL's best-rated passer and its brightest new light
Everything turned on just three words. An old quarterback was cast aside, and a young quarterback was offered his place. A fabled franchise was reinvigorated and its silver-haired future Hall of Fame coach was transformed from listless and sad to vibrant and feisty. Talk of rebuilding morphed suddenly into talk of winning the Super Bowl. Three words. "Romo, you're in!" shouted Dallas Cowboys quarterbacks coach Chris Palmer on the night of Monday, Oct. 23, in the team's Texas Stadium locker room at half-time of the Cowboys' game against the New York Giants.
"Not very romantic, I guess," says Tony Romo of Palmer's order, delivered on behalf of coach Bill Parcells only when the Cowboys had reached the brink of desperation, and worse, absurdity. They trailed the Giants 12–7. A loss would drop them to 3–3, and soon thereafter the Cowboys' 2006 season would be remembered as the year in which Terrell Owens did or did not try to kill himself and Parcells ended his coaching career with a whimper, a beaten bit player in an embarrassing dark comedy.
Romo, 26, had not taken a meaningful snap since the Cowboys signed him as an un drafted free agent from Division I-AA Eastern Illinois in 2003 and buried him on the depth chart,behind the likes of Quincy Carter, Chad Hutchinson and Clint Stoerner. And he did not lead the Cowboys to a comeback win over the Giants that night. He threw three second-half interceptions that played prominently in a 36–22 loss.
Since that defeat, however, the Cowboys have won five of six games, and with Sunday's 23–20 victory over the Giants in New Jersey they are 8–4 and hold a two-game lead in the NFC East. Romo's production has been stunning: He has completed 67.8% of his passes and leads the NFL with a 102.4 passer rating—just ahead of Peyton Manning. The Giants hammered Romo with blitzes and tested him with deftly disguised Cover Twos, yet at the end of an often frustrating afternoon (20 for 34, 257 yards, no touchdowns, two interceptions and a fumble), Romo figured prominently in the game's two biggest plays.
First, after the Giants had tied the game at 20 with 1:12 to play, Romo completed a 42-yard pass on a first-down seam route by tight end Jason Witten, instantly putting the Giants in peril. It was a veteran's completion. The play called for Romo to look first for either wideout Patrick Crayton on an underneath cross from the left or Owens on a skinny post from the right. "There are about five options on the play," said Romo after the game, "and Witten is probably Number 4, or even 5." On the snap, Romo felt pressure from his right and reverse-pivoted to his left, away from it. As he came out of the roll, he saw that Witten had beaten linebacker Antonio Pierce up field, quickly squared his shoulders--no easy task--and hit Witten with a long, crisp spiral before defensive back Will Demps could close on Witten from the outside. "I couldn't lead Jason, because the corner would have gotten there," Romo said. "The ball had to have something on it." It was the perfect marriage of thought and execution.
Four plays later Dallas lined up for a potential game-winning 46-yard field goal by their new kicker, Martin Gramatica. The Giants called timeout to unnerve the emotional Gramatica, who was signed only five days earlier. When the play clock was started, Romo, the holder, walked up behind his offensive linemen and shouted at them to keep their heads. "I told them not to move if the Giants start calling fake timeouts," Romo said. "Because you can't call two in a row, but they might try to get us to false start, and we didn't need to lose five more yards."
Gramatica nailed the kick. Romo's legend grew. "This kid is for real," says Cowboys veteran guard Marco Rivera. "He can take charge in the huddle. He can lead the team. He can play."
It is romantic,after all. Follow the making of a legend, in six acts.
ACT I: The Kid
The third child,and first son, born to Ramiro and Joan (née Jakubowski) Romo came into the world in 1980, while Ramiro was stationed at a U.S. naval base in San Diego."My family is from Mexico," says Ramiro. "Tony's mom's family is part Polish, part German. Tony is Heinz 57."
When Tony was in elementary school, his mother worked the counter at the Brown's Lake Golf Course in Burlington, Wis., where Tony was raised. She would bring her son to work with her every day at 6 a.m., and Tony would scoot around the course before school, playing random holes. (It is no accident that Romo is now a scratch golfer.) The bus would come to the course to pick him up, and when it arrived, Joan would summon him with the public address system usually reserved for calling golfers to the 1st tee: "Tony, the bus is here."
Golf and basketball were his passions, but in the fall of Tony's freshman year at Burlington High he went out for soccer to keep in shape. Finding freshman soccer too low-key, he instead joined the football team, sat on the bench as a quarterback and safety that year and missed his entire sophomore season with injuries.
Romo—the best athlete in town—willed himself into the starting quarterback's job as a junior and threw for 308 yards in his first start. A year later Burlington went 3--6,and Romo got few calls from recruiters. "You know those guys who threw a nice, tight spiral in high school?" says Romo. "That wasn't me." In truth, he was better at basketball (a 24-point average as a senior), but as a 6'2" scoring guard he surmised that he had a greater upside in football and accepted a partial scholarship to Division I-AA Eastern Illinois in Charleston, Ill., four hours from home.
ACT II: The Perfectionist
College football was a shock. Even mid-level Division I-AA football. "He was raw," says Roy Wittke, Romo's coach at Eastern Illinois. "I don't want to paint a negative picture of Tony, but when he got to Eastern, he didn't know how to practice or how to compete in practice to make himself better." Tom Brewer, one of Romo's best friends at Eastern Illinois and now his roommate in Dallas, says, "The coaches at Eastern were incredibly tough on Tony. They didn't think he could play, period."
In pushing Romo to work harder, Eastern's coaches helped create a monster. From late in his freshman year, Romo began staying on the field after every practice to throw. He threw to roommates late at night in lit parking lots all over the campus and to his father on the vacant lot next to their house in Burlington when home on vacation. "I threw the ball so much that there was no way not to improve," says Romo. "I threw six days a week, lots of hours a day, the whole year. I never stopped."
He would tape games and watch NFL quarterbacks to emulate their mechanics. How do Brett Favre and John Elway get so much velocity on the ball? How does Peyton Manning play-fake like that? Why is Troy Aikman's footwork so perfect? "We'd be watching Monday Night Football and Tony would see something and we'd have to run outside and play catch under the streetlights," says Shawn Finnin, another college buddy. "That was six, seven, eight years ago, and my hands still hurt."
Romo ascended to the starting quarterback job at Eastern as a third-year sophomore, but the work didn't stop. "In Tony's junior year we played Eastern Kentucky on the road, and Tony and the offense did not play well," says Wittke. "So we're on the bus home and we stop at a rest area. What does Tony do? He gets a football out and starts throwing in the rest area parking lot."
In three seasons Romo accumulated 85 touchdown passes and 8,212 passing yards. He won the Walter Payton Award, the I-AA Heisman, as a senior, yet went undrafted. "We had reports on him because he was very productive in college," says Tampa Bay Buccaneers pro personnel director Mark Dominik. "His mechanics were a little scary. He didn't have a great release. He was on our radar screen, but like everyone else we took him off the board."
Romo had no illusions. He'd gone to the NFL scouting combine in the winter of 2003. Carson Palmer was there. And Byron Leftwich. And Kyle Boller. "In my heart of hearts," says Romo, "I knew those guys threw the ball better than me."
Cowboys assistant Sean Payton (a former Eastern Illinois QB himself, and now the coach of the resurgent Saints) called Romo after the draft, asking him to sign as a free agent. He put Parcells and team owner Jerry Jones on the phone. Romo had other offers but signed with Dallas.
ACT III: The Long Shot
Carter, Hutchinson and Stoerner were ahead of Romo in training camp in 2003, and Romo barely beat out Stoerner for the No. 3 spot. None of those others are in the league now. In '04 Parcells brought back Carter and signed veteran Vinny Testaverde, while Jones picked up former Michigan phenom Drew Henson, who'd spent three years in baseball. "Quincy, the returning starter; Vinny, the veteran; and Henson, the future," recites Romo. "It looked pretty bleak for me." Quickly it looked better. Parcells cut Carter early in training camp, and Romo beat out Henson for the backup job.
Last year Parcells brought in Drew Bledsoe from Buffalo, and Romo remained at No. 2. He also kept working relentlessly, as he had in college. After practice he would stash five or six footballs in his locker and then return after dinner to throw hundreds of passes into the netting at the Cowboys' practice bubble. He would simulate awkward circumstances: running left and right, falling backward, high and low arm angles as if being rushed. "Anybody can throw against air, on rhythm," says Romo. "But how often do you do that in a game?"
Even while buried on the depth chart, Romo felt he was progressing every day and never doubted where his career was headed. "I'm not just going to play," he'd tell Brewer. "I'm going to be in the Hall of Fame. I don't care who's ahead of me." Witten remembers seeing Romo on a distant practice field, working to perfect his Manning-styled play-fake. "This was when he had no chance of playing," says Witten. "And he's doing it over and over again, by himself."
ACT IV: The Whipping Boy
Parcells does not so much coach quarterbacks as tolerate them. A still-developing Romo was the next in line.
In his first NFL appearance, a preseason game on Aug. 9, 2003, at Arizona, Romo tried an improvised shuffle pass in the red zone, and it was intercepted. Parcells met him halfway between the huddle and sideline. "Hey, Pancho Villa," Parcells shouted, referring to the daring Mexican revolutionary. "What was that?"
By his second season Romo's scattershot passing had earned him an upgrade to Wild Thing in Parcells's lexicon. "I was still in my trial-and-error phase," says Romo. "I was working on things at the facility, alone, but I needed to try some of them when I was throwing in practice. But Bill takes practice to another level, and it's important. One day in my second year I threw high over somebody because I was messing with my mechanics. Bill yells at me, 'You're too inaccurate to play in this league!' I was thinking, I could have just made a safe throw and gotten the ball there with less velocity and a less tight spiral, but then would I be able to do it in a game when conditions aren't perfect and people are trying to hit me? But you don't say that to Bill. He doesn't want to hear excuses. You just keep working."
Romo's search for the perfect spiral ended scarcely a year ago, when he finally became convinced he could pick up a ball anytime, anywhere, and throw it accurately. Only then did he stop ceaselessly tinkering.
And now that Romo is the starter, the highest-rated quarterback in the league ... Parcells has ratcheted up the abuse.
"You're not Johnny Unitas yet, Romo!"
"You're not Joe Montana!"
"Oh, I get it, you're a celebrity quarterback now."
Says Romo, "Ninety-five percent of it is just needling, and it's hilarious. I get along with Bill because we're both competitive. We both want the same thing."
ACT V: The Leader
Romo's first start came on a Sunday night, Oct. 29, against the Panthers, six days after his relief appearance against the Giants. For five days he'd prepared for Carolina while stewing about his three-pick effort against New York. "He was totally distraught for two or three days," says Brewer. "He'd been thinking, If I just get a chance, I'll totally kill it, and now he's embarrassed. He was saying, Man, I cannot fail, because I can't handle it. I'm embarrassed to show my face outside, because I let everybody down."
Carolina went up 14–0 late in the first quarter. Witten approached Romo on the sideline, where the rising panic was palpable. The season was on the line. "Listen, man, we've got to have this game," Witten told his quarterback. "You need to relax, be the leader, play within the system, because we're 3–3 and we cannot lose here."
Romo cut him off. "Jason, I've got everything under control," he said, seething. "We'll be fine." The Cowboys went on to win 35–14, Romo finishing 24 of 36 for 270 yards. After throwing an interception in the first quarter against the Panthers, he tossed only one in the ensuing 19 quarters.
Romo also moves, something Bledsoe didn't do. "He has the ability to buy time and let his receivers get open," says Cardinals cornerback Eric Green. And Romo spreads the ball more generously than Bledsoe among those receivers: 60% of Bledsoe's completions were to Terry Glenn and Owens, but they've gotten fewer than half of Romo's. Despite numerous drops (including two against the Giants), Owens has caught nearly twice as many balls from Romo as he had from Bledsoe, and he's predictably pleased. "What can you not like about Tony?" Owens says. "Student of the game, great athlete, and every receiver out there knows he might get the ball on every play."
ACT VI: The Franchise
Romo's celebrity grows daily in Cowboys-crazy Dallas. The team's postseason life will last as long as he can stay grounded.
On Nov. 16, three days before the Cowboys handed Indianapolis and Peyton Manning their first defeat of the season, Romo met a reporter for dinner at a modest buffet-style restaurant in a bustling North Dallas shopping-mall food court. Romo chowed down his bacon omelet ("I'm a breakfast guy," he said) with soup and fruit, while scores of small children and their families skated on the indoor ice rink nearby. One diner stopped by to shake Romo's hand and wish him good luck, and a woman asked to have her picture taken with the quarterback. That's it. Just two requests.
Two weeks later—after wins over the Colts and, on Thanksgiving Day, the Bucs—Romo attended a Mavericks game, where the crowd of 20,000 chanted his name. "It got a little crazy there," Romo said early in the week leading to Sunday's Giants game. "That was the first time I felt like it was really getting different."
He has handled the transformation gracefully. When rumors were rampant in late November linking Romo to singer Jessica Simpson, both Fox's Joe Buck and the estimable Bob Costas on NBC stooped to question him about the relationship. Both times Romo answered disarmingly. He remains tight with a group of more than a dozen friends from Eastern Illinois who keep him grounded. And Romo observes his own rise with a look of bemusement. "He's not caught up in any of this," says Witten. "He just wants to win."
On Sunday evening Romo scrambled to stuff his gear into a backpack in the visitor's locker room. Less than two months ago he was a ghost who could slip away unnoticed, the second-stringer whose voice was unheard. Now his space is cluttered with visitors and media, the trappings of sudden stardom. He is the last to leave the room, moving briskly through the bowels of the stadium into the Jersey darkness, his suit jacket flapping in the night air. The team bus awaits, idling. Because now the Cowboys ride Romo.