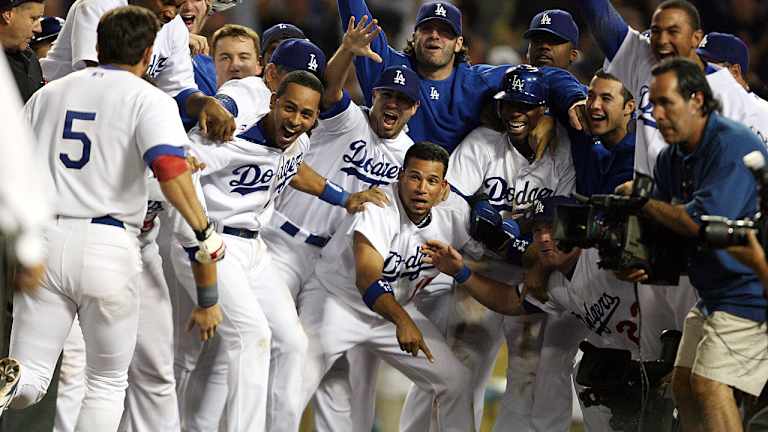 'Every Dodger Is Hitting a Home Run'
It was true on Sept. 18, when four consecutive ninth-inning dingers pulled L.A. into a tie with San Diego. Then came Nomar's game-winner
It was about half past 10 on a warm September evening in Los Angeles when the faithless,literally turning their backs on their Dodgers, lit up the rolling hills of Chavez Ravine with the international symbol of baseball surrender: a cortege of red taillights, solemnly snaking into the dark of night while the home team played on. It was a Monday evening, which meant the fast approaching morning of school or work took priority, especially with L.A. trailing San Diego 9--5 and down to its last three outs.

The trouble with that thinking—mentally dividing four runs by three outs and coming up with zero chance—is an ignorance of one of the preternatural beauties of baseball. Unlike the finite quantity of time in most sports,sometimes parsed to tenths of seconds, outs are elastic. They don't abide by the comeback math of other sports.

What happened next on that Sept. 18 at Dodger Stadium will forever be invoked as a reason not only to go to a baseball game but also to remain until the final out.
Ask just about anyone who was there that night: from Padres general manager Kevin Towers, who left his box seat for the clubhouse as the bottom of the ninth began with victory apparently in hand, to the fan who, at the exact same time, was walking toward his car in the centerfield parking lot when a baseball landed in front of him, stopping him in his tracks. The shot, a home run hit by Jeff Kent, might well have come from Fort Sumter for all the mayhem it begat.
Beginning with that blast, the Dodgers, who hit the second-fewest homers in the National League in 2006, tied the game by hitting four straight home runs on four consecutive swings in a span of seven pitches. "You don't see that happen in batting practice," Los Angeles G.M. Ned Colletti says. Indeed, only three teams ever hit four straight homers (the 1961 Braves, '63 Indians and '64 Twins) but never to wipe out a deficit in any inning, much less the ninth.
The atmosphere at Dodger Stadium that night was electric from the start. The joint was packed with 55,831 fans, the most ever for a Monday night there, some lured by giveaway fleece blankets but most by an NL West race in which San Diego clung to a half-game lead over L.A. with 13 to play.
The first eight innings were charged enough. Padres starter Jake Peavy and Dodgers first base coach Mariano Duncan got into a shouting match, San Diego blew a 4-0 lead, Padres reliever Cla Meredith escaped a bases-loaded, no-out mess in the sixth with only four pitches, and L.A.'s Nomar Garciaparra whiffed to end the eighth with runners at second and third, Dodgers down 6--5. After San Diego added three runs in the ninth, the necklace of red taillights beyond centerfield quickly lengthened.
The 9--5 lead also prompted then Padres manager Bruce Bochy to order closer Trevor Hoffman to stop warming up. He instead brought in Jon Adkins. "I was doing everything I could not to use Trevor," Bochy says. "He had thrown the day before and had a little soreness in his shoulder." Adkins, who had allowed one home run in 51 2/3 innings, threw six pitches. Kent ripped the second, a fastball, and J.D. Drew hit the sixth, another fastball, for a homer to right center.
"By the time I got [to the clubhouse]," Towers recalls, "it was 9-7. Unbelievable.So I'm thinking, We're O.K. We've got Hoffy."
Hoffman had allowed two home runs all year and was three saves shy of the alltime career record. Towers, because of a superstition, does not watch Hoffman pitch. Hefinds bunkers under stadiums in which he cannot hear the crowd or see a TV,waiting for what he hopes is the sound of his happy team clattering back after a win.
Meanwhile, out on Stadium Way, the red taillights had turned into white head lamps. People were swinging U-turns and driving to a baseball game at 10:30 at night, work and school be damned.
Hoffman's first pitch to Russell Martin was a fastball. Martin walloped it into the leftfield stands. The roar reached all the way into a visiting clubhouse office, where a concerned Towers turned the TV to the game. "I saw the score change to 9-8 and one of their players circling the bases," Towers says. "I thought, We're still O.K."
With the Dodgers down 9-8, Marlon Anderson, already with four hits, stepped to the plate. Bochy grumbled in mock humor, "I hope we try something other than a fastball here." But Hoffman threw another fastball. Anderson smacked it into the rightfield seats to tie the game. "It's got to be only 10 seconds after the last one, and I can hear all the pounding and yelling going on again,"Towers says. "I'm thinking, What? A single? Maybe a double? I turn the channel. You've got to be kidding me!"
Dodger Stadium was refilling, and the fans were going berserk, a reaction that echoed through cyberspace. One blogger, following the game on mlb.com, reported with gleeful sarcasm, "GameDay seems to be broke. It keeps on saying every Dodger hitter is hitting a home run."
The Dodgers stretched the bounds of believability still further in the 10th, after the Padres had taken a 10-9 lead in the top of the inning. Journeyman righthander Rudy Seanez walked the first hitter, Kenny Lofton, then fell behind Garciaparra, 3 and 1. Not wanting to walk the tying run into scoring position, Seanez aimed for the fat of the strike zone. The pitch? A fastball.
Garciaparra hammered it so hard that before he even dropped his bat he punched the air with his right fist in celebration. Bochy immediately turned for the clubhouse, not bothering to watch the home run—L.A.'s fifth in a span of 11 swings against three pitchers—clear the leftfield wall for an 11--10 Dodgers win.
When he got to the clubhouse, Bochy was alarmed to see an ashen Towers. "You look like your dog just died," the manager said. "The last thing these players need is to see you looking like that right now." Towers knew Bochy was right and did the best he could to muster some cool. The ever smooth Hoffman immediately detached himself from the horror and found the right note, telling reporters, "That's why you come. You never know what you're going to see."
In the other clubhouse the Dodgers were childish in their euphoria. "The most celebration you'll ever see short of winning a playoff spot or series,"Colletti says.
Garciaparra hit his home run at 2:05 a.m. Eastern time, with most of the country asleep. It didn't change the course of the season. Both teams finished atop the NL West at 88-74 and, thanks to the wild card, both made the playoffs. Yet the game was one of the most powerful reminders this side of October of why baseball gives the most breadth to possibility.
PREDICTIONS 2007
The Red Sox will sign Roger Clemens. The contract will pay Clemens (left) $12 million to join a six-man rotation anchored by Daisuke Matsuzaka, and he'll sign it on June 1, just before a home game against the Yankees. Boston will also agree to retire the Rocket's number 21 at the end of the season. Clemens will then announce (again) that he's retiring.
Frank Thomas, Jim Thome, Manny Ramirez and Alex Rodriguez will hit their 500th home runs. That will make nine players to join the 500 Home Run Club in nine years. Before 1998 only 15 players had reached 500.
Tom Glavine will win his 300th game in late August.That will prompt the media to ask whether Glavine (right) is the last of the 300-game winners, just as they did when Clemens won his 300th in 2003 and when Greg Maddux won his 300th in '04, and as they will again in '08 when Randy Johnson wins his 300th (with the Diamondbacks).
Barry Bonds will pass Hank Aaron as the alltime homerun leader with number 756 on Sept. 7 in San Francisco against the Dodgers. After hitting number 755 in Washington on Sept. 1, Bonds will sit out four consecutive road games because of what the Giants call "tightness in his hamstring," thus avoiding the embarrassment of being booed upon breaking the record. The Giants, mired in last place, will hold a 20-minute ceremony immediately after his milestone homer, but neither Aaron nor commissioner BudSelig will appear.
The Mitchell Report will name names ... but not new ones. On Feb. 12, when Major League Baseball releases the summary of the 12-month investigation into the Steroid Era by former senator George Mitchell (left), it will reveal—surprise!—prevalent use of performance-enhancing drugsthroughout the game from 1988 through 2003. The only users named will be Jose Canseco, Ken Caminiti, Rafael Palmeiro, Jason Grimsley and Barry Bonds, who won't be disciplined because his documented usage occurred before penalties were in place. No club official interviewed in the report will confirm having first-hand knowledge of steroid use. Privately, owners will be steamed at the tens of millions of dollars spent by Mitchell and his squadron of lawyers on a glorified fact-checking mission.
Ryan Howard will blast 66 home runs, with Albert Pujols right behind at 62. After a reprise of the Great Home Run Race of 1998—only this time it's for real (or so we like to think)—Howard (left) willbe generally, if unofficially, treated as the new Home Run King.
The Cubs will win the National League Central. But just before the first pitch of the Division Series, 18-game winner Mark Prior burns three fingers on his pitching hand when he moves a space heater in the Chicago dugout. The Dodgers sweep the series.

THE BEST...
Birthday bash
On June 3 DH Travis Hafner (right) hit the 275th grand slam in franchise history but the first by an Indian on his birthday. Hafner, who turned 29 that day, hit six slams during the season, tying the major league record set by Don Mattingly in 1987.
Use of juice
Guillermo Mota, traded by Cleveland on Aug. 20 with a 6.21 ERA, suddenly regained his fastball with the Mets and had a 1.00 ERA in 25 regular-season and playoff appearances. Four days after the end of the World Series he was suspended for 50 games for steroid use. (New York re-signed him anyway.)
Meltdown
After not getting a call at second base in a June game, Asheville Tourists manager Joe Mikulik went bonkers. The skipper of the Rockies' Class A affiliate slid into the base, pulled the bag out of the ground and threw it, covered home plate with dirt, poured water over the plate, spiked the water bottle, threw bats from the dugout onto the field, then barricaded the door to the umpires' room with water coolers, a chair and a batting-practice screen. "I don't think I ever lost total control," Mikulik said, "though it may have looked like it."
Tearjerker
Nationals manager Frank Robinson (left) broke down crying in his postgame press conference on May 25 when explaining why he had removed catcher Matt LeCroy in the middle of the seventh inning. The Astros had stolen seven bases in seven tries.
Hidden gem
Florida selected Dan Uggla in the Rule V draft in December 2005 after he was left unprotected by Arizona. Uggla, 26, who had never hit more than 23 home runs in any of his five minor league seasons, set a major league record for homers by a rookie second baseman, belting 27.
Christy Mathewson impersonation
It's a tie between Jason Schmidt, who fanned 16 Marlins on June 6 to match Mathewson's Giants record, and the Tigers' Kenny Rogers, who equaled Matty's mark of three straight scoreless starts in a single postseason. Both records had stood for more than 100 years.
Exit strategy
On Aug. 6 Marlins skipper Joe Girardi told his boss, owner Jeffrey Loria, to zip it after Loria yelled at an umpire from his seat at Dolphins Stadium. After the season Loria told Girardi, the soon-to-be-named Manager of the Year, to find another job.
Pitching line (box score division)
In only his 13th big league start, Marlins righthander Anibal Sanchez (right)threw the first no-hitter in 28 months, ending the longest such drought in major league history.
Pitching line (non-box score division)
Oft-injured veteran Reds lefthander Kent Mercker, as he considered retirement: "I won't be on the DL next year, unless they have a DL at the Muirfield Village Country Club."
Advice to a rookie
Then Phillies catcher Sal Fasano to Cole Hamels before the lefty's May debut: "The field isn't any different here than at Triple A. Go one pitch at a time, and keep all the clichés straight."