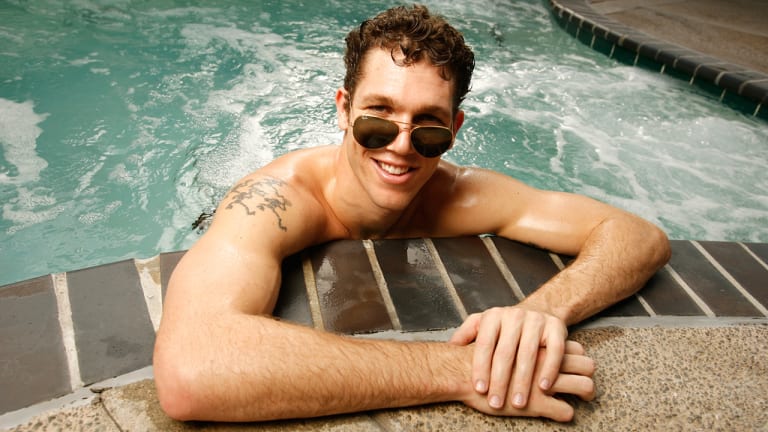 SI Players: Luke Walton discusses tattoos, Gilbert Arenas and life in L.A.
LAKERS FORWARD
On life in L.A.:
I'm a low-key guy. I live in Manhattan Beach, and I don't get to Hollywood often. I grew up in San Diego, and Manhattan Beach is more like San Diego, as opposed to the rest of L.A. I'm friends with two guys from That '70s Show—Wil [Wilmer Valderrama] and Danny [Masterson]. They're just funny. They're totally cool guys. Those are really the only Hollywood-type of people I know.
On his shoulder tattoo:
It's four of the Grateful Dead dancing skeletons, but instead of having top hats and canes they're spinning basketballs. They represent me and my three brothers [Adam, Nathan and Chris]. I got it my sophomore year at Arizona. My dad [Hall of Famer Bill] never said anything to me about it, but he's not a fan of tattoos, not at all.
On slimming down at 6'8":
I wanted to play at a lighter weight, so five or six days a week in the off-season I'd run. Monday, Wednesday and Friday I'd get up and go for two or three miles at around 7:30. I'd put on my iPod, put it on shuffle and go. When I got done I was exhausted. Tuesdays and Thursdays I'd go to the track and do a sprint workout. Last year I was playing around 235 and 240; this year I'm between 225 and 230. I feel quicker on my first step, and my knees have felt more healthy.
On college teammate Gilbert Arenas:
He's a funny guy, a prankster. Once he snuck into our room and stole the lightbulbs. We thought the electricity was out and we called the maintenance guy. He comes in and he's like, You guys have no lightbulbs. Then Gilbert came running down the hallway laughing.
On mom Susie:
She's 5'8" and she tells everyone we got our athleticism from her. She's 55 and plays volleyball once a week and was in a basketball league until a few years ago. She works out and swims every morning for a couple hours. My mom [divorced from Bill in '89] was the rock for all of us.
On appearing last year on The Young and the Restless:
It was a blast, but I got my fair share of heckling. My teammates started exaggerating, saying I had my shirt off and wind blowing in my hair. I played myself, and I was supposed to be buddies with one of the show's stars. We played one-on-one, and my line was like, "Your mind's definitely not on the game!" He was daydreaming about his wife that he was having problems with. I'd do it again, but I don't think I'd want it as a career.
WALTON, 26, IS AVERAGING CAREER-HIGHS OF 12.3 POINTS AND 4.2 ASSISTS FOR THE 24-13 LAKERS
PHOTO
PHOTOGRAPH
BY PETER READ
MILLER; PHOTOJOHN W. MCDONOUGH (WALTON ACTION)