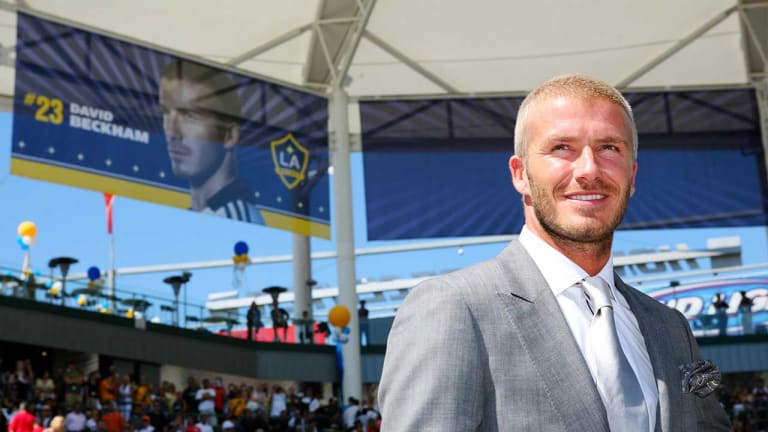 Vend It Like Beckham
If David Beckham can't sell soccer to Americans, no one can. But what kind of player will the MLS get for $250 million?
THE MAN who brought David Beckham to Los Angeles leaned back in his corner office across from the Staples Center last Friday and exhaled with satisfaction. On a sunny, smog-free afternoon, the marquee outside the arena featured the planet's most famous Englishman kneeling in full goal-celebration mode below the still-startling news: BECKHAM COMES TO AMERICA. "We sold 5,000 season tickets in less than 48 hours," said Tim Leiweke, president of the Anschutz Entertainment Group, which owns Major League Soccer's Los Angeles Galaxy. "And I'm like, I can't believe what just happened here."
A day earlier the Galaxy had lured the 31-year-old Beckham away from Real Madrid with the most lucrative contract in the history of American soccer, transforming the formerly cost-conscious MLS forever. And with it, of course, came more spin than any of Beckham's signature bending free kicks. What would it mean for the league, which has added new owners, teams and stadiums in recent years but has yet to crack the mainstream? "I'm not saying me coming to the States is going to make soccer the biggest sport in America," said Becks. "But ... if I didn't believe that I could make a difference and take soccer to a different level, then I wouldn't be doing this."
Is Beckham's contract really worth its widely reported $250 million? Well, no: His guaranteed salary with the Galaxy is around $50 million over the five-year deal—hardly chump change but still less than that of many U.S. sports stars. Nor will it bankrupt the league or the team, since the Galaxy's owner, Phil Anschutz, has a net worth of $7.8 billion. Becks will also earn 40% to 50% of Galaxy jersey sales and an undisclosed share of ticket revenue, but as long as he doesn't suffer a major injury or turn out to be a total bust, he'll likely be worth the investment.
Granted, Beckham isn't the same player who finished second in the FIFA World Player of the Year voting in 1999 and 2001 with Manchester United. Yet while he has been dropped from England's national team and used sparingly this season by Real Madrid, he's no stiff—his World Cup performance last summer wasn't nearly as dreary as the cynical Fleet Street media would have you believe—and his still-dangerous free kicks, pinpoint passing and blue-collar effort should make him one of the top MLS players.
Leiweke laid the groundwork for the Beckham deal in 2003 by helping establish Beckham's soccer academies in London and Los Angeles. But there was no guarantee Beckham would sign with the Galaxy once they began negotiations on Jan. 1. Real Madrid had a two-year contract on the table, and other European clubs were in pursuit. Leiweke signed the Galaxy's end of the contract late on the night of Jan. 10 at a hotel courtesy-phone counter near the baggage claim at LAX airport. But when he woke up at 4 a.m., he still didn't have confirmation from Madrid—and AEG had a 6 a.m. deadline to pull the full-page Beckham ads it had bought for the next day's New York Times or face losing $100,000.
A 20-minute extension from the Old Grey Lady was all the serendipity needed. At 6:10 a.m.,just after Beckham had notified Madrid of his departure in a meeting, the call came from his agents: "Run the ads."
"We've got a deal?" Leiweke asked.
"We've got a deal."
MLS's challenge now is to leverage Beckham's arrival into something bigger. Nearly lost in the hype over Beckham's signing has been MLS's new investment in youth-development teams for all its clubs and the news last week that 23-year-old New England Revolution midfielder Clint Dempsey, the reigning U.S. player of the year, had been sold to Fulham of the English Premier League for an MLS-record $4 million. While Dempsey's move was further proof that MLS can produce American players for the global stage—something the defunct NASL never did—it was also a reminder that young Yanks of his caliber can (and should) go abroad until the overall quality of MLS begins to approach the Premier League.
How does Beckham fit into that equation? After all, one player can't elevate the skill level of an entire league. But the dreamer who's bringing him to Hollywood argues that Beckham—who could make his L.A. debut as soon as April—can have a paradigm-shifting effect on MLS. "One of the things David can do is change the economics of the game," Leiweke says. "If we suddenly get to a point where [MLS] clubs are making twice the revenue, then we can spend more money on keeping players here. That may be David's greatest gift when all is said and done."
A grand experiment, and a serious attempt to make soccer matter, is about to commence.