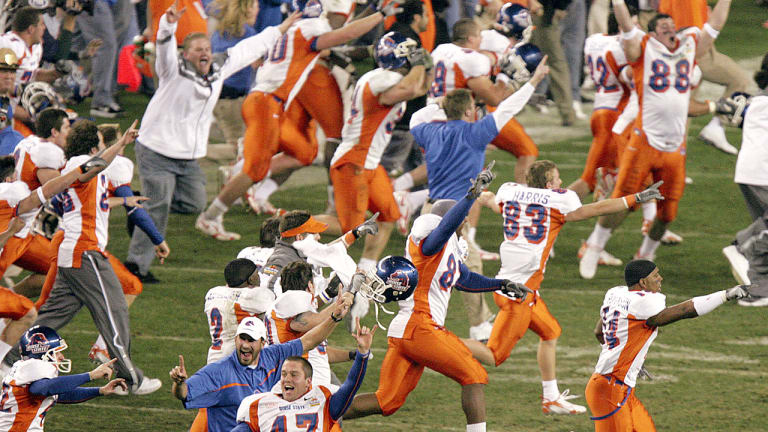 How Did They Pull That Off?
An inside look at the three trickplays Boise State ran to perfection in itsFiesta Bowl upset, a finish so spectacular that even the losers knew they'd been part of something special
Just because they're partial to blue turf and trick plays doesn't mean the Boise State Broncos always fly in the face of convention. Two weeks and a day after accepting a very public marriage proposal from the team's star running back, Ian Johnson, the head cheerleader was asked if she intended to take his name.
"What would you do?" replied the comely Chrissy Popadics.
You may recall the sight of Johnson on bended knee in the moments after the Fiesta Bowl on Jan. 1, stunning and delighting not just Popadics but also a national TV audience convinced that the spectacle it had just witnessed could not possibly contain another dramatic turn; could not pack—unless your team was Oklahoma—another iota of joy.
Eighteen hours after Boise State's sublime 43-42 overtime victory over the favored Sooners, Johnson and his fiancée found themselves on a flight from Phoenix to Newark, courtesy of Good Morning America, on which they appeared the following morning. They were recognized wherever they went. "We were walking around Times Square," Popadics recalls, "and people were asking to have their pictures taken with us."
A New Jersey native who moved to Boise when she was nine, Popadics had longed to visit the Garden State during the Christmas season, to be with extended family she hadn't seen in years. "Then, in the snap of a finger, we were there," she marvels. "It was so surreal, it went by in such a blur, I catch myself thinking, Did that really happen?"
Take a number, Chrissy.
Weary of hearing how they were out of their league in a BCS bowl game, the Broncos mugged the Sooners the moment the Big 12 champions stepped out of the tunnel. Boise State led 14-0 early, 21-10 at the half and 28-10 with 5:16 left in the third quarter. Then an Oklahoma punt took a crazy bounce, caroming off the calf of a Bronco and turning the tide. Twenty-five unanswered points later, the Sooners led 35-28. Facing a fourth-and-18 at midfield with 18 seconds left, Boise State quarterback Jared Zabransky looked to the sideline, where his backup,Taylor Tharp, pantomimed juggling-the signal for a play the Broncos call Circus.
Thus began the most outrageous, implausible conclusion to a college football game since Cal's kickoff-return team lateraled its way through the Stanford band 24 years ago. In truth Boise's win eclipsed even that piece of last-second magic. Circus, after all, was but the first of three acts in an absurdist play.
The game was manythings to many people. It helped the Broncos strike a blow for mid-majors everywhere, and for the league they've owned for the last five seasons, the wild and woolly Western Athletic Conference. It served as a godsend for advocates of a playoff system. How many such upsets have gone unrealized, they ask, because the system has excluded worthy teams from non-BCS conferences? What might have happened if the Broncos had been given a crack at Florida?
To Boise State's Chris Petersen, recently named the Paul "Bear" Bryant College Coach of the Year, it is, above all else, ironic. "It's interesting that everybody's talking about our trick plays," says Petersen, who after five seasons as the Broncos' offensive coordinator, went 13-0 in his first year as head coach. "Because our whole mission around here is to be a tough, hard-nosed, blue-collar outfit."
Some of that toughness springs from resentment. "As good a place as this is," says Petersen, motioning out his office window, to the blue turf of Bronco Stadium and the Rocky Mountain foothills beyond, "we get a lot of kids who believe they should be playing for the Pittsburgh Steelers, and they want to prove it to the world. We like that mentality."
Lords of the WAC, the Broncos turned into Team Ugly Betty the moment they arrived in Glendale. At Boise's first press conference, recalls Johnson, a reporter thrust a mike in his face and said, "We asked Adrian Peterson what he knew about Ian Johnson, and he said, 'Ian who?'" How do you feel about that?"
Johnson, whose 24 touchdowns this season led the nation, responded tactfully ("Maybe he's nota huge sports fan"). But for him and his teammates, the cataloging of slights had begun. Two weeks after the game, they ticked off the sins of the Sooners, who on at least two occasions mistakenly called the WAC—gasp!—the MAC. "Walking around the mall when we first got there," recalls Ryan Clady, the Broncos' starting left tackle, "they were kind of looking down on us." While Clady, a 6'6", 319-pound sophomore, spoke figuratively, the Boise players' indignation was real. SI.com's Arash Markazi was given behind-the-scenes access to the Broncos all week, and chronicled this scene in Boise State's locker room in the moments before the game:
"Take those f------ chips on your shoulder when you walk out there tonight," commanded Jeff Choate, who coaches running backs and special teams.
"Everybody doubted us," shouted Zabransky. "No one gives us any respect. We're going to take it tonight!"
They did take it. They took this game with chutzpah and execution—but only after Zabransky damn near gave it away.
The Broncos seemed destined to lose the Fiesta Bowl two ways: gradually, then suddenly. One play after Oklahoma had tied the score at 28-all, Zabransky was picked off by cornerback Marcus Walker, who returned the ball 33 yards for a touchdown. So intent had Zabransky been on looking off safety Nic Harris—"he'd been reading my eyes all night"—that he failed to notice that Walker had stopped backpedaling, correctly guessing the quarterback's intentions. Walker's pick-six gave his team its first lead of the game, while Boise fans experienced flashbacks to Sept. 3, 2005.
That was the day the Broncos, ranked 18th and in search of respect, ventured between the privet hedges at Georgia's Sanford Stadium, where they were spanked for their presumption. Zabransky was awful—he had six first-half turnovers in a 48-13loss—and never fully regained his swagger the rest of the season. To get his mojo back, this son of an Oregon potato farmer began seeing a sports psychologist. He learned to meditate, to "clear away negative thoughts"and "to stay in a positive mind frame."
That's hard to do when you've seemingly just thrown away the biggest game of your career with one bad decision. "He was pretty down," Tharp recalls of Zabransky,"thinking about how he was going to feel, being responsible [for the loss to the Sooners]. When he saw he still had some time, he kind of changed."
"Sometime" amounted to 54 seconds—all that remained on the clock after Quinton Jones returned the ensuing kickoff to the Boise State 22. Stepping up in the pocket on first down, Z—as he is identified by the tattoo on his right biceps—completed a 36-yard pass to tight end Derek Schouman, a senior from Eagle, Idaho, who, like more than a few Broncos, was playing the best game of his career.
Looping inside on the next play, Oklahoma defensive end Larry Birdine hurdled Johnson's block, sacking Zabransky for an eight-yard loss. Two incomplete passes left Boise State in a fourth-and-18, 50 yards from the end zone. That's when Tharp began juggling those imaginary balls. No one in the stands at University of Phoenix Stadium knew it, but the Circus was in town.
How much confidence did the Broncos have in Circus? The question was posed last week to seven players sitting around a table at Boise's Smoky Mountain Pizza and Pasta. They responded with uproarious laughter.
"To be honest," said reserve quarterback Bush Hamdan, "we run it once a week. On Friday. During the walk-through. It's like a basketball team practicing a half-court shot. It's a screw-around play."
Circus calls for three receivers to line up to the right, one of whom is speedy senior Jerard Rabb. A fourth—Drisan James, who'd already caught a pair of touchdown passes against the Sooners—is split to the left. He runs a 15-yard square-in and looks for the pass. After making the catch, he turns upfield for a step or two before pivoting and pitching the ball to Rabb, who by this time should be crossing the field behind him, going in the opposite direction. The play is harder to execute than it sounds.
One of the reasons the play seldom works in practice, it turns out, is that Drisan and Rabb tend to go all Meadowlark Lemon. "Drisan will try to flip the ball behind his back," says Hamdan. "When Rabb gets it, he'll go with a through-the-legs pitch to Ian."
Oh, yes—Johnsonand Zabransky are charged with pursuing the play, in case more laterals become necessary.
Against Oklahoma, they weren't. That had everything to do with James's gifts as a thespian. He caught Z's pass three yards shy of the first down, tucked the ball and took a step upfield. Five Sooners converged, then gouged out chunks of the turf trying to change direction as Rabb took James's perfect pitch going the other way.
"When Jerard sees all that green in front of him," says offensive coordinator Bryan Harsin, "his body language is like, Holy crap! Then he finds another gear." Oklahoma corner Lendy Holmes was closing, but Rabb dived into the end zone with seven seconds left.
"I can't remember who we stole it from," says Petersen of Circus, "but we've had it for three years." He tweaked it last season. In the old version Raab would take the pitch while running toward the three-receiver side. "I remember looking at it and saying, 'There are too many people over here,' says Petersen. "Everybody was like, Hey, whatever. If we have to use this, we're sunk anyway."
Harsin, meanwhile, raves about the players' execution. "You might expect some panic, some guys freaking out, running the route five yards short," he says. "But the pocket was firm, the throw was on the money. Drisan's depth was perfect. He makes the catch, takes a couple of steps upfield, which pulls the corner and the backside safety down. And his pitch hits Jerard in the bellybutton."
Congratulated on the composure he showed under intense pressure, James shrugs it off. "To be honest," he says, "I didn't realize it was fourth down."
There was some thought, even then, of ending the game on the next play. Petersen decided to kick the point and take his chances in overtime. "I felt like we had the momentum back," he explains. "I wanted to get into overtime and see what we could do. Then we won the coin toss, so I'm thinking, O.K., this thing's going our way."
Not exactly. Oklahoma's first play in the extra session proved to be Peterson's final carry as a Sooner. The NFL-bound junior bounced a stretch play to the outside, ran through two tackles like a man pushing through a turnstile and scored on a 25-yard run. To that point the Boise State defense had stood toe-to-toe with Oklahoma, forcing four turnovers and holding Peterson to 52 yards rushing. Marty Tadman, a 5'11", 182-pound, prodigiously tattooed safety—a guy who looks like he should be dispensing espresso shots and attitude at a coffee bar near you—had picked off two passes, returning one for a touchdown. But now the Broncos were running on fumes. "Our D was gassed," says senior linebacker Korey Hall, the WAC defensive player of the year.
By scoring with such ease, Peterson made Petersen's life less complicated. "I decided then and there that if we scored again, we were going for two," the coach says.
Easier said than done. The Broncos needed seven plays to grind out the same 25 yards Peterson devoured in five seconds. The key players were a pair of undersized receivers.
Schouman, you've met. Similar in appearance to a lumberjack, the soft-spoken, four-year starter (who also married a Boise State cheerleader) is smart and versatile. While his coaches rave about his blocking, the 6'2", 233-pound fullback-tight end hybrid is also a reliable receiver. If he weren't, Harsin wouldn't have called his number three times in overtime. Three plays after "Shoe" moved the chains with a 10-yard reception, Johnson fumbled on the five-yard line. Officials ruled that his knee was down, and while the play was being reviewed, Zabransky and Petersen had a bit of a tiff on the sideline.
Facing fourth-and-two from the five, Petersen wanted to run a halfback pass. Can you blame Z for raising hell? On what might have been his final play as a collegian, he would not handle the ball. Rather, he would serve as a decoy, motioning away from the play, and the game would be put in the hands of a 5'9" utility player who had not thrown a pass all season.
It seemed like avast amount of trust to put in Vinny Perretta, a running back and wide receiver who didn't even rate a scholarship when he came out of La Costa Canyon High in Encinitas, Calif. (Perretta earned one before his redshirt-freshman season in '05.) But Perretta is a quintessential Bronco: tough, smart and still angry that he had been so lightly regarded.
There's another thing: He confuses defenses. Because he lines up as both a receiver and a running back, says Petersen, "They're looking at him going, What is this guy? He creates tremendous personnel problems."
And he can act. On Shop to Bunch Right, Q-Out, 18 Crack Halfback Pass, Perretta takes a direct snap and sweeps right—action identical to a running play Boise used all season. Against the Sooners, he tucked the ball, put his head down and ...lifted it back up, cocking his arm while looking toward the back of the end zone.
Key to the success of the play, says Harsin, was how well everyone, Perretta included, sold the run. "The way they fired out, their body language as they attacked the line of scrimmage—it pulled those linebackers and safeties up."
As he made a show of trying to get a piece of Sooners linebacker Rufus Alexander, the Big 12 defensive player of the year, Schouman said with his body language, Oh, well. I guess that's why I'm at Boise State and you're at Oklahoma. Then he planted hard with his left foot, cutting toward the back of the end zone. Perretta—still sporting his receiving gloves, by the way—had to loft the ball high enough to get it over middle linebacker Zach Latimer, who was only a half step behind Shoe.
The pass was perfect: a firm spiral Schouman snatched before Latimer wiped him out, to no avail.
The Broncos had practiced the play throughout their bowl prep, "so I was kind of expecting it," says Perretta, grinning at the memory 15 days later. "But at the same time, I was a little surprised they called it when they did. I was thinking, This is going to be really good, or really bad."
Petersen wasn't saving the coolest, deadliest trick in his playbook for last. It just worked out that way. Play-calling at Boise is more democratic than at most other programs. All three of the backup quarterbacks wear headphones and are free to make suggestions. "The whole fourth quarter," says Tharp, "we kept agitating for Statue." The Broncos were going to run it with 5:35 left, but Oklahoma called timeout and Harsin went to another play.
The Statue of Liberty is a hoary sleight-of-hand in which the quarterback fakes a pass, then hands off to a running back. The Boise version features a funky twist, the brainchild of freshman quarterback Nick Lomax (yes, former NFL signal-caller Neil is his dad). During an idle moment in practice this season—such moments are plentiful, Lomax explains, for a fourth-string QB—"this idea popped into my head that we should run this play a different way. You make the same throwing motion, but all the while the ball's in your left hand. I thought it would be even more confusing to defenses."
Harsin remembers that day. "I look over at the quarterbacks, and they're sticking the ball behind their backs with their left hand. I just said, 'You gotta be kidding me.' But they were all fired up on it, like it was the coolest thing ever." He relented. Lomax's empty-handed fake carried the day.
When Zabransky called Statue Left in the huddle, wideout Legedu Naanee declared, "We just won this game."
Dispensing with the usual array of shifts and motions, Zabransky broke the huddle intending to use a hurry-up cadence, hoping to catch Oklahoma flat-footed. But the Sooners called time. Petersen never considered changing the play. "We're givin' it to Ian," he points out. "We're running over Schouman and Clady, two of our best blockers. And there's great deception."
The Broncos had run Statue once earlier in the season. It went for 10 yards against Idaho. Alexander remembers seeing the play during film study. "We watched it five or six times," he says. "We just said, 'Man, that's nice.' Everyone is so patient—it's almost like it happens in slow motion. But when it's happening on the field...."
On the field Zabransky's throw-fake froze the defense for a full one-Mississippi. During this time, Johnson was loitering behind the quarterback, who then snuck him the ball with his left hand. Left guard Tad Miller stalemated defensive tackle Carl Pendleton. Schouman put Birdine on the ground with a cut block. Clady looped wide, hinged to his right and took Holmes out of the play. Johnson ran out the side of the end zone and toward the 56 members of his family who were now going bonkers in the nearby stands.
What of the losers? Sooners coach Bob Stoops forbade his players from hanging their heads. They'd overcome serial adversity to win their conference title, and no one could take that away from them. Rather than marinate in misery, he celebrated what he called "one of the best games ever played."
On the quiet ride to the team hotel, Alexander came to terms with the defeat. "I'm sitting on that bus," he recalls, "and my [college] career is over. We'd lost to a team everybody said we were supposed to beat.
"But then I started thinking about it. This was a great game—a game people will be talking about 30 years from now. I wish it had gone the other way, but you know something? It was an honor just to play in that game."