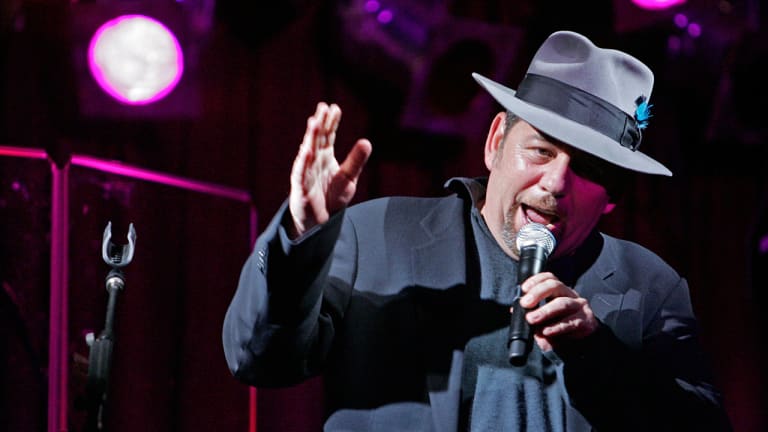 Lord Jim
For the NBA's most confounding franchise, the spotlight is on the tempestuous, blues-strumming owner--cable-television tycoon Jim Dolan--and a much maligned coach who will either build a winner or lose his job
One night in September 2000, on a makeshift stage in a resort ballroom on Sanibel Island in Florida, Cablevision Systems CEO Jim Dolan stood before a captive audience of subordinates—six or seven dozen senior managers from Madison Square Garden and its sports properties—and began to sing. It was a lark, one of those gags designed to blow off steam after a day of meetings. Still, barely a year had passed since Dolan had taken full control of the Garden and its two main tenants, the New York Knickerbockers and the New York Rangers, and many in the room had had only glimpses of an owner who, for his entire adult life, had been overshadowed by his father, cable-TV pioneer Charles Dolan. The tales of Jim's drug-and-drink-addled past, his volcanic temper, his shifting moods, were already legendary, fueling the image of a spoiled boy who had been handed the keys to perhaps the most prized property in all of U.S. sports. No one expected a song.

Yet there Dolan was, fronting a band consisting of Garden employees in Hawaiian shirts and belting out a parody of Bruce Springsteen's Born to Run. In the audience was Garden president Dave Checketts, who had helmed the most profitable run in Garden history: 10 years of record attendance and revenues that coincided with the exorcism of a 54-year championship curse on the Rangers in 1993-94 and the Knicks' rides to the '94 and '99 NBA Finals. Now there was talk that Checketts, whose relations with Dolan were strained, would bolt to Salt Lake City to rescue the troubled 2002 Winter Olympics. So Dolan was wooing him in a Long Island accent ravaged by years of substance abuse, the boss channeling the Boss.
Dave, this company rips the bones from your back:
It's a death trap, it's a suicide rap.
You should have got out while you were young...
Because I have something to tell you: I'm Chuck Do-lan's son!
Some in the audience cheered. Looking back, most see the moment as a highlight of Dolan's speckled tenure at the Garden. The disastrous trade of future Hall of Famer Patrick Ewing, which would hamstring the franchise financially for years,wouldn't happen for another two weeks. As the music rolled on, Dolan sang that he wanted to be Checketts's friend, offered to rewrite Checketts's contract,even made fun of his own diminutive (5'6") stature. "It was a great moment," says one executive in the crowd that night. "He showed a human side, and everybody was really relieved."
But some also found the moment startling. Dolan was lampooning himself, yes, but he was also bellowing his power with a pride that could be taken as menacing. After all, he ended his musical valentine with a warning:
Someday, Davey, I don't know when,
We're going to get to that place where we really want to go,
And we'll have some fun.
As long as you remember:
I'm Chuck Do-lan's son!
Nine months later Checketts left to start his own sports media and entertainment company. Since May 2001 Dolan has been the undisputed king of the self-styled World's Most Famous Arena, neither franchise has won a playoff series, and the Garden air is thick with bad feeling. Dolan is reviled by New York fans and media for piling up overpriced talent to no avail. The Rangers, aided by the outside discipline of the NHL salary cap and by a stellar year from Jaromir Jagr, showed a bit of playoff life last season before sinking back this winter into bland inconsistency. Meanwhile, for the Knicks, '06 was perhaps the most spectacularly awful year in NBA history.
Consider: Last January team president Isiah Thomas, after amassing the league's highest ($123 million) and most underachieving (14-30) payroll, was accused of sexual harassment by then Knicks vice president Anucha Browne Sanders, who charge dthat the married father of two twice told her he was in love with her and suggested trysts "off-site." Last spring the team's first-year coach, Larry Brown, engaged in a tabloid-fueled ripfest with his star player, guard Stephon Marbury, over Marbury's role on the team. In June, after letting Brown dangle for 40 days following the season, Dolan dismissed him and came dangerously close to suggesting that the coach had engaged in fraud by never intending to finish out his contract. Then Dolan announced that Thomas would coach the Knicks and, at the ensuing press conference, declared that he had just one season to demonstrate "significant progress" toward winning a championship. "If we can't say that, then Isiah will not be here," Dolan told the team's beat writers on June 26 as a stunned Thomas looked on. "It is his ship to steer, to make go fast, to crash."
Coaching has never been the most secure profession, but it's unheard of for an owner to publicly place the head of his president and coach on the chopping block. "That was a pretty bizarre situation," Miami Heat president and coac hPat Riley says of the Knicks' coaching shuffle. "I've never seen anything like it."
Not content to supply the NBA with the year's worst front-office scandal, ugliest player-coach conflict and most clumsily handled coaching change, the Knicks, on Dec. 16, also engaged in the worst brawl (a 10-player melee with the Denver Nuggets seemingly sparked by Thomas), prompting the league to suspend seven players and levy $1 million in fines and Denver coach George Karl to label Thomas "a jackass." Before the smoke cleared, though, the number 1 question was what impact the fight would have on Thomas's future, highlighting yet again the franchise's uniquely bizarre nature. In the ultimate players' league, these Knicks revolve around two men who never touch the ball. But whether Thomas lasts six months or six years, Dolan seized center stage when he handed Thomas the ultimatum. For the first time, publicly, the Knicks were all about Jim Dolan—and to some who have worked for him, it didn't come as a shock.
Since his first taste of performing in public, on Sanibel Island, the 51-year-old billionaire has made even the band all about him. He built a rehearsal studio on the grounds of his Long Island estate and replaced the Garden's amateur musicians with professionals; today the band is a five-piece blues outfit called J.D. and the Straight Shot. Dolan wears a fedora onstage, plays rhythm guitar and sings lead. For his sporadic performances at New York clubs, attendance by staffers is expected and noted.
"Jim actually doesn't care whether you love him or hate him, as long as you know him," says one former Garden executive. "Why else does he sit in the very front row? Why else does he come in late? He wants everyone to know: I am in charge." Indeed, at home games Dolan sits courtside just steps from the Knicks' bench, dressed in funereal black, slumping conspicuously lower the further the Knicks fall behind. Yes, Dolan agrees, he's sending a message to his players.
"There's somebody here who's the owner of the joint," he says. "They're playing for somebody. It's me. I'm actually looking at them and saying, 'I sign your check. When you do great, I feel great, and when you do bad, I feel bad.'"
Dolan has no regrets about the squeeze he's put on Thomas. Sitting in his 26th-floor office across the street from the Garden one evening last month, sipping coffee, Dolan says, "From the day we hired Isiah, we embarked upon a strategy. It was Isiah's strategy, and it relied heavily on the choices he made. Where we ended up last year? It was sort of like, O.K., you've gone to the grocery store,you've gotten all your groceries, and you think we can be successful with what you've brought back? Go cook. Let's see if you can cook something good."
*****
Isiah Thomas is ready with a joke. When the subject of the brawl comes up one January afternoon in the lunchroom at the Knicks' training center in Tarrytown, N.Y., he interrupts, "I did not order the Code Red." He laughs long and hard,though what he means isn't exactly clear.

Thomas is referring, of course, to Jack Nicholson's turn as Col. Nathan Jessup in A Few Good Men, in which Jessup at first denies ordering the fatal punishment of a man under his command. But Jessup did order the Code Red, so is Thomas coyly admitting that he did warn the Nuggets not to run up the score against New York just seconds before Knicks guard Mardy Collins horse-collared Denver's J.R. Smith on a breakaway and sparked the melee? The laugh isn't much of a clue.
Besides, anyone who has watched the 45-year-old Thomas this season can see he's trying to set a tone. Since becoming coach, he has seemingly taken on all of pro basketball. He took verbal shots at ESPN analyst Greg Anthony for his criticism of the Knicks' first-round draft choice, Renaldo Balkman; got into an altercation with New Jersey Nets coaches in the preseason; jawed at San Antonio Spurs forward Bruce Bowen in November and was heard telling his team to "break his f------foot." Thomas, the leader of the Detroit Pistons' infamous Bad Boys in the late 1980s, wants his team to grow a spine. If a few rules get broken along the way, if he only inspires more Isiah-haters around the league, too bad.
"Every arena we go to, they boo him," says Knicks forward Malik Rose. "Why? Did he shoot the Pope or something?"
Thomas has long had a reputation for being manipulative at best and devious at worst: a sweet-smiling operator who, despite being the smallest man on the court, could always charm, bully and dominate the bigger men surrounding him. He led Detroit to two NBA championships, but along with his Hall of Fame grit came an oily Who, me?, the classic instigator's mock innocence. He's always been the guy who started the food fight but went unpunished. His karmic payback would be a second act spent working in an NBA that refused, despite his dazzling accomplishments, to rank him alongside the league-saving trinity of Magic, Michael and Larry—and a Machiavellian image that prompts some serious rationalizing. Thomas says, "I always felt the reason why some of those guys said bad things about me was not because that's how they felt about me personally, but because they hated that they lost to me."
Whether he actually believes that is another thing entirely. Thomas has been blessed with a soft voice and a face that all but glows on camera; the contrast between his angelic facade and his street fighter's edge, between TV-ready Isiah and the hard-eyed operator his pals call Zeke, lends to his two-a-day meetings with the New York media an undercurrent of tension: Will he crack? Will he lash out? But he never does. "If I ever had to learn how to play poker, it'd be from Isiah," says Rose. "No one knows how he feels."
After a mediocre stint as vice president of the Toronto Raptors from 1994 through '97 and a disastrous two years as principal owner of the soon-bankrupt Continental Basketball Association, Thomas spent three decent years as the Indiana Pacers' coach until the arrival of his old nemesis Larry Bird as team president in 2003 ensured his firing. That summer Thomas finally seemed to have used up all the shine from his playing days. He bounced around the country visiting NBA training camps and college campuses, but no job offer came up. Then, in December '03, his cell phone rang: Steve Mills, president of the Garden, dangling a job interview. Thomas didn't care what the position was. He all but raced to the plane.
Impressed by the success Thomas had had with the Pacers' young players and needing a quick replacement for the miscast Knicks general manager Scott Layden, Dolan gave Isiah what may well be his last shot. It was, as Thomas likes to say, "a bloody job": Checketts's decision, in October 2000, to trade Ewing in the final year of his contract—instead of letting him play it out and then rebuilding the Knicks with room to maneuver under the salary cap—had saddled the team with a slew of long-term contracts. Dolan and Layden only compounded the problem by signing weak-kneed shooting guard Allan Houston to a preposterous six-year, $99 million contract in '01. But in the three years since Thomas took over as Knicks president, his rebuilding strategy has been as fluid as it has been puzzling. He's gone through three coaches. He stockpiled a listless combination of talented veterans and players with expiring contracts before switching last year to a stress on youth. The higher the payroll got, the worse the team played. Attendance dipped. Thomas made more enemies.
"He has lost all my respect," says Houston Rockets center Dikembe Mutombo, whom Thomas traded at the end of the 2003-04 season. "He insulted me. The first day,he pulled me aside and said, 'I want you to go away on vacation.' When we play the Knicks, I cannot look him in the face." Thomas says he doesn't recall the incident. Mutombo doesn't care. He says, "F--- Isiah."
But the most surreal moment came when Dolan announced that Thomas would coach. The two men had met beforehand and, Dolan says, discussed the one-year ultimatum. But according to sources familiar with the day's events, including film director and Knicks fan Spike Lee, Thomas was blindsided when Dolan made the ultimatum public. "I asked Isiah, 'Did you know he was going to say that?' and he said, 'I didn't,'" Lee says. Told of Lee's account, Thomas all but sputters, "I don't know if I ... I think that day in terms of my reaction to kind of it being so public and everything else ... you know." He pauses,then finishes with, "Hey, it is what it is," and laughs. Definitely not joking.
When the subject of Sanders's sexual harassment suit comes up, Thomas's eyes narrow and the smile dissolves. "I look forward to my day in court," he says. "[The suit] is baseless and without merit." After an in-house Garden investigation found Sanders's claims "not supported," she was fired. Dolan was later added to her suit on grounds that her dismissal was retaliatory. In September the Equal Employment Opportunity Commission,following its own investigation, found "probable cause" for a violation of Sanders's civil rights and backed her right to sue.
Meanwhile, Thomas fights daily for his professional life. He has won few raves for his front-office work over the last three years, but at 21-28 through Monday, the Knicks are well ahead of Brown's anemic pace last season (14-35). Despite some huge defensive lapses, Thomas's team is more cohesive and competitive. Yet he's walking a wire: just one rolled ankle, one long losing streak from falling into the abyss. "It's a sick kind of thing," Thomas says. "You don't want pressure, but you kind of like it. I grew up [in Chicago] having to walk outside of my house and you had to look at a guy and had to determine quickly if he's robbing you—and you can't make a mistake. It keeps you sharp."
Whether it makes sense to have a coach operate under such conditions isn't Thomas's concern. Dolan is the owner: It is what it is. "This is who we work for," Thomas says. "He calls the shots."
*****
He shouldn't be alive. That's how bad it got for Jim Dolan, in his mind at least: endless liquor, all manner of illicit drugs. "Everything," Dolan says. "I was completely obsessive-compulsive, and I didn't like who I was at all. I kept trying to be somebody else, be what other people wanted me to be. That's impossible to do, so I medicated myself to death trying to convince myself I was somebody I wasn't. It was just horrible."
In August 1993 he bottomed out, and his father personally put him on a Northwest jet bound for the Hazelden clinic in Center City, Minn. Jim came through the fire of recovery, and the 12-step process boiled his worldview down to one brute fact: I've got to be me.
There's a shorthand formulation from antiquity that divides men into two categories, the fox and the hedgehog. "The fox knows many things," wrote the Greek poet Archilochus, "but the hedgehog knows one big thing." With his knack for working boardrooms and pressrooms, his embrace of innovations such as putting ads on pro soccer jerseys or offering free food at NHL games, Checketts, now part owner of Major League Soccer's Real Salt Lake and the NHL's St. Louis Blues, is a fox. Thomas survived Bobby Knight, Dennis Rodman and a host of mistrustful peers en route to the Hall of Fame as a player, and he has survived a host of disgruntled owners and his own reputation to climb into one of the NBA's premier front-office positions—a fox through and through. Dolan? He's thick and gruff and shaggy, but he's a hedgehog more because he was saved, he's sure, by one big thing. "It completely changed my life," he says of recovery. "I had to be honest with myself. And my honesty is completely intertwined with my sobriety. That's how I try and live my life: I try to be honest with myself and with others."
What Dolan means by honest, though, isn't so much about telling the truth. It's about being Jim Dolan—not some second-rate edition of his father, not some slick corporate suit who fills the air with false politesse—no matter whether people hate or love or fear Jim Dolan. Let the cards fall. Sure, the deck is stacked: He's the billionaire, the boss; his employees have no choice but to accept his ways."If there's nothing else you appreciate about me," he says, "it's at least that you get to see the real me."
The real Jim Dolan, though, can be anything but pleasant. He cut his business teeth in the Darwinian world of 1970s cable television, a zero-sum game in which everyone was an enemy and monopoly was the goal. Saved by the 12-step process, he lards his speech with references to "sticking to the plan" and "following the strategy." When someone doesn't, there's trouble. In March 2001, Dolan was due to show up at Radio City Music Hall, which Cablevision also owns, to help review a dress rehearsal of an upcoming production. Trying to give the workshop a sense of occasion, Seth Abraham, then head of Radio City and soon to be president of the Garden, and Jay Smith, the show's executive producer, put on usher's jackets and waited along with cast members, Radio City staff and a clutch of Garden executives to greet Dolan in the lobby. Dolan, who arrived in a white limo, grew livid at the stunt. "Get in your suits!" he shouted at Abraham and Smith. "I'm controlling this process! I run this f------company!"
Abraham and Smith got back in their suits. Dolan went inside, calmly took a seat and said, "O.K., show me what you got."
In January 2003 the Grammy Awards announced its nominations live on network TV from the Garden. Dolan was due to be onstage with the artists and music industry types. But despite being warned not to direct his limousine up a specific Garden ramp because it would be congested, Dolan insisted on it, walked into the Garden late and was steaming backstage as the show went on. "Find me a room so I can yell louder than I've ever yelled before," he told subordinates. For 45 minutes he raged at the Garden managers. "Absolutely out of control," says one former Garden executive. "And everybody in the room had done his job—and done it well."
"He flies off the handle, and there's no rhyme or reason," says a former sports executive at the Garden. "We'd walk out and say, 'That was a good meeting.' Why?Because no one was torn apart."
"It's basically his way or the highway," says former Garden vice president of security John Fahy, who was fired after Dolan saw a suitcase under a nearby chair during the Knicks' last playoff game in 2004. "Whether or not it's right, it doesn't matter. I'd put some [security] on him, and he'd scream at the guy to get away from him. But when somebody's not on him and there's a problem? He wants to know where somebody is. You can't win with the guy."
Both current and former high-level employees from the Knicks, the Rangers, Madison Square Garden and MSG Network testify to Dolan's need to constantly reassert his place at the top of the food chain. They speak of a "reign of fear" or "culture of paranoia" in which people are more concerned with pleasing Dolan than doing an exemplary job. Most speak only under a guarantee of anonymity. "They hate to be challenged," Bob Gutkowski, a longtime New York sports executive and president of the Garden from 1991 through '94, says of the Dolans. "Cablevision has always been a fighter: 'Never give up, never give in, we're right, and we will do whatever we can do to win the battle.' That's the most important thing: We can't be wrong."
 None are shocked by Dolan's dismissive reaction to Sanders's lawsuit againstThomas—"absolutely baseless." A judge and jury will decide whether he's right. But Sanders's dismissal is in keeping with Dolan's knee-jerk combativeness. Since taking over the Garden he has fought the Nets and the Yankees over cable rights; beat the Jets, Mayor Michael Bloomberg and proponents of holding the 2012 Olympic Games in New York City over a proposed West Side stadium that would have competed directly with Madison Square Garden; and enraged Knicks fans by jettisoning longtime broadcaster Marv Albert from MSG Network because of his on-air criticism of the team.
Alcoholics Anonymous members use a phrase, dry drunk, to describe "somebody who is not drinking but hasn't changed who they are," Dolan says, raising two fists into the air. "Part and parcel of a dry drunk is white-knuckling: No, I'm not going to have that drink—even though I really want that drink. They're hanging onto their sobriety. My sobriety is who I am now. I don't think everyday about being sober." But at his worst Dolan can exhibit every trait commonly attributed to dry drunks: exaggerated self-importance, rigidly judgmental outlook, impatience, childishness, irresponsible behavior, irrational rationalization, projection and overreaction. "If you have most of these, call your doctor," says one former Garden executive. "He's got every one."
Columnists continually question Dolan's intelligence, and three former high-level employees use the word dumb to describe him. But that's simplistic. After all, he envisioned and helped organize the poignant Concert for New York City just five weeks after 9/11, outpointed his father in Cablevision squabbles and outmaneuvered Bloomberg in the stadium fight. (Dolan oversees Cablevision's telecommunications services as well as its sports and entertainment properties; his father has little to do with the hockey and basketball franchises.) "He's not dumb," a New York sports executive with close knowledge of Dolan's Garden says of Jim. "He's reckless. He was reckless with his personal life, and now he's reckless with the teams."
But Dolan is not always oblivious to the damage he does. "I'm still working on not losing my temper," he says. "I'm always trying to be a better person, always trying to be smarter, more compassionate, more successful in my relationships.... I hate it when I bring somebody down.... And I've had to apologize for myself."
The most memorable instance came in an October 2004 meeting at which Dolan took one look at the projected costs for hockey broadcasts on MSG Network in '05, with numbers far higher than those for '04, and started shouting. Mike McCarthy, the president of MSG Network, tried to point out that the '04 NHL lockout had kept costs down. Dolan wouldn't hear it, thinking he was somehow being taken, though the higher '05 budget reflected only the assumption that the lockout would end and games would be played. McCarthy quit soon after, and all he has said since then is that "it was time for a change." Dolan tried to make amends, e-mailing an apology to McCarthy and everyone else who had been in the room. It was too late.
"I tell you: After you do that, it makes it easier to control yourself," Dolan says."If you go and apologize, I'm not saying it fixes it, but it at least helps me. I hope I'm getting better at it. Quitting smoking didn't help."
*****
So maybe the common wisdom is right: Jim Dolan = Disaster. The New York Daily News just made him its Anti-Sportsman of the Year. Knicks and Rangers fan sites all but catch fire with incendiary rips of Dolan's stewardship. "He should stick to his band," Fahy says.
"Jim has tremendous passion," says Abraham, who left the Garden in 2004. "But if you're not careful, passion becomes zealotry. What he does well is bring a tremendous love of the Garden and its occupants. This is not a toy to him." Asked if he thinks the Knicks can ever win with Dolan as their owner, Abraham pauses and then says, very carefully, "The Knicks can't win as they are presently constituted."
Yet Abraham is right about Dolan's love for the teams. If the man has a soft spot, it's for talent. Dolan loves playing guitar because, he says, "I don't play basketball, I don't play hockey, I don't hook up television sets, I don't produce television shows. I'm an executive who manages those things, and I think what I do has a lot to do with how successful they are. But I don't actually do anything." Players play, however, and for those with great talent, Dolan will do plenty.
"You couldn't ask for a better owner," says former Edmonton Oilers and Rangers great Mark Messier. "He'll do anything in his power to create an environment that's exactly what a player's looking for: state-of-the-art facilities, willingness to spend money to try to win, the way the team is treated. There's not a better place to play in the league, period. He's taken a bad rap. Jim would do anything for a championship ring with the Knicks or Rangers and has proven he will. Almost to a fault."
Wayne Gretzky,who played for the Rangers from 1996 to '99 and is now the Phoenix Coyotes' part owner and coach, calls his experience with Dolan "tremendous. He would call players in if they had family issues, or their wives were pregnant or somebody was sick, and he would personally get involved. That's someone who genuinely cares."
Mutombo says he's "shocked" by Dolan's continuing support of his $29 million hospital project in Kinshasa, capital of his native Democratic Republic of Congo. Not only did Dolan put Knicks and Garden resources at Mutombo's disposal when he played for New York, but also, in 2006, two years after Mutombo left the Knicks, Dolan was still clearing space on MSG Network and Cablevision systems and on the JumboTron during Knicks and Rangers games to run hospital fund-raising ads. "Incredible," Mutombo says of Dolan. "Every time I need money, I just have to make a phone call and ask him."
In 2005 Dolan took a particular interest in Vin Baker, the four-time All-Star whose career was derailed by alcohol abuse. He met with Baker five times during the one season Baker played for the Knicks, sharing his own struggle, acting less like a boss than "like a person in recovery, like a sponsor," Baker says. In the summer of '04 Dolan stunned Baker by showing up at his golf tournament in Hartford. "I had no idea he was coming," Baker says. "I gave him a great big hug. He was just checking on me."
But then, in those instances Dolan was dealing with people who respected him and his"process": sticking to whatever plan he laid out. In response to the tabloid face-off between Knicks coach Jeff Van Gundy and general manager Ernie Grunfeld during the 1999-2000 season—which, Dolan says, "blew the organization apart"—Dolan instituted media training for all Garden employees who might deal with the press and an ironclad rule against team personnel criticizing others in the organization. The result is the hovering presence of Garden public relations staffers during all interactions between press and personnel, and a Big Brother reputation unsurpassed by any other team in sports. The first time former NFL coach Bill Parcells called one Knicks coach, he asked, "Is this a clean line? Have you had your phone checked to make sure it's not bugged?" The coach giggled uneasily. "I wouldn't be laughing," Parcells said. "They're listening in."
"They're more paranoid about what's written in a 50-cent newspaper than they are about handing out $5 million a year to somebody who can't play," one former high-ranking Garden official says of Dolan's staff. "Winning the media game is more important than winning the game."
Which brings us to Larry Brown. In October the Knicks and Brown agreed to an $18 million settlement on the remaining four years of his contract—effectively handing Brown an absurd $28 million for coaching one season, badly—and agreed to never talk about each other again. In retrospect it's amazing that either side ever thought their relationship could work. The 65-year-old Brown had a well-known history of bashing his players in the press, and Dolan, who soured on Latrell Sprewell and Marcus Camby in 2002 because they walked out on media training, was just as infamous for his intolerance on the matter. Brown's nonstop lineup changes and his public critiques of players Trevor Ariza, Nate Robinson and especially Marbury made Dolan furious. By the time Brown was fired, the air was thick with Knicks-spawned tales about Brown undermining Thomas by calling teams with proposed deals, refusing to speak to Thomas and, finally, demanding that Dolan buy out half the roster and start over.
But in a sense the details aren't important. What's most telling is the endgame, and what it says to anyone who wants to work in Dolan's world. At his final meeting with Brown, on June 22, Dolan still hoped to salvage things. He walked in with apiece of paper listing Brown's transgressions and ways he could correct them. But, Dolan said last June, Brown "would not acknowledge that there was a problem." Brown, who is now a vice president of the Philadelphia 76ers, declined to comment, but his agent, Joe Glass, said, "You do not admit to anything you haven't done. It's a chapter best forgotten. Thank God we can move on to freer, fresher air."
But for a recovering addict, saved by a process requiring the daily acknowledgment of his problem, what could be worse than Brown's lack of contrition? Brown's pride clashed with Dolan's one big thing, and the relationship died. The fact is,three men were responsible for the Knicks' troubles—Dolan, Thomas and Brown—and for Knicks fans the jury is still out on two of them. The one with the Hall of Fame résumé, the knack for turning around the worst of teams, is gone.
*****
It's hard, these lean days, to feel any magic at Madison Square Garden. Banners and announcements still batter visitors with the idea that it's the world's most famous arena, but the building is 39 years old—and looks and smells like it.
The concrete floors are often filthy, even before the fans roll in, and in certain places there is the faint but unmistakable stench of an unflushed toilet. In recent years the NBA rated a Knicks game experience near the bottom in terms o f"satisfaction," though how much that has to do with the team and how much with the joyless environment isn't clear.
Dolan wants to renovate or to move to a new Garden nearby and says he hopes to know which in the next six months. So with the future looking like years of construction dust piled atop years of neglect, the only thing left, it seems, is to dwell on the past. For months MSG Network has been counting down its 50 Greatest Moments from the Garden's history, and on Jan. 18 it took a few thousand season-ticket holders, sponsors and VIPs back to the glory days at a party announcing the top five moments. There, outside the MSG Theatre, was a tableau designed to take any New York fan's breath away: 1970 Knicks gods Walt Frazier and Willis Reed chatting; boxer Joe Frazier gabbing about his epic '71 win over Muhammad Ali; Messier, Adam Graves and Mike Richter reliving the '94 Stanley Cup run. Then everyone poured inside to watch the countdown, and Walt led the crowd in singing "Happy Birthday" to Mess.
The first discordant note came in the buildup to the number 1 moment: Reed's dramatic Game 7 walk on court during the '70 Finals. Suddenly there was Marv Albert's voice—the exile returns, if only in spirit—calling out in horror when Reedwent down in Game 5: "Willis is hurt!" The second note came when Mike Bair, president of MSG Network, tried to thank Jim Dolan from the stage just after host Al Trautwig had told the crowd that they gave "this round piece of concrete its soul." The soul spoke, filling the room with boos. Dolan wasn't there. But the noise rang in the ears of all his loyal lieutenants, Mills and Bair and the rest of the managers who hadn't left in the long executive exodus.
Whether goodwill can ever be recovered, whether the Garden will ever again feel like it did in 1970 or '73 or '94, is impossible to say. Dolan's recent bid to take Cablevision private led to rumblings about the possible sale of the Garden and the teams, but it's not a scenario he'll talk about. "I don't think about selling," Dolan says.
There are those who think he never will. "He wants to be known as a sports/show business maestro, and he knows that if Cablevision ever sold the Garden, he would go back to being 'Jim Dolan, the cable guy's son,'" says one former Garden executive. "The Garden gives him a chance, with the teams and Radio City and the Rockettes, to be somebody completely different."
For Knicks fans, though, there is one glint of hope. And Thomas brought it to them. He's the one, after all, who in October 2005 gambled a slew of first-round draft picks—including this year's possible lottery pick—on Eddy Curry, the 6'11" center who has had episodes of irregular heartbeat. Thomas is the one who this season persuaded Marbury to accept second billing, began running the offense through Curry and stayed patient through a rough start to see the 24-year-old underachiever emerge as a strong low-post threat. "It's like the game has really slowed down for me," says Curry, who was averaging 19.5points a game through Monday. "I'm not forcing anything. I used to look up at the scoreboard and think, Man, this the second quarter, I've got two points and two rebounds, I've got to make something happen. But I always knew if I could stay consistent, things would change."
Curry has been a revelation, ranking fourth in the league in shooting percentage and getting better each day at passing out of double-teams. "He's our all-star," Marbury says. "We're basically piggybacking off of him." And compared with the dour and egocentric Marbury, Curry is by all accounts humble and happy, a personality to build around—"the foundation," Thomas says, "of everything we have moving forward."
The team Thomas took over is essentially the same one Brown coached, but Thomas stabilized the lineup and made it clear he'd make no drastic changes, and the players instantly felt less threatened. "Last year the guys weren't really in the mood to do anything—talk, hang out, catch a movie, play a video game, anything," says Malik Rose. "This year we're friends."
One other way that Thomas cemented the squad was with a simple message: The league, the teams, the refs, the media, the other coaches all want to see you fail, so lean on each other. "He's made us aware of all the powers that are against us, top to bottom," Rose says, "and it was an eye-opener." The fallout of the brawl with Denver, of course, was a perfect us-against-the-world teaching moment; since that game the Knicks have played .500 ball, second-year forward David Lee has emerged as a force and the team has shown more heart and resiliency than it ever did last season. If this keeps up, Dolan may well look at the disgraceful black eye as a plus when mulling his decision on Thomas's future. He certainly doesn't mind his coach's pugnacity with the rest of the league. "That's part of what I like about him," Dolan says.
Another thing he likes is next year's big drop in payroll. With four high-priced contracts, including Houston's, coming off the books at season's end, the Knicks will still be far over the salary cap, but Thomas will be able to point to that decline—the first for the Knicks in more than a decade—as evidence of fiscal sanity. "New York has turned the corner," Pat Riley says. "It's not [going to be] a $130 million payroll anymore, it's going to keep getting down. They have a lot of good young players. They've just got to be patient now. So embrace it."
Dolan isn't there yet. He says he'll make no decision on Thomas until season's end. But sitting in his office before a game against New Jersey in late January, he says he likes the team's "build." He likes Thomas. "I think he's grown quite a bit," Dolan says. "He really feels he has control of his destiny. I think he's learning just how good he can be, and I think he's better than even he might have thought he was going to be—as a person, as a coach, as a basketball professional. I've enjoyed watching him, particularly this year, apply himself. I don't enjoy watching him suffer. But I suffer too. We do it together."
Not quite. Dolan knows he will be here next season. He doesn't, as Thomas does, daily face the same half-dozen reporters who've roasted him plenty over the past three years, called into question his every move, his ability—and now monitor each utterance, each pause, for signs of cracks in his composure. In mid-January,right after Philadelphia 76ers forward Chris Webber had become a free agent,Thomas was giving a post practice briefing and was being pressed on possible deals, on whether he'd stand pat or shake things up. He tried to make it clear that he isn't interested, that he's staying with youth. The questions kept coming, though; stories had to be written. "A lot of back pages to fill," said one reporter. Thomas nodded and tried to explain: He doesn't want to rule out some unforeseen move, either, and then be called a liar a month from now. More questions, but he was smiling, patient—Isiah at his best.Finally, the pack surrendered. "Ahh," said one beat writer, "we're just trying to make chicken salad out of chickens---."
Everyone went quiet. The word hung out there. Thomas shrugged, turned to leave, but stopped. He turned back, and for a split second a flash of Zeke crossed his face. Everyone leaned in. Was this the moment he lashed out at last?
"Are you calling me chickens---?" Thomas asked.
But then his eyebrow rose, and he laughed deep and loud, and then the writers laughed, too. The next day's back pages would say nothing about the Knicks. It was a nice little win. Extra! Extra! Jim Dolan's team survives another day.