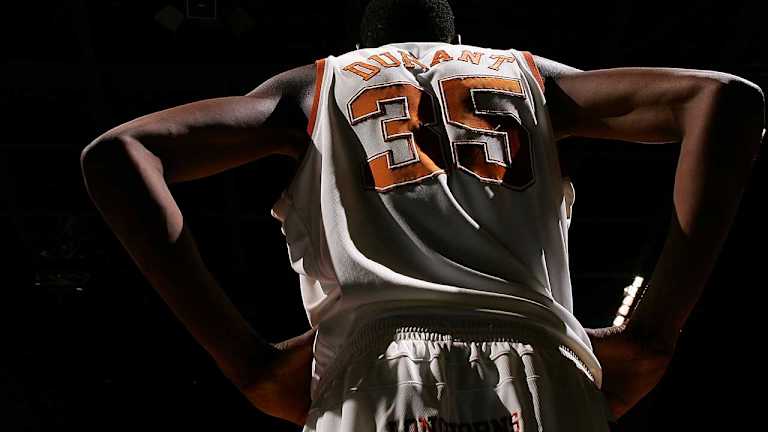 Phenomenal Freshmen
He headlines perhaps the most formidable group of first-year players in college basketball history, but Texas forward Kevin Durant is in a class by himself--and should be the first frosh to win player of the year
He's just a baby, all arms and legs as thin as capellini. Kevin Durant only turned 18 in September, but with his soft, open face he could pass for 15. After a recent loss the Texas freshman walked to meet the press clutching the right hand of his mother, Wanda Pratt, who says she can tell when her son is distraught because "he'll call me Mommy instead of Mom" in text messages. On most nights, just before bedtime, Durant will kneel down to pray and digest a few more pages from a personalized Bible. Asked which book he's reading, Durant flashes a look of palpable pride. "Numbers," he says. Funny, those aren't the numbers that most of us mortals associate with Durant, the 6'9" forward whose coltish coming-of-age has put the man in freshman during a historic college season. Take your pick of diabolical digits. Maybe it's K-Smoove's 25.1 points and 11.4 rebounds a game, which make him the only player in the nation's top five in both categories. Maybe it's the mid-eight-figure shoe deal and the multimillion dollar NBA contract that await whenever he decides to turn pro, probably this spring. Maybe it's his pterodactyl-like 7'6" wingspan. Or maybe it's just a simple zero, which happens to be the number of freshmen in the annals of college hoops who've been named national player of the year.
Until, perhaps, 2006-07, the Year of the Freshman, when the prodigies went back to school. "I've had so many people tell me he's the best player in college basketball," Longhorns coach Rick Barnes says of Durant, who'd had an astonishing six 30-plus-point barrages in 10 Big 12 games through Sunday. "People have a hard time saying that because he's a freshman, but class has nothing to do with it." At this point, though, it's still a tight race. Durant's closest rival for player of the year, Wisconsin senior forward Alando Tucker, has inferior stats (20.0 points and 5.3 boards), but his team owns a better record (24-2) than the Longhorns do (17-7).
What's inarguable is this: The new NBA age-minimum rule, which all but forces even the very best high school players to attend a year of college, has coincided with the arrival of a remarkable class and produced a group of rookies for the ages. Freshmen are the new BMOCs in major conferences (like the Pac-10, which has the most quality frosh of any league) and also at mid-majors (like 21-4 Davidson, which is led by first-year point guard Stephen Curry). Yet three freshmen stand out: Durant, whose 37-point, 23-rebound tour de force in a Jan. 31 win at Texas Tech was the single most dominating performance of the season; 7-foot Ohio State center Greg Oden, who's matching newfound offense (15.3 points and 9.4 rebounds) with game-changing defense (2.7 blocks per game); and 6'9" North Carolina forward Brandan Wright (15.0 and 6.5), the most explosive of the three standout freshmen who start for the No. 5 Tar Heels.
All three (and assuredly Durant or Oden) would likely have been selected before No. 1 pick Andrea Bargnani in last year's anemic NBA draft. But thanks to the new rule, all three ended up on campus. "I've been in college basketball since 1978, and I've never seen a class that was this good at the top and this deep," says Tennessee's Bruce Pearl, the only coach whose team has played against Durant, Oden and Wright. In the same breath Pearl compares Durant with Tracy McGrady, Oden with Bill Russell and Wright with Kevin Garnett. "I think all three have a chance to be top 50, legendary NBA players," Pearl says, and even though Coach Rocky Top has a hell of a sense of humor-this is the same guy who wore orange body paint on his chest to a recent Tennessee women's game-this time he's not laughing.
While it's too soon to make a ruling, the question is at least worth asking: Is this the greatest freshman class of all time? Granted, freshmen only became eligible in 1972-73, which prevented several stars of the '50s and '60s from reaching transcendence at an even earlier age (page 32). What's more, today's freshmen can have a bigger impact because the older classes (depleted by defections to the NBA) aren't as stocked with talent as they were in previous decades. Still, don't sell these guys short. As longtime scouting guru Bob Gibbons says, "In terms of immediate impact this class could be ranked right near the top in the past 30 years."
That's rare air indeed. The preeminent freshman class in history is generally regarded as the group that arrived in 1979-80 (led by Indiana's Isiah Thomas, Virginia's Ralph Sampson, UNC's James Worthy and Georgia's Dominique Wilkins), followed by '81-82 (UNC's Michael Jordan, Georgetown's Patrick Ewing, Auburn's Charles Barkley and Chris Mullin of St. John's), '88-89 (Duke's Christian Laettner, Georgetown's Alonzo Mourning, LSU's Chris Jackson and Syracuse's Billy Owens) and 2002-03 (Syracuse's Carmelo Anthony, Duke's J.J. Redick, UNC's Sean May and Georgia Tech's Chris Bosh).
Should Oden and Durant declare for the NBA draft after this season, the debate over which player would be taken No. 1 overall will generate the sort of buzz that's an order of magnitude higher than the dull roar of recent weeks. In terms of college performance, however, there's no question that Durant has enjoyed a superior season, not least because he counts on far less support from his teammates than Oden does. The trade-off is significant: Oden is a classic low-post big man whose No. 3-ranked Buckeyes (22-3) are genuine national-title contenders, while Durant is given the kind of freedom to roam the court that's rare at any level of the sport.
"Here's what I think," says Barnes. "If I went into this season knowing we didn't have a point guard and had said, 'Kevin, you have to be our point guard,' he could have done that. If I said to him, 'You've got to be a low-post player and stay there,' Kevin would do that. So what we've done this year is let him do all of it. I told him when we recruited him: 'You should want it all. I'm talking about the impact you can have on your sport and on other people. Look at Tiger Woods, Michael Jordan, the great ones. There's more to it than what you see on the court. You're one of those guys.' I'm just not sure he can understand that yet."
Then again, maybe he does. "I want to be one of the best players to ever play the game," Durant says. How does saying that make him feel: confident or nervous? "A little bit of both," he admits. "I just want to accomplish my goals and keep working if I make it to the league one day." If I make it to the league one day? Is this kid for real?
Sometimes it's hard to know. Only minutes after Durant had torched Baylor for 34 points and nine boards in an 84-79 win on Jan. 27, he was almost apologizing for yet another sick box-score line. "I could have played much better, man," he said, shaking his head. "Could have rebounded more, could have played better defense. I just have to improve on my weaknesses."
For years the game's guardians have lamented the sacrifice of American fundamentals at the altar of summer basketball and its glorified pickup games, but Durant's mastery of the basics-his feather-soft shot, his unselfish passing, even his low defensive stance-is a stinging rebuke to those who say it can't be done anymore. None of it happened by accident. "Between the ages of 10 and 16, Kevin put in eight-hour days during the summer [working on basketball drills]," says Taras (Stink) Brown, the coach at the Seat Pleasant (Md.) Activity Center outside Washington, who forbade Durant from playing five-on-five during their winter training sessions so he could concentrate on fundamentals. "Some days I wouldn't pick up a basketball," Durant says. "He'd put 60 minutes on the clock and say I had to do defensive drills the whole time." To toughen up Durant even more, his mother and Brown would make him run sprints up Hunt's Hill, a quad-burner near the rec center that Durant estimates he scaled a thousand times over a six-year period.
Durant's work ethic has only intensified now that he's in Austin. Not only does he start pregame shootarounds 40 minutes before his teammates, lofting jumpers from all over the court with assistant coach Russell Springmann, but he'll also show up for Sunday sessions the day after Big 12 road games when Barnes would prefer that he take it easy. If the gold standard for modern freshmen is Carmelo Anthony, who led Syracuse to the 2003 national title, then Durant is hoping he can go platinum by continuing to surpass Melo's regular-season numbers (Anthony averaged 22.2 points and 10.0 rebounds) and matching his '03 postseason feats. "[Syracuse] won the title during my freshman year [of high school]," Durant says. "I watched with my mom, and she said, 'Maybe you could do that one day.'"
Let's be clear, though: If Durant can carry Texas all the way to One Shining Moment in Atlanta, he'll make Anthony's run look easy. Melo was blessed with more experienced teammates, and the 'Cuse was a No. 3 seed. The Longhorns, by contrast, appear headed for a No. 8 seed.
Yet there is one area in which Durant vows he'll be different from Anthony, who withdrew from classes at Syracuse soon after announcing he was leaving for the NBA. "Let's say I did turn pro [after this season]," says Durant. "I'd still go to class anyway because I wouldn't want to jeopardize my team. If I stop going to classes they can lose scholarships." Indeed, according to the NCAA's new formula to determine progress toward graduation, the Academic Progress Rating, Texas won't be penalized if Durant leaves after the school year for the NBA, as long as his eligibility remains intact.
Other players may not have Durant's sense of obligation, though. That's why critics like Texas Tech coach Bob Knight argue that the NCAA has mortgaged any pretense of academic integrity by allowing the NBA age-minimum rule to create one-year rent-a-players who (in theory, at least) could still compete despite skipping out on second-semester classes altogether. Like Knight, Duke coach Mike Krzyzewski would prefer amending the rule to forbid so-called one-and-done players. "I think kids should be able to go to the NBA if they desire right out of high school," says Coach K. "If someone has that much talent and only a short life as a player, he should be able to do that. However, if he decides to go to college, you need to maintain the integrity of the educational process, and I think you only do that by being there for at least two years."
For his part, NCAA president Myles Brand told SI that while he'd like to see the NBA rule extended to two or three years, he's encouraged by its impact this season both on and off the court. Brand points out that every basketball player now has to meet NCAA-mandated academic standards to enter college and that the majority of freshmen will realize they're not ready for the NBA and end up staying in school.
Even if Durant leaves Texas after only one year, it's hard to deny that his lone season in college hoops will have been beneficial for all parties. "I think the rule is great," Durant says. "If I'd gone straight to the NBA, I don't think I would have been ready as a player or a person." He won't be winning any Rhodes scholarships as Bill Bradley did, but Durant says he learned to play The Star-Spangled Banner in a piano class in addition to taking courses in math, African-American history and acting. What's more, he points out, college has introduced him to social settings he'd never encountered before. "I meet a new person every day," he says. As for basketball, Durant's year in college has raised his game, his weight (from 197 to 217 pounds; he'd like to reach 235 eventually) and his marketability at the next level.
He's still just a baby, after all, and it's that sense of unlimited possibility that stirs the thrum of anticipation surrounding Durant, to say nothing of Oden, Wright and all the other exceptional freshmen in college basketball. "I'm glad I came in with this class," says Durant. "We're making history."