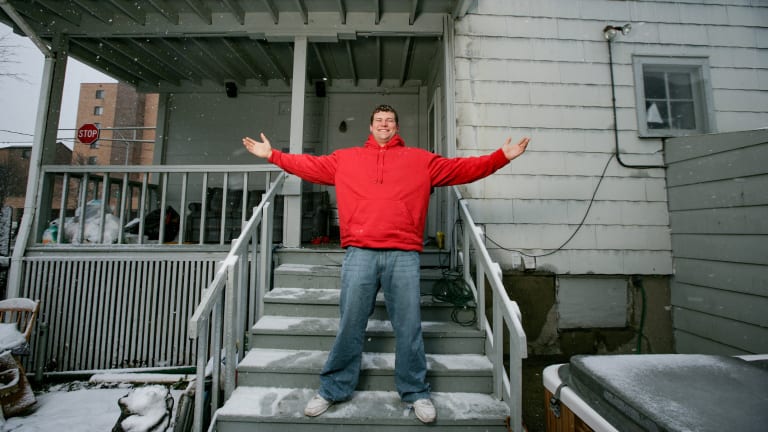 Old School
While draft hype consumes NFL nation, Wisconsin's Joe Thomas is chilling in Madison, hitting the books and the brats and waiting for life to get even better
There may not be a better off-campus house in America than the one that Wisconsin senior tackle Joe Thomas shares with five teammates in Madison. Miller Lite tap in the kitchen, poker room in the basement, John Belushi poster on the TV room wall and—everyone's favorite—padded red bra hanging from the antlers of a six-point trophy buck. "I was just doing laundry one day, and it snuck its way into my clothes," Badgers defensive back Ben Strickland says mischievously while watching Pardon the Interruption from the depths of a recliner. In Thomas's room upstairs, his laptop rests on homemade legs: four rolls of toilet paper. In the backyard there's a hot tub, a hammock and a couch. The best in late-night college carryout is within stumbling distance on Madison's busy streets.
There may not be a better school in America to study real estate and urban land economics than Wisconsin. Thomas carries a 3.5 grade point average in the undergraduate program, which is ranked second nationally by U.S. News & World Report, and even with the NFL draft looming, he has a full course load this semester: Finance 300, real estate finance, business law, real estate development. Who says a guy can't be Jonathan Ogden and Donald Trump in the same lifetime?
There may not be abetter campus workout facility for a leading NFL prospect than the Badgers' weight room. No distractions, Green Day playing over the sound system, spotter always at the ready. Strength and conditioning coach John Dettmann designed a regimen that the 6'6", 313-pound Thomas has been following four afternoons a week in preparation not for the NFL scouting combine or a private workout but for his first NFL minicamp, in May.
There may not be abetter fiancée in America than Annie Nelson. A mix of Jennie Finch, Andrea Kremer and Miss Bassmaster, she's a fetching former Badgers basketball player who just finished her first season as a radio commentator for her old team and who grew up fishing with her dad in northwest Wisconsin. "I never wanted to date a football player, and I spent the first couple of weeks hanging out with Joe trying to find something wrong with him," says Nelson, who'll graduate in May with degrees in economics and broadcasting. "But I couldn't. He's just ... perfect."
There may not be a better college hangout in America than State Street Brats in Madison, where Thomas recently was enjoying one of the best bratwursts money can buy, with an order of cheese curds on the side. Nelson was seated next to Thomas, giving him the goo-goo eyes. "Why," he wondered aloud, just before biting into his brat, "would I have wanted to leave here for anywhere else this winter?"
Good question. It's typical of most top prospects to leave school after the fall semester and head to a training facility in Florida or Arizona that specializes in preparing players for the combine and the draft. Workouts are specifically designed to boost 40 times and bench-press reps, and every calorie is counted. Then, in the week leading to the draft, a half-dozen guys who are expected to be among the first picked are flown to New York City, where they're wined and dined, fitted for designer suits and set up for photo ops. On draft day they sit nervously with their families at the draft venue (Radio City Music Hall again this year), television cameras documenting every bead of sweat as they await their fate.
This year five of the six prospects invited to New York—Clemson defensive end Gaines Adams, Georgia Tech receiver Calvin Johnson, Oklahoma running back Adrian Peterson, Notre Dame quarterback Brady Quinn and LSU QB JaMarcus Russell—migrated to training centers shortly after the college football season, and all are expected to attend the draft on April 28. Thomas, who could go as high as No. 2, to the Detroit Lions, not only stayed in school but also plans to be fishing with his father, Eric, sitting in a boat in Lake Michigan on draft day, 875 miles from Radio City.
"Coho salmon, Chinook salmon, rainbow trout," says Thomas, 22. "Some of my best memories are of fishing with my dad, and I'd rather spend a nice Saturday morning doing that than sitting in New York waiting to see what happens to me. I'm not a big fan of the limelight. Plus, to me, draft day's not the important day. It's what I do after draft day that's important."
"Oh, I love that," says Lions coach Rod Marinelli, after Thomas's comment is relayed to him. "When you're looking for a guy you'll pick at the very top of the draft, you're looking not just for pluses but also for holes. And I don't see any in Joe Thomas."
To get an understanding of Joe Thomas the person, consider these two events in his life: the C he got in eighth-grade algebra and the torn knee ligament he suffered in a bowl game 15 months ago.
Thomas grew up a banker's son in the Milwaukee suburb of Brookfield, the oldest of Eric and Sally Thomas's three children. The parents believed team sports, fishing and hunting were important—Joe played travel soccer, basketball and baseball in addition to youth football—but only if the kids' chores and homework got done. "I'd get fined if I left home without making my bed in the morning," Thomas says. That C in algebra earned him a three-month grounding; except for school and sports he was homebound. "No dances, no going out with friends," he says. "I thought my parents were the worst people in the world, of course."
"Joe has an excellent math brain," says his father, "and we wanted to make sure it didn't go to waste." The next term Joe aced every quiz and test, and when he brought home an A on his report card, the shackles came off. "A very valuable lesson," says Joe, who still adheres to it.
At Wisconsin, Sharon McCabe, a senior lecturer in real estate and urban land economics, has had Thomas in two of her classes. "Believe me, this is no slough-off major he's in," she says. "You've got to work hard to succeed. He got A's in both classes, and he never once asked for an extension on any papers or projects because of football."
While at Brookfield (Wis.) Central High, Thomas played tight end, tackle, defensive end and punter, but after seeing spot duty at TE and DE as a Badgers freshman, he was moved to left tackle for good as a sophomore. He started his last 38 college games there, allowing five sacks. Late in the 2005 season, however, Wisconsin lost two defensive ends to knee injuries, and Thomas volunteered to play on the defensive line in the Capital One Bowl against Auburn. In the third quarter he went in on defense. On his second series, in pursuit of a sweep to the opposite side, he planted his right leg to change direction and ripped the anterior cruciate ligament.
"I never once regretted volunteering to play defense, even when I was on the ground thinking, That could be my last football play ever," he says. "I said before that game I wanted to do anything to help our team win, and I wanted to have fun. I accomplished both goals. We won [24–10], I got to play defense, and I think I helped the team win. The decision I made was best for the team, so it was best for me."
Says Wisconsin offensive line coach Bob Palcic, "He doesn't just say things like that. He means them."
That leads to an understanding of Joe Thomas the player. Last season he came back strong from the ACL tear, winning the Outland Trophy as the nation's best interior offensive or defensive lineman after allowing one sack and one quarterback pressure in 13 games. The report from NFL scouts on Thomas: very athletic; a wide stance and quick feet keep lithe pass rushers from beating him wide; good at using hands to knock pass rushers off-balance; can get overpowered by a bullrush once or twice a game but stays low and uses leverage well; a good run blocker overall. At the combine in February he ranked at or near the top among linemen in every relevant category.
"I'll stake my reputation on it: Joe's going to be an excellent left tackle for as long he wants to be," says Palcic, who coached for 12 years in the NFL. "I coached [Baltimore Ravens All-Pro] Jonathan Ogden and [former Jacksonville Jaguars standout] Tony Boselli in college years ago, and Joe's going to be every bit the player they've been. I don't see a weakness in him."
SI asked five coaches with picks in the top 10—all of whom had evaluated Thomas on tape—whether they thought he'd be an above-average NFL left tackle. All said yes. The Arizona Cardinals' Ken Whisenhunt, drafting fifth, said Thomas "is a natural. His stance, his hands, his feet, his athletic ability ... he'll bean outstanding left tackle." Houston Texans coach Gary Kubiak, holding the 10th pick, called Thomas "a slam-dunk top left tackle for 10 years."
Of course, no prospect is risk-free. Three years ago Iowa's Robert Gallery—same position, same conference, same stand-up kind of kid as Thomas—was the second pick in the draft, but he has struggled at three spots on the Oakland Raiders' offensive line. "Robert Gallery is not Joe Thomas," says Kansas City Chiefs defensive end Tamba Hali, a Penn State product who played against both tackles. "Thomas is quicker and more athletic. He can move and get his hands on the rushers before they get around the corner. I think he'll be able to do that at the pro level, and that's the most important thing for a tackle."
Back at State Street Brats, Thomas is discussing what motivates him. "Fear of failure. It drives me to work the way I work. I learned from my parents that hard work is its own reward. Hard work makes me happy. That's why actually getting drafted and getting the contract—those aren't the big things to me. The first minicamp is important, and learning the offense, wherever I'll be, is important."
"You know what Joe loves?" Annie Nelson says. "Being prepared."
"The first game last season [against Bowling Green]," Thomas says, "I'm coming off the ACL injury, and I give up a sack. I was embarrassed. Totally embarrassed. That pissed me off so much I couldn't stand it. And after that game I was sooooo pissed off. I was determined not to give up a sack the rest of the year, and I didn't. To me the left tackle and cornerback positions in football are different from the other positions. You can play well 69 of 70 plays, but if you give up a sack or a big reception on one play, you're not doing your job. You need to be perfect."
But in the NFL, Thomas is told, he will face players who are quicker, stronger and trickier than those he dominated in college. He can't expect to be perfect in the pros. "You can try," Thomas says. "My goal, every year, will be to allow zero sacks and zero pressures. You should never set a goal of less than perfect."