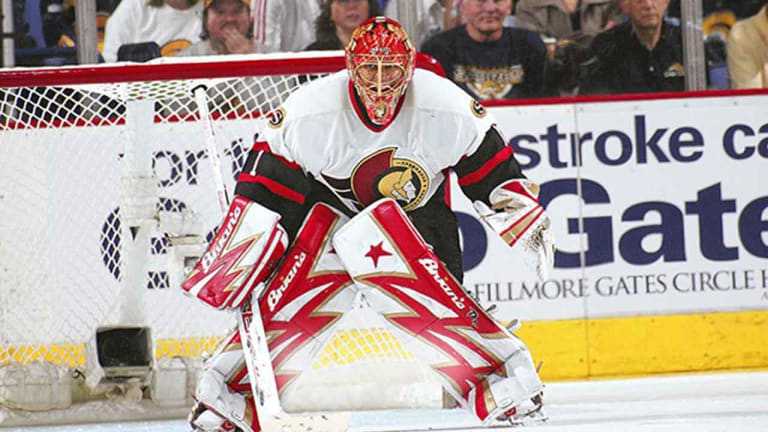 The Stylish Senator Emery
The coolest player in the NHL is Ray Emery, a flashy-dressing, insect-eating, goon-battling goaltender who has helped carry Ottawa to the Stanley Cup finals
The obvious question for Ottawa Senators goaltender Ray Emery: Does cockroach taste like chicken? Of course now that the Senators are in the Stanley Cup finals forthe first time in modern franchise history—Emery allowed 10 goals in five Eastern Conference finals games and made 27 saves to close out the BuffaloSabres 3-2 in overtime last Saturday—the goalie told SI he will entertain questions about hockey only, which means inquiring minds will not get any gustatory insights about the snack he consumed a year and a half ago on a dare. (Emery won $500 from captain Daniel Alfredsson for eating a cockroach that hadscurried into their dressing room at Carolina.)
Emery took the winnings from his six-legged hors d'oeuvre and turned them into a tattoo, inviting some ink-stained kvetches from the Ottawa media to watch as anger is a gift was added to his already ink-stained right arm. But apparently this is not the time for him to deconstruct his tattoos. Nor, presumably, will he talkabout:
• The three-foot python his parents gave him as a gift last Christmas.
• His cloest full of of eye-catching suits, which include a silvery-gray pinstriped number he trotted out for the clincher against the Sabres and a dark one with thick white stripes that Senators defenseman Wade Redden calls the Jailbird. "I like that baby-blue one with the stripe of fabric down the back, [which looks] like something you might have worn to the prom," says Ottawa center Jason Spezza.
• The likeness of Mike Tyson he had painted on his mask for a short time last season beforeabandoning the look.
• His role in a brawl against the Sabres in February, when the 6'2", 203-pound netmindertook on—and held his own against—6'4", 240-pound enforcer Andrew Peters.
• The 101 other things that make the man his teammates call Razor the NHL's conspicuouslycoolest player.
Emery oozes style.More important, he has game. "If he played somewhere in the States, it would really bring [him] recognition," Spezza says. "He's a flamboyant guy, but also a really intelligent guy. That's why he can handle all the distractions that he creates for himself."
In a sport in which personalities are usually tamped down by peer pressure and the crushing weight of hockey culture—"Generally we do want them to conform ... [but] Ray pushes to the outside," Ottawa coach Bryan Murray says—Emery doesn't so much march to the beat of his own drummer as waltz to a different orchestra. But because the goalie wants the focus of this story to be hockey, you should know that Emery, in his second full NHL season, has become better at moving laterally and positioning himself and is more judicious in what he calls "save selection," the technique he uses to stop shots. He largely credits a personal coach, Eli Wilson, for his improvement, a situation that could be delicate because the Senators already have a respected goalie coach,Ron Low. Emery says Low addresses macro goaltending questions such as shooters' tendencies while Wilson, who started working with Emery last summer, focuses on the micro issues. (Team brass refer to Wilson merely as Emery's "friend.") "Ray's done a good job for us," general manager JohnMuckler said last Thursday. "He's come a long way. Has he arrived? Probably not. We feel he can get even better. He's playing on a good team, and the team has helped him tremendously."
Emery has also helped Ottawa. Stopping the puck has been a perennial concern for the franchise, as has the team's postseason swoons. (Given the way the gifted but fragile Senators used to curl up in the playoffs, their annual highlight films could have been called Fetal Attraction.) But Emery, 24, seems inured to pessure. As he seized the No. 1 job from free-agent signee Martin Gerber in November and became a central figure in the dressing room, the mood lightened."It's been fun for guys to see how relaxed he can be and then how focused he is when the puck drops," says defenseman Chris Phillips. "You say guys can't just flip a switch, but he's able to."
The only switch Emery can't seem to find is the alarm button on his bedside clock. On May 4 he went home for 40 winks between practice and an afternoon flight to New Jersey for Game 5 of the second-round series. He instead caught 50 winks. When Emery didn't show at the airport, Spezza phoned his girlfriend, Jennifer, and told her to go to Emery's condo to wake him up. The deep sleeper quickly hopped into his white Hummer—and then hit another car on Highway 417 en route to the airport. The minor accident cost him an $85 ticket for an illegal lane change as well as the price of a commercial flight to Newark and probably a fine, although everyone is coy on that subject.
For an old school hockey guy, Murray is a pragmatist—"The only thing I ever worried about Ray was, Could he stop a puck?" the coach says—but he admits to being upset that Emery missed the flight. "He can afford a nice Hummer," muses the 64-year-old Murray, coaching in his first final, "but he couldn't afford a nice alarm clock. And set it." Emery made 27 saves to eliminate New Jersey the next night. Since the fender bender Emery has stopped 140 of 152 shots and allowed just one soft goal.
"Razor's livin' it," Spezza says. "You're not young forever, so you might as well have fun now." Emery and the Senators are playing for the Cup, and that's no accident.